Stay hydrated with these bright and cooling no-added sugar watermelon strawberry ice lollies. The perfect healthy treat for a hot Summer's day. Its not only the kids who will devour these!
---
Oh, how we love this season of ice lollies and backyard fun! First a quick confession: this sweet watermelon strawberry ice lollies surprise is created by my 3-year old, IzaanAli. I call him my Desi~licious mini chef. He's obsessed with the vitamix and just can't get enough of it. With watermelon and strawberries being his favourite fruits, it came as no surprise that his first creation would include them. This combo turned out so great, that we've made them three times this week. What a refreshing way to use up that giant watermelon; we're trying really hard not to waste food.
IzaanAli starts off by adding the watermelon, frozen strawberries and ice into the blender. Then his favourite part; he slowly revs up the speed on the vitamix (it gets pretty loud). We blend until the ingredients form a puree. The mixture is poured into moulds. He needed some help with pouring, as the blender jug is heavy going.
The strawberries plus ice not only add mass, but give the lollies a lovely texture. We didn't feel the need to add any sugar because the watermelon and strawberries were pretty ripe and sweet. These watermelon and strawberry ice lollies are SO much better than the sugar-laden store-bought ones. And they're so simple and quick to make.
We love these kid-friendly moulds, and picked them up for under $5 from Walmart. Indeed a bargain!
Just look at the excitement on his face. We froze them overnight, but they can be frozen and ready to be enjoyed in about 4 hours.
These were the perfect refreshing treat after our BBQ yesterday. We can't get enough of our Street-style grilled corn recipe. It's another hit this summer – spicy, smoky, tangy and absolutely delish. Check it out!
And here he is, having a mindful eating moment.
Hope these watermelon and strawberry ice lollies bring a big smile on your face too.
What's your favourite ice lolly flavour?
So, kuch kuch hota hai? If you try this recipe, would love to hear from you! Leave a comment, rate it, or share a photo and hashtag with #desiliciousrd on Instagram and twitter!  Can't wait to see your photos.
Desi~liciously Yours,
Shahzadi
29 INCREDIBLE PLANT SOURCES OF PROTEIN
Looking to enjoy more plant-based sources of protein? Grab my FREE Cheat Sheet - legumes, nuts, seeds, grains and so much more... you'll be spoilt for choice!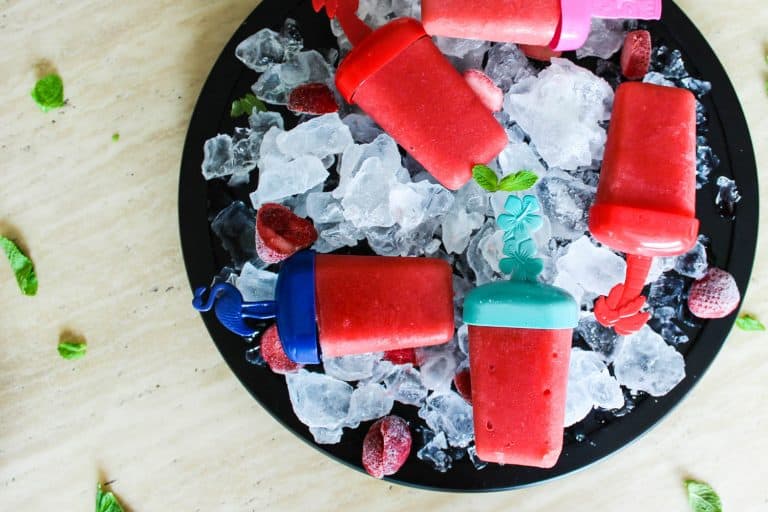 | | |
| --- | --- |
| | |
add all ingredients to a blender and blend on high until a puree forms

Pour into ice lolly moulds and freeze until set, about 4 hours
Nutrition Facts
No Added Sugar Watermelon Strawberry Ice Lollies
Amount Per Serving
Calories 51
Calories from Fat 3
% Daily Value*
Total Fat 0.3g 0%
Sodium 2mg 0%
Potassium 219mg 6%
Total Carbohydrates 12g 4%
Protein 1g 2%
* Percent Daily Values are based on a 2000 calorie diet.