Medically reviewed by Shahzadi Devje, Registered Dietitian (RD) & Certified Diabetes Educator (CDE)
With the coming of winter and the resurgence of cases, your trips to the grocery store are likely limited. To help you ride out the second wave, we've compiled the ultimate list of nutritious, immune-supportive foods with the longest shelf life. Plus, find creative recipes to use up those everyday pantry staples you already have on-hand. Everything you need and more, in this overly simple pantry checklist!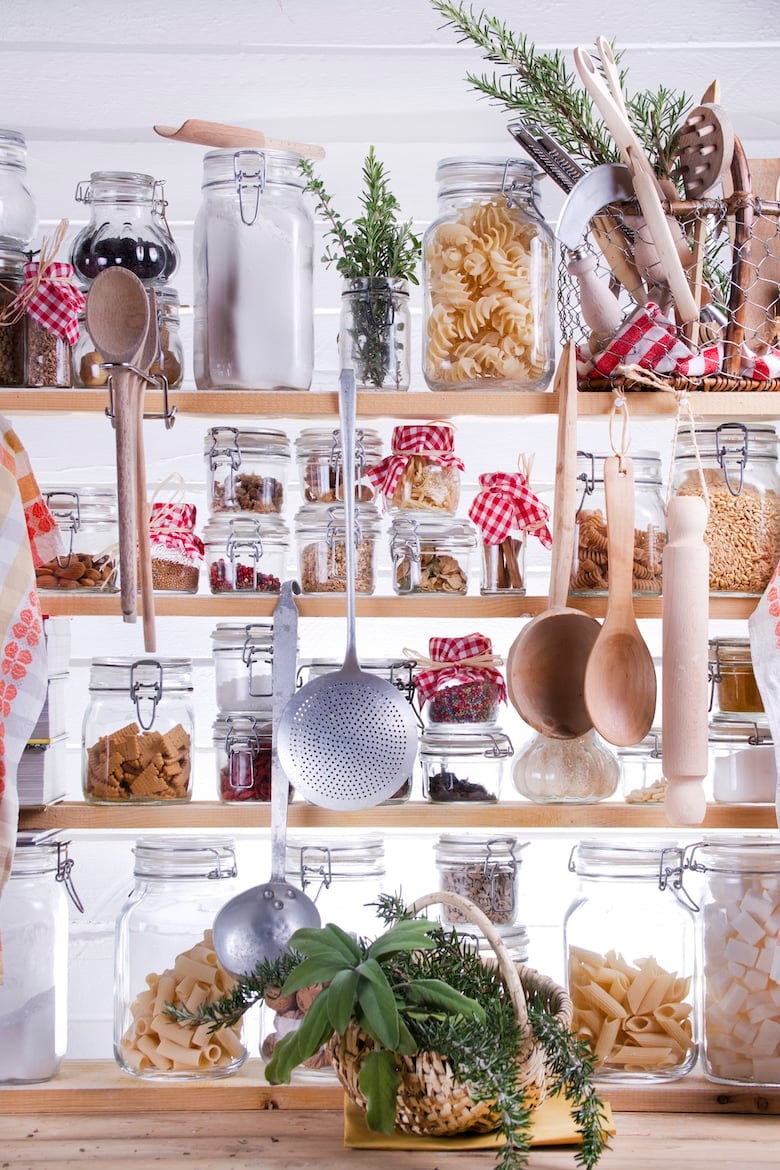 As we remain on a troubling course of new cases, public health officials remind us to stay home as much as possible. Perhaps, we've learned from our stockpiling and scrambling — almost a year on — that could save us overwhelm and disruption during the replay.
With that said, if you're taking fewer trips to the grocery store, a strategically-stocked pantry is key. It's helpful to have simple and nourishing ingredients on-hand to whip up easy, tasty meals that can stretch into the busy week.
If you want to:
Know what pantry foods to stock to get the most out of your meals

Spend less and fill up your family on easy and healthy meals

Leverage key foods to help support a healthy immune system

Reduce food waste with smart pantry storage ideas

Have a list of delicious easy, and healthy meals at your fingertips

Dismantle the stress of an over-stocked pantry
- here are heaps of ideas you can't afford to miss.
Benefits of Stocking a Healthy Pantry
So how do you stock your pantry to make sure all of the essentials are covered?
What are Pantry Foods?
Though definitions vary ever so slightly, pantry items typically encompass shelf-stable foods that can either be turned into a favourite meal or any ingredient that you like all on its own. Below are some everyday essentials you may want to keep on hand.
Pulses
Pasta
Wholes grains
Nuts and Seeds + Butters
Fruits: Dried and canned
Canned vegetables
Canned Soups
Canned or jarred fish and seafood
Dried herbs and spices
Oils, vinegars and condiments
Root vegetables
Shelf-stable milks
Tea and coffee
Crackers and cookies
How to Stock Your Pantry - Top Tips

1. Limit food waste by keeping
staples accessible
and within reach
It's easy to forget about ingredients that are hidden at the back of your pantry. Organizing your shelves not only makes meal planning easier but can also prevent food waste and save you money in the long run.
2. Stock up on pantry foods that you can
mix and match into multiple dishes
Having ingredients on hand that serve as building blocks for nourishing meals can help make meal prep easier. You'd be surprised at how many different recipes you can make with simple ingredients such as rice, oats, canned beans, and chickpeas.
3. Categorize ingredients and make the experience hassle-free
Use glass jars, pull-out drawers or tiered shelves to find items with more ease. Besides being aesthetically pleasing, it also allows you to note what and how much you have on hand quickly. Don't forget, storing staples in air-tight jars and containers prevents them from going stale quickly.
4. Use markers or decals for labelling and highlighting expiration dates
Clear labelling is a simple way to bring attention to foods that are about to spoil. You will know exactly which ingredients to use up first. Say no to food waste.
5. Turn the inside of your pantry doors into chalkboards for grocery lists & meal planning
Brainstorm meal planning ideas and grocery trips using your new chalkboard. Having it written out removes the guesswork and can save your sanity during a hectic work week.
Use the list of key staples below as ideas to build your wholesome pantry. Remember, this is not meant to be an exhaustive master list of pantry foods; instead, a shortlist of basic food items to help create easy and healthy recipes. Feel free to swap foods from within the same category to suit your individual needs. For example, our family's meal planning includes Desi (South Asian) recipes as well as Indian dishes.
It goes without saying: change things up and include additional food items. You also want to rotate ingredients to bring variety to your diet and beat food boredom.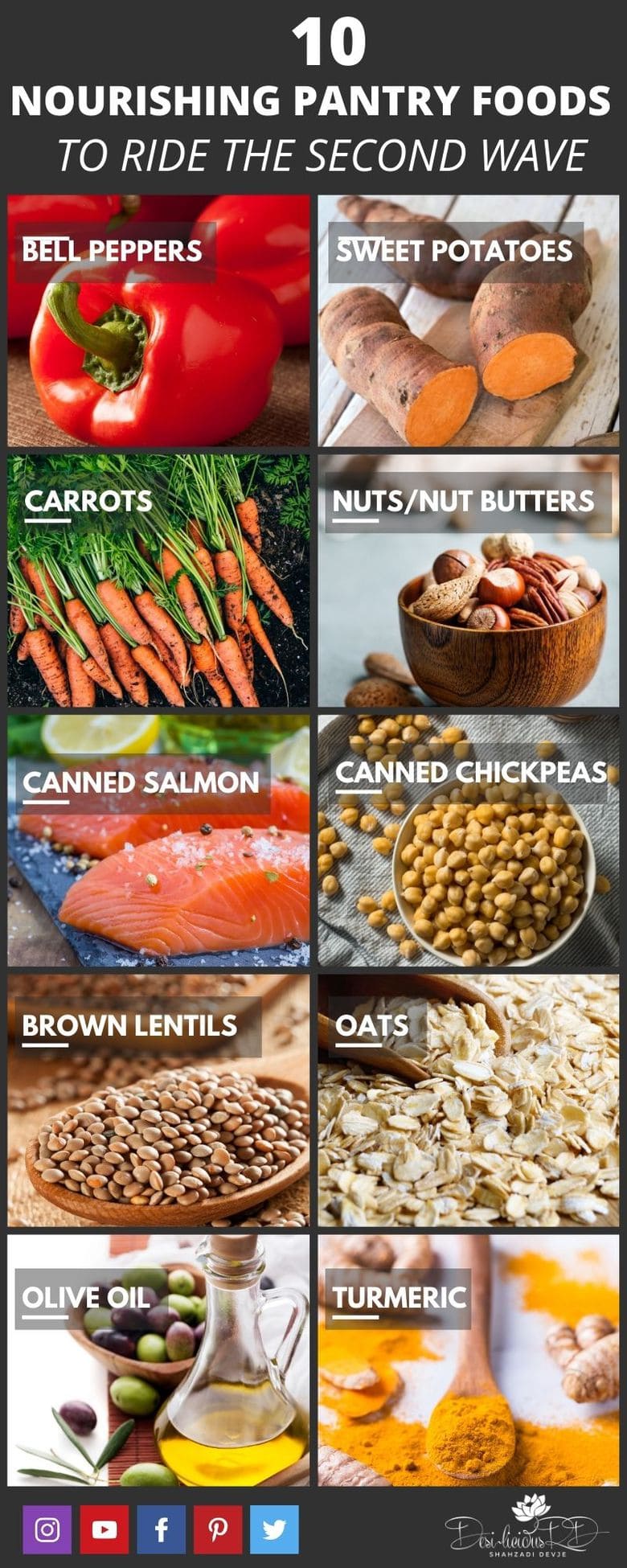 Immune - Supporting Pantry Stock List
1. Bell Peppers
Vitamin C is key to fighting infections as it can help to increase levels of white blood cells. When we think of vitamin C-rich foods, we often think of oranges or other citrus fruits. But did you know that many vegetables are also excellent sources of vitamin C? One orange provides 70 mg of vitamin C, while one bell pepper provides 100 mg.
Reap the health benefits of vitamin C with a simple Grilled Vegetables recipe or this 7 Layer Salad – both are easy to prepare and packed with flavour! If you're looking to sneak in some vitamin C at breakfast time, try out my Masala Tofu Scramble recipe. It stores well in the fridge or freezer for easy weekday meals.
Strengthen your immune system with my Immunity Booster Meal Plan
Delicious dietitian-approved, anti-oxidant packed recipes to help you stay healthy
Nutrient-dense, immune-boosting ingredients
Done-for-you meal plan complete with a grocery list
Meal prep guide to make the most of your time in the kitchen & save money!
2. Sweet Potatoes
Sweet potatoes are exceptionally high in beta-carotene. This antioxidant converts into Vitamin A once consumed and helps in fighting disease. In particular, vitamin A is crucial for maintaining vision, promoting growth and development, and you guessed it – supporting your immune system too. Try this super easy Sweet Potato Wedges recipe or roast them with Brussel sprouts for a nourishing side to any meal. This Slow Cooker Black Eyed Peas recipe is budget-friendly, filling and hassle-free – serve over a baked sweet potato and enjoy a balanced and tasty meal.
3. Carrots
Like sweet potatoes, carrots are also rich in beta-carotene. Not only does this Holiday Veggie Platter make for the perfect beta-carotene-rich appetizer, but it also serves as a beautiful centre-piece! And why not follow it up with my Holiday Persian Rice or this cozy and comforting Chili recipe — both are brimming with carrots. Enjoy this Carrot Juice recipe as a quick and easy antioxidant boost. It's perfect for every season.
If your fruits and vegetables rot in a few days, learn how to store them the right way to maximize their freshness in this complete guide.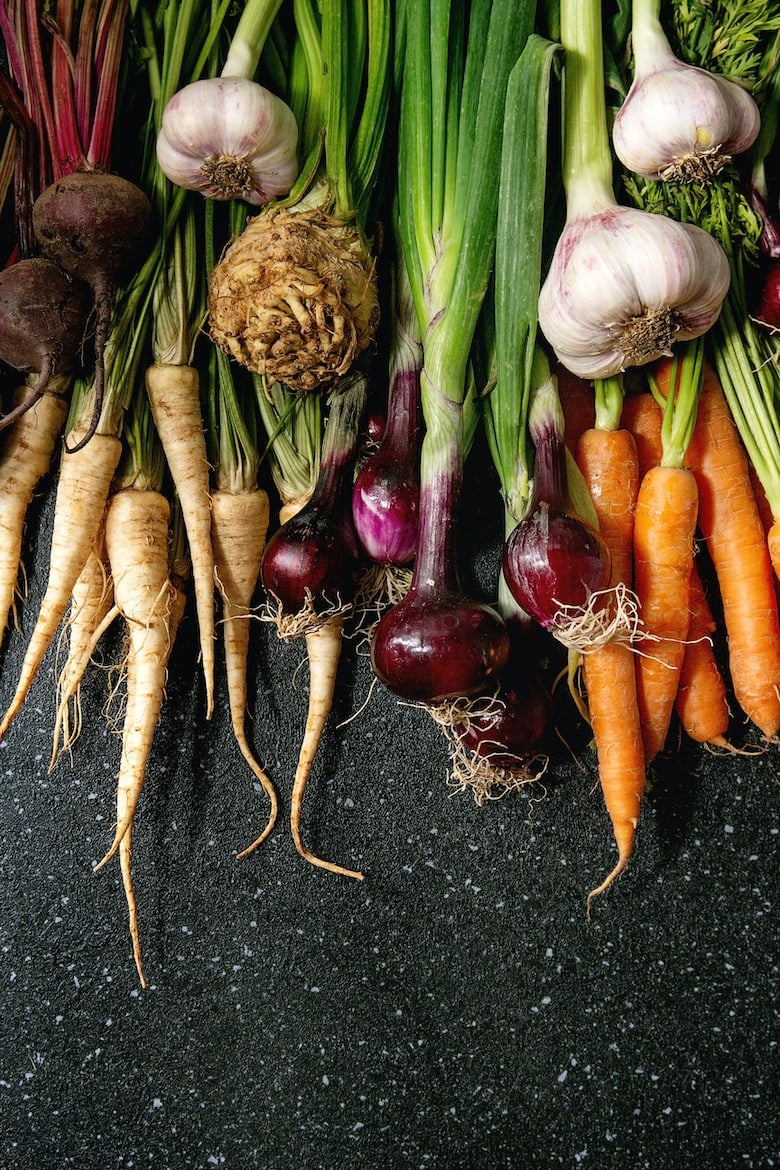 4. Nuts & Nut Butters
Peanuts, almonds and walnuts are all great sources of omega 3's and vitamin E. Nuts — including all-natural nut butters — are an effortless way to also meet your daily zinc needs. All these nutrients are key for healthy immunity. Not to mention, they're easy to add to everyday meals and snacks.
Reap the benefits of nuts with these No-Bake Cranberry Energy Bites. With only four ingredients – they make the perfect midday pick me up! Check out these Tandoori Cauliflower Tacos, they are next-level; made with a curry powder-cashew marinade, and done in 30 minutes. Who says tofu is bland and boring?! Try this Spicy Peanut Butter Tofu recipe that's always a hit in our home. Pair with your favourite grain (for example quinoa, brown rice, sweet potato) along with a side salad to create a complete meal!
5. Canned Salmon
Besides being one of the most abundant sources of omega 3 fats, salmon is also a great source of protein, zinc, B-vitamins, and selenium. It's a popular source of vitamin D, which is important for healthy immunity (and so much more!). Assemble this low-carb Salmon and Quinoa Salad in a mason jar to pull off a simple, make-ahead lunch. Why not swap the canned tuna for salmon in this recipe to create the most delicious fish cakes — they are the perfect lunchbox filler! Add canned salmon to accompany this 15-minute Raw Salad to make a tasty, nutrient-packed Buddha bowl.
Ride out the second wave with this dietitian-approved pantry checklist. Pull off easy and healthy recipes and learn how to stock your pantry with nutritious, immune-supportive foods with the longest shelf life. #howtostockyourpantry…
Click To Tweet
6. Canned Chickpeas
Chickpeas are not only great sources of plant-based protein but also rich in iron and fibre. When it comes to immune health, iron is key; it's concerned with regulating cytokine production and action — involved in the process of killing bacteria/pathogens. This makes chickpeas an important source of the nutrient, especially for vegetarians. Plus, they are brilliant in all sorts of salad creations. Try this hearty Mediterranean Salad or Spicy Kale Salad or enjoy them in this traditional Indian Curry with a healthy seasonal twist.
7. Brown Lentils
While lentils are abundant in protein, they are also a rich source of B-vitamins. Vitamin B6 plays an important role in keeping the immune system strong, making new red blood cells, and transporting oxygen throughout the body. Did you know that B-Vitamins are also involved in dopamine and serotonin creation? These hormones are key for mental health.
With lentils being super versatile, they can easily be integrated into all sorts of dishes. Use brown lentils in this Coconut Lentil Curry. It's a family favourite, oh-so-satisfying and super comforting. Other brown lentil favourites include Moroccan Shakshuka with Lentils and Quinoa and Lentil Stuffed Zucchini Boats.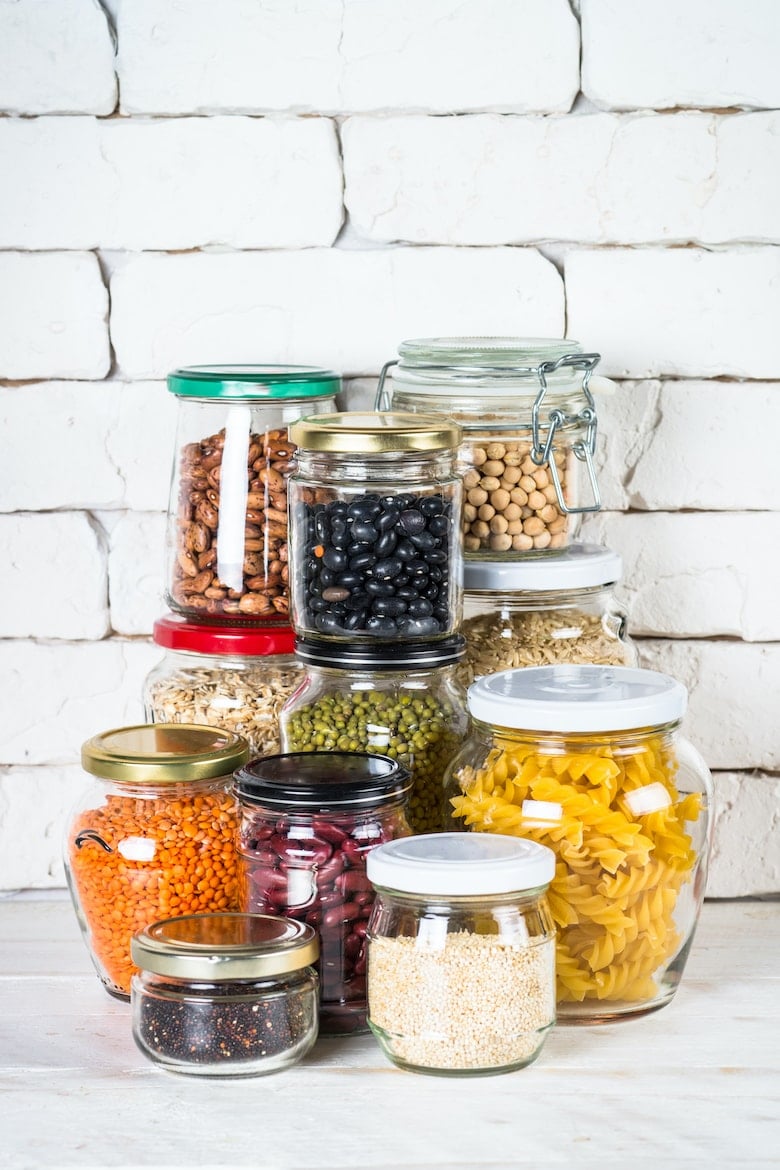 8. Oats
Oats are easy to incorporate into sweet and savoury dishes. They are a source of protein, carbohydrates, fibre, B-Vitamins and prebiotics. You may be surprised to hear that about 70% of the immune system is found in our guts. Therefore, maintaining a healthy gut is imperative to your overall health. Prebiotics stimulate the growth of healthy bacteria (probiotics) in the gut lining. This delightful Cranberry Apple Crumble recipe is an excellent way to satisfy your sweet tooth while reaping the benefits of oats. And if you can't get enough of cookies, you must give this Oatmeal Cookie recipe a try. It's our on-the-go breakfast option and only takes 10 minutes to prep! And here's a savoury twist with oats that is finger-licking good.
9. Olive Oil
The anti-inflammatory and antioxidant properties of olive oil make it a leading pick as a cooking oil. Besides supporting healthy immunity, this heart-healthy and versatile fat can be used in salads and cooking alike. Use extra virgin olive oil to make a quick and easy salad dressing to pair with this bright and beautiful 15-Minute Salad Recipe or make this Mediterranean Style Tofu, Making a healthy snack with kale couldn't be easier - try this homemade Kale Chips recipe with a spicy kick!
Find more answers to your cooking oil questions in this practical guide.
10. Turmeric
Turmeric is raved about for its numerous health benefits, including anti-inflammatory, antioxidant, and even cholesterol-lowering properties. Some research even goes as far as to suggest that turmeric may help prevent the growth of cancer cells, although more human studies are needed. One of my favourite ways to enjoy this golden spice is in this Turmeric Latte – perfect to cozy up with this season. If that sounds good, wait until you try this Pineapple Mango Smoothie with Turmeric. It's whipped up in 5 minutes and jam-packed with nourishing ingredients. This Pumpkin Curry infused with turmeric and cinnamon will have your taste buds dancing. It's the perfect match with my spicy Pan Fried Basa Fillet recipe - that also happens to contains turmeric 🙂
For more easy and healthy pantry recipe ideas click

here.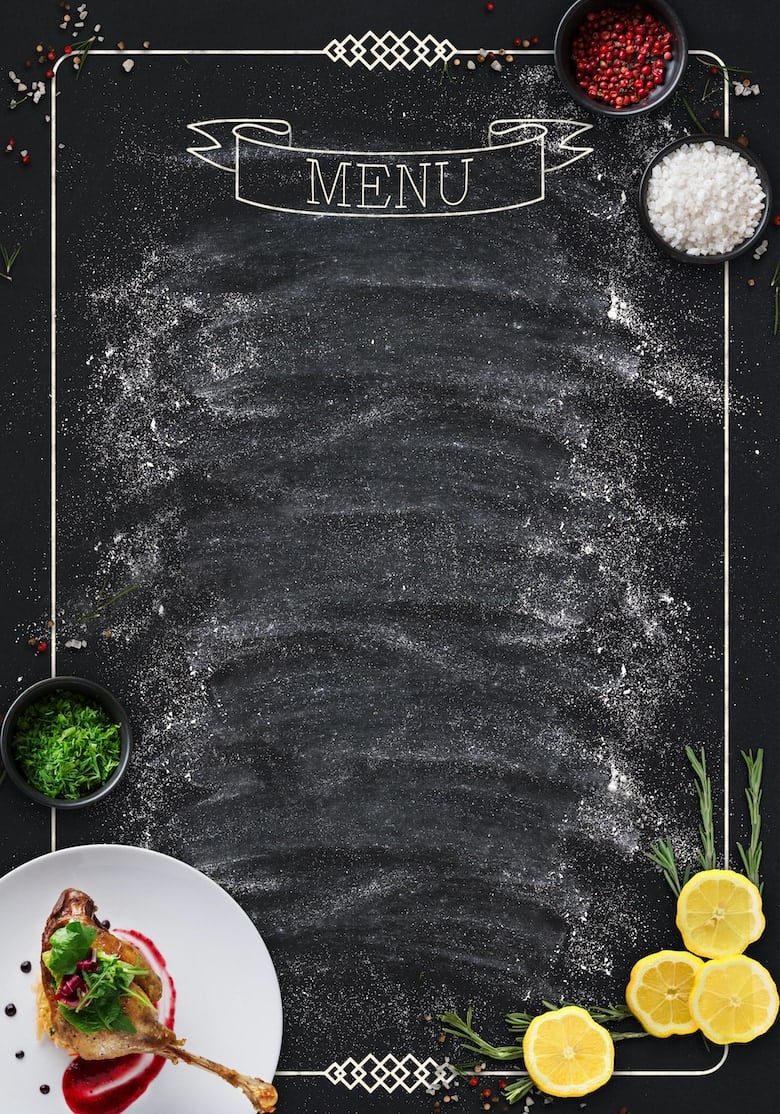 Final Thoughts
There you have it – our top food picks to help you stock your pantry and stay nourished. Trying times or not, stocking up on basic items as foundational ingredients will create easy and healthy meals — and build a healthy diet.
Do you have anything to add to our list of pantry foods? What basic foods have been keeping you nourished during this time? Let us know in the comments below!

*As the hospitality industry continues to struggle and navigate this crisis, please consider extending your support of local restaurants and businesses and ordering in when you can.
Desi~liciously Yours,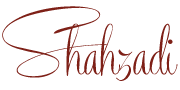 This article was written in collaboration with

Gabi Abreu

, BSc (Nutrition).

Gabi

is a certified health coach, aspiring dietitian and founder of the Working Woman's Health Collection. WWHC was created with the purpose of inspiring women to achieve a healthy relationship with food, while taking into consideration the busy lifestyles that we live today.
Want a FREE Delicious Offer?