Medically reviewed by Shahzadi Devje, Registered Dietitian (RD) & Certified Diabetes Educator (CDE)
If you're on the hunt for self love quotes to remind you of how wonderful you are - look no further.
Somewhere in our minds, there exists an inner voice. A self-proclaimed judge that watches our every move. They watch our interactions with people, how we perform, our successes and failures, all while making judgments that influence our sense of self. They colour the way we view ourselves, yielding moments of joy, pride, and happiness. But just as we emerge ourselves in tones of excitement, we absorb the contempt, the hatred, the pity, and regret. We drown ourselves in shame, listening to the harsh voice that echoes within us. Our heads are dangerous places, and it is too easy to trap ourselves in the intricate puzzle we call our minds. This voice is an internalization of what once existed outside us. The friend who berated you, the father who mocked your dreams, the mother who never supported you, the man who took away pieces of you. And you. This version of yourself that you've long envisioned, the perfect version. This person you've tried so hard to mould yourself into to no avail. This inner voice was once an outer voice that we have made our own, lodged into our minds for better or worse. We call it our self esteem.
We are our worst critics, and such a heavy burden of pressure and stress is bound to bring us down. When we allow our inner voice to colour us with dark shades of grey, we drown ourselves in an endless sea of hopelessness and lose sight of the beautiful pieces of ourselves. The parts that kept us strong, the voice that didn't waver when the world was against us, the hands that crafted masterpieces, and the belly that housed three young children. When we allow our inner voice to control the narrative of our worth, we neglect our bodies, we forget to nurture our minds, we deem ourselves unworthy of love and care. We disrupt the peace that has always existed within us and replace it with a chaos that slowly breaks us apart. And each day, we believe that dark voice inside us a little bit more; we become the doubtful, bitter, insecure, and mentally exhausted person we've always feared.
A few years ago, I stumbled across an Instagram page full of colourful quotes. Teary-eyed, I scrolled through hundreds upon hundreds of these poems and self love quotes, and something within me changed. A surge of hope flooded me, and I felt inspired to actively practice self love and make time for me.
These days, I often find myself going through quote pages when I'm feeling low. I truly believe that quotes are a window into another person's journey. They help you better understand who you are and the world around you. I like to consider myself a bit of a quote junky, and so today, I've sifted through my folders of self love affirmations to create a love yourself quote compilation to lift your spirits when you are struggling.
I hope they bring you peace and inspiration.
30 Love Yourself Quotes
1.
Be brave enough to love yourself. By love I mean wrapping strength around your wrists as you bunch your hands into tight fists for anyone who dares to treat you badly, and letting your heart rest inside your chest rather than carrying it on your sleeve for people who will never see it for what it's worth. Love yourself enough to walk away, enough to say "no" when you've had enough, enough to smile at your reflection in the mirror when the life feels grim, enough to strip away the guilt attached to putting yourself first. ~Ruby Dhal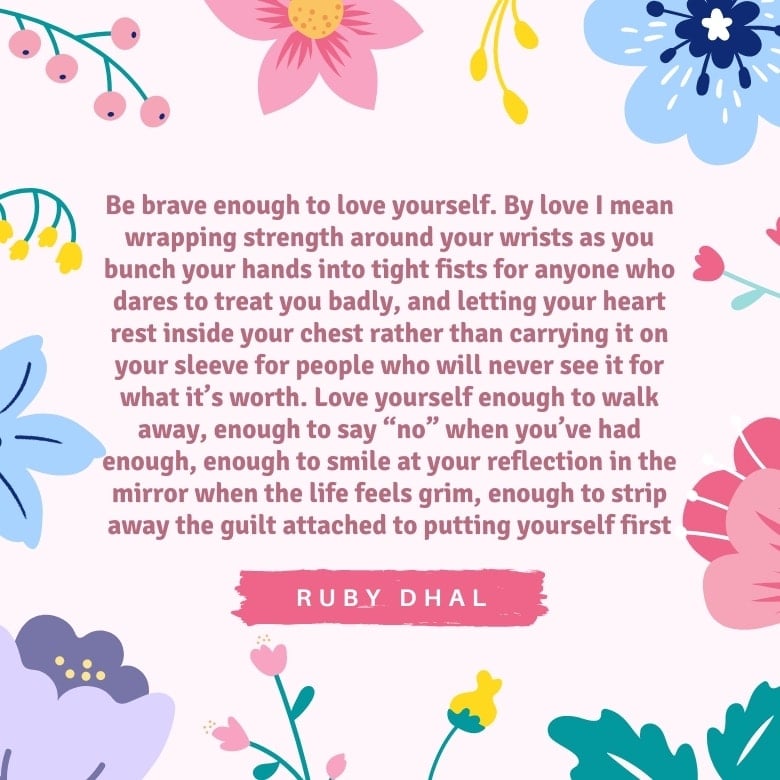 2.
Plant your own garden and decorate your own soul, instead of waiting for someone to bring you flowers. ~Veronica Shoffstall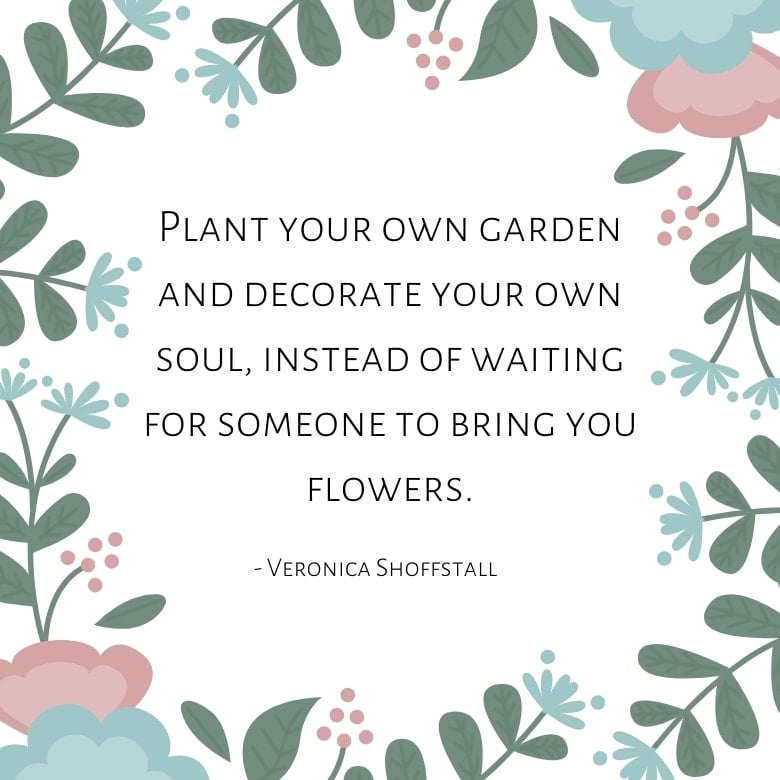 3.
There's no need to be perfect to inspire others. Let others get inspired by how you deal with your imperfections. ~Unknown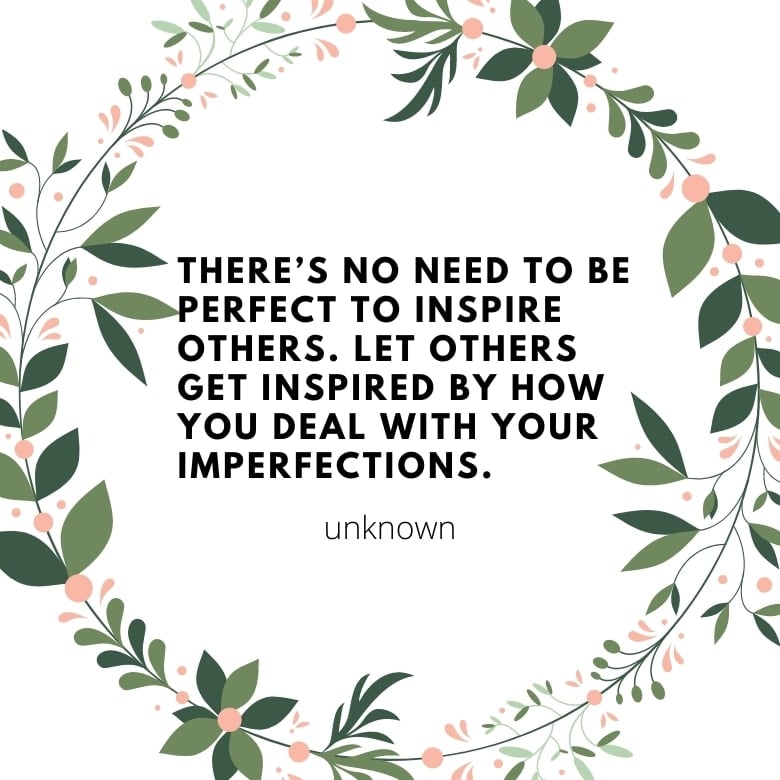 4.
Breathe. Let go. And remind yourself that this very moment is the only one you know you have for sure. ~Oprah Winfrey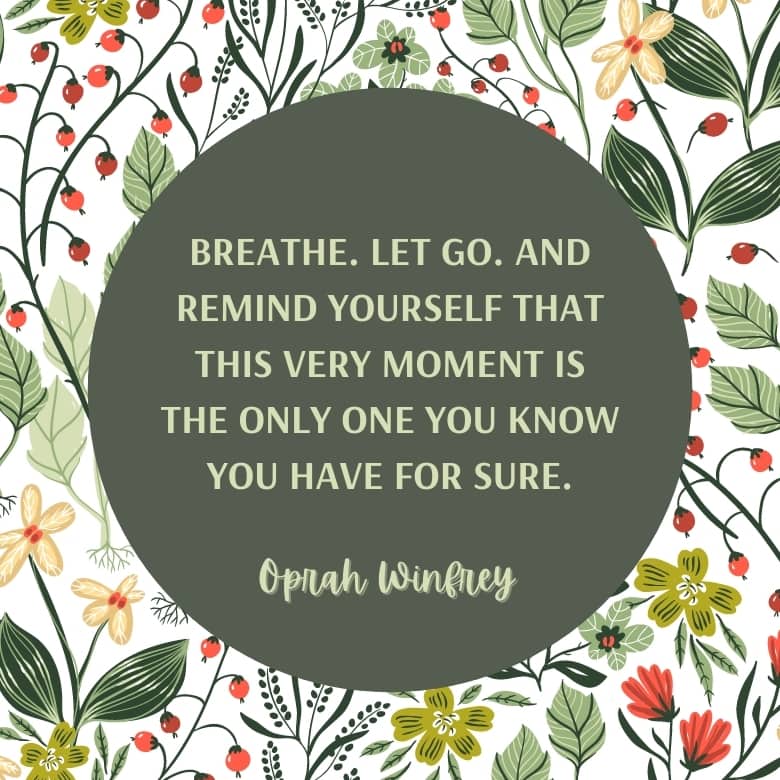 5.
Almost everything will work again if you unplug it for a few minutes, including you. ~Anne Lamott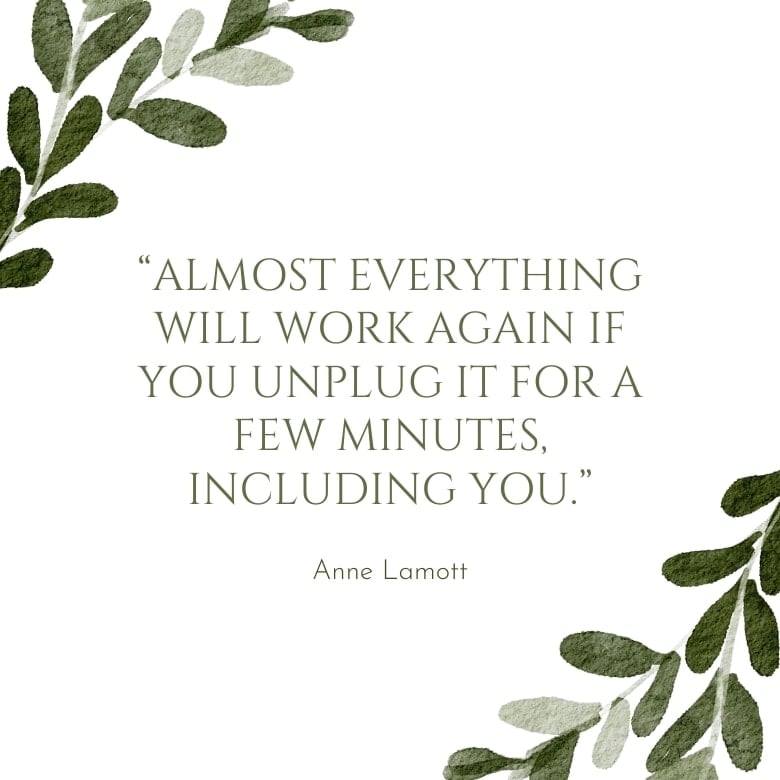 6.
There is no sense in punishing your future for the mistakes of your past. Forgive yourself, grow from it, and then let it go. ~Melanie Koulouris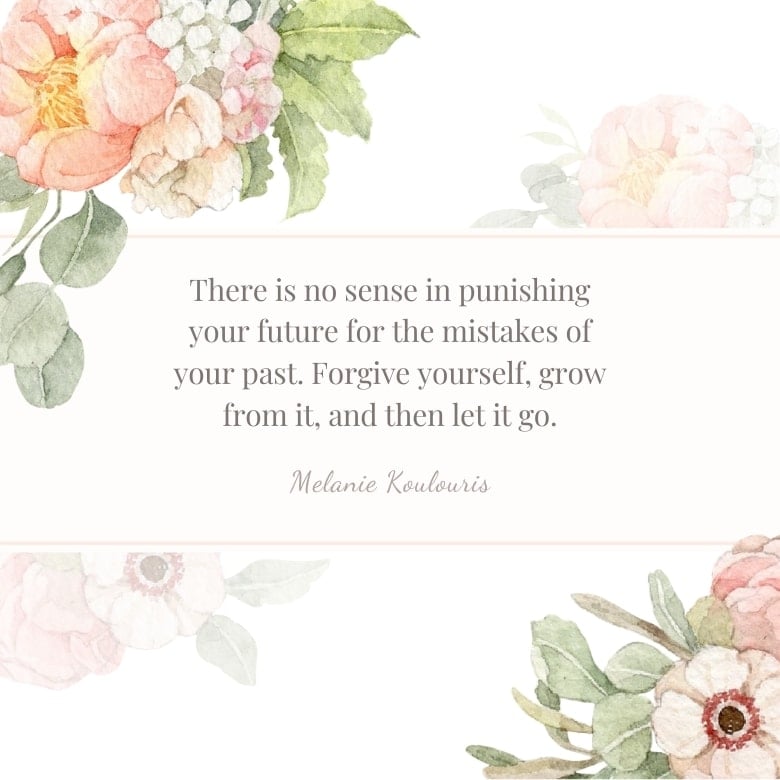 7.
Nourishing yourself in a way that helps you blossom in the direction you want to go is attainable, and you are worth the effort. ~Deborah Day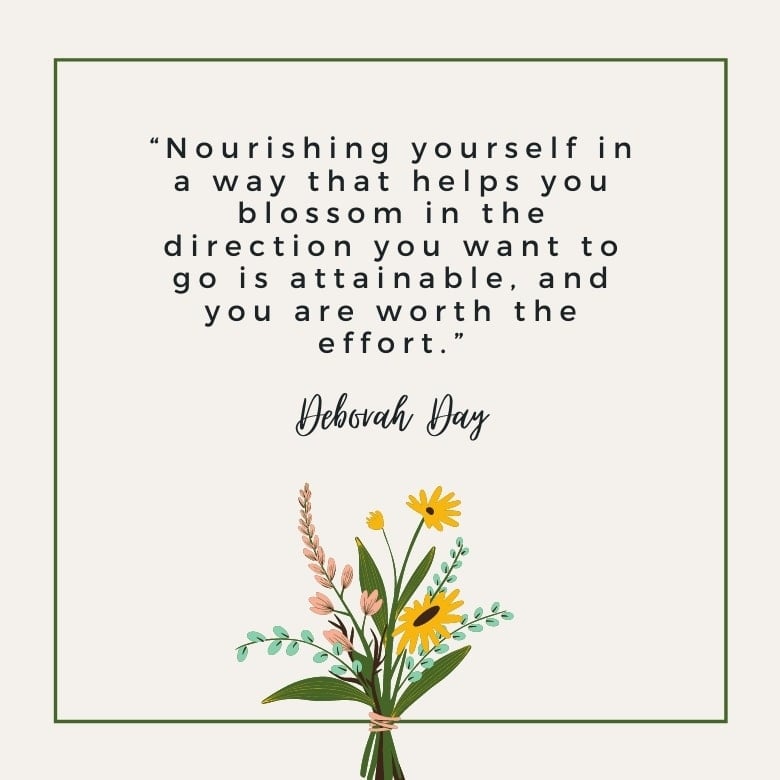 8.
Talk to yourself like you would to someone you love. ~Brené Brown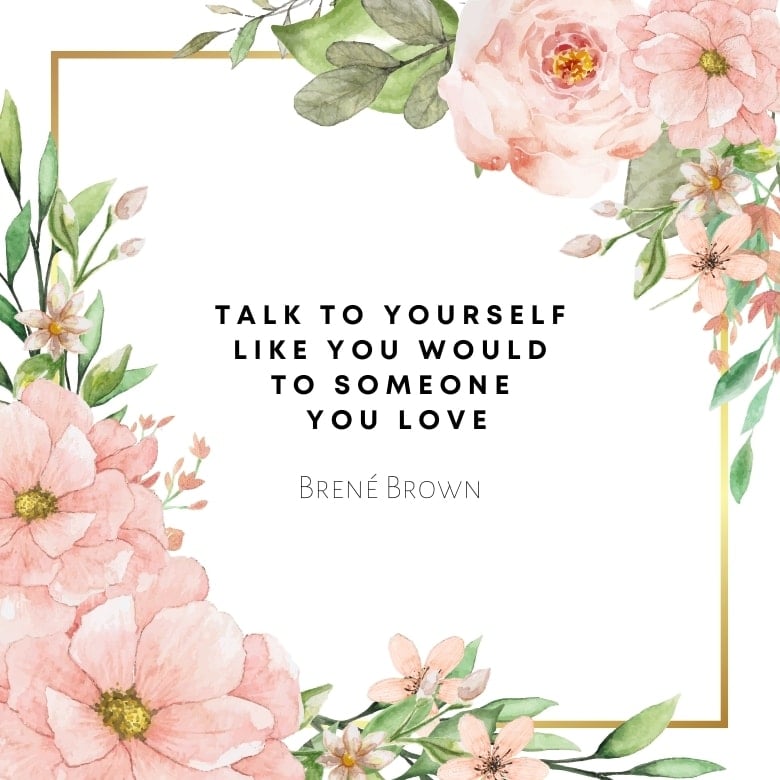 9.
Never bend your head. Always hold it high. Look the world straight in the face. ~Helen Keller
10.
An empty lantern provides no light. Self-care is the fuel that allows your light to shine brightly. ~Unknown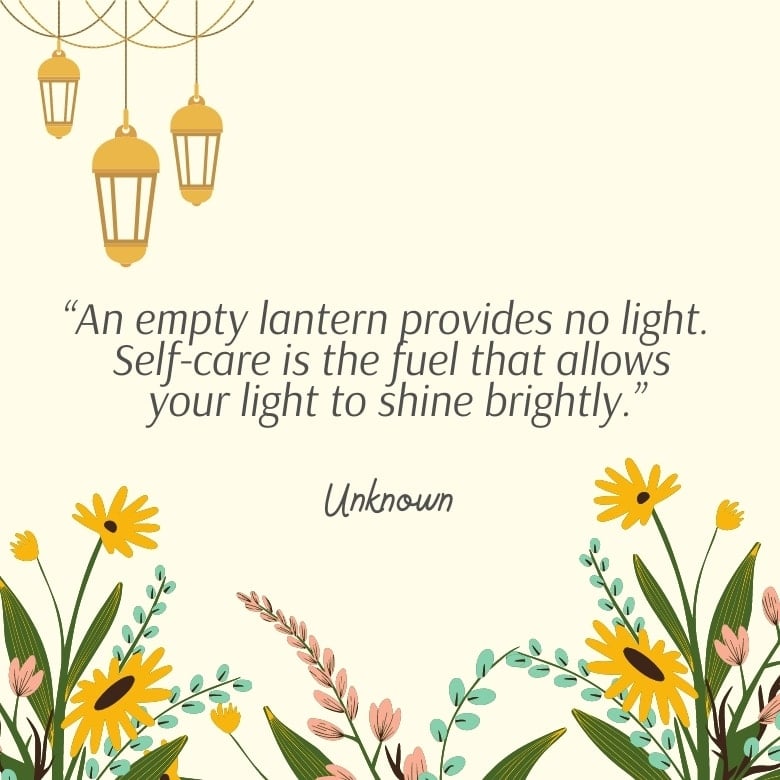 11.
Your illness is not your identity. Your chemistry is not your character. ~Pastor Rick Warren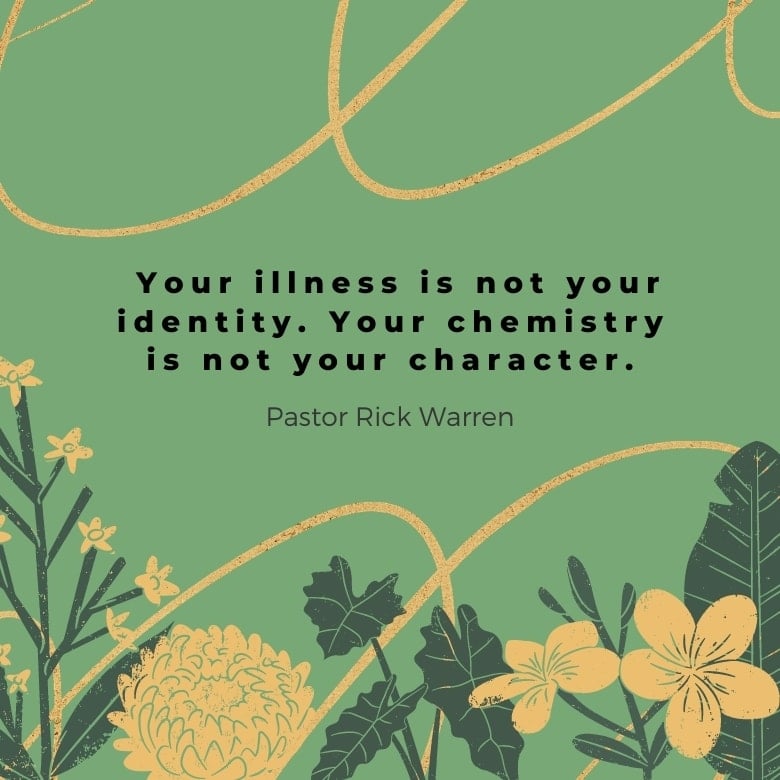 12.
Your task is not to seek for love, but merely to seek and find all the barriers within yourself that you have built against it. ~Rumi
13.
You must survive the breaking to live through the healing. ~Nikita Gill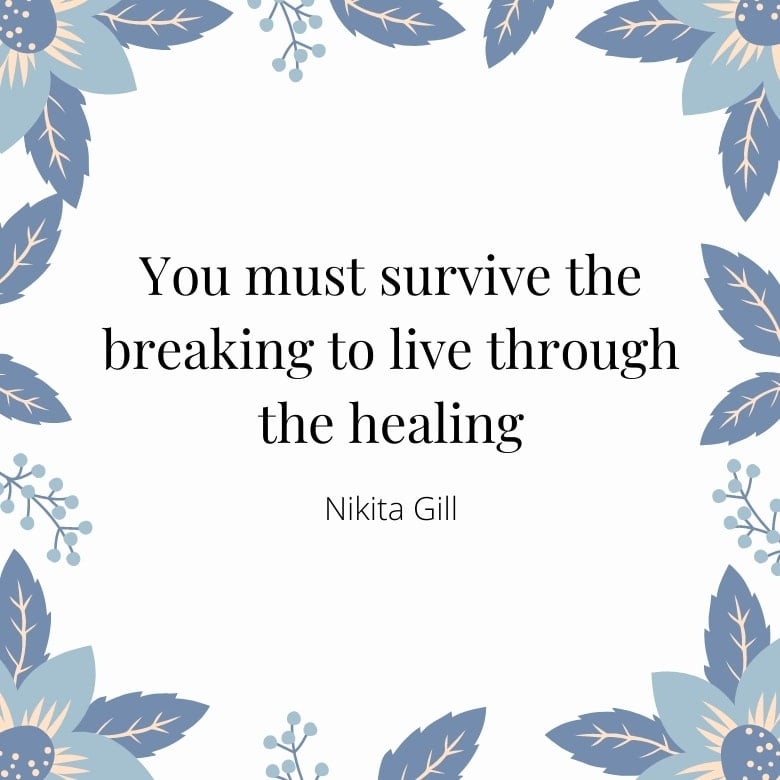 14.
This world is like a mountain. Your echo depends on you. If you scream good things, the world will give it back. If you scream bad things, the world will give it back. Even if someone says badly about you, speak well about him. Change your heart to change the world. ~Shams Tabrizi
15.
Self-love is not selfish; you cannot truly love another until you know how to love yourself. ~Unknown
16.
The whole cosmos has come together to create you. You carry the whole cosmos inside you. That is why, to accept yourself and to love yourself is an expression of gratitude. ~Thich Nhat Hanh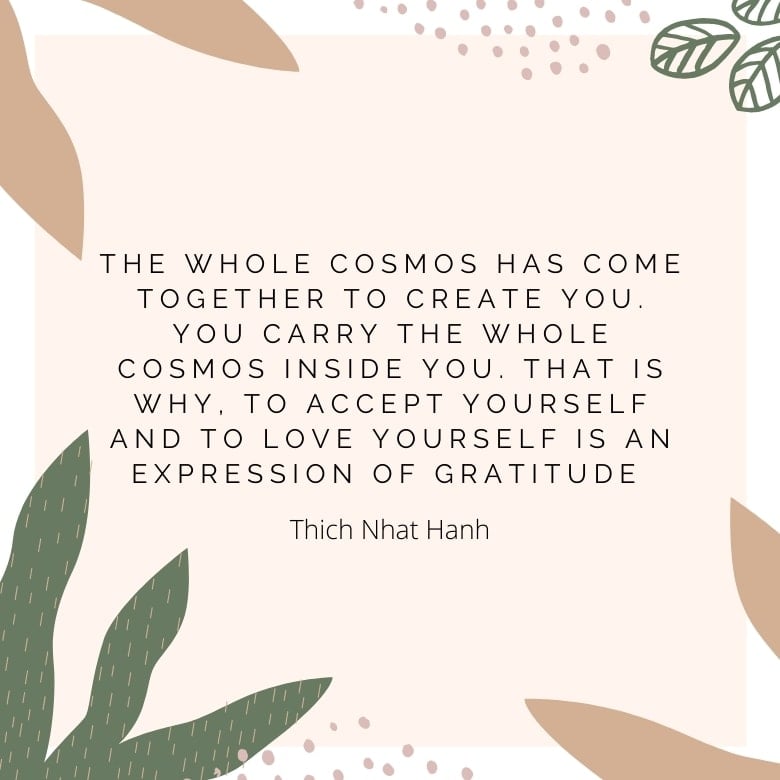 17.
Stand up straight and realize who you are. That you tower over your circumstances. You are a child of God. Stand up straight. ~Dr. Maya Angelou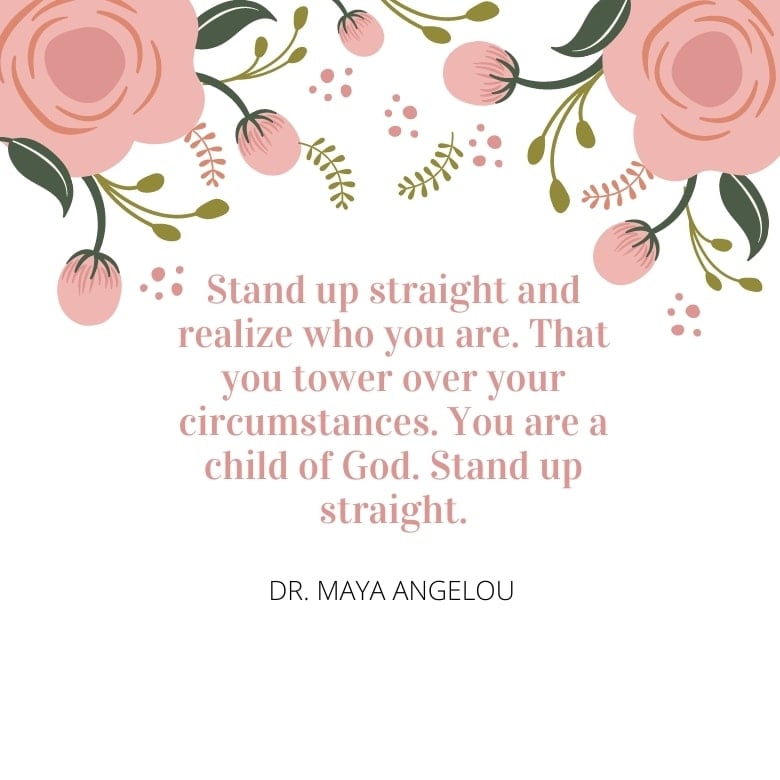 18.
I don't like to gamble, but if there's one thing I'm willing to bet on, it's myself. ~Beyonce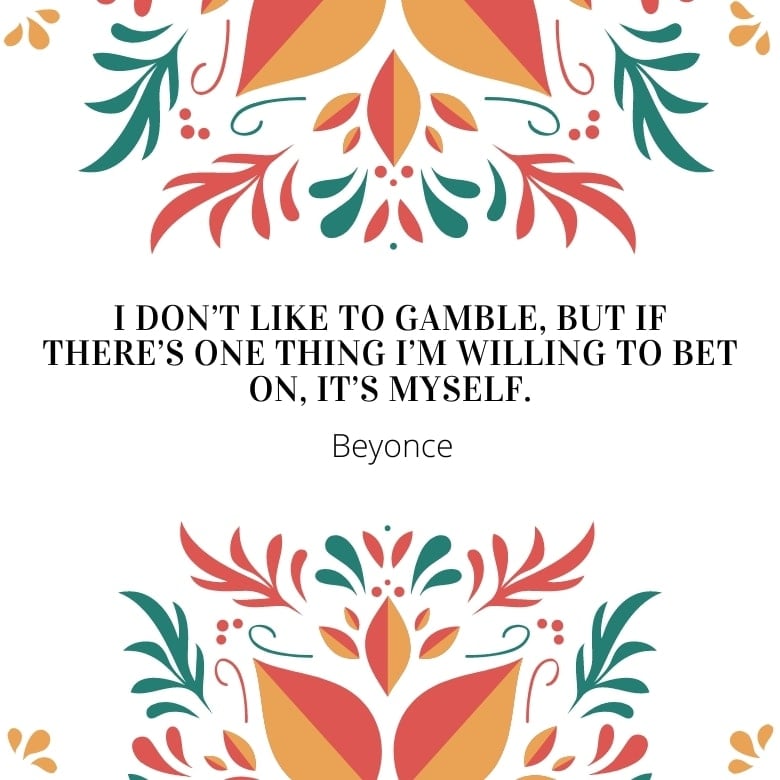 19.
Your story is what you have, what you will always have. It is something to own. ~Michelle Obama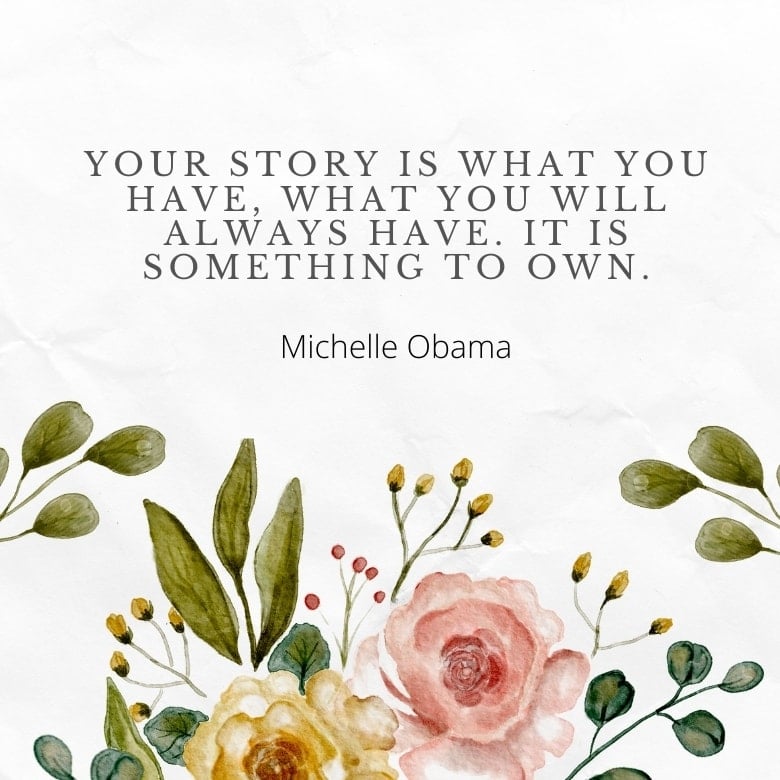 20.
And while you may not be everyone's cup of tea, you don't have to be. Tea has never apologized for not being coffee. ~Kirsten Corley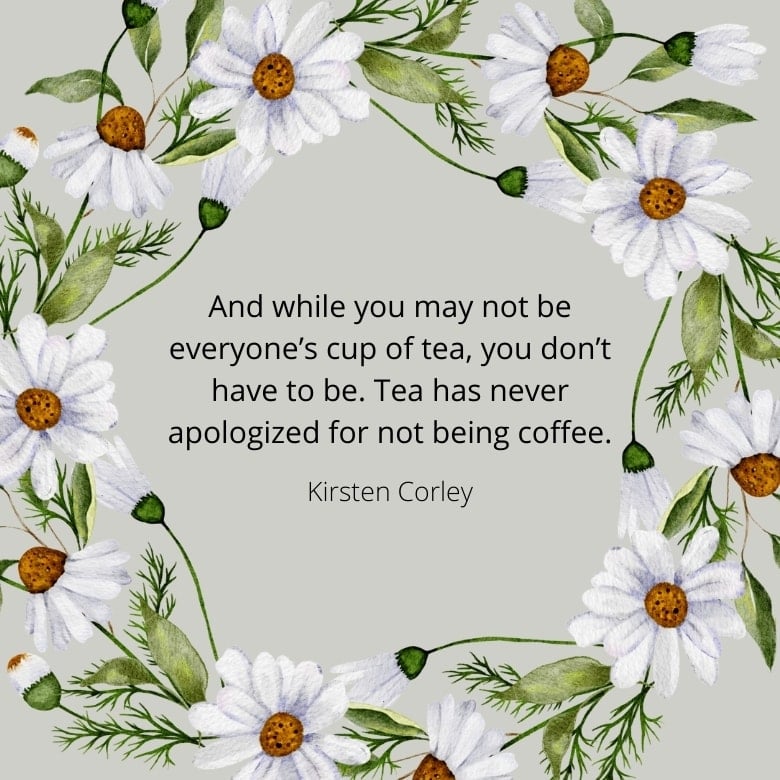 21.
If you expect respect from others, show it first to yourself. You can't expect from others what you don't give to yourself. ~Unknown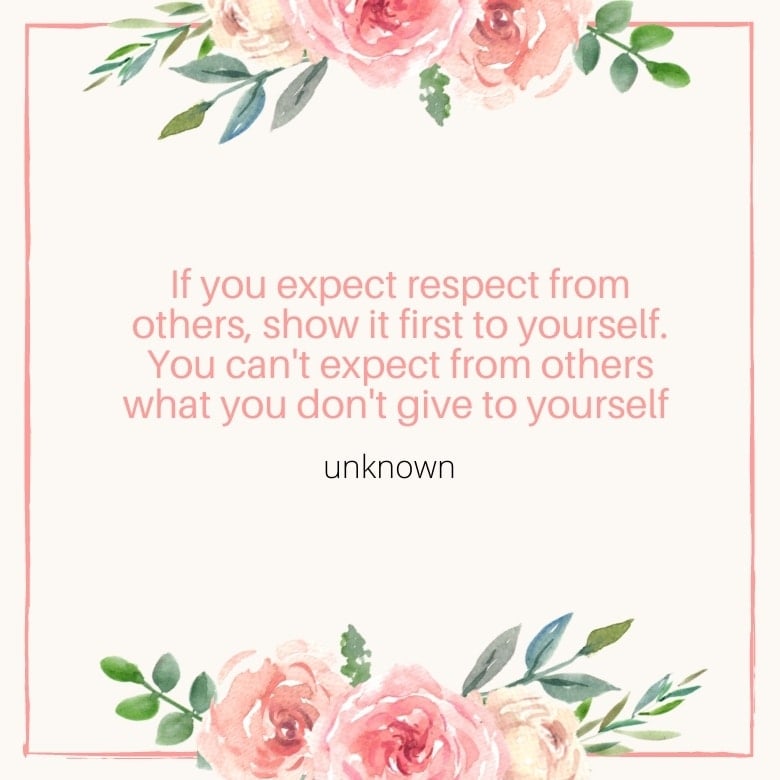 22.
There are days I drop words of comfort on myself like falling leaves and remember that it is enough to be taken care of by myself. ~Brian Andreas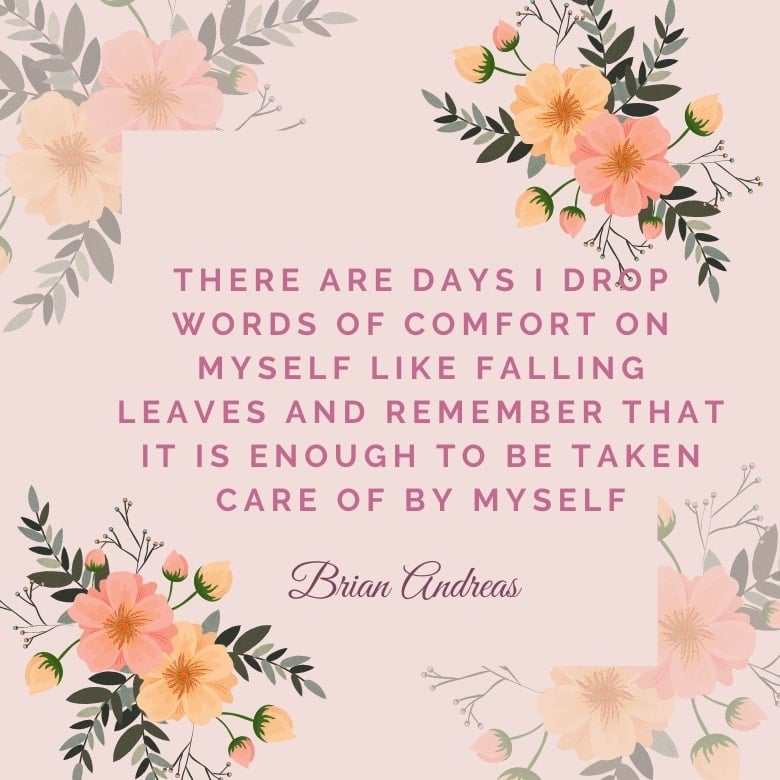 23.
You are what you eat so don't be fast cheap easy or fake. ~Unknown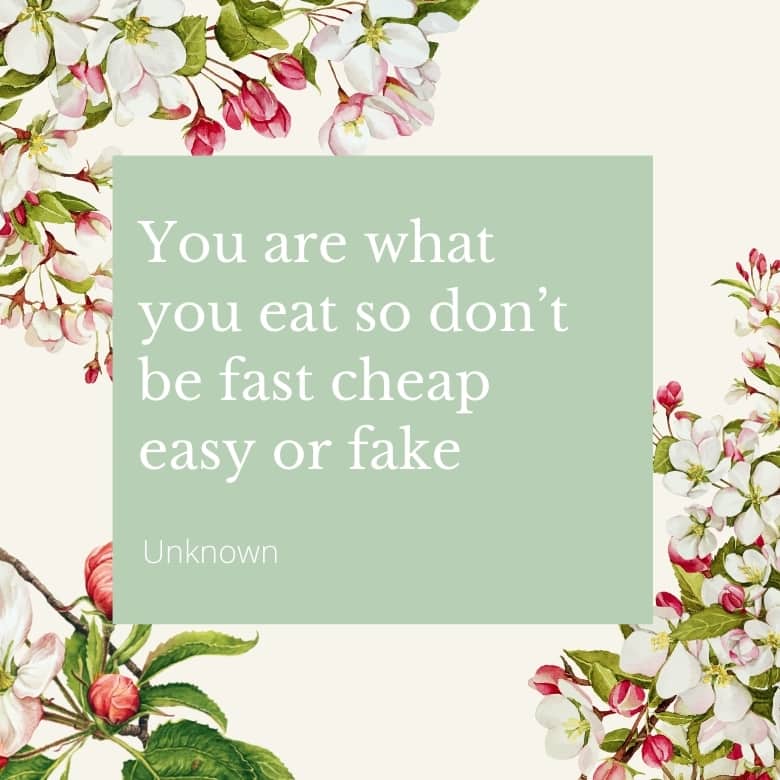 24.
There is nothing in nature that blooms all year round, so don't expect yourself to do so either. ~Unknown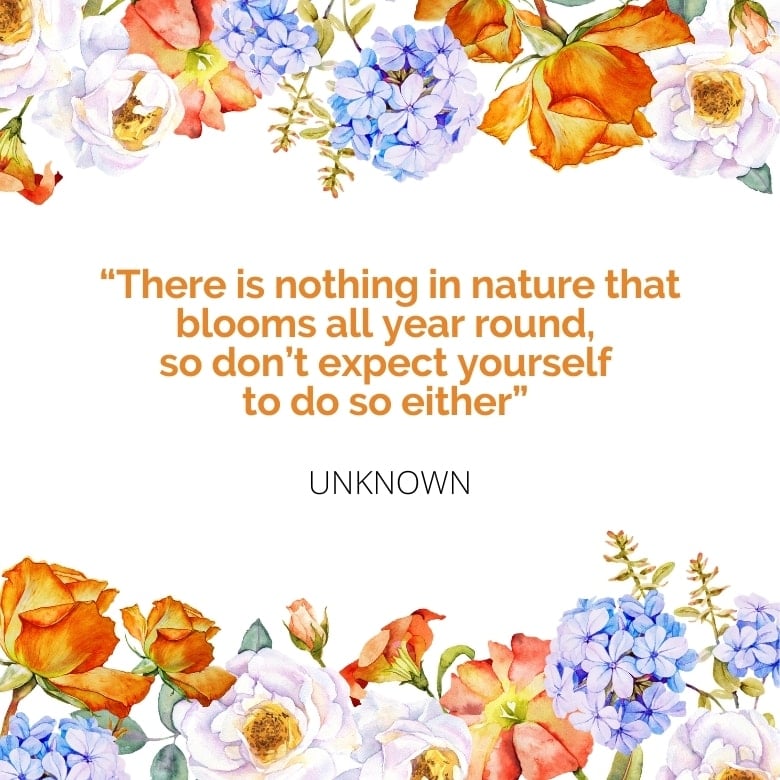 25.
this season will be golden for you. i am affirming it for you. i hope you are ready for your dreams to come true. i hope you are ready to soak in your breakthrough. ~Unknown
26.
You've got to start thinking like you're blessed, talking like you're blessed, and acting like you're blessed. That's how your blessings get activated. ~Unknown
27.
You always have more power than you think. Your mind is the most extraordinary tool you have to shape your reality. ~Marie Forleo
28.
Helping yourself, you help the world. You are in the world – you are the world. You are not different from the world, nor is the world different from you. ~Sri Ramana Maharhi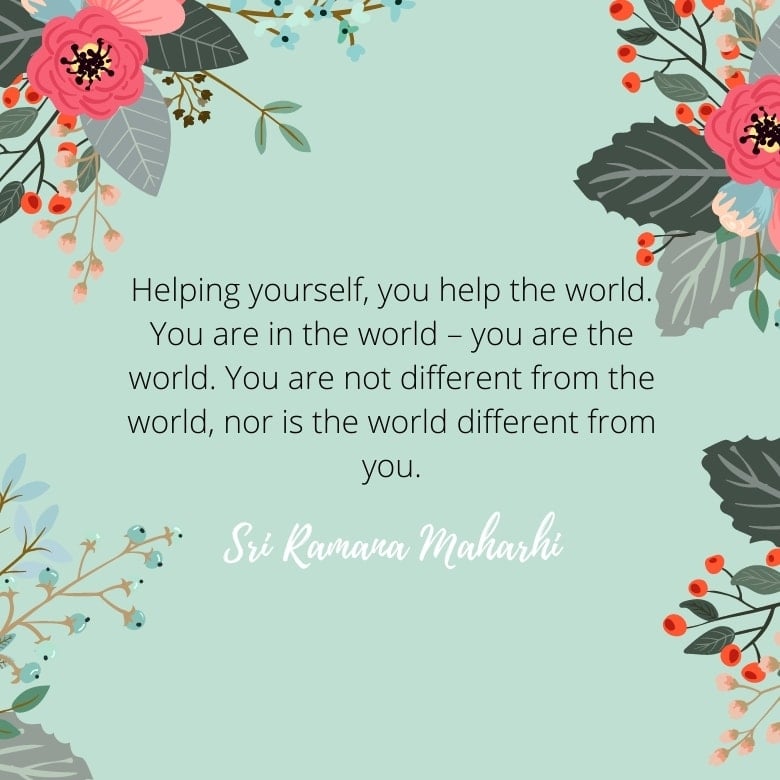 29.
I've spent

So much time

At war with

Myself, I have

Forgotten

I am the walls

of my home

Forgive her, and she

Will forgive you, too

No matter how many times

You asked her to break

—my relationship with my body

~Wilder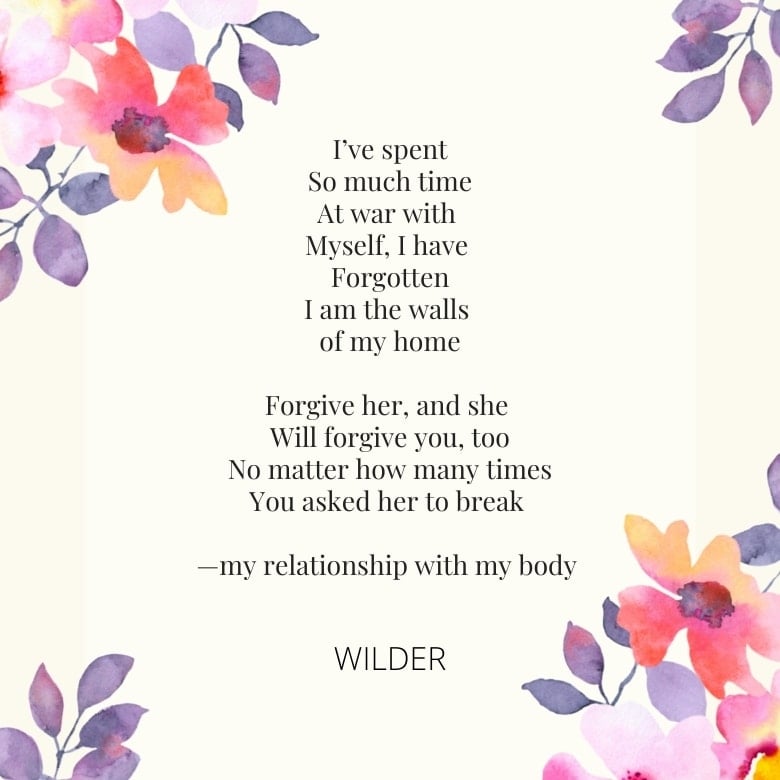 30.
You were born an original work of art. Stay original always. Originals cost more than imitations. ~Suzy Kassem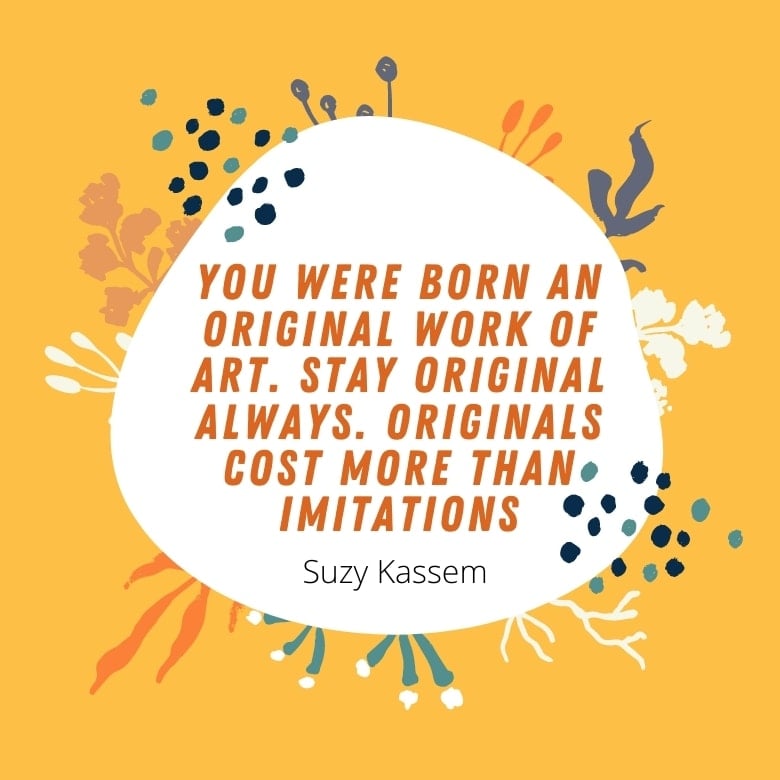 What's your favourite self love quote? How do you show yourself love during rough times? Let me know in the comments!
Desi~liciously Yours,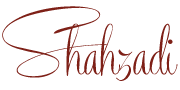 Want a FREE Delicious Offer?