Done in 20 minutes, this recipe for masala pan-fried basa fish fillets is a terrific, healthy weeknight fish dinner! It is flavoured with warm spices and finished with a generous squeeze of fresh lemon juice. Spicy on the outside and fork-tender on the inside, this basa fish fillet melts in your mouth!
"Loved this recipe. Will definitely be adding to the rotation. Helpful tip about drying the fish, so it doesn't stick. My Sri Lankan husband loved it too." Erin Senanayake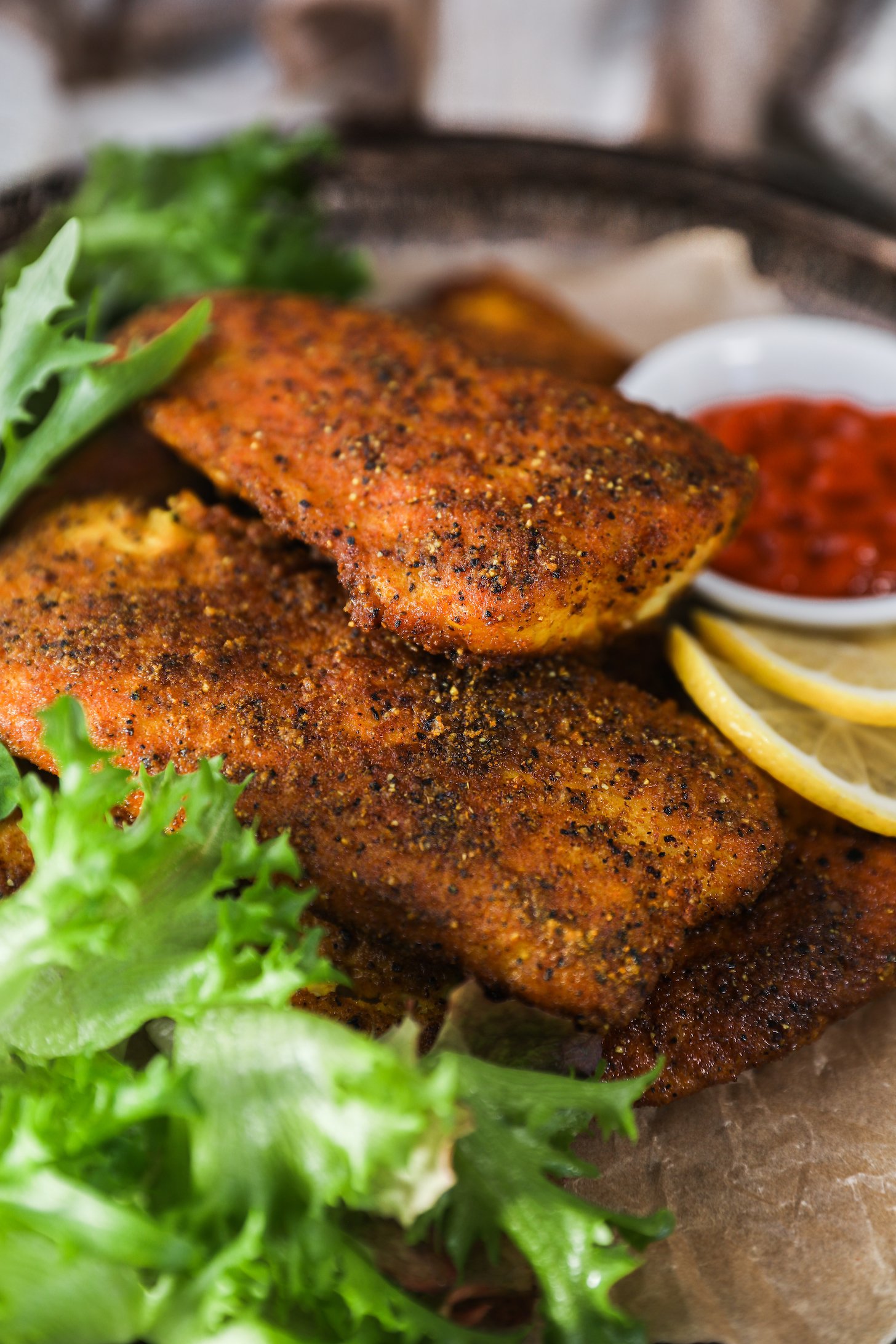 In this post, you will find the following information:
5 nutrition benefits of this delicious recipe
Pan-seared basa fillets are an excellent source of lean protein.
The spices (turmeric and pepper) offer an anti-inflammatory boost.
It's keto friendly, which makes this recipe a fantastic option for those on low-carb diets.
Basa fish is low in fat and calories.
It's the ideal sidekick to vegetables, like salads.
Being a dietitian expert and home chef, I'm frequently asked for healthy dinner ideas. A few weeks back, when I posted my fish biryani, it garnered considerable attention, with many of you requesting more 30-minute meals. So, to give your family an effortless dinner experience, I am thrilled to present this delicious masala pan fried basa recipe.
What is basa?
Basa fillet, commonly known as swai in the US, is an aquaculture (fish-farming) product that originates in Vietnam. It has a smooth and delicate white flesh and is usually sold fresh or frozen at your local grocery store.
Basa is very similar to catfish but is more affordable. In fact, it's very popular in Southeast Asia and appears on menus at Vietnamese restaurants all over North America.
Basa is a firm white fish with a mild taste and texture, which makes it a great substitute for any recipe that calls for tilapia, cod or sole. Plus, it can withstand pan frying without breaking apart like pollock.
In this recipe, we pan-fry basa fillets in olive oil and season the fish with curry powder, turmeric, salt, and pepper. The pan-frying method results in a beautiful golden crust on both sides of each base fillet.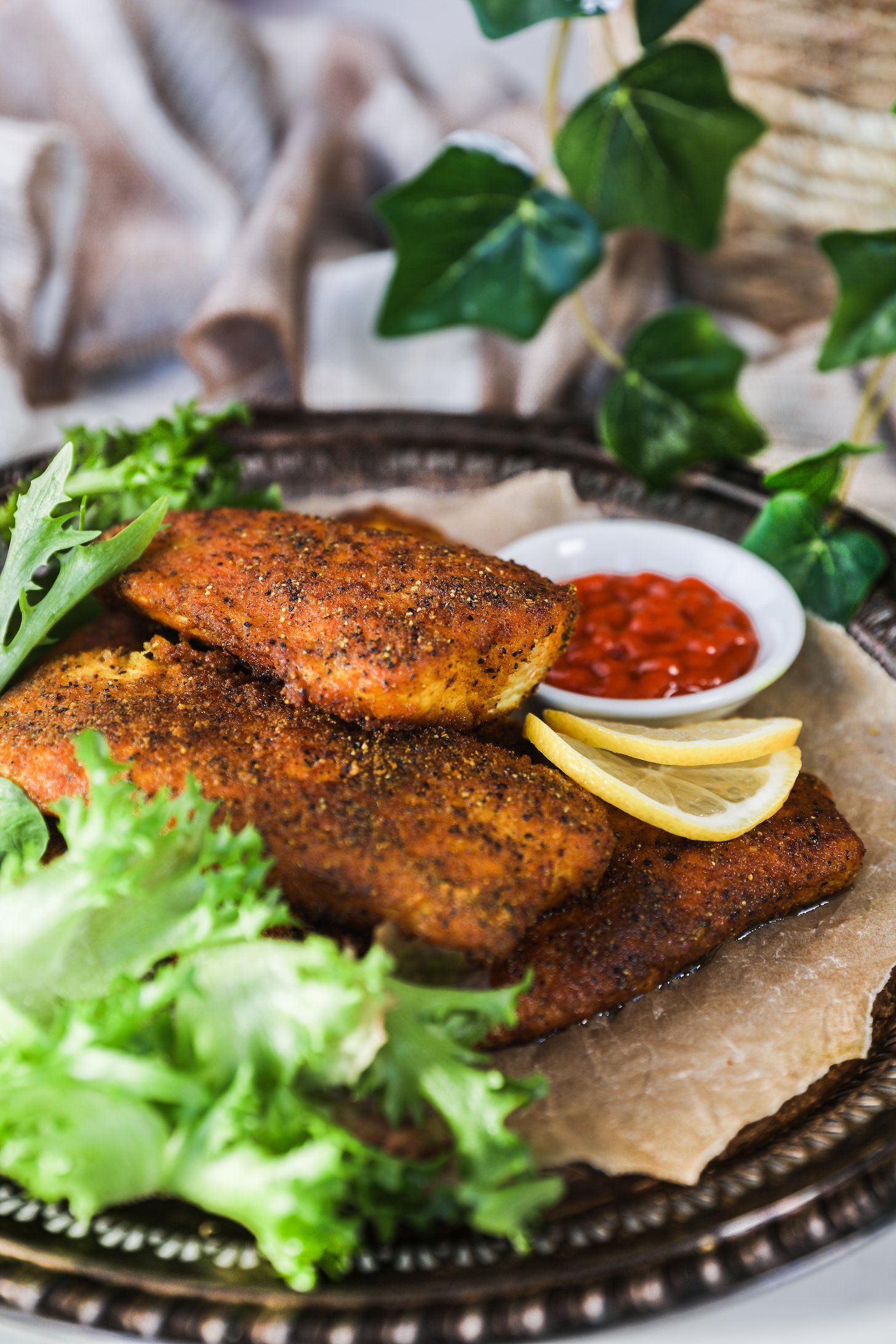 Is basa high in mercury?
No, basa fish is not high in mercury.
The fact is: all fish have traces of mercury — while some types contain more than others. Actually, mercury is naturally found in the air, water, and living creatures (in low doses).
Interestingly, there's been considerable hype (and confusion!) about mercury in seafood and whether it's safe to eat. According to Health Canada, and this research article, only a select few types of fish should be on your radar. The recommendation is to consume the following types occasionally due to their higher levels of mercury:
Shark
Swordfish
Fresh and frozen tuna (smaller tunas such as skipjack, which is used for canned light tuna, have much less mercury)
Escolar
Marlin
Orange roughy
Certain groups (little ones and women who are – or trying to become pregnant) should limit their consumption of canned albacore (white) tuna.
The good news is that there are no recommended restrictions for other types of retail fish.
Recipe ingredients
Here's what you need to make pan-fried basa fish fillets: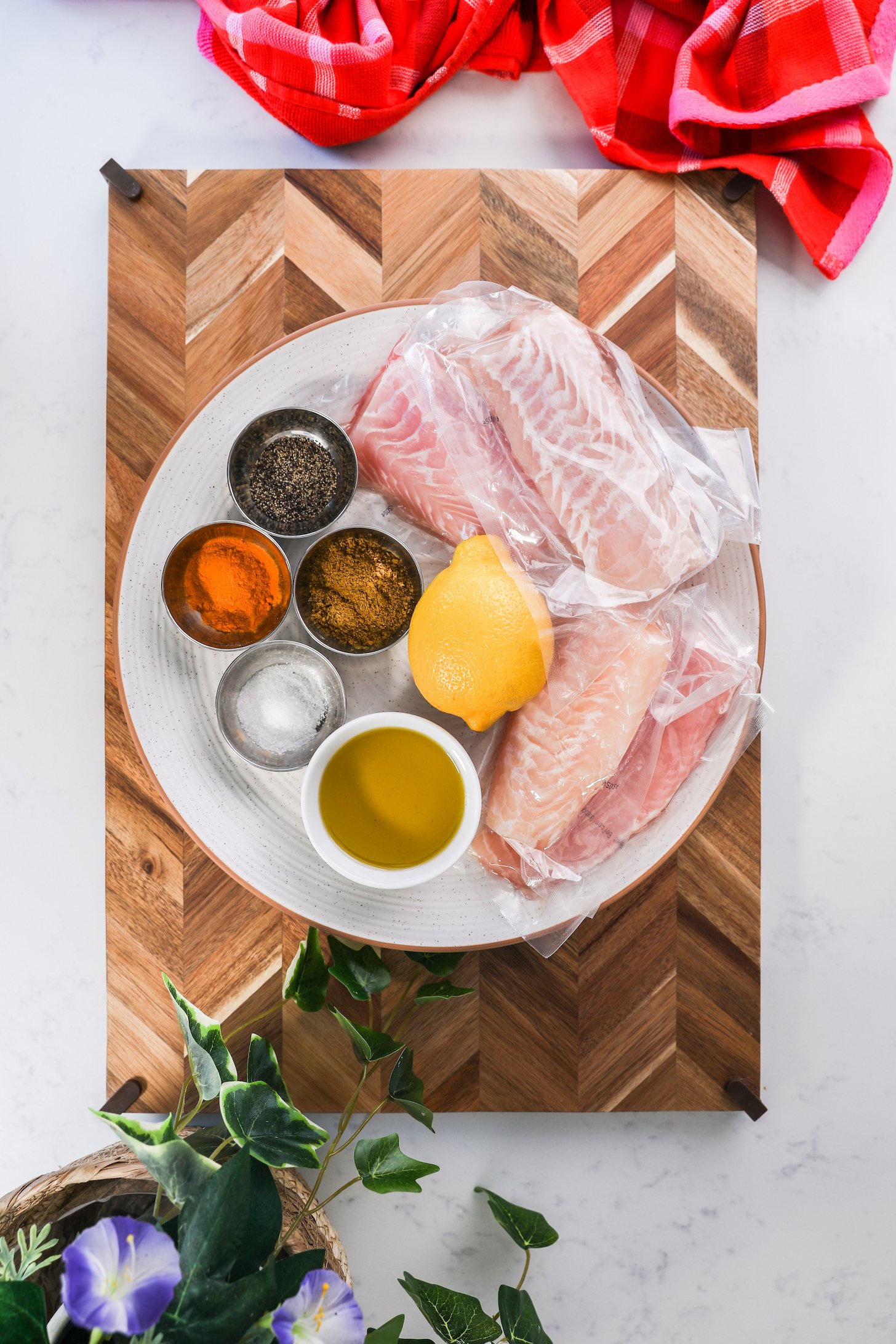 Basa. I opt for frozen basa and defrost it in the refrigerator.
Curry powder: is a blend of different spices such as chilli pepper, coriander, cumin, fenugreek seeds, mustard seeds and turmeric root, among others. If you don't have curry powder on hand, feel free to replace it with a mix of cumin, coriander and chilli powder. I use Madras curry powder.
Turmeric: is one of my favourite spices because of its delicious earthy, slightly sweet flavour.
Black pepper: adds a touch of heat. You can use either ground or cracked pepper.
Olive oil: extra virgin olive oil adds a pleasant flavour to the fish and gives it a crispy exterior when pan-fried. Plus, it's a heart healthy cooking oil, with a higher smoke point than other types of fat.
Salt: if you're watching your sodium intake, omit salt and add lemon juice.
Lemon. Lemon juice is an optional addition to add tang and deliciousness. Consider squeezing some on top of a warm basa fillet just before serving.
How to make it – step by step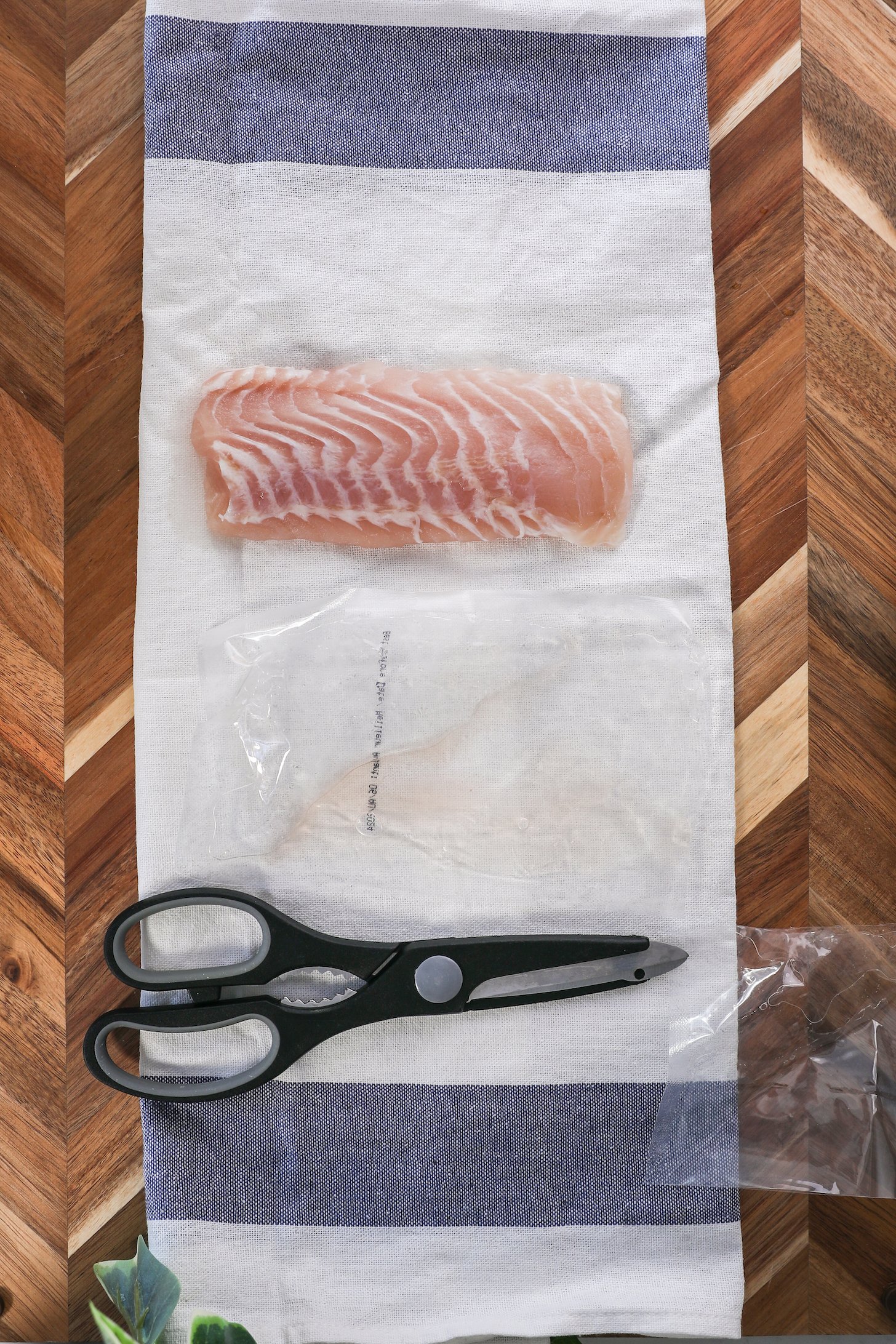 The recipe card (which you can find at the bottom of the page) includes ingredient measurements.
Cooking method tip
The secret to cooking perfectly pan fried basa is to:
Preheat the pan properly (medium to high heat is ideal)
Cook with vegetable oil or olive oil; they have higher smoke points
Ensure the oil coats the entire pan before adding the fish
Sear the fillets on medium heat to achieve an exquisite masala crust
Flip the fillets only once when they are well-browned on one side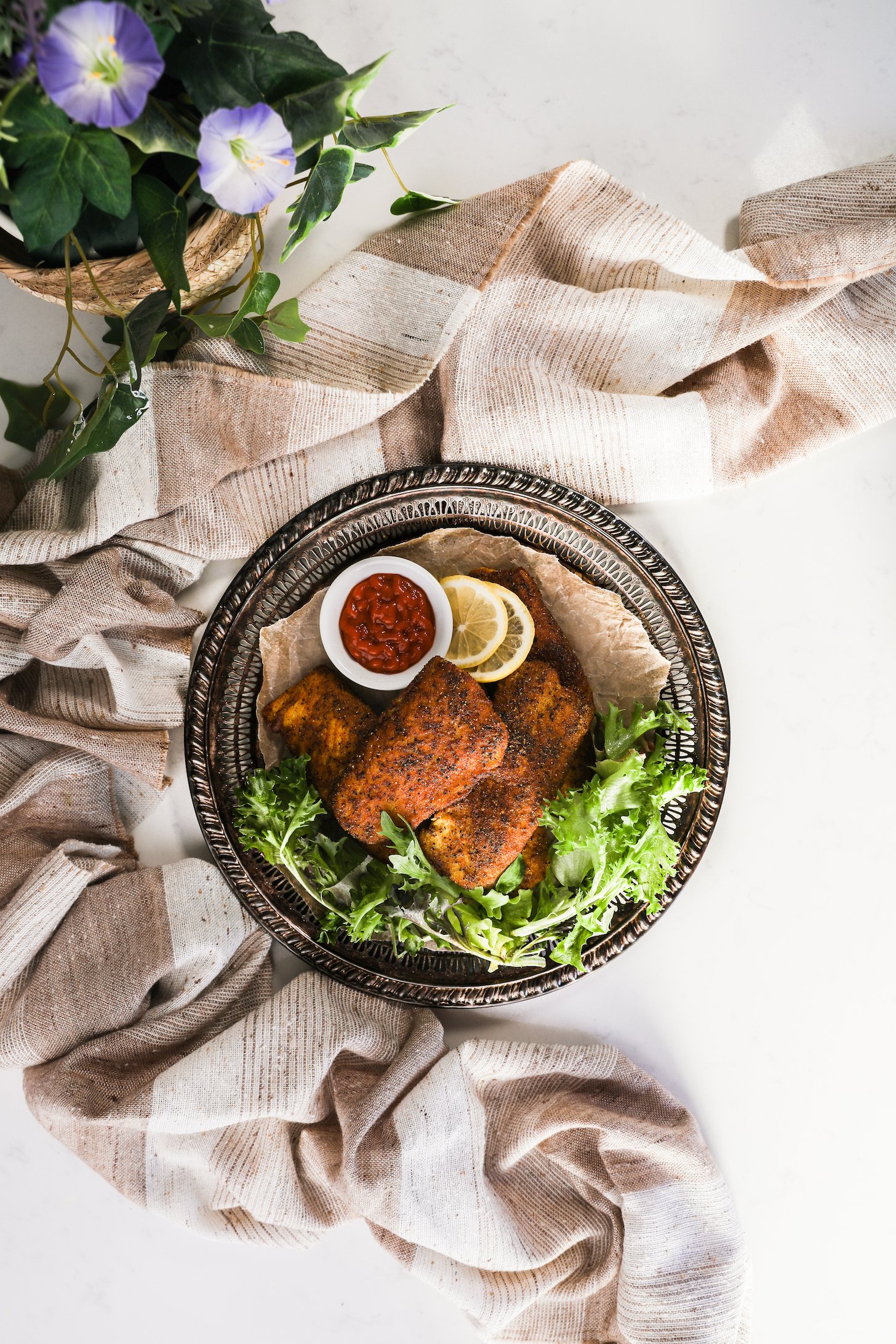 Easy fish dinner ideas
Healthy dinner options can be both tasty and nutritious. Below are meals that I've crafted to help you make the most of your time in the kitchen. Whether you're looking for heart smart dishes, or recipes that can help with blood sugar management to better manage Type 2 Diabetes, these healthy family meals will provide the nutritional support your body needs.
Serving idea one: basa with a side salad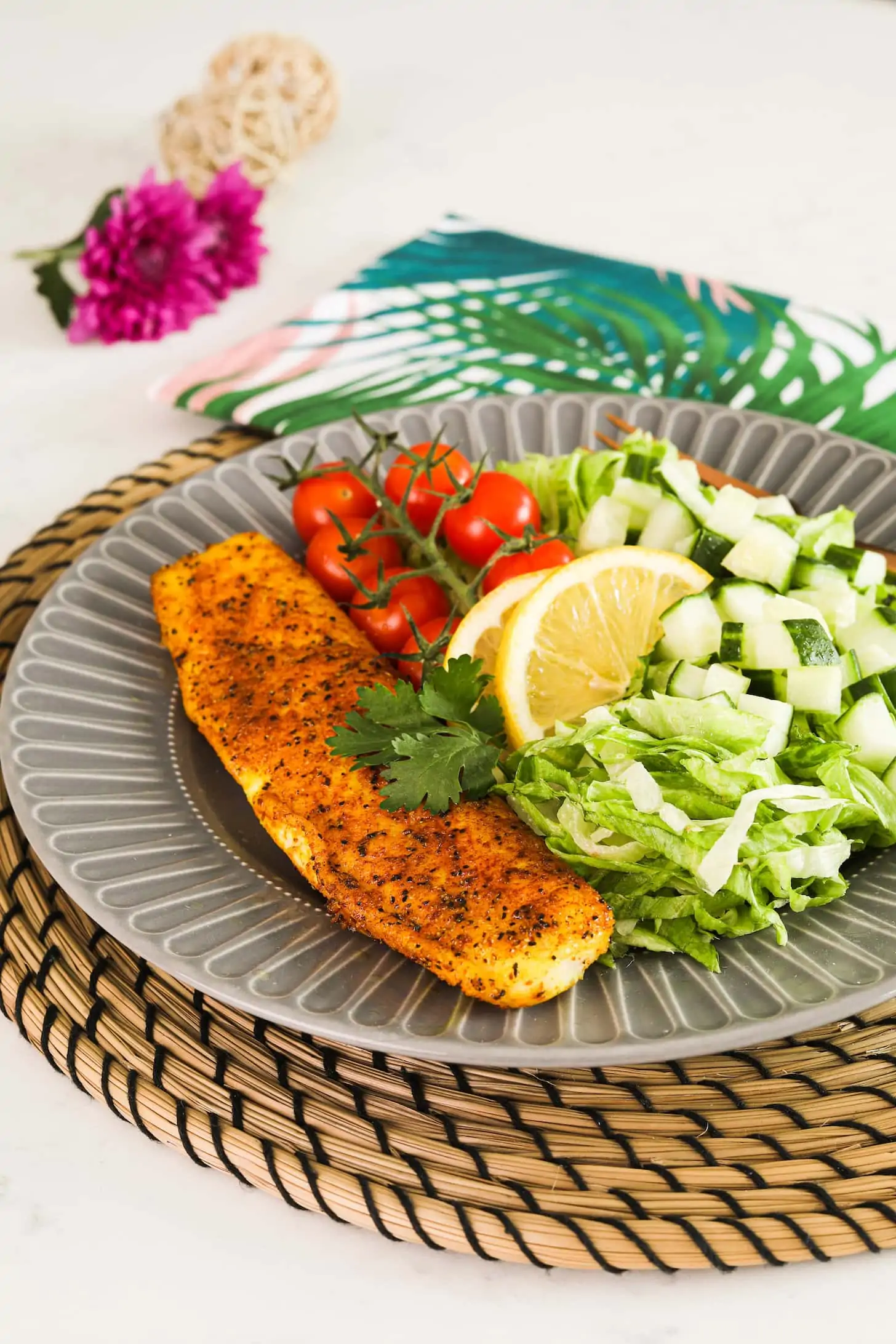 Serve your fillets with a simple side salad of chopped lettuce, crunchy cucumber slices, and cherry tomatoes. A little squeeze of fresh lemon juice adds zest to the mix. This is a low-carb light supper that can be prepared at a moment's notice! It's also brimming with vitamins, minerals and antioxidants!
Serving idea two: basa tacos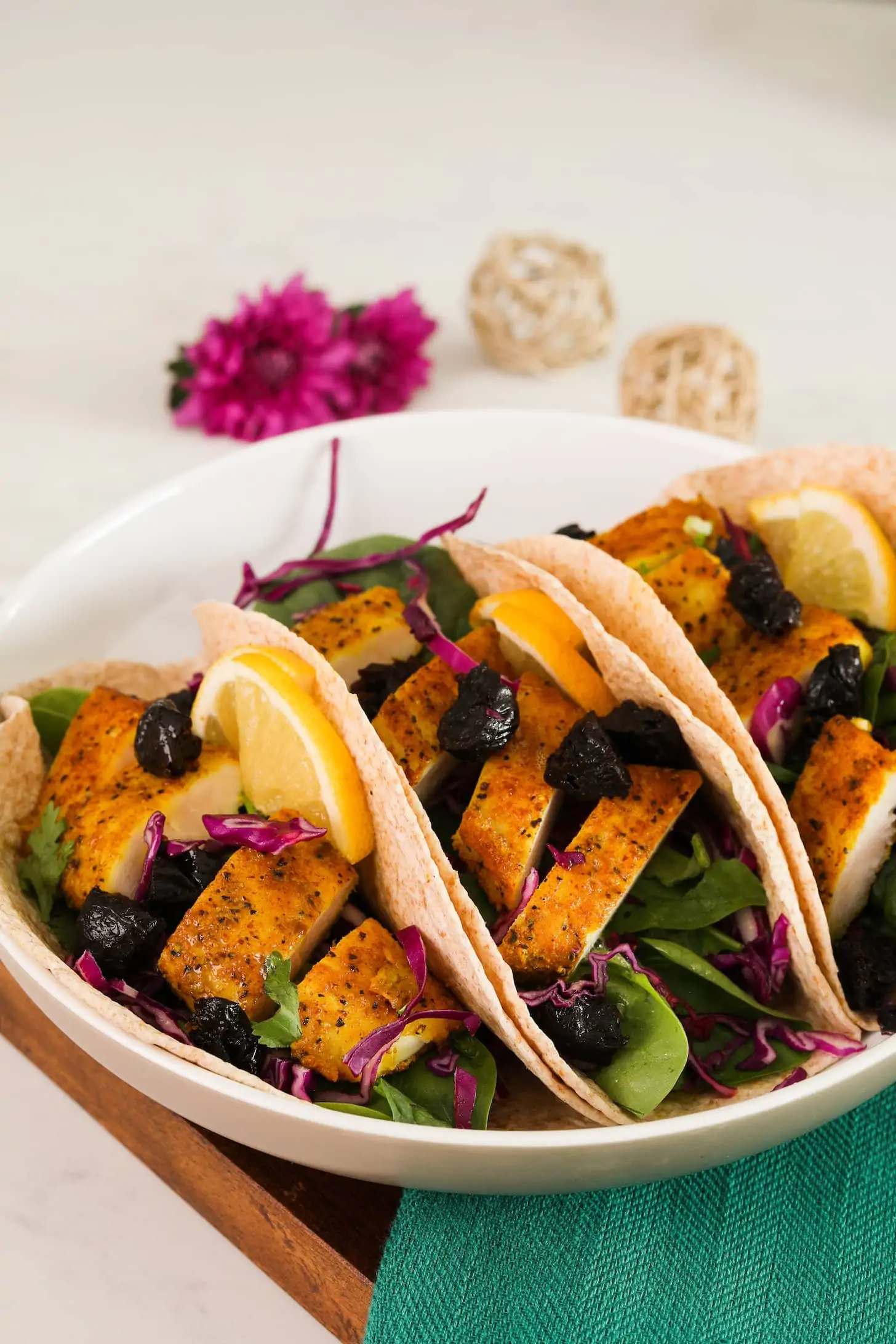 Tacos are easy to make, and the combination of ingredients is simply brilliant. You can stuff your favourite tortilla with slices of basa and fill it with spinach, cabbage, and dried fruits for a kiss of sweetness. I've used prunes, but other dried fruits will work just as well. This one is a hit with the family!
Serving idea three: basa with quinoa and vegetables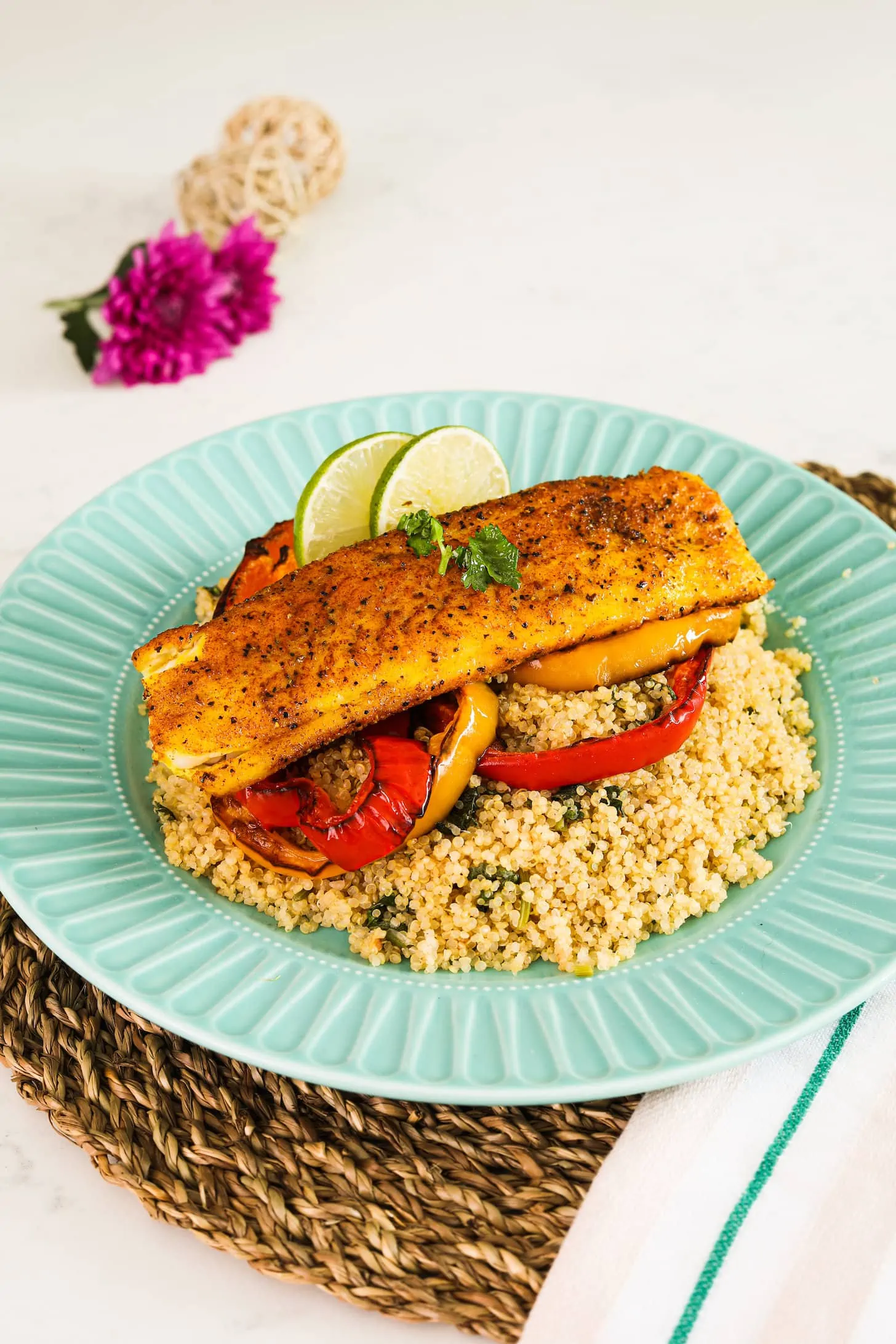 Basa served over a bed of Cilantro Lime Quinoa is next-level deliciousness — especially if you're looking for a quick and healthy dinner. I used leftover roasted peppers to give it some smokiness and additional nutrients. Yum!
Common Questions (You Asked:)
Is basa fish healthy?
Basa fish is a nutritious seafood option that is low in calories and fat and rich in protein. Additionally, basa fish contains some omega-3 fatty acids, which have numerous health benefits, including reducing inflammation, lowering cholesterol levels, and improving cognitive function. Eating lean sources of protein, such as fish, regularly may help to improve your overall health.
Is basa fish boneless?
Yes, basa fish is typically sold as boneless fish. However, it's always a good idea to check the packaging before purchasing to be sure. If you do find a bone in your fillet, simply remove it with a sharp knife before cooking.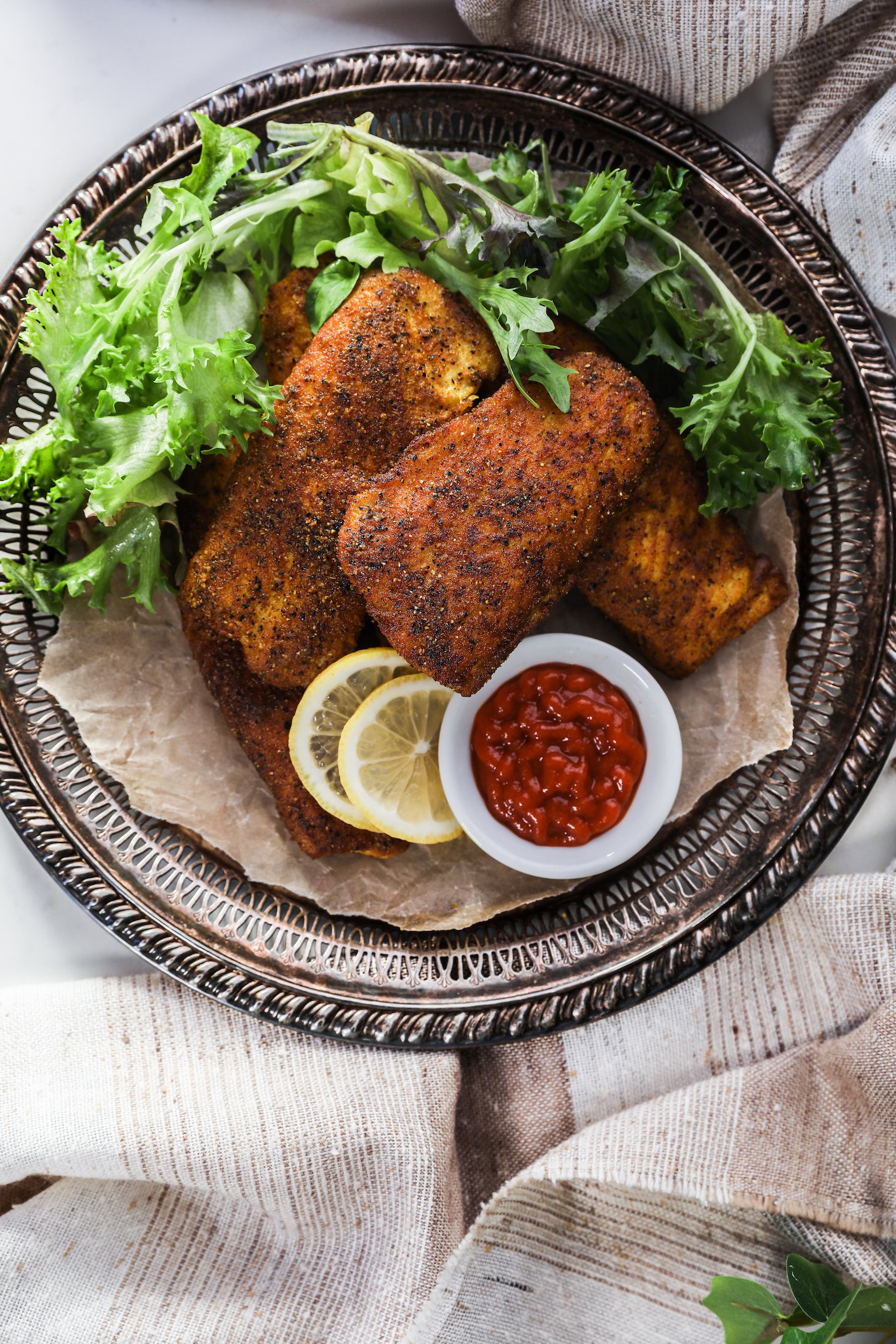 Is basa a white fish?
Yes, basa is a type of white fish. It's mild and flaky, making it ideal for pan frying. Its firm texture is similar to that of cod or haddock.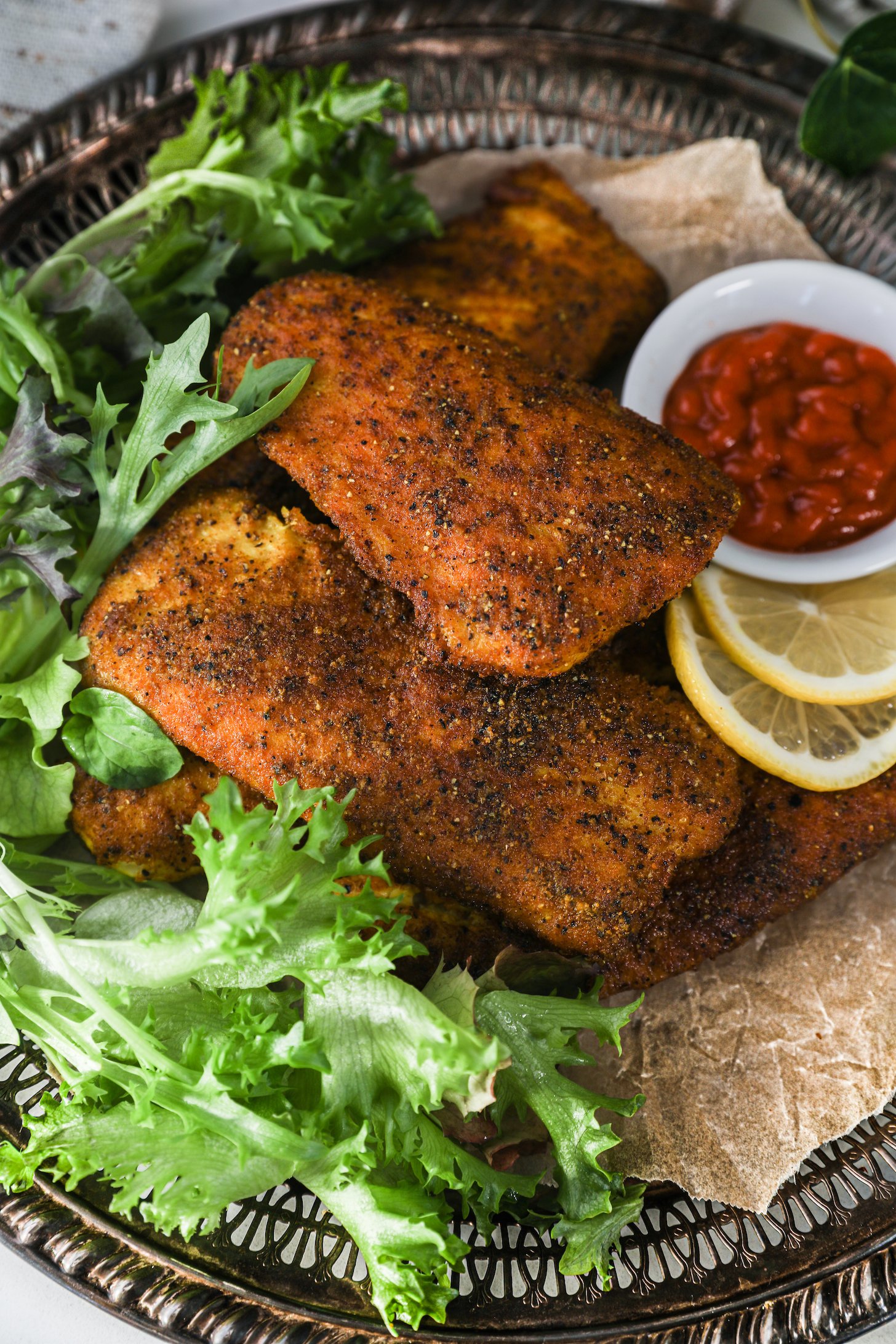 I would be thrilled to receive your feedback on this diabetes friendly fish recipe! Please leave a comment, rate it or share a photo and hashtag #desiliciousrd on Instagram – I'm so excited to see your photos.
Desi~liciously Yours, Shahzadi
Hungry for more?
Subscribe to my newsletter for free recipes, nutrition tips and all the latest updates.
Done in 20 minutes, this recipe for spicy pan-fried basa fish fillets is a terrific, healthy weeknight fish dinner! It is flavoured with warm spices and finished with a generous squeeze of fresh lemon juice. Spicy on the outside and fork-tender on the inside, this basa fish fillet melts in your mouth!
Ingredients
5

basa fillets

,

large, thoroughly dried

2½

tsp

curry powder,

Madras

1¼

tsp

turmeric powder

1¼

tsp

black pepper

,

coarse

1¼

tsp

salt

,

sea salt

3

tbsp

olive oil

, extra virgin, Benefits of olive oil

½

lemon

,

juice (optional)
Instructions
Pat dry basa fish fillets with a kitchen towel.

Combine spices, salt and pepper and sprinkle spice mix to coat the fillets. Ensure both sides are coated completely.

In a large non-stick skillet or pan, heat 2 tbsp oil over medium/high heat.

Place 3 spice-coated fillets in the pan and cook for 3-4 minutes per side or until cooked through. Cooking time will vary depending on the thickness of your fillets.

Repeat the same process for the other two basa fillets, utilizing the remaining one tablespoon of olive oil.

Serve each fillet with a squeeze of fresh lemon juice.
Notes
People worry about fish sticking to the pan. One way to prevent this is making sure the basa fillets are as dry as can be.
Before adding the fish, make sure the oil coats the pan evenly.
You want to cook the fillets on medium to high heat.
Use a very thin spatula. Some folks claim that a special fish spatula made of metal is the best. I haven't tried this.
If you're trying to reduce salt, use less of it and more lemon juice instead.
Nutrition Information:
Calories:
214
kcal
(11%)
Carbohydrates:
2
g
(1%)
Protein:
22
g
(44%)
Fat:
13
g
(20%)
Saturated Fat:
3
g
(15%)
Polyunsaturated Fat:
1
g
Monounsaturated Fat:
6
g
Cholesterol:
26
mg
(9%)
Sodium:
943
mg
(39%)
Potassium:
50
mg
(1%)
Fiber:
1
g
(4%)
Sugar:
0.3
g
Vitamin A:
15
IU
Vitamin C:
6
mg
(7%)
Calcium:
11
mg
(1%)
Iron:
1
mg
(6%)
Keep in mind that the nutritional values provided are approximations and suggestions. This nutrition facts table cannot account for your individual needs. Your body — including your hunger and satiety cues — change daily. It's perfectly fine to eat more or less on different days. Instead of letting food guilt take over, consider mindful eating.
* Percent Daily Values are based on a 2000 calorie diet.
FIX MEAL PLANNING OVERWHELM
Done-for-you meal plans that will end your cooking wars!
A selection of mouthwatering eco-friendly and plant-focused whole food recipes, complete with grocery lists.
Food shopping and meal prep tips to make the most of your time in the kitchen and take the guesswork out of what to eat and how to prepare it!