If you're looking for a quick and easy breakfast that's also nutritious, look no further than this pumpkin chocolate smoothie bowl. This recipe is dairy-free and packed with nourishing ingredients rich in antioxidants and dietary fibre, making it the perfect way to start your day. And it takes literally 5 minutes to make!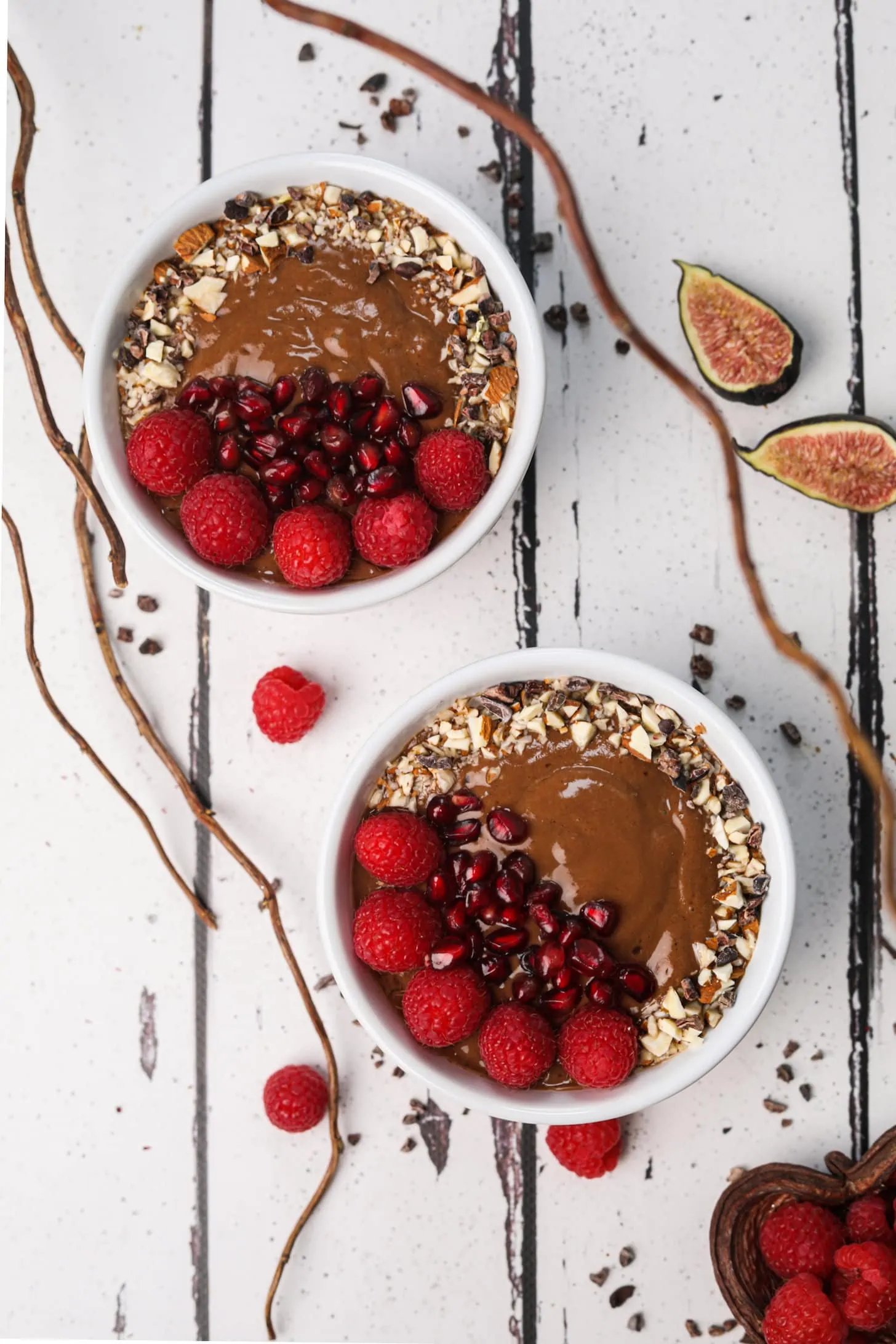 As a registered dietitian and certified diabetes educator, I am a big fan of breakfast ideas that taste like indulgent desserts to add a special touch to mornings! And healthy smoothie bowls like this chocolate smoothie feel like you've hit the jackpot. It's rich and chocolatey, yet wholesome and satisfying. Of course, with the addition of pumpkin, it's a stellar choice for fall.
If you're on the lookout for plant-based breakfast ideas, curry tofu scramble and this homemade protein shake (without protein powder!) will not disappoint. And for more chocolatey breakfast inspiration, be sure to check out these chocolate oatmeal cookies and my chocolate chia seed pudding. Both contain zero added sugar and are oh-so-delicious!
Is chocolate smoothie healthy?
You might be wondering if chocolate smoothie is healthy. Well, that depends on your definition of healthy. In my view, all kinds of food can be part of a healthy diet, as long as they're consumed in moderation and with intention.
With that said, this pumpkin chocolate smoothie recipe is a nourishing choice than most store-bought chocolate drinks because it contains no added sugar or artificial ingredients. Instead, it's brimming with nutrient-loaded ingredients that offer an array of health benefits. For example, pumpkin is a good source of vitamin A, to support your immune system function at its best. And cacao is rich in antioxidants, which help protect cells from damage.
Remember diet culture ensues comparison and perfectionism through the promotion of "good" and "bad" foods. If you subscribe to the philosophy that chocolate is bad for you, then this chocolate smoothie bowl recipe might not be for you. However, if you believe that all foods can fit into a healthy diet, then I invite you to give this chocolate smoothie a try! Your relationship with food is unique to you, and I hope this recipe can be one that brings you joy — as it does for me.
Ingredients
A short ingredient list is one of the things I love most about this chocolate smoothie recipe! All you need is:
Soy milk: I opt for unsweetened soy milk to control the amount of sweetness. You can use any type of milk you like, although I find soy milk to produce the creamiest consistency.
Pumpkin puree: canned pumpkin puree is my go-to for this chocolate smoothie bowl. If you have leftover roasted pumpkin, you can absolutely use that too.
Cacao powder: cacao powder is what gives this chocolate smoothie its rich chocolate flavour. You can find it at most health food stores or online. I opt for the unsweetened variety.
Frozen bananas: frozen bananas are key for creating a thick and creamy consistency. I like to slice my bananas and freeze them in advance so they're ready to go when I'm craving a smoothie.
Pumpkin spice powder: I love the warmth and depth of flavour that pumpkin spice powder adds.
Toppings: your favourites! Think nuts, fruits and seeds.
How to make a chocolate smoothie
Healthy morning smoothies couldn't be easier to whip up. Just look how simple this chocolate smoothie recipe is:
Simply combine all of the ingredients in a blender and blend until smooth (Steps 1-2). I like to use frozen bananas for a thick and creamy texture, but you can also use fresh bananas if you prefer. If you find that the mixture is too thick, add a little more almond milk until it reaches your desired consistency.
Then, pour into a bowl and top with your favourite toppings. I like to add a sprinkle of cacao nibs, some chopped almonds and fresh berries and pomegranate. But feel free to get creative and use whatever you have on hand.
Tips
Following are a few tips to help you make the best breakfast smoothie:
For the sweetest and creamiest smoothie, use bananas that are ripe or overripe. You can tell they're ripe when they're covered in brown spots and/or have started to soften.
If your frozen bananas are too hard to blend, let them thaw for about five minutes before adding them to the blender. This will make it easier on your blender and produce a smoother smoothie.
If you find that the chocolate smoothie is too thick, add more liquid until it reaches your desired consistency.
If you want to make this chocolate smoothie ahead of time, simply blend all of the ingredients together and store them in a jar or container in the fridge for up to 24 hours. When you're ready to enjoy your smoothie, give it a good stir and add your favourite toppings.
Remember, healthy breakfast smoothies are all about balance. If you want a chocolate smoothie that's more indulgent, add a little less pumpkin puree and/or use coconut cream.
If you're looking for a diabetes-friendly smoothie, consider opting for one less banana and top it off with nuts.
My go-to blender – Vitamix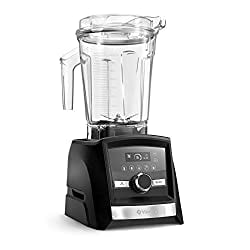 I use this Vitamix blender in my kitchen. I got it about 2 years ago, and it functions beautifully, making smoothies, frozen desserts and even soups ever so easy!
What should I put in my breakfast smoothie?
Smoothies may be used to provide not only nutrition but also taste satisfaction. Here are a few add-ins to try:
Kale, spinach, and lettuce are examples of leafy greens. These have fewer calories but more protein and iron than fruits.
In addition to animal-based protein sources, milk and milk alternatives like soy, almond, and coconut milk or Greek yogurt can help you meet your daily needs. Some of these options may be better than others in terms of protein quality, but they can all help contribute to a feeling of fullness.
Using bananas or other naturally sweet fruits like pumpkins in your smoothie is an excellent way to create a delicious and nutritious breakfast – without needing to add extra sugar! If you're looking for a low-carb option, berries would be one of my first recommendations.
Nuts and nut butters: almonds, cashews, brazil nuts, walnuts, pecans, etc. are excellent sources of protein and healthy fats that may be added to smoothies for a boost of nutrients. There's a long list for you to choose from!
Cacao powder nutrition facts and health benefits
Cacao powder is made from the beans of the cacao tree and is a rich source of antioxidants. Just one tablespoon (5 grams) of cacao powder contains:
| | | |
| --- | --- | --- |
| Nutrient and calories | Amount | %DV |
| Fat | 2g | 3% |
| Protein | 1g | 2% |
| Carbohydrate | 2g | 1% |
| Sugars | 0g | 0% |
| Dietary Fibre | 2g | 7% |
| Cholesterol | 0mg | 0% |
| Saturated Fats | 1g | 5% |
| Magnesium | 24mg | 6% |
| Sodium | 0mg | 0% |
| Zinc | 0.3mg | 3% |
| Copper | 0.1mg | 16% |
| Manganese | 0.1mg | 2% |
| Selenium | 2.1mcg | 4% |
| Calories | 29 | |
There are several nutritional perks of cacao powder. For example, it's a
Nutrition information per serving
This banana chocolate smoothie is a potent source of nutrition: a serving is:
an exceptional source of vitamin C (164% DV)
an exceptional source of vitamin A (403% DV)
an excellent source of dietary fibre (48% DV)
an incredible source of calcium (39% DV)
an excellent source of potassium (41% DV)
a fantastic decent source of iron (22% DV)
*Nutrient claims based on a 2000-calorie diet.
What are some of your go-to wholesome breakfasts?
If you try this healthy vegan smoothie bowl, I would love to hear from you! Leave a comment, rate it, or share a photo and hashtag with #desiliciousrd on Instagram, Facebook and Twitter! I can't wait to see your photos.
Hungry for more?
Subscribe to my newsletter for free recipes, nutrition tips and all the latest updates.
Desi~liciously Yours, Shahzadi
If you're looking for a quick and easy breakfast that's also nutritious, look no further than this pumpkin chocolate smoothie bowl. This recipe is dairy-free and packed with nourishing ingredients rich in antioxidants and dietary fibre, making it the perfect way to start your day. And it takes literally 5 minutes to make!
Ingredients
1

cup

soy milk

,

you can use your favourite plant milk too!

1

tbsp

cacao,

no added sugar

½

cup

pumpkin puree

,

canned

2

bananas

,

large, very ripe and frozen

1

tsp

pumpkin spice
Instructions
In a high-speed blender, add milk, cacao, pumpkin purée, frozen ripe bananas, and pumpkin spice.

Blend for 1-2 minutes or until smooth and creamy.

Transfer to a bowl and finish by adding your favourite toppings (optional). I used cacao nibs, crushed plain almonds, pomegranates seeds and fresh raspberries.
Notes
Make sure you use frozen and ripe bananas. This is what will mostly determine the level of sweetness of your chocolate pumpkin breakfast smoothie
Prevent food waste by storing leftover pumpkin puree in small containers and freeze – ready for more recipe creations
If serving as a dessert, this will serve two people
You can prepare all the ingredients the night before and simply blend in the morning – quick and easy!
Nutrition Information:
Calories:
404
kcal
(20%)
Carbohydrates:
74
g
(25%)
Protein:
12
g
(24%)
Fat:
10
g
(15%)
Saturated Fat:
3
g
(15%)
Sodium:
127
mg
(5%)
Potassium:
1430
mg
(41%)
Fiber:
12
g
(48%)
Sugar:
39
g
(43%)
Vitamin A:
20143
IU
(403%)
Vitamin C:
43
mg
(52%)
Calcium:
386
mg
(39%)
Iron:
4
mg
(22%)
Keep in mind that the nutritional values provided are approximations and suggestions, and might fluctuate depending on ingredient variations, portion sizes, and recipe adjustments. This nutrition facts table cannot account for your individual needs. Your body — including your hunger and satiety cues — change daily. It's perfectly fine to eat more or less on different days. Instead of letting food guilt take over, consider mindful eating.
* Percent Daily Values are based on a 2000 calorie diet.