Medically reviewed by Shahzadi Devje, Registered Dietitian (RD) & Certified Diabetes Educator (CDE)
According to Hippocrates, "All disease begins in the gut."
And while this may not be 100% true for every disease in every person, a vast amount of research indicates that our gut (digestive system) has an enormous role in many diseases than we used to think. And we're not just talking about heartburn, constipation, diarrhea, IBS, IBD, etc. We're talking about all kinds of issues like allergies, pain, insulin resistance (a hallmark of type 2 diabetes), fatigue, higher weights, mood disorders, and nutrient deficiencies.
There are a lot of reasons for this.
Our gut is the portal to the outside world. It's here where we take in disease-causing bacteria, viruses, and parasites. We also take in nutrients (and toxins) through our gut. The nutrients we ingest and absorb are the building blocks of every single part of our body. We're just learning the connections between our gut and other areas of our body, like our brain (have you heard of "the gut-brain axis"). Not just our gut per se; but, its friendly resident microbes too. These guys also have newly discovered roles in our gut health and overall health.
So, let's talk about the roles that our gut and our gut microbes play in our overall health. Then I'll give you tips to improve your gut health naturally.
Our gut's role in our overall health
Our gut's main role is as a barrier; to let things in that should get in, and to keep things out that should stay out. Think of "absorption" of nutrients as things we want to let in; and "elimination" of waste as things we want to pass right through and out.
This seemingly simple role is super-complex! And it can malfunction in so many places.
For one thing, our guts can "leak." Yes, like a long tube with holes in it, it can allow things to get into our bloodstream/bodies that can wreak havoc (bacteria, undigested food, and toxins). You name it, whatever you put into your mouth can be absorbed by your gut and get into your bloodstream, even if it's not supposed to. And when your gut wall gets irritated, it can "leak." When this happens, there's widespread inflammation, which is the culprit for many diseases that don't seem linked to the gut but have a sneaky connection there.
FUN FACT: About 70% of our immune system lives in and around our gut.
Indeed, one can argue, that our gut is a major component to our immunity and overall health. And any issues there, can cause a tide of problems to proliferate in the body.
A healthy gut is not a leaky gut. It maintains the integrity of its barrier and shuttles things through  to be eliminated.
Maintaining a healthy gut barrier is the first pillar of gut health.
The second main part of your gut are the billions of friendly health-promoting microbes. Gut microbes help us digest and absorb nutrients. They fight off disease-causing microbes, make some vitamins for us, and have all kinds of other health benefits, like mental health benefits, reducing inflammation, and stabilizing blood sugar.
So, keeping your gut microbes happy is the second pillar of gut health!
How to improve gut health
There are a number of natural ways to improve gut health. Let's start with what to stop or phase-out. It's always best to eliminate the cause, so let's avoid giving our guts junk to deal with. How about eliminating (or significantly reducing) added sugars, processed (especially the ultra-processed stuff) foods, and alcohol? Try that for a few weeks, and you may be amazed at how much better your body (and gut) feels.
A review of the literature in 2016, showed that an increased consumption of sugar negatively impacts the gut bacteria colony, leading to dysbioisis (gut bacteria imbalance). When our gut bacteria becomes unbalanced, it affects the integrity of our gut barrier (remember leaky gut?!).
You may also want to work with a Registered Dietitian to investigate other gut irritants and embark on an elimination protocol. Dairy and grains contain common compounds known to irritate some people's guts (note: some people). Sometimes you only need to eliminate them for a few weeks to see if it makes a difference for your health.
And it's not only about the sugar! This systematic review indicates that dietary fat can also impact the composition of our microbiota. In fact, some evidence implies that a diet high in saturated fat (fatty meats, full fat dairy, butter, cream, lard) may promote inflammation, with a plant-based diet having an anti-inflammatory response.
By eating nutrient-dense foods, we allow ample macro- and micro-nutrients into our gut to maximize the chance for absorption. These nutrients help our bodies build and repair our gut, and every other body part as well. Some of the most nutrient-dense foods include dark leafy greens, colourful fruits and veggies, liver, and fish. Bring the rainbow to your plate!
The second pillar of gut health is our microbes. By ingesting probiotic-rich foods and drinks, we can help to replenish our gut microbes. These are found in fermented foods like kombucha, kefir, miso, sauerkraut, and kimchi. Make these a part of your daily diet. There's a lot of interest and excitement in this area. Probiotics may boost immunity and certain strains could help prevent specific allergy symptoms. What's important to understand is each person's response to probiotics can vary, and the type of strain as well as the quantity can impact results. What we do know, is that eating fermented foods - rich in probiotics- helps to boost the population of good bacteria in our gut. This creates a protective barrier against germs and viruses.
Does all disease really begin in the gut? Are there links between #guthealth and allergies, pain, or moods? Has the importance of gut health been under- or over-rated? I spill the beans on gut #health in my newest post here.…
Click To Tweet
Whole foods are full of gut-friendly fiber. Not eating enough fiber has shown to increase the risk of heart disease, some types of cancers, type 2 diabetes, and higher weights. Fiber plays a critical role in our gut; including whisking away some of those pesky bad bacteria and toxins so they can be eliminated. Fiber also helps to feed our friendly resident microbes that help us absorb and digest our food better. What foods have a lot of fiber? Fruits, vegetables, nuts, seeds, and even cacao.
And don't forget the uber-important lifestyle factors like getting enough sleep, managing stress, and getting the right amount (and intensity) of exercise/movement for you. It's easy to forget some of the simple, but key links there are between what we do with our bodies and how well they function.
The function of your gut is key to your overall health. There are two pillars of gut health: maintaining a good barrier and maintaining healthy gut microbes.
The main ways to improve both of these naturally is by eating nutrient-dense whole foods. Foods filled with nutrition, probiotics, and fiber. And eliminating common gut irritants like added sugar, processed foods, and alcohol.
How do you show your gut love? What are some of your favourite probiotic-rich foods? Leave me a comment below.
Desi~liciously Yours,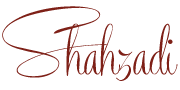 Recipe (Probiotic-rich): DIY Lacto-Fermented Mixed Vegetables
Easy Fermented Vegetable Recipe | Desi~licious RD
This easy, step-by-step recipe will teach you how to make delicious, and probiotic-rich fermented vegetables. Learn more about this tasty twist on veggies!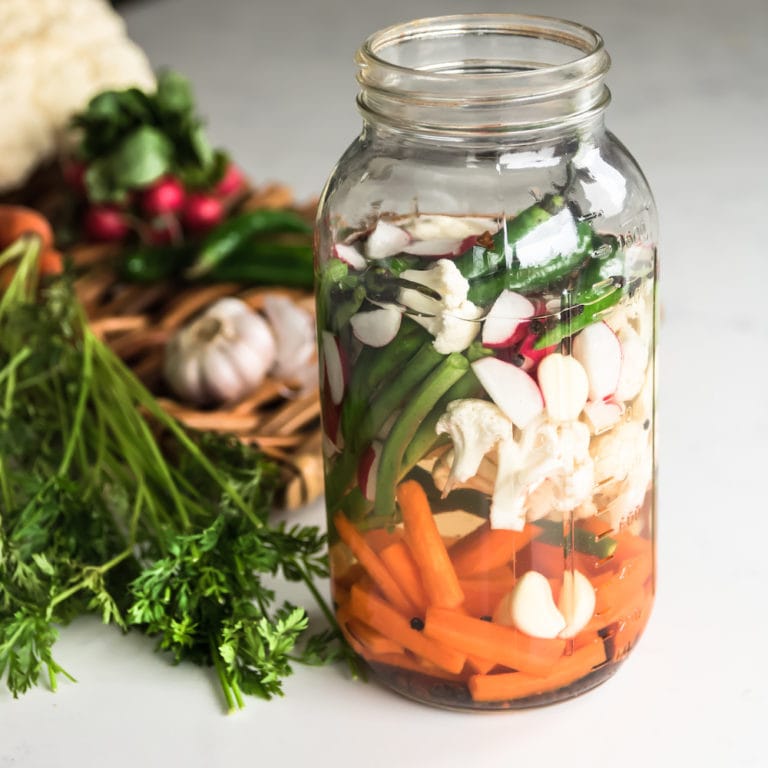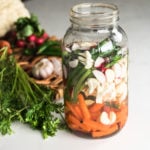 Ingredients
2

tbsp

Himalayan salt

sea salt or pickling salt

1

litre

water

see Recipe Notes

1.5

cups

cauliflower

small florets

6

radishes

cut in quarters

1

carrot

large, cut in strips

1

cup

Indian green beans

ends trimmed

10

cloves

garlic

peeled, whole

5

green chili

long, whole

1

tbsp

black peppercorns
Instructions
Combine salt and water in a measuring cup and stir until the salt is dissolved. Let it come to room temperature before adding to the vegetables

Place the remaining ingredients in a clean, dry jar.

Pour the salt water over the vegetables, leaving at least 1 inch of headspace at the top of the jar.

If necessary, add more water to cover the vegetables.

Cover the jar tightly and let it stand at room temperature for 2-3 days. If any mold or scum has formed on the top, simply remove.

Check for the 3 signs (as above) to assess if the fermentation process is successful.

After the fermentation process is complete, transfer the jar to the refrigerator.

These fermented vegetables will last for at least a month or longer in the refrigerator.
Notes
Top Tips For Making Easy Fermented Vegetables
Rinse the vegetables in un-chlorinated water rather than tap water.
Use salt that is free of iodine and/or anti-caking agents, which can inhibit fermentation. Chlorinated water can inhibit fermentation, so use spring, distilled, or filtered water if you can.
Wash your vegetables thoroughly under cold water
Use a 2 quart jar that's clean and dry
Salt type is important. Don't use salt with iodine – iodine can inhibit fermentation
Ensure that all the vegetables are fully submerged in the salt water. You can add some more on top to cover the vegetables completely (yes, I will add more!)
Label the jar with the date when you started fermentation. That way, you're not left to guess
In the Summer, the vegetables will ferment faster versus the Winter - which could take up to 7 days
Remember, the top of your vegetables (in the jar) are exposed to oxygen, which can promote growth of yeast and mold – but everything below the brine should be fine because of an oxygen-free environment. If you notice any mould, discard the layer.
Always use a clean spoon when serving, versus eating out of the jar. You want to avoid contaminating the entire batch with germs from your mouth
Once in the fridge, these will keep for several month. Enjoy
Nutrition Facts
Easy Fermented Vegetable Recipe | Desi~licious RD
Amount Per Serving
Calories 44
Calories from Fat 9
% Daily Value*
Fat 1g2%
Sodium 42mg2%
Potassium 285mg8%
Carbohydrates 8g3%
Protein 2g4%
Vitamin A 1800IU36%
Vitamin C 46.2mg56%
Calcium 20mg2%
Iron 0.5mg3%
* Percent Daily Values are based on a 2000 calorie diet.
Please note the nutritional analysis values are estimates and suggestions. This nutrition facts table does not know your life - your body, including your hunger and satiety cues, change daily. It's okay to eat more or less. Say no to food guilt and instead embrace mindful eating.