Say "Yes" To These 33 Healthy Recipes For Dinner
The best healthy recipes for a dinner menu are tasty, nourishing, and can be pulled off – without breaking a sweat! Assembling meals for your family may feel overwhelming during this unique time. And besides work and kids, you may also be struggling with emotional eating.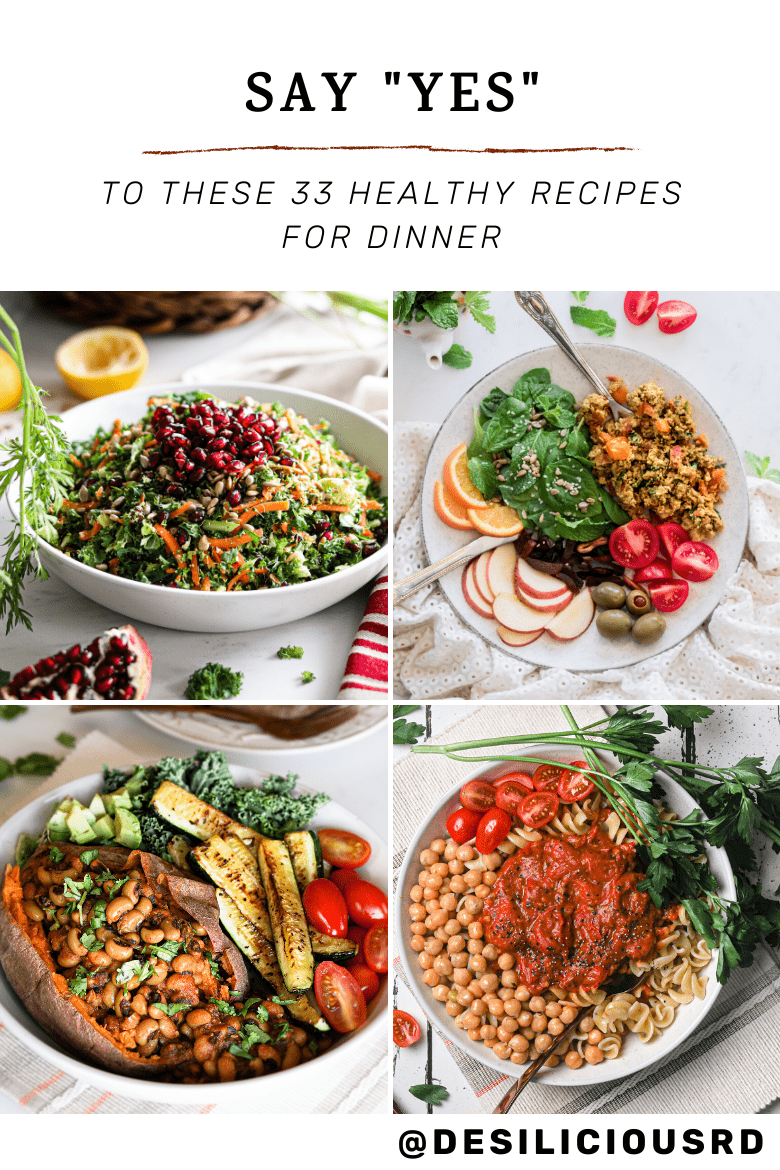 Healthy Dinner Recipes For Your Family
If you're looking to get "back-to-routine," you'll love this collection. They're fantastic as those "regular everyday kind" recipes, but their deliciousness also lends itself beautifully to more grand occasions. This dinner menu is a good mix of one-pot/sheet pan meals that freeze and reheat well, easy to make, and feature some of our favourite family-friendly desi dishes – brimming with ethnic South Asian flavours.
Isn't dinner time the best? Honestly, I've been trying hard to gather the herd around the table because I think it's the perfect vehicle to connect. Given a choice, I know my cheeky monkeys would be happy to be left on their own accord. Although not always possible, they do enjoy joining in on my healthy cooking adventures.
Health Seekers, it's time to skip those "on-repeat" boring meals and serve up these healthy dinner recipes for your family. Whether you're looking for colourful salads, foolproof fish or plant-powered 30-minute creations (bonus: I've also added some easy healthy recipes done and dusted in 20 minutes), you'll find plenty of colourful ideas. We're talking, gluten free pilau, healthy chicken dishes, quick and easy curries using heart-healthy cooking oils, like olive oil, and easy dinner ideas using pantry staples, such as black beans and chickpeas.
Bear in mind, though, these are recipes I regard part of an everyday healthy eating pattern, but what's healthful for one "body" is not fundamentally healthy for another. If you have specific health issues, restrictions, dietary concerns or cultural preferences, talk to a suitable registered dietitian. You can also find dietitian-approved Desi~licious meal plans at the link.
Your Dinner Menu
30-minute Healthy Recipes
Dinner Recipe Ideas Done in 20 minutes or less
In the recipe below, I show you how to use this tomato sauce to create THREE simple heart healthy recipes to enjoy at dinner.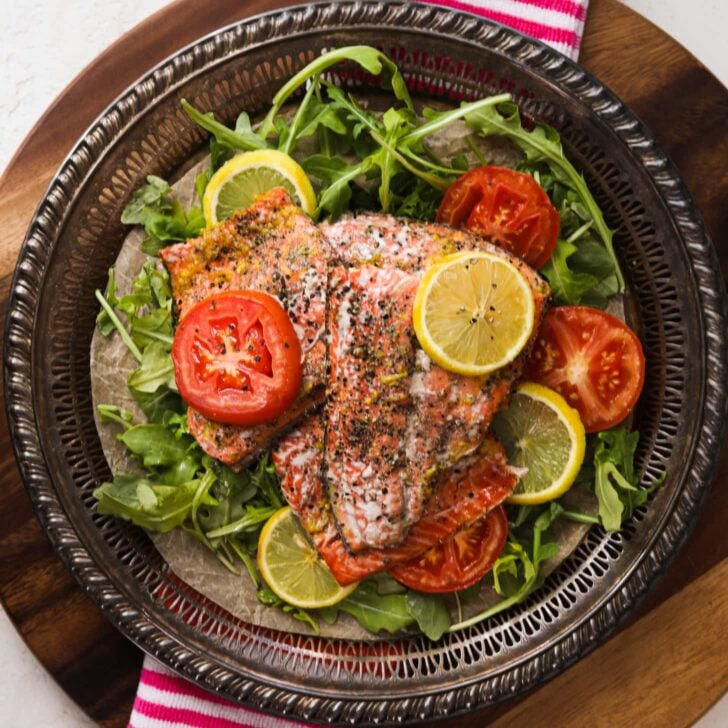 Easy Lemon Pepper Salmon
In just 20 minutes, you can have this succulent lemon pepper salmon on your dinner table. The zesty flavour of lemon pairs perfectly with the pungent bite of pepper, creating a delightful dish sure to please your taste buds. And best of all, this recipe pairs wonderfully with a variety of sides to create balanced nutritious meals. High protein, diabetes diet friendly, and heart healthy.
Check out this recipe
What healthy recipes are your go-to for your dinner menu? Have you tried any of my dinner dishes before? Share in the comment section below!
If you try these recipes, would love to hear from you! Leave a comment, rate them, or share a photo and hashtag with #desiliciousrd on Instagram, Facebook and Twitter! Can't wait to see your photos.
Desi~liciously Yours, Shahzadi
Hungry for more?
Subscribe to my newsletter for free recipes, nutrition tips and all the latest updates.