How to Meal Plan on a Budget + Dinner Recipes Under $3
The mere idea of creating a meal plan can be overwhelming. You'll be chuffed to hear that we've compiled some easy-to-follow prep, cook and grocery tips, along with the best ingredients for budget stretching – lessons we've learnt from years of meal planning for ourselves and others.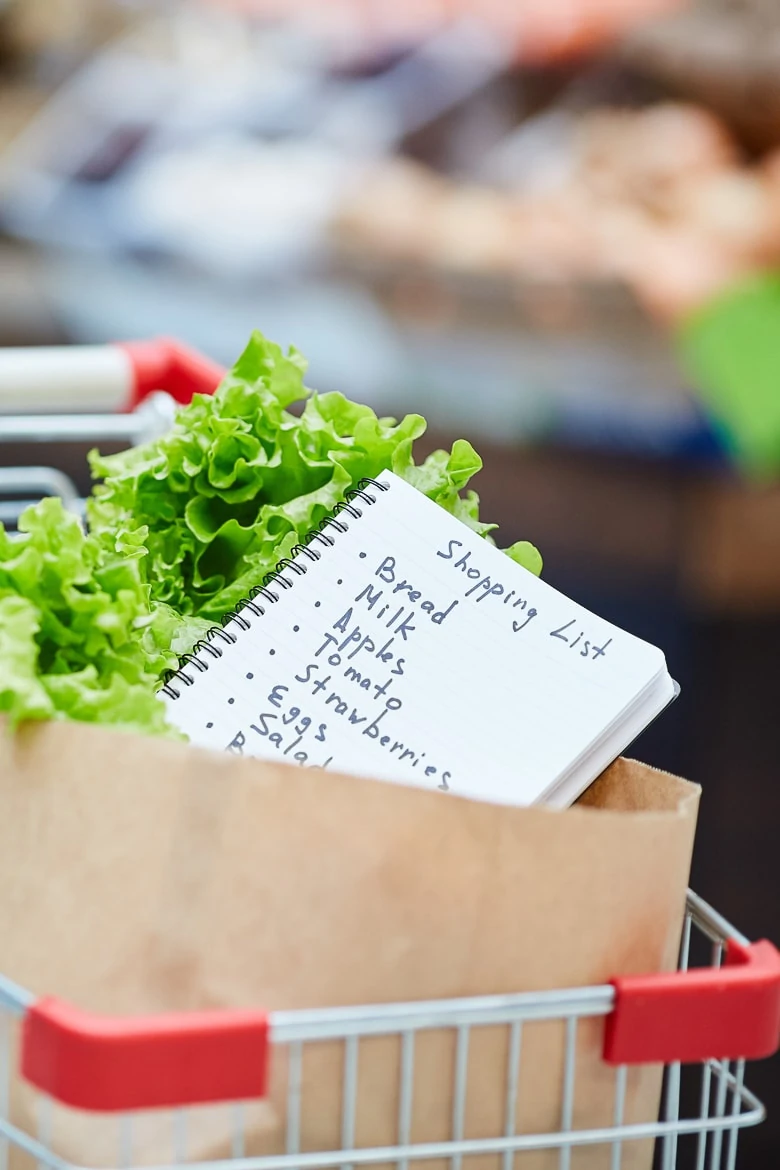 As much as we'd like to believe that healthy eating is a breeze – it's not. For starters, meal planning takes a great deal of commitment and preparation to be consistent and successful. As a working mom of three, I have to admit that I have found myself saying, "I'm too busy," or "Blimey, it takes too long." Not to mention, with food prices consistently on the rise, many of you may be cheesed off and thinking, "Healthy food is just more expensive."
Now I'm not here to dispel the fact that these are genuine challenges for many of us. With the hustle and bustle of life, it can be tricky to make time to prioritize health. No one wants to spend hours in the kitchen preparing dinner after a long working day. Keep hearing UberEats call your name? It happens.
What is Meal Planning?
We like to think of meal planning as our healthy eating blueprint. It enables us to enjoy nourishing and balanced meals, save time and reduce stress. You could think of meal planning as a strategy that helps you map out what your meals will look like over a certain period. In other words, it takes the guesswork out of preparing dinner each night – no more coming home tired and having to ask yourself, "what should I make for dinner tonight?"
Why Meal Prep?
It's no secret that planning meals ahead of time can help you reach your health goals, reduce food waste and lower your food bill. In short, it guides you to make mindful food choices. It gives you more control over what you're eating – ultimately setting you up for success. I think the best part is that it encourages more home cooking and is linked to better diet quality. Let's be honest, you'll be less likely to order takeout on your way home because you're famished and have nothing ready for dinner.
Actually, cooking can cause anxiety – especially if you lack confidence in the kitchen or are a newbie cook. And let's not forget the tension around fitting it into a hectic schedule. Think about the countless hours that can go into preparing your meals every day. On some days it's easy to find ourselves wishing for more hours just to get everything done. While we can't create more hours in a day, we can certainly find ways to maximize time. Dedicating 2-3 hours once a week for meal prep is an uncomplicated way to do this.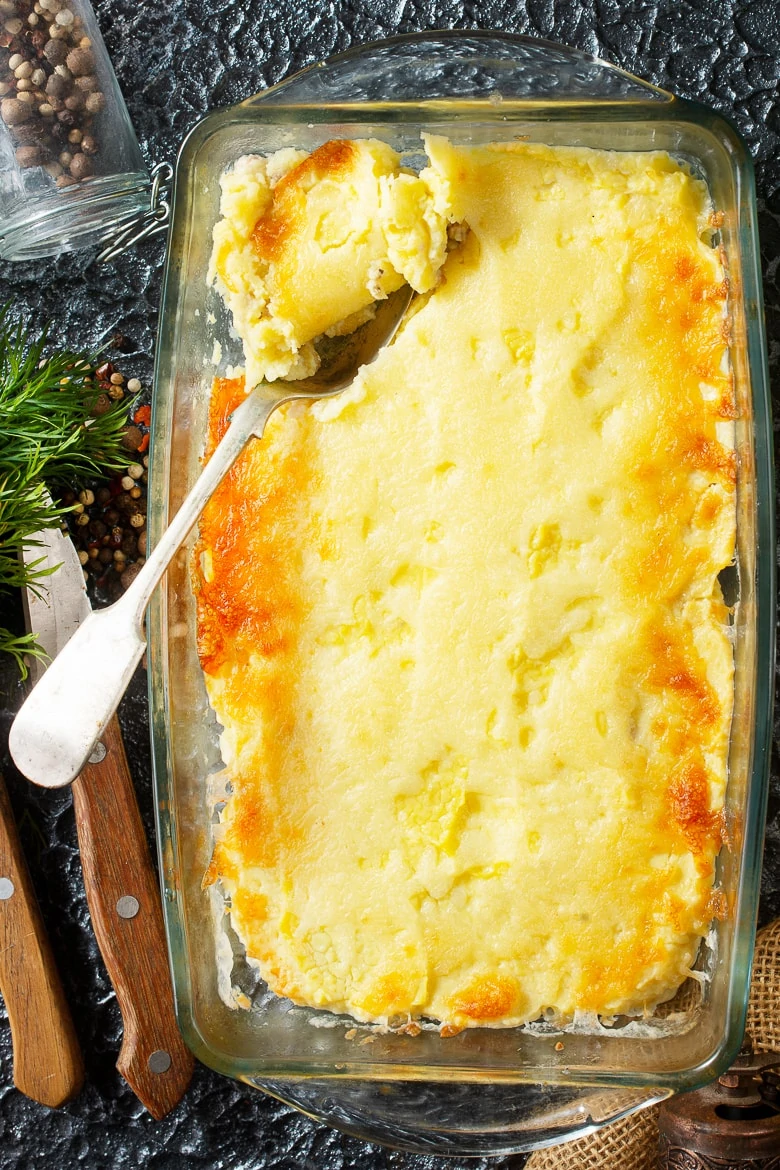 Savvy Meal Planning Questions
Here are a few questions to ask yourself when meal planning for the week:
What is my schedule like and when will I prepare my meals?
Identify the least busy day of the week. For me, that's a Sunday, where I take 2-3 hours to plan, shop, prep and cook. This strategy saves me tons of time during the week. You may also need to consider already-scheduled work lunches or specific nutritional needs on days when you exercise – all of which will impact your meal plan.
What will I prepare for the week?
Now for the fun part – picking out your meals! You can get as creative as you like with this step. Still, if you're new to the meal prep game, I recommend picking out 1 or 2 new (and easy!) recipes to start – like this veggie-packed omelette wrap or this 15-minute tomato sauce that transforms into three nourishing recipes using pantry ingredients. Choosing easy and healthy recipes allows you to ease into meal planning without feeling overwhelmed. I personally find it helpful to write down my meals. Plus, having a visual helps to stay organized and on track. If you're starting out with meal prep, ask yourself
What's in season? Because seasonal produce is typically budget-friendly.

What do I fancy eating for breakfast, lunch, dinner and snacks, this week?
Jot down ideas for each day, and find heaps of recipes inspiration on my blog.
What ingredients will I need?
Once you've picked out your meals for the week, it's time to identify the ingredients that you'll need for each recipe. Before you head out to the grocery store, make sure to check off things you already have on hand. Take the time to rummage through your pantry, freezer and fridge. This will minimize food waste and ultimately save you money too!
Meal Planning on a Budget Tips
Did you know that the average Canadian family spends about $12,000 a year on groceries? According to the Canada Food Price Report (2018), published by Dalhousie University and the University of Guelph, a family of four typically spends $11,948 on groceries. And food costs have only been increasing ever since.
The good news is that there are ways to save money and still eat wholesome and less ultra-processed foods. What's important is to figure out your monthly food budget and plan accordingly.
A budgeting method worth trying…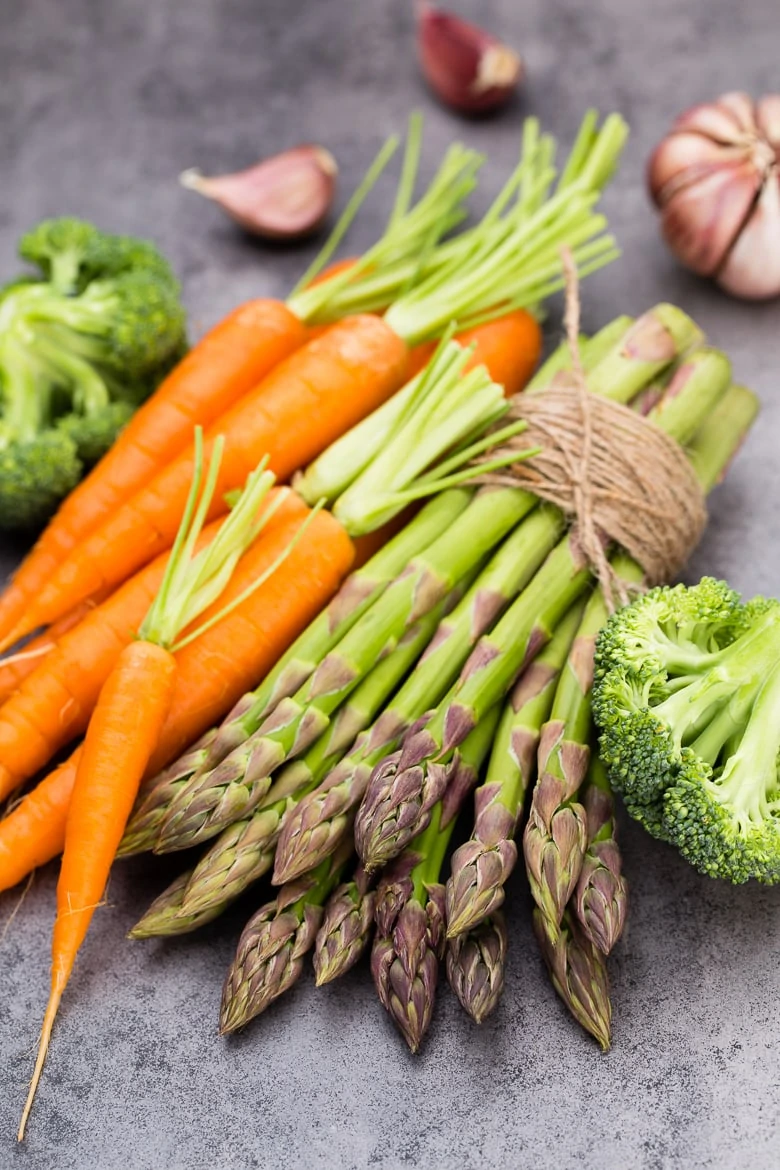 Here are 6 smart ways you can get saving on your grocery bill:
1. Make a grocery list
It's easy to get distracted at the grocery store, and having a grocery list helps keep you focused and stick to your grocery budget. It's also a good idea to avoid grocery shopping when you're hungry because let's face it – everything looks SO appealing when your tummy is growling?
2. Buy in bulk – mindfully
Sometimes it can actually be cheaper to buy in bulk – if you have the time to prep and the space to store it. It often costs producers and suppliers less to sell produce in bulk, and almost always costs you less per unit. Consider buying for the month and see how you go. Keep this in mind: food waste comes at a massive cost to you and the planet – so shop mindfully and plan strategically.
3. Make use of price matching and a meal planning app
Before your next shopping trip, take a virtual grocery tour. Browse your grocery store's website and look for coupons, sale items, or other exclusive deals. A meal planning app can come in handy; try Budget Bytes and Shop Savvy to help you find the best deal every time.
4. Buy seasonal
Fruit and vegetables are going to be more expensive when they're not in season. An excellent way to save yourself money and reduce food waste is to buy seasonal produce and plan your meals around those ingredients. Check out this availability guide to support your meal planning.
5. Try out more meatless meals
Plant-based sources of proteins like beans, lentils, chickpeas and tofu pack a nutritional punch – without breaking the bank. There are heaps of vegan recipes to try here. It really doesn't have to feel daunting; plan one meatless meal a week and build up.
6. Embrace frozen fruits and veggies
It's a common misconception that frozen fruits and vegetables are not as nutritious as fresh. This couldn't be further from the truth. Frozen fruits and vegetables are typically frozen right after they're harvested, which helps to retain their nutrient value.
The Best Ingredients for Budget Stretching
I've been getting more creative with pantry foods and freezer items – thanks to the pandemic. And with many of us still practicing social distancing, we're making fewer visits to the grocery store. What's perhaps most interesting is that many people think that only fresh produce is synonymous with healthy eating. No. You can totally pull off nutritious meals using dried, frozen and canned foods – just be sure to read nutrition labels to avoid unnecessary additives, salt and hidden sugars. Below are some humble pantry, fridge and frozen foods to get you started.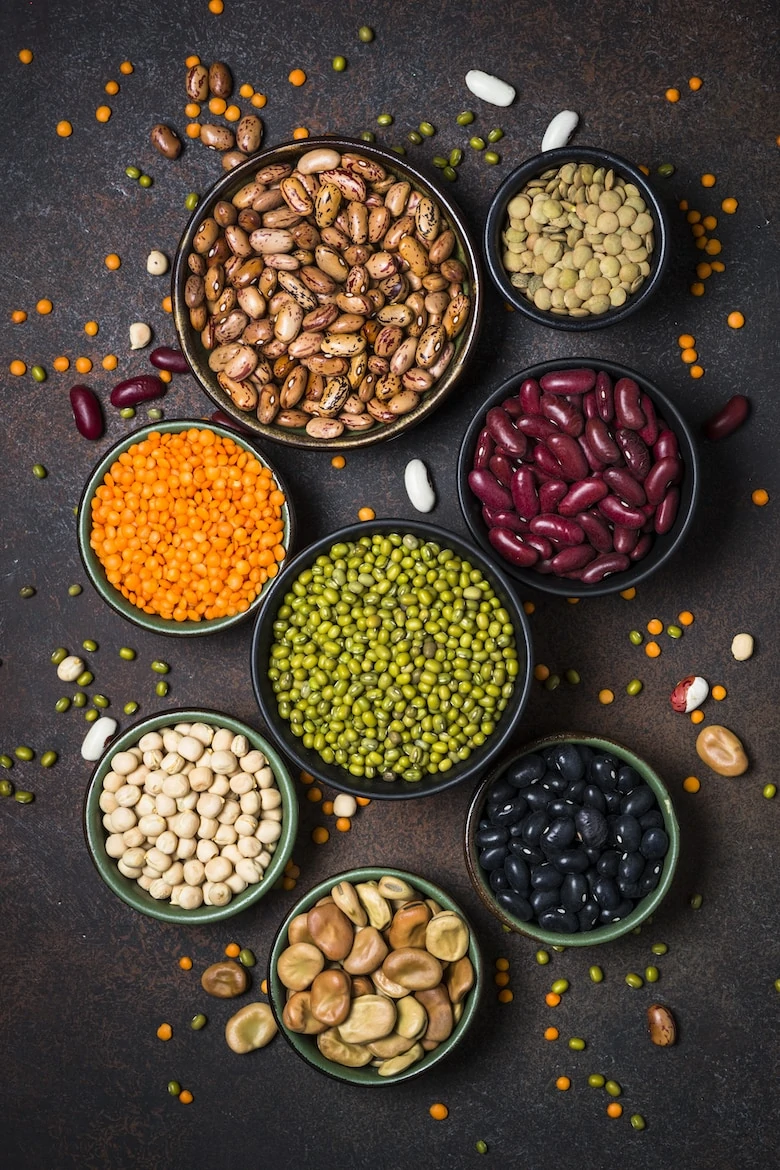 Bear in mind, though, that our "budget-friendly" food list may not apply to all. Food prices will vary depending on the region you live in. Plus, issues such as food availability and accessibility may further limit food choices. Individual household budgets will also vary, and this list of affordable pantry items is a general guide.
Budget Meal Planning: Affordable Pantry Items
Legumes
Dried legumes are the perfect pick for low budget meal planning. Besides being nutritious, they are versatile and can form the basis of many meals.
Chickpeas

Kidney beans

Black-eyed beans

Mung beans

Lentils

Black beans
Canned Goods
Beans

Chickpeas

Peas

Lentils

Tuna

Sardines

Tomatoes and tomato paste

Green beans

Corn

Olives

Fruits in juice

Soups
Rice, grains and cereals
Brown rice

Basmati rice

Pasta

Noodles

Oats
Snacks
Crackers

Pita and tortillas

Cookies

Peanut butter

Popcorn kernels
Oils
Vegetable oil

Sunflower oil

Olive oil

Canola oil
Baked goods
Flour

Sugar

Baking powder
Spices and dried herbs
Curry powder

Garlic powder

Black pepper

Chilli powder

Allspice

Oregano

Thyme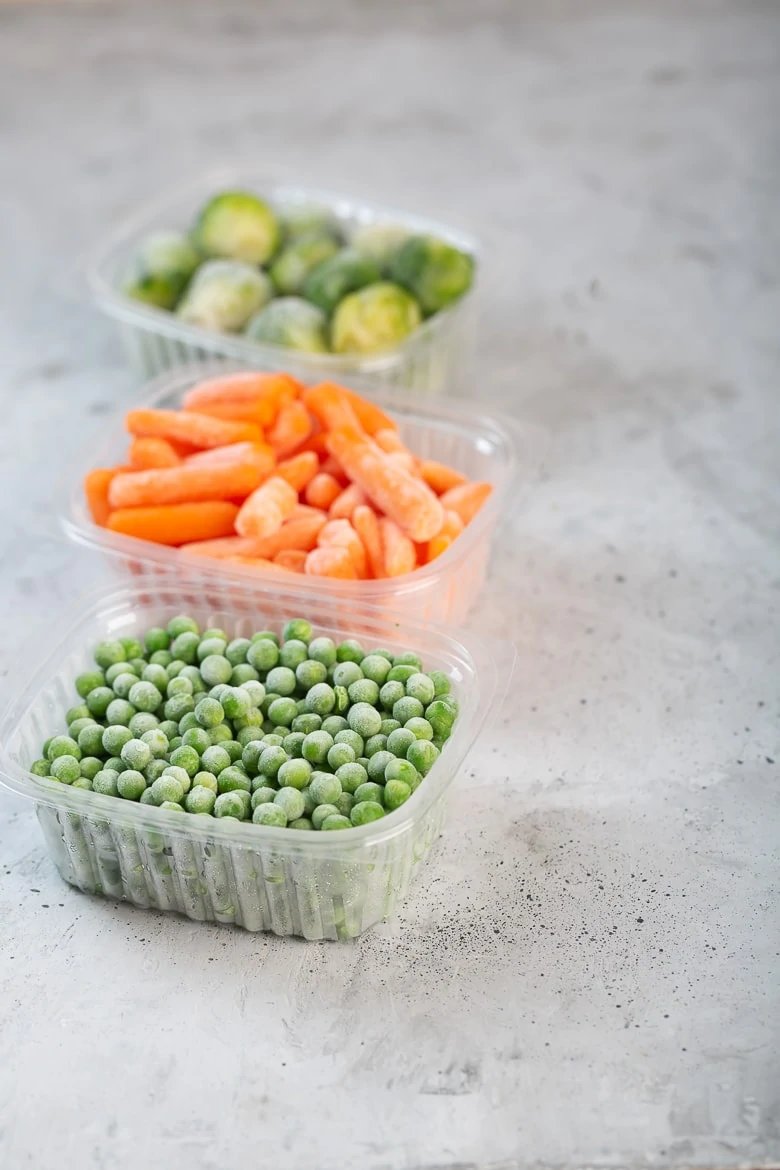 Freezer Items
Fruits & Vegetables
Strawberries

Blueberries

Bananas

Cherries

Pineapples

Peaches

Mangos

Avocado

Coconut chunks

Edamame

Spinach

Okra

Peas

Corn

Broccoli

Carrots

Butternut Squash

Cauliflower
Meat & Alternatives
Legumes (beans, lentils, chickpeas, peas)

Tofu

Eggs

Peanut Butter

Canned fish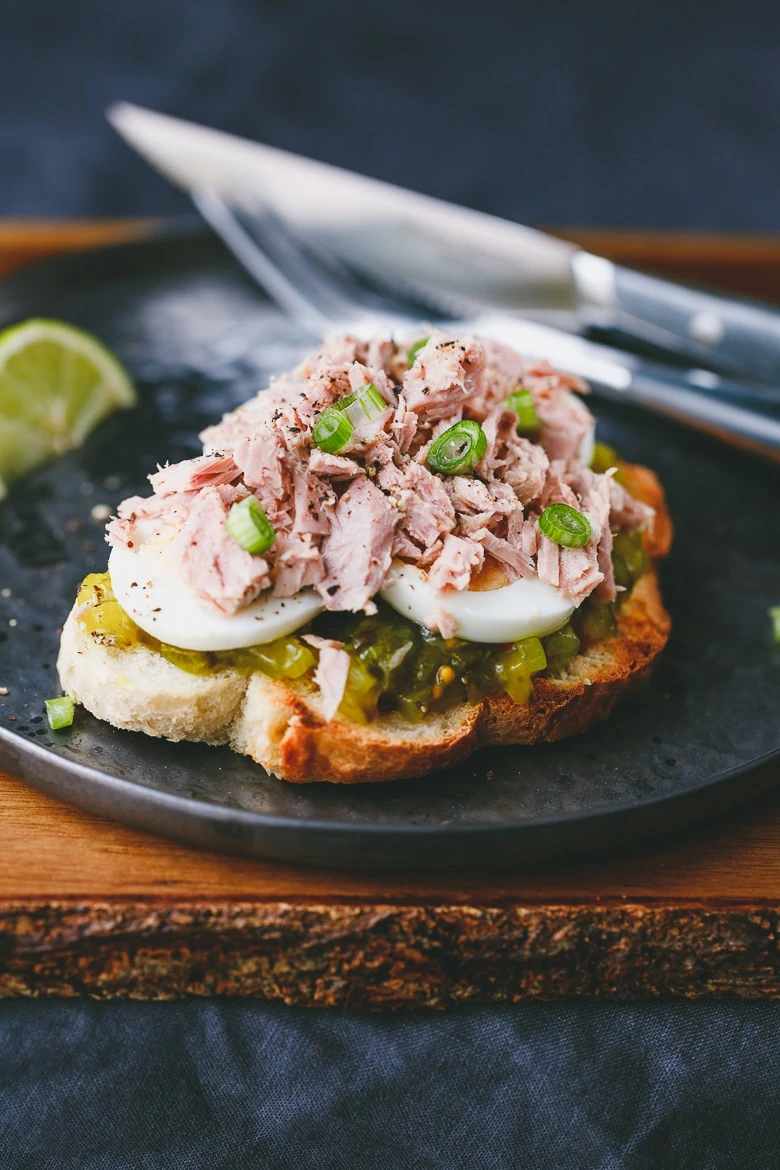 Typically meat and poultry are not regarded to be "budget-friendly." At the time of writing this blog post, we found – at our local grocery store, in Canada:
1.5lb chicken breast fillets for $8.98

1kg chicken thighs on sale for $4.64

500g ground turkey breast for $6

Pre-cooked turkey breast on sale for $5

500g lean ground beef for $7
Fridge Items
Fruits & Vegetables
Spinach

Kale

Lettuce

Spring greens

Tomatoes

Zucchini

Artichoke hearts

Apricots

Plums

Cantaloupe

Nectarines

Berries

Watermelon

Kiwi

Oranges
Milk & Dairy
Yogurt

Cheese

Milk

Soy milk, almond milk, oat milk
Dressings, dips & other condiments
Hummus

Salsa

Peanut butter
How to Save Time in the Kitchen
The secret to successful meal planning is being flexible. Obviously, our circumstances and even schedules can sometimes vary; holiday's come up, we're invited to celebrations – and life happens. Understandably, we may not always be able to stick to our precious Sunday cooking schedule. Not having everything planned out perfectly is absolutely okay. What's important is to be kind to ourselves and pick up where we left off. Whether you're new to meal prepping or you're a seasoned pro – we have a meal prep method to meet you where you're at.
Here are some easy ways to speed up your meal prepping process:
1. Batch cooking

When I think of meal prepping, batch cooking is the first thing that comes to mind. It involves preparing a variety of foods in large portions so you don't have to worry about creating complete meals throughout the week. Undoubtedly, it saves you time, but you'll need fridge/freezer space and plenty of containers. If you plan on prepping for more than a week, food labels may be a good idea. Not sure where to start? A simple way to ease into this meal prepping method is to double, triple or quadruple the recipes you're making.
2. Fast Prep
If batch cooking seems overwhelming, don't fret – we've got you covered! Fast prep is the ideal beginner-friendly method to get you started. Fast prep involves using food items that require little to no prep at all. Typically, they come pre-packed and ready to eat. It's always a good idea to have smart go-to quick meals when you're strapped for time. Here are some fast prep food examples:
Canned legumes (like beans, lentils, chickpeas, peas)

Canned fish (tuna, salmon, mackerel)

Whole-grain crackers

Nut butter

Pita and bread – including flatbreads and tortillas

Yogurts, dips (like hummus) and salsa

Cheese

Some fresh, frozen and canned fruits

Some fresh, frozen and canned vegetables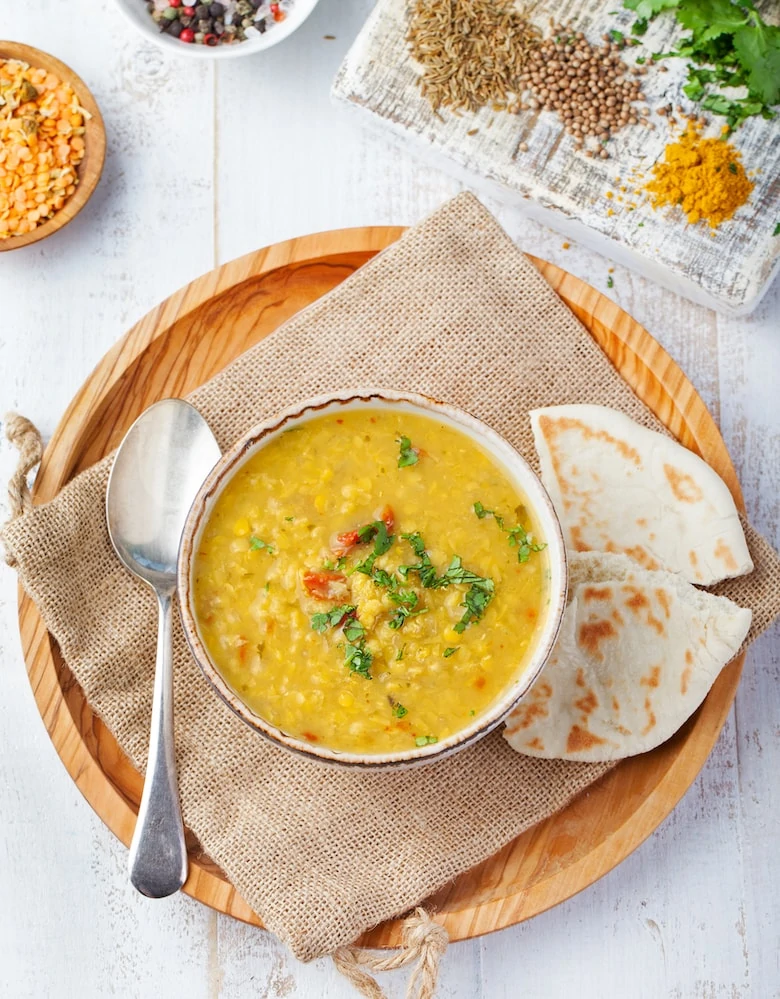 Here are some ideas of what you can create with these staples:
Pita bread with hummus and your favourite veggies

Apple slices and peanut butter

Tuna sandwich with a side of fresh veggies

Greek yogurt with fruit

Mediterranean

Chickpea Salad

Canned

Salmon and Quinoa Salad

Strawberry-Kiwi-Banana

Nice Cream
3. 5-Minute Quick Meals
5-minute quick meals are meals that you can put together in, you guessed it, 5 minutes. This method allows you to quickly put together recipes from your batch cooked or fast prepped foods. Aside from the obvious time-saving benefits of this method, having the option to quickly prepare meals throughout the week is great for when Thursday comes around, and you just have zero desire to eat leftovers from earlier in the week.
A big part of establishing a healthy relationship with food is learning to eat intuitively. This means listening to your body's signals and honouring what feels good in the moment. Where meal prepping goes haywire, is when we start to feel tired of the repetitiveness. Meal prepping shouldn't feel rigid or limiting. Having back-up options allows us to meal prep while still giving us the flexibility to honour cravings.
Here are a few meal tips and 5-minute recipe ideas you can try out:
Take the hassle out of preparing your morning smoothie by portioning out the ingredients ahead of time. That way, all that's left to do in the morning is empty the ingredients into the blender, add your liquid of choice and blend! This dairy-free

Chocolate and Pumpkin Smoothie

is perfect if you have a sweet tooth!

No-bake energy bites are quick and easy to prepare with pantry staples you may already have on hand. These

5-Minute Pistachio-Apricot Bites

are great pick-me-up to hold you over until your next meal! These

4-Ingredient Cranberry Energy Bites

also an ideal snack before dinner, post-workout or even as a dessert!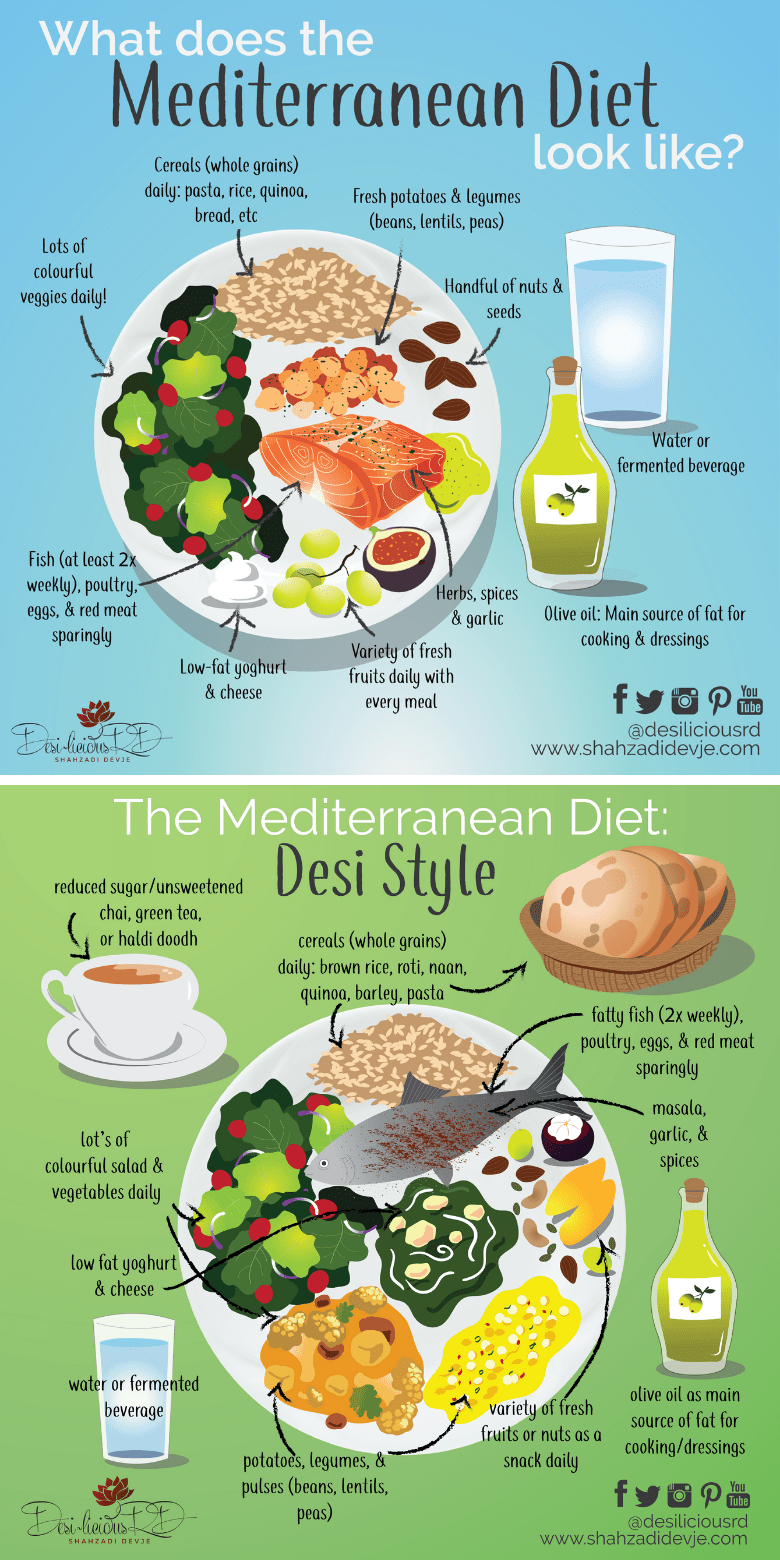 Budget Recipes: 5 Delicious Dinners Under $3 Per Serving
Stuck on what to make? Below are some quick and easy budget recipes to get you started:
1. Did you know that hard-boiled eggs can be stored in the fridge for up to a week? Try hard boiling a bunch on a Sunday for a ready-to-eat breakfast throughout the week. But why stop at breakfast? If you're on the hunt for healthy desi food recipes, you can incorporate eggs into this mouthwatering Egg Curry recipe – only $2.28 per serving!
Egg Curry Recipe With Turnips
A mouthwatering egg curry recipe with some major Fall vibes. Turnips cooked in a thick tomato-yogurt base, infused with fresh herbs and curry powder. Thanks to the eggs and vegetables, this Indian curry is rich in protein and a source of important vitamins and minerals.
Check out this recipe
2. Beans are a convenient and affordable way to meet your protein needs. If you're looking for meatless Monday inspiration, try my One-Pot Vegetarian Chilli recipe. One-pot meals are my favourite because let's be honest, who wants to deal with dishes? Chilli is also the best kind of recipe to make in large batches; and will keep in the freezer for up to a month! One serving will cost you only $1.64! (Pro-tip: Use a slow cooker or Instant Pot to be more efficient!!)
The Best Healthy Chili Recipe You'll Ever Eat
Learn how to make this Desi~licious healthy chili recipe that's chock full of vegetables. It's our favourite vegan chili recipe – that's also freezer-friendly.
Check out this recipe
3. This Slow Cooker Vegan Black Eyed Peas Recipe is the perfect choice if you're looking for a fuss-free easy and healthy recipe. Super simple to pull off, family-friendly and super tasty while using humble pantry ingredients. Only 15 minutes of prep time required and a mere $1.19 per serving!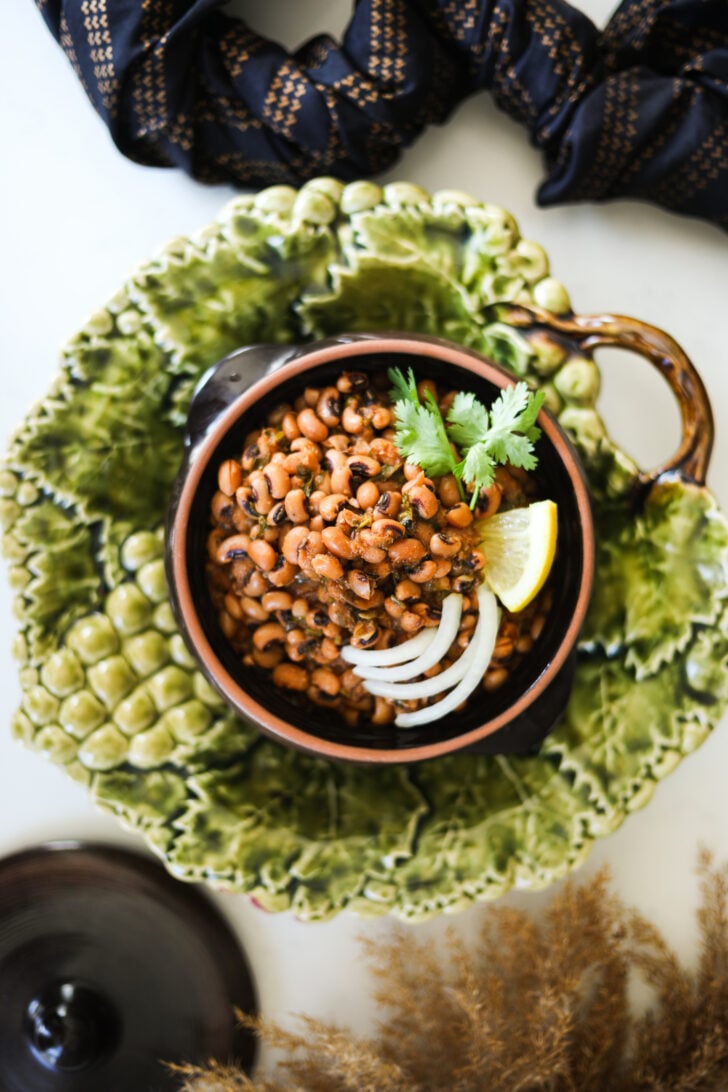 Slow Cooker Indian Lobia Masala (Black Eyes Peas Curry)
This easy, slow-cooker Indian Black Eyed Peas Curry, also known as Lobia Curry, is the ideal meatless meal for a nutritious and satisfying dinner. You'll learn how to season black-eyed peas just right with a mouthwatering recipe for lobia masala – it might just become your new favourite healthy family meal!
Check out this recipe
4. This family-friendly and satisfying Shepperd Pie with an Indian twist is the perfect dinner to help power you through the work week! What's even better is that it'll only cost you $1,12.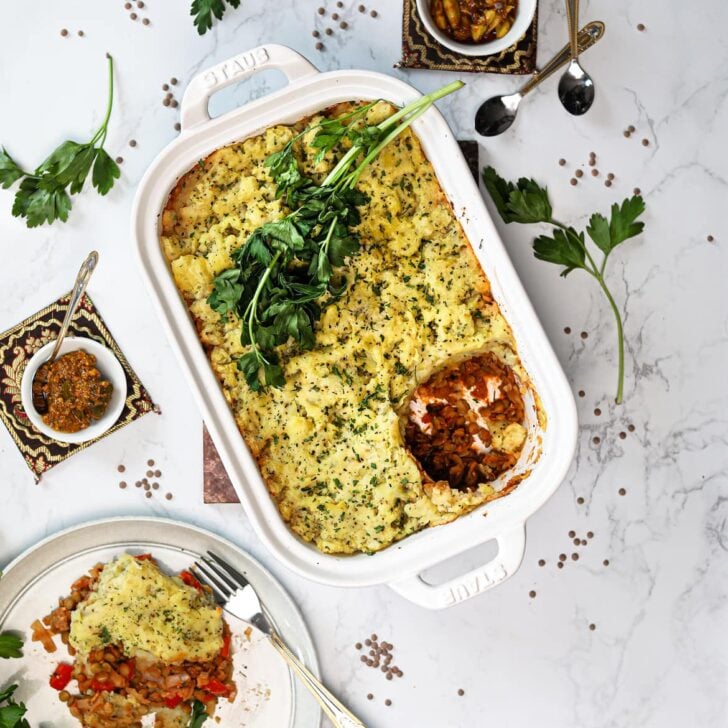 Vegan Shepherd's Pie
A family-friendly and satisfying Vegan Shepherd's Pie recipe gets an Indian twist. Loaded with flavour-packed green lentils simmered in a tomato sauce infused with traditional South Asian spices, and topped with velvety mashed potatoes. Heads up, it's so Desi~licious that you'll want more than one helping!
Check out this recipe
*Food prices will vary depending on the region you live in. The above dinners were priced as of August 2020, in Ontario.
An easy, nutritious & satisfying meal plan made with non-perishable foods from your pantry.
100% vegan dietitian-approved & taste-tested
Grocery list to save you time, money and fewer trips to the grocery store
Step-by-step prep guide to make the most of your time in the kitchen
Full nutritional information
How to Create a Balanced Meal
When it comes to healthy eating, there is no one size fits all approach. This will look different for many people – dependent on our culture, taste, health needs and economic circumstances. Generally speaking, we should strive for variety in our diets. This means adding a range of colourful foods to your plate daily. Colourful fruits and vegetables can provide us with a range of vitamins and nutrients – no one colour is superior, which is why variety is key. Opt for whole grains, leafy greens and cruciferous vegetables, plant-based proteins, and berries more often. When including meat or poultry, choose leaner cuts, and use it to complement your meal rather than making it the main part of your meal. It's also a good idea to incorporate omega 3 rich foods a couple of times a week. Canned salmon, tuna, and sardines are great low-budget ways to achieve this! We've compiled these recommendations to guide you, but remember that there's no such thing as a perfect way of eating. Experiment with different foods to expand your palate and give yourself permission to eat your favourite foods. After all, food plays a huge role in our identities and social life, and in order to eat intuitively, it's important to embrace our cravings and love for food – without guilt or shame.
How do you meal plan on a budget? What are some of your favourite low-cost meals? I'd love to know how you plan your grocery trips. Share in the comment section below!
Desi~liciously Yours, Shahzadi
If you enjoyed this article, would love to hear from you! Leave a comment, rate a recipe, or share a photo and hashtag with #desiliciousrd on Instagram. Can't wait to see your photos.
Hungry for more?
Subscribe to my newsletter for free recipes, nutrition tips and all the latest updates.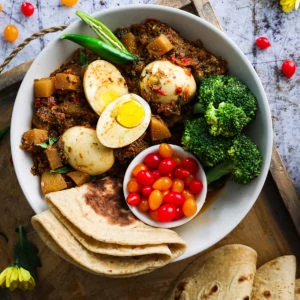 Get the Recipe:
How to Meal Plan on a Budget: Egg Curry
A compilation of easy-to-follow prep, cook and grocery tips, along with the best ingredients for budget-stretching – lessons we, dietitians, have learnt from years of meal planning for ourselves and others.
Ingredients
8

cups

water

8

eggs

,

medium

1

tbsp

olive oil

,

extra virgin

2

garlic cloves

,

medium, peeled and crushed

1

red onion

,

large, peeled and finely chopped

2

tomatoes

,

large, washed and cut into small chunks

2

tsp

curry powder,

mild

1

green chilli

,

large, washed and finely chopped

1.5

cups

cilantro

,

fresh, washed and finely chopped

1.25

tsp

salt

,

sea salt

3

turnips

,

small, washed, peeled and cut into very small chunks

1

cup

yogurt

,

2% milk fat

0.25

cup

mint

,

fresh, washed and finely chopped
Instructions
In a medium pot, pour 7 cups of water and bring to boil. Once boiling, gently place in one egg at a time with a spoon. Be careful not to drop and crack the eggs. Boil over high heat for 9 minutes. Once cooked, drain the hot water from the pot, and replace with cold water. Set aside, and allow the eggs to cool before you peel them.






In a separate large pot, heat oil over medium heat, and fry the garlic and onion until lightly golden.






Stir in the tomatoes, and cook over medium-high heat. Keep a close eye and continue to stir, as you don't want the tomatoes to burn. As they soften, use your spoon to mash them, to ensure there are no more tomato chunks.




Add curry powder, green chilli (optional) and cilantro. Stir, cover and cook for 2 minutes, over medium heat.

Mix in the turnips, the remaining 1 cup water and salt. Cover and simmer on medium-low heat for 20 minutes or until the turnips are cooked through.




Stir in yogurt, peeled boiled eggs and mint. Cover and simmer for 5 more minutes

Serve with hot roti, rice, quinoa, couscous or bread.
Notes
To achieve perfectly hard boiled eggs:

use a medium sized pot to allow the eggs plenty of space to boil evenly
always start with boiling water before adding in the eggs
use a timer – 9 minutes is the sweet spot for this recipe
once cooked, don't forget to drain the hot water and replace with cold water to shock the eggs. I don't bother with ice.

Chop the turnips in small chunks – the smaller the better and cook them with the lid on. They will cook faster and absorb the flavors better
You want to wait until the tomatoes are completely mushy before going in with the spices. This helps to create a nice thick consistency of your curry.
Keep a close eye throughout, and stir often to prevent burning
If you can, use fresh ingredients – especially the herbs, as they exude a fresh beautiful scent to this dish
Make sure your egg curry is a nice thick consistency before adding the eggs and garnish with mint
Depending on your taste buds, you can either add an extra green chilli or omit altogether
Once the egg curry has cooled, store in the fridge for up to 3 days
Nutrition Information:
Calories:
254
kcal
(13%)
Carbohydrates:
17
g
(6%)
Protein:
15
g
(30%)
Fat:
14
g
(22%)
Saturated Fat:
5
g
(25%)
Cholesterol:
335
mg
(112%)
Sodium:
1012
mg
(42%)
Potassium:
640
mg
(18%)
Fiber:
4
g
(16%)
Sugar:
10
g
(11%)
Vitamin A:
1572
IU
(31%)
Vitamin C:
34
mg
(41%)
Calcium:
197
mg
(20%)
Iron:
3
mg
(17%)
Keep in mind that the nutritional values provided are approximations and suggestions, and might fluctuate depending on ingredient variations, portion sizes, and recipe adjustments. This nutrition facts table cannot account for your individual needs. Your body — including your hunger and satiety cues — change daily. It's perfectly fine to eat more or less on different days. Instead of letting food guilt take over, consider mindful eating.
* Percent Daily Values are based on a 2000 calorie diet.
This article was written in collaboration with Gabi Abreu, BSc (Nutrition). Gabi is a certified health coach, aspiring dietitian and founder of the Working Woman's Health Collection. WWHC was created with the purpose of inspiring women to achieve a healthy relationship with food while taking into consideration the busy lifestyles that we live today.
Hitting the reset button with three weeks of wholesome food.
Delicious dietitian-approved plant-forward recipes bursting with healthy ingredients
Everything you need to enjoy nourishing meals and snacks
Done-for-you meal plan complete with grocery list 
Meal prep guide to make the most of your time in the kitchen & save money!