Medically reviewed by Shahzadi Devje, Registered Dietitian (RD) & Certified Diabetes Educator (CDE)
Busting desi food myths, redefining healthy-eating and celebrating Indian cuisine.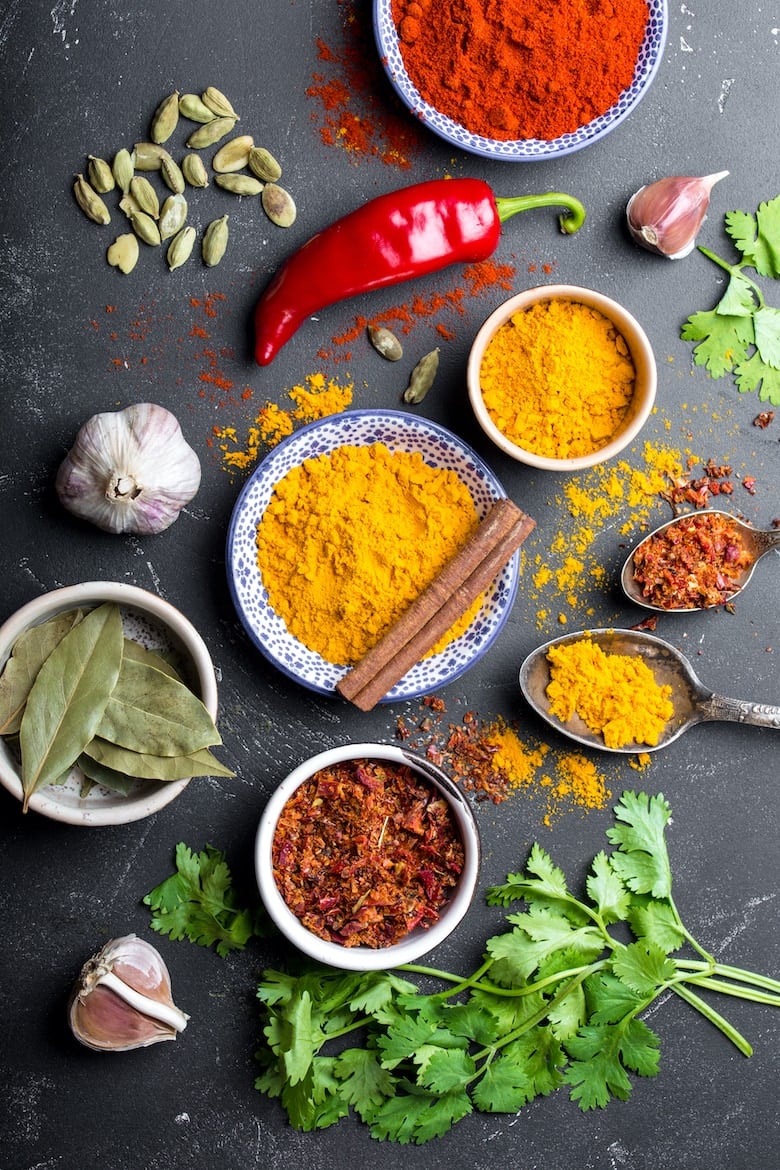 You may recall professor and author Tom Nichols, who was caught into a kerfuffle after deeming all Indian desi food as "terrible". Needless to say, Twitter went into a justifiable meltdown. Majority questioned if his determination of a centuries-old, widely-loved cuisine was based on a few underwhelming experiences. Some asked if he considered Indian cuisine to be "unhealthy', and therefore used a stronger adjective to express his opinion. The latter gave birth to another question: Is Desi cuisine unhealthy?
What Is Healthy Eating?
Nutrition is important for everyone. Eating healthy is an excellent way to achieve physical and mental fitness, alongside regular exercise. Consuming a well-balanced diet consists of many nutrients our bodies need to remain active and agile. These include protein, carbohydrates, fat, vitamins, minerals, and let's not forget water.
This is the more generic definition and guideline for eating healthy. Yes, the above-mentioned nutrients are incredibly important and must be part of healthy eating patterns. However, there is no right or wrong way to healthily consume them. For example, we all understand how nutrient-dense broccoli is. But is boiling the only correct way to ingest it? The short answer is no. Contrary to popular belief, Desi broccoli can be fashioned in a variety of robust ways, such as sabzi, tarkari and tikka, to name a few.
Food is very personal for people; it's an expression of their culture and identity. We eat not merely to nourish our body - but also our life. It also presents an opportunity to pass down cultural teachings to new generations.
The reality is, the mainstream dietary messages we see endorsed in public health policy, research, guidelines, and media target affluent white consumers - undeniably excluding ethnic groups, who do not identify with such narratives. Why are we surprised then by the state of health disparities?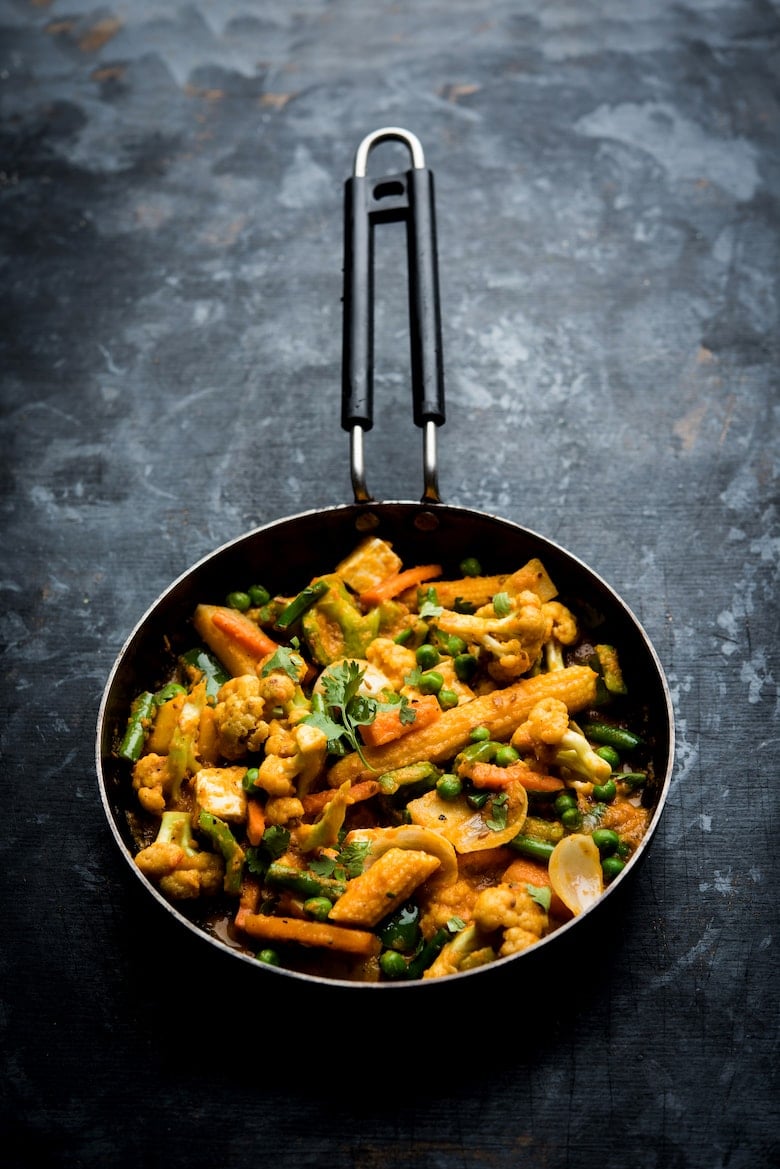 It is important to remember that each individual's journey towards wellness and healthy-eating is different and incomparable. Similarly, no two healthy food items can be consumed in the same manner. Such atypical belief systems can be damaging to pluralistic, multicultural societies.
Not All Desi Food Is "Indian":
As popular as Desi food is, it can also be widely misunderstood. It's also unfairly categorized as "Indian", despite seven other culturally rich countries existing in South Asia. Yes, India is the largest and most populous country in the region, however; food also provincially varies within the country, according to regional differences, diverse cultures and multiple languages.
It is easy to look at South Asian food and assume that it is soul-destroying oily, rich and fatty. This gives birth to a common misconception: Subcontinental cuisine is unhealthy, and ultimately leads to clogged arteries and Type 2 diabetes. Complaints often range from it-is-too-time-consuming to I-can't-handle-the-spices.
Just like other world cuisines, desi food is extremely diverse. As mentioned earlier, there are eight countries in the region, with over 200 sub-regions and over a thousand languages. How can we possibly fit them under the banner of authentic "Indian Food"?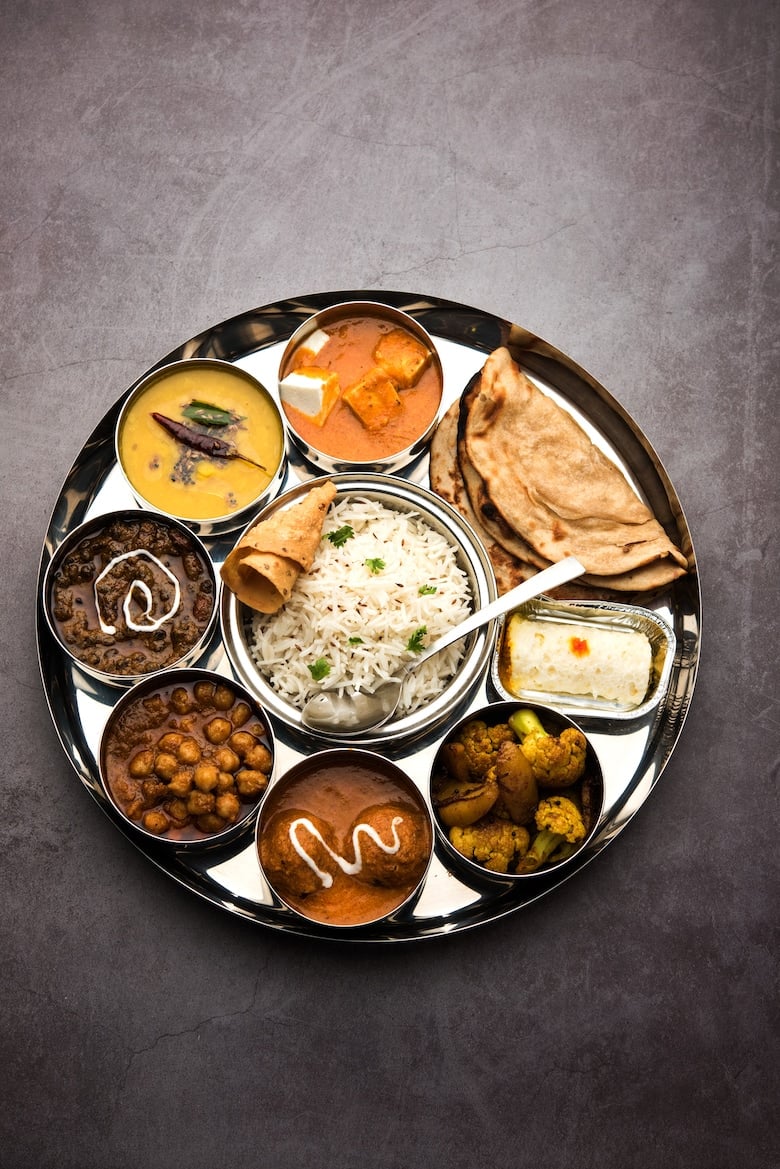 Is Desi Cuisine Unhealthy?
South Asian food has evolved over three thousand years. It is a symbol of rich culture, diverse heritage and fascinating history. Cooking Desi food is a beautiful art of blending spices and honing them to perfection.
Some of these include turmeric, ginger, garlic, green chillies and cinnamon which possess medicinal and healing properties as emphasized by Ayurvedic Medicine. Traditional Desi cooking also emphasizes on preparing the meal from scratch, and highlights the importance of using fresh ingredients. The idea is to promote wholesome food and lesser consumption of preservatives/ultra-processed items.
Food is very personal for people; it's an expression of their culture and identity. We eat not merely to nourish our body - but also our life. #RD #IndianCuisine
Click To Tweet
A traditional Desi meal also includes carbohydrates, proteins, fats and fibre – the necessary elements for a well-balanced meal. Different spices are used to whip up a delicious traditional meal, however; these are not what make the dish spicy. Chillies/chilli powder merely add heat to food and can be used less, or omitted completely according to individual preferences.
Another common myth is that South Asian food is fatty. This is where the line between ingredients and individual lifestyle is blurred. The healthiness of a Desi meal is purely dependent upon its preparation and individual portion control. Was the daal cooked in a few teaspoons of oil or an entire tub of ghee? Were the ladoos prepared in six tons of sugar or a single piece of gur? Is Hameed Chacha eating three slices of shahi tukras instead of a few healthy bites? Desi eating patterns become healthy or unhealthy according to how the food is cooked and consumed.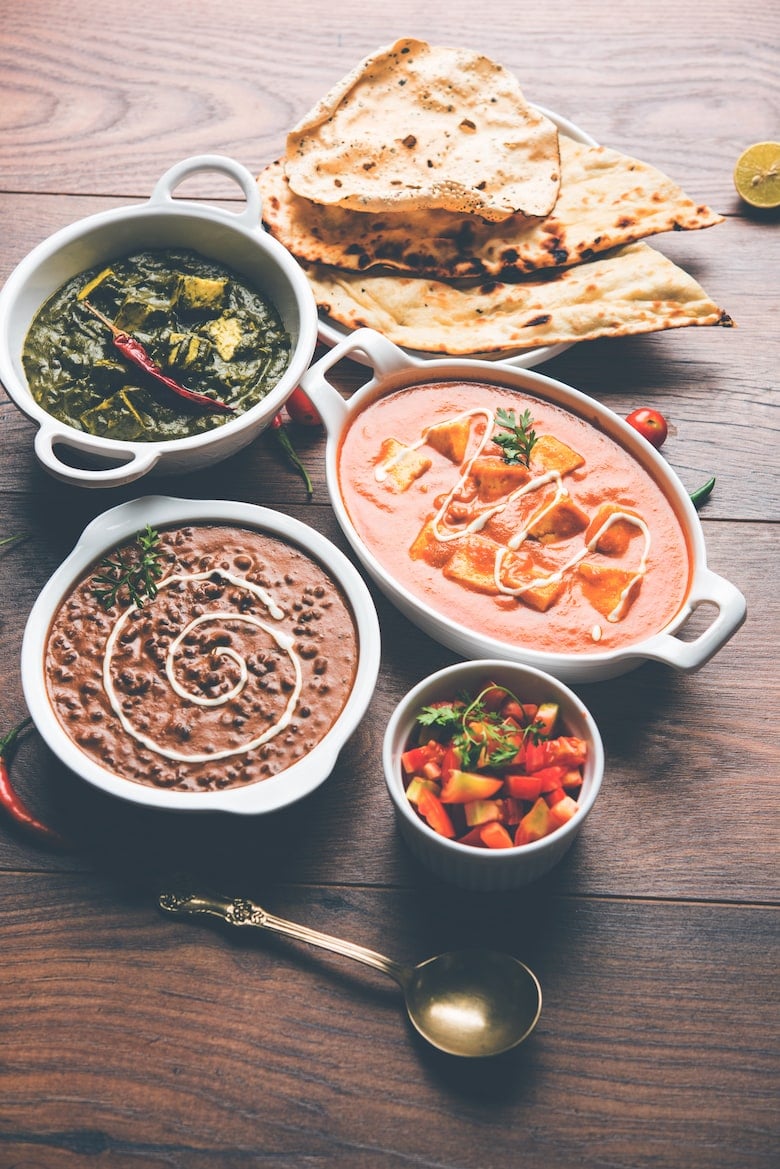 The same example can be applied to other countries. Too much cheese on a pizza might be considered unhealthy by Italians. Excessively drinking hot chocolate with whipped cream could be labelled as unhealthy in North America. And overuse of soy sauce may be frowned upon by the Chinese, since it is high in sodium which is associated with an increased risk of high blood pressure. That does not mean that either of the aforementioned items aren't enjoyed in moderation. In fact, some regard Italy as the birthplace of various "sinful" meals. Yet, it is home to some of the longest living populations in the world. This is because healthy fats, fresh produce, less preservatives, and mindful eating all help contribute to good health and longevity.
All these myths sometimes even encourage South Asians to adopt a Western diet. We forget it's the unhealthy lifestyle and lack of mindfulness that often leads to chronic diseases, and not presiding ingredients.
Healthy Indian Cuisine:
Desi food and meals are diverse in not just preparation, but also in flavour. Many recipes are plant-forward and vegetarian in nature, however; it would be wrong to assume that non-vegetarian meals aren't cooked healthily. For example, my Desi meal plan is the perfect blend of plant, chicken and fish-based recipes. It offers a mixed variety of greens, grains, legumes, poultry, fish and fruit – all necessary for a nutrient-dense, well-balanced diet.
Desi Recipes You May Like:
Masala chai is the quintessential Pakistani/Indian hot brew, made with strong black tea and spices. My homemade version is vegan and a pick-me-up like no other; it's rich and milky, Desi~licious and contains no added sugar. Piping hot and naturally sweetened with a date, it's brewed with a spice blend that's fragrant and not overbearing.
Check out this recipe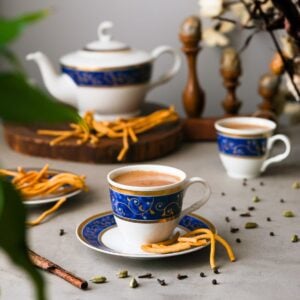 Desi~licious Daal With Roasted Butternut Squash | Healthy Ethnic Recipes
There's nothing quite like daal. Delicious, comforting and family-friendly, it's a healthy vegan dinner we adore. Made with yellow daal (split moong beans), roasted butternut squash and infused with cumin, cinnamon, curry powder and smoked paprika. T
Check out this recipe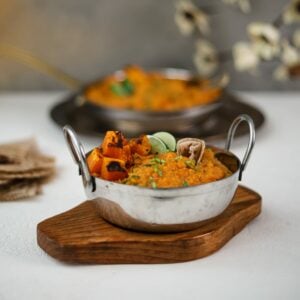 Indian Butter Chicken Recipe (Instant Pot) | Desi Food Recipes
Easy Indian Butter Chicken recipe cooked in 30 minutes. Cubes of chicken breast marinated in garlic and spices - cooked in a rich and creamy butter chicken masala. With only a dash of butter and less cream - it's packed with flavour! Learn how to make restaurant style butter chicken in minutes - in your instant pot.
Check out this recipe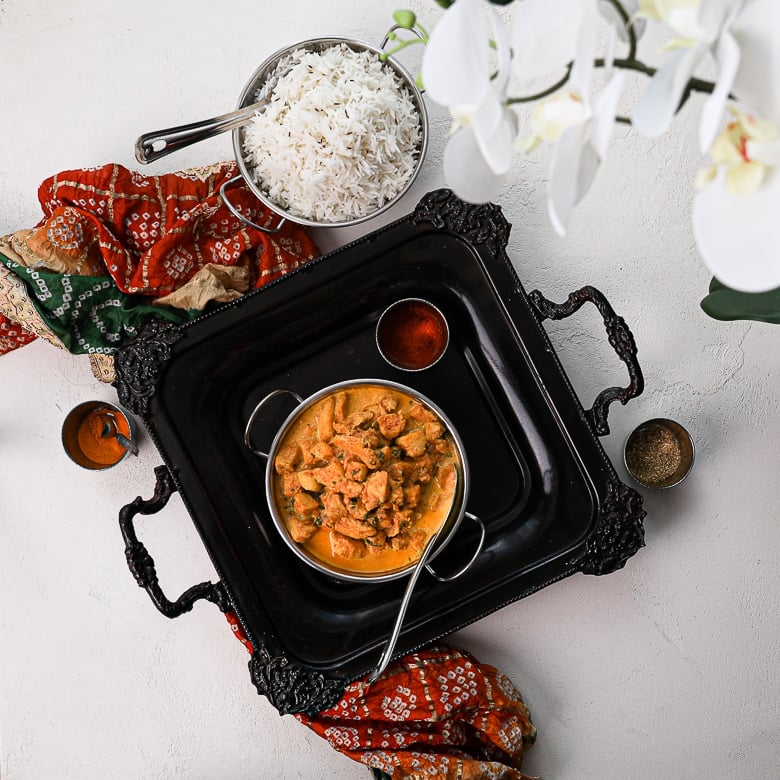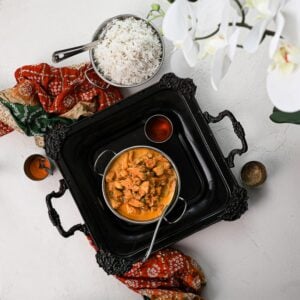 Vegan Shepherd's Pie | Healthy Vegan Dinner Recipe
A family-friendly and satisfying Vegan Shepherd's Pie recipe gets an Indian twist. Loaded with flavour-packed green lentils simmered in a tomato sauce infused with traditional South Asian spices, and topped with velvety mashed potatoes. Heads up, it's so Desi~licious that you'll want more than one helping!
Check out this recipe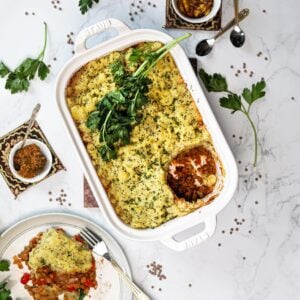 Desi~licious Masala Egg Oatmeal Breakfast | Easy Ethnic Recipes
Looking for easy and healthy breakfast ideas? Take your oatmeal to the next level with my savoury Masala Oatmeal Breakfast recipe - featuring eggs. It's the ultimate busy-bee brekkie, bursting with nourishing heart-healthy ingredients. A creamy, rich amalgamation of rolled oats, onion, peas and tomatoes. All mixed with eggs, chillies and cilantro, and infused with traditional South Asian spices to create a spicy and Desi~licious breakfast. 
Check out this recipe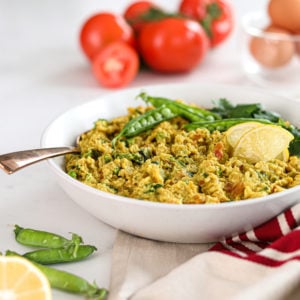 Baingan Bharta (Indian Eggplant) | Healthy Ethnic Food Recipes
Easy, quick to prep and scrumptious. This Baingan Bharta (Indian Eggplant) is a sure pleaser for the entire family. Roasted eggplant cooked in aromatic South Asian spices, simmered  in a thick tomato-pepper sauce and garnished with tangy lemon and cilantro. If you're on the hunt for healthy desi recipes - with less oil, spices and salt - this is it! Best enjoyed with roti, quinoa, or lettuce leaves. Vegan and gluten free.
Check out this recipe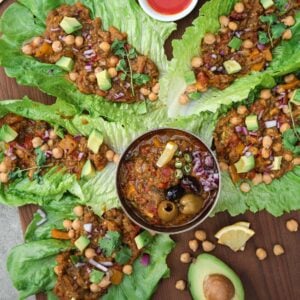 South Asian Fish Biryani Recipe | Desi~licious RD
Desi-liciously spiced with layers of fragrant basmati rice, grilled peppers and flaky masala haddock fillets, cooked in a tomatoey sauce infused with cardamom, cinnamon, cumin, and saffron to create a biryani recipe that'll knock your socks off!
Check out this recipe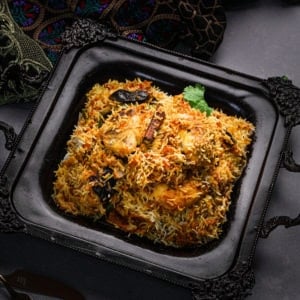 Vegetarian Quinoa Pilau Recipe | Gluten Free, Family Dinner
Inspired by the traditional rice pilau, this enticing and super-healthy gluten free Vegetarian Quinoa Pilau Recipe, aka "qui-lau" is bursting with flavour, and so simple to pull off. Infused with the aroma of cumin, coriander and garam masala, this recipe is one you will want to add to your repertoire. Satisfying and finger-licking good!
Check out this recipe
Chickpea Kale Curry With Spaghetti Squash
A traditional Indian curry gets a unique seasonal twist. Chickpea kale curry stuffed spaghetti squash is a delicious gluten free healthy dinner!  Simple, flavorful, and oh so satisfying. It's one of the most popular recipes in our household - and for good reason too!
Check out this recipe
Tandoori Cauliflower Tacos
These Tandoori Cauliflower Tacos are delicious, quick to prepare, and the cashew marinade is out of this world! What's even better? You can customize them with your favourite taco extras for an easy weekday dinner. Learn how to make the best vegan cauliflower tacos.
Check out this recipe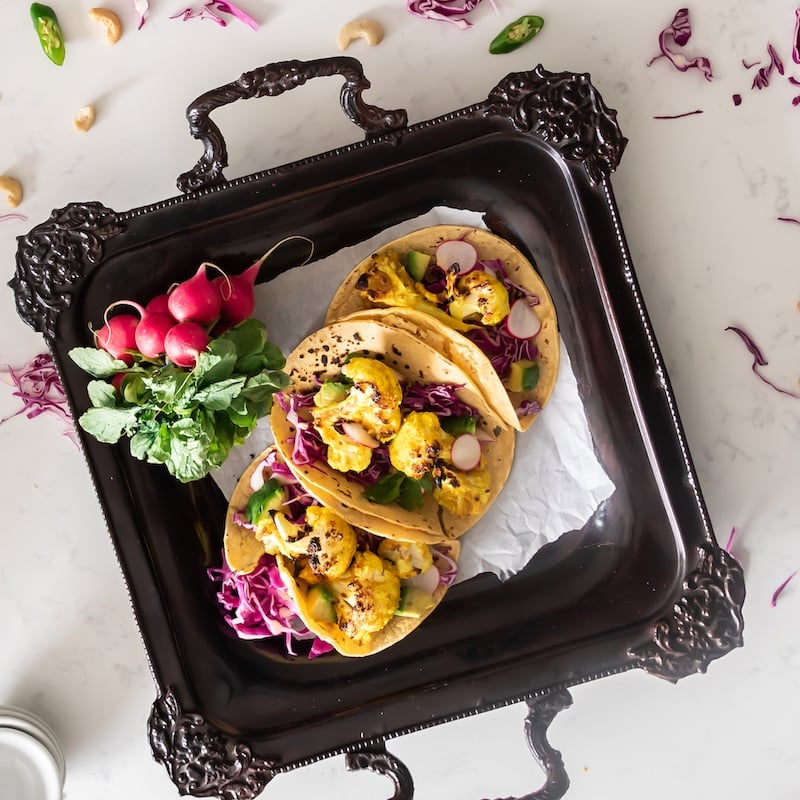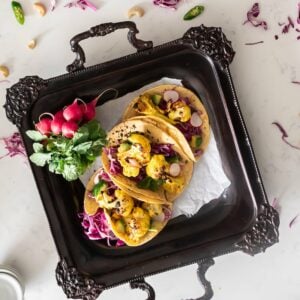 Chaat Masala Kale Chips Oven Baked | Easy And Healthy Ethnic Recipes
Learn how to make kale chips oven baked, at home. Enjoy 'as is,' or add to salads and soups for crunch and added nutrition. This kale chips recipe is the ultimate Desi~licious snack - making it a perfect easy and healthy ethnic recipe. Check it out!
Check out this recipe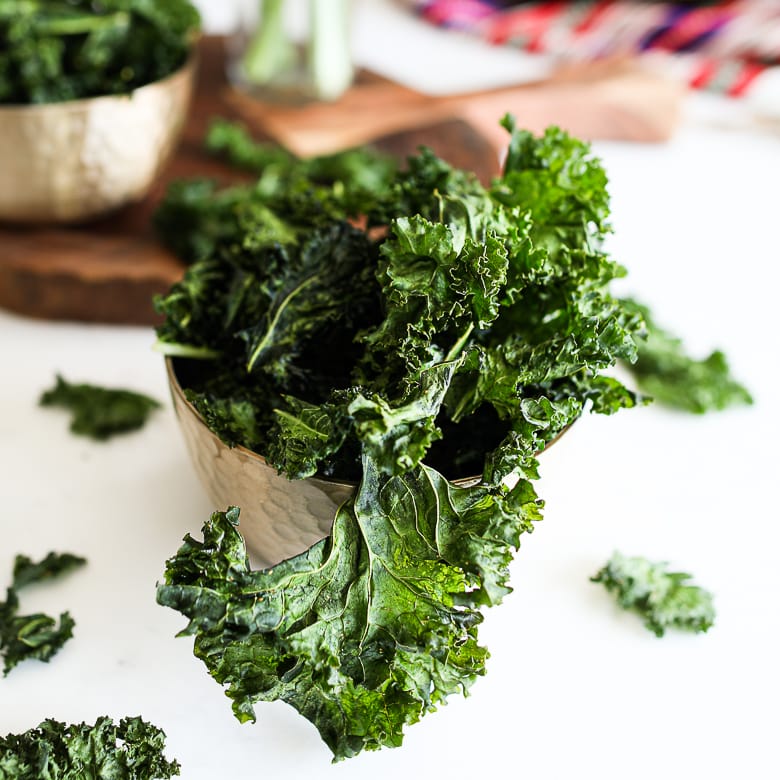 Grilled Tandoori Chicken | Low Carb Indian Recipe
Probably the easiest Indian recipe you'll ever make; this fast and mouthwatering grilled tandoori chicken recipe is spicy, tangy and smoked to perfection - just like the one at your favourite Indian restaurant! Ideal for when you're strapped for time and looking for a healthy, low carb and satisfying option for the family. Gluten Free.
Check out this recipe
Egg Curry Recipe With Turnips | Desi Recipes
Rip your roti and soak this all up. An easy desilicious egg curry recipe with some major Fall vibes. Turnips cooked in a thick tomatoey-yogurt base, infused with fresh herbs, curry powder, and made complete with delicious eggs. A perfect balance of spice, lusciousness and flavour - in every bite. It doesn't get more comforting than this.
Check out this recipe
Food should not be labelled as healthy or unhealthy. Instead, our consistent diet patterns determine how hearty or unfavourable they are. This way, we avoid judging our individual food choices, focus more on nourishing meals, and learn to enjoy treats in moderation. Yes, South Asians in North America are prone to long-term health issues. There's no denying it. However, that has more to do with lifestyle (and in some cases, family history) and little with the elements of a recipe.
Do you think Indian cuisine is unhealthy? I'd love to know your favourite South Asian food recipe - Share in the comment section below!
Desi~liciously Yours,
Want a FREE Delicious Offer?
5