Vegan chocolate mug cake is the perfect way to satisfy your sweet tooth cravings — without spending hours in the kitchen. This healthy vegan dessert is an amalgamation of pudding and cake, creating a gooey, decadent treat that satisfies even the most discerning chocolate lovers. It's so easy to make; you can whip it up in 5 minutes using nutritious, simple ingredients and your trusty microwave. This recipe is a heart healthy dessert that fits within a gluten free diet plan and delivers 8 grams of protein per serving.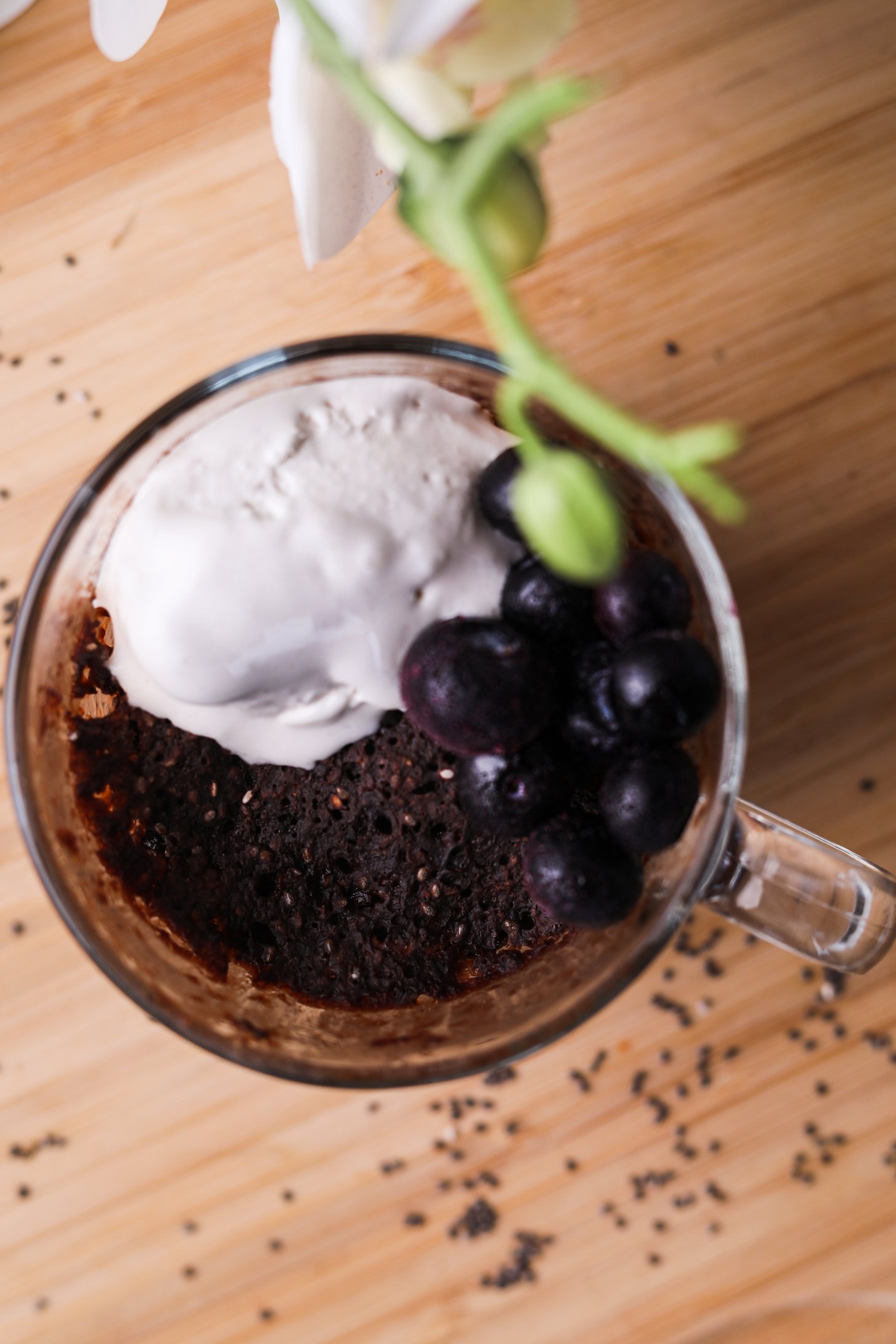 My nutrition education and credentials as a registered dietitian are the lenses through which I develop recipes. So you know this vegan chocolate mug cake is not only delicious and indulgent but also crammed with nutritious ingredients.
Yes, really!
It's made with fibre-rich oats, protein-packed chia seeds, and naturally sweetened with coconut sugar and apple sauce. If you want to know more about the specific nutrition benefits of some of the key ingredients used in this recipe, I discuss them below.
Interested in trying more healthy sweet recipes? Check out these Protein Peanut Butter Bars, Mango Chia Phirni (Pudding), Pistachio Apricot Ladoos (Balls), and Dates and Yogurt Parfaits. They're my go-to vegan desserts for any occasion because they taste amazing.
Nutrition spotlight
This healthy sweet snack recipe is packed with nutrients and health-promoting ingredients, including:
Fibre, vitamins and minerals from oat flour
Protein and healthy fats from chia seeds
Calcium from soy milk
Antioxidants from cacao powder
Ingredients for microwave chocolate pudding cake
A handful of pantry ingredients is all it takes to make this gooey chocolate mug cake. Specifically, here's what you'll need:
Dry ingredients
Oat flour: With a blender, you can effortlessly grind rolled oats to create your own homemade oat flour. I make a bigger batch and store it in a mason jar for later use.
Cacao: unsweetened cacao powder works best for this vegan chocolate mug cake recipe.
Coconut sugar: adds sweetness and helps with the texture of the cake. Plus, coconut sugar has a lower glycemic index than regular sugar, so it's an excellent option for those managing blood sugars for type 2 diabetes management.
Chia seeds: help thicken the chocolate mug cake and boost nutrients like omega-3 fatty acids and plant based protein. Plus, I can't get enough of the delightful crunch in every bite!
Baking powder: helps your chocolate cake in a mug rise in the microwave.
Wet ingredients
Apple sauce: adds moisture and sweetness without the need for additional sugar.
Soy milk: is an excellent source of protein for vegan diets and one of the highest sources in the entire plant-based milk category.
Vanilla: pure extract adds a hint of sweetness without added sugar.
Coconut oil: for a lovely moist texture. I adore the coconutty taste that it brings. You want to ensure it is melted before adding it to the cake mixture.
My go-to blender – Vitamix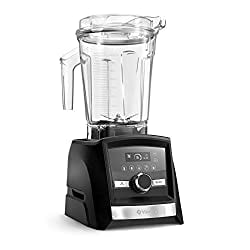 I use this Vitamix blender in my kitchen. I got it about 2 years ago, and it functions beautifully, making smoothies, frozen desserts and even soups ever so easy!
How to make a chocolate mug cake in the microwave in 4 steps
Typically, I make this single-serve mug cake in a small coffee mug. You can also use a small bowl or ramekin; however, you will need to adjust the cooking time depending on the size and shape of your vessel.
The complete recipe with amounts can be found in the recipe card at the bottom of this post.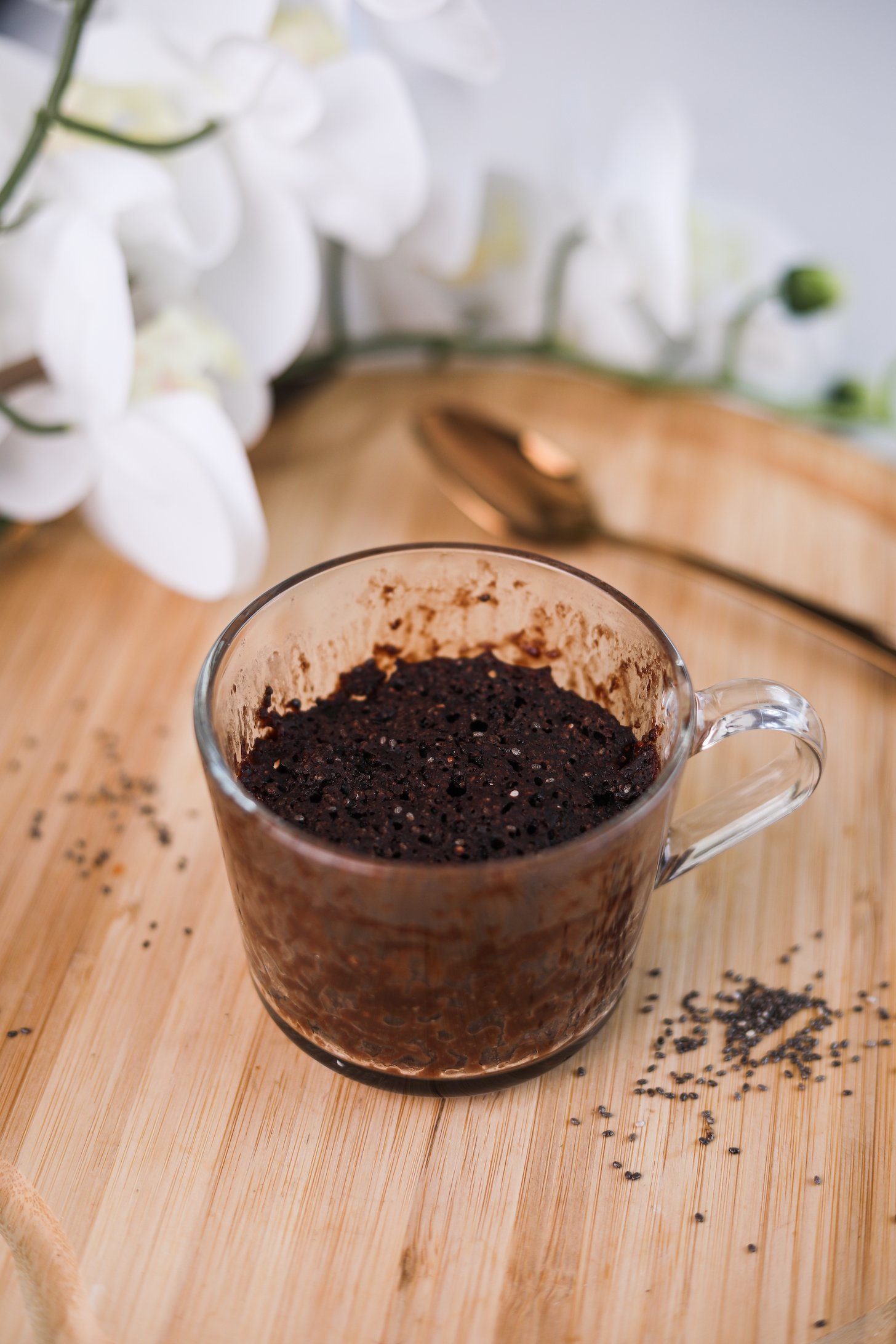 What benefits do you get from eating oats?
First off, oats are an excellent source of soluble dietary fibre, which can help lower cholesterol levels and the risk of heart disease. Besides, this kind of fibre also helps maintain steady blood sugar levels and keeps you satisfied for longer periods. It's one of the foods that helps heal your gut because fibre encourages the growth of healthy gut bacteria.
Furthermore, oats are a great vegan protein source and boast a low glycemic index, meaning they won't cause your blood sugar levels to spike – like other refined and heavily processed grains.
Oats are also a source of key micronutrients (vitamins and minerals) like:
Iron
Magnesium
Vitamin B1 and B5
Copper
Zinc
Manganese
Phosphorus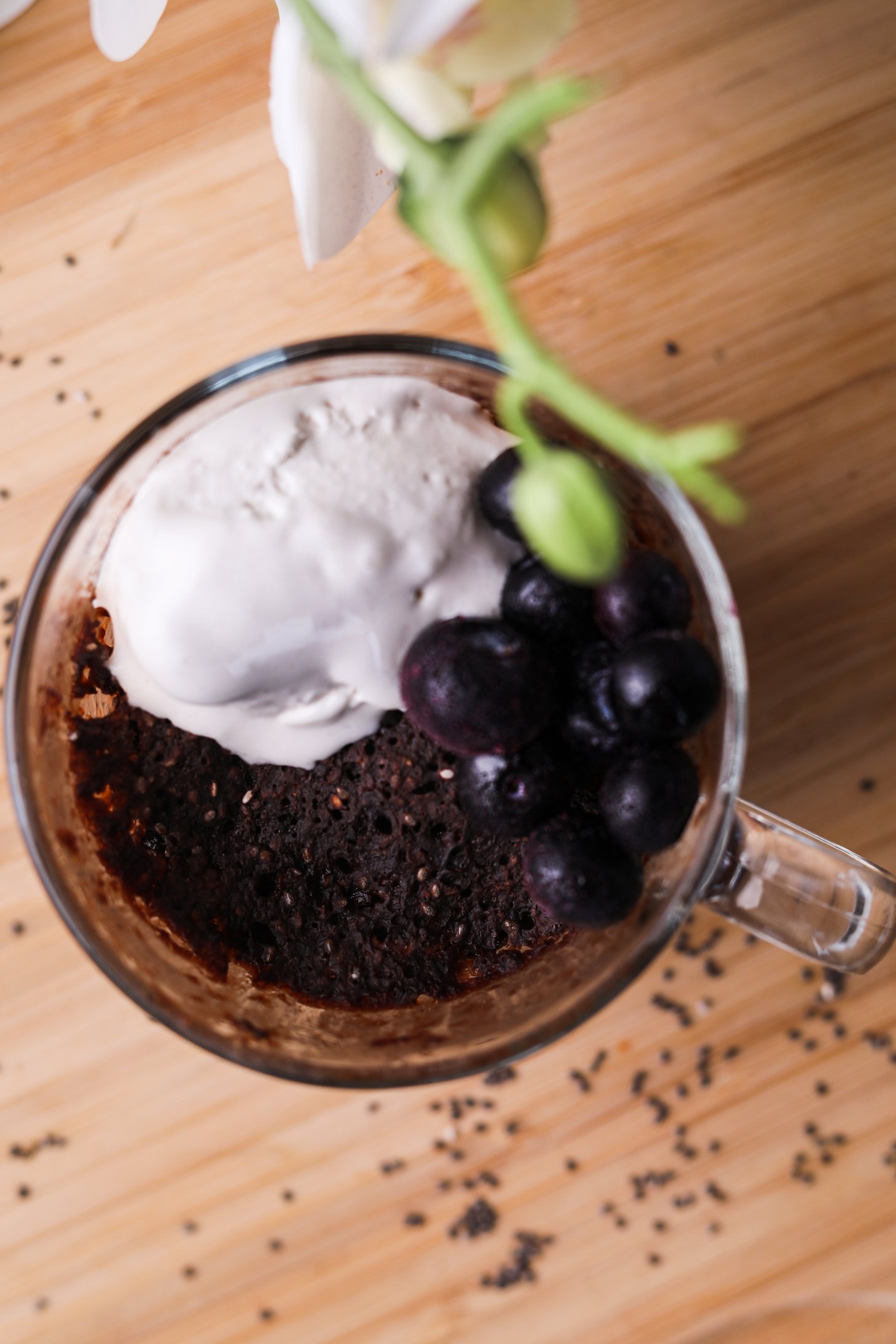 Nutrition note: chia seeds
Chia seeds are an excellent vegan source of protein and healthy fats, including omega-3 fatty acids. They have a unique property that causes them to absorb up to 10 times their weight in liquid and form a gel when soaked – which is why they make such an awesome vegan egg substitute! As well as being a great binder, they add a delicious nutty flavour to vegan recipes.
Chia seeds are also rich in the following:
fibre
vitamins
minerals
and antioxidants
These help boost your health, reduce inflammation and provide your body with important nutrients.
Why is cacao hailed as a superfood?
Did you know that indulging in raw cacao is one way to reap the health benefits of flavanols? These health-promoting antioxidants boast a variety of benefits, particularly for heart health. Not only do they reduce blood pressure and promote strong vessel walls, but they also provide other distinct advantages to the body, like fighting inflammation and supporting immune function.
Why is my mug cake so spongy?
If you incorporate the wet and dry ingredients of your mug cake too vigorously, it will become spongy because excessive air is created. To avoid this, I'd recommend using slow circular motions when whisking the mixture.
You asked: Are mug cakes supposed to be gooey?
It depends on the recipe. If you're using wheat flour, they should be moist and soft in the middle. You want to strike the perfect balance between the batter being neither raw nor bone-dry. However, If you're using oat flour, your chocolate protein mug cake can be gooey and almost pudding-like because rolled oats flour can be eaten raw. In fact, I love this mug cake's gooey consistency.
As I am typing this, my vegan chocolate mug cake is calling me to enjoy it before the ice cream melts. Enjoy, friends!
What are your go-to healthy chocolate desserts?
If you try this easy chocolate cake in a mug recipe, I would love to hear from you! Leave a comment, rate it, or share a photo and hashtag with #desiliciousrd on Instagram, Facebook and Twitter! I can't wait to see your photos.
Desi~liciously Yours,
Shahzadi
This Wholesome Meal Plan is 100% animal product free and VEGAN. You will learn how to maximize your intake of healthy whole grains, a rainbow of vegetables, fruits and legumes – all while minimizing refined sugars and oils. Say hello to a nutrient-packed and delicious eating plan to support your healthy lifestyle and commitment to our planet's health.
Vegan chocolate mug cake is the perfect way to satisfy your sweet tooth cravings. This vegan dessert is an amalgamation of pudding and cake, creating a gooey, decadent treat that satisfies even the most discerning chocolate lovers. It's so easy to make; you can whip it up in no time using just a few simple ingredients and your trusty microwave. This recipe is heart healthy, gluten free, and delivers 8 grams of protein per serving.
Ingredients
2½

tbsp

oat flour

1

tbsp

cacao,

unsweetened

1½

tbsp

coconut sugar

1½

tbsp

chia seeds

½

tsp

vanilla extract,

pure

1½

tbsp

apple sauce

,

unsweetened

2½

tbsp

soy milk

,

unsweetened

¼

tsp

baking powder

½

tbsp

coconut oil

,

cold pressed, organic
Instructions
Whisk together oat flour, cacao powder, coconut sugar, chia seeds and baking powder (dry ingredients) in a small mug.

Combine apple sauce, soy milk, coconut oil and vanilla (wet ingredients) in a medium ramekin.

Incorporate the wet ingredients into the dry ones by whisking them together until fully combined. Just be sure not to overmix!

Send the mug cake batter to cook in the microwave for about 2 minutes. The time will vary depending on your microwave's wattage.

When the cake is done, safely remove it from the microwave and let it cool for a couple of minutes before digging in! Add your favourite toppings.
Notes
I like to use a whisk for combining the dry ingredients because it helps break up any lumps in the oat flour and helps the vegan mug cake rise more evenly.
You can top the vegan chocolate mug cake with vegan ice cream, whipped cream, berries or even a dollop of peanut butter.
Substitute the cacao powder for vegan chocolate chips or cocoa nibs to add texture.
Besides coconut oil, vegan butter or vegan margarine are great alternatives.
Nutrition Information:
Calories:
341
kcal
(17%)
Carbohydrates:
40
g
(13%)
Protein:
8
g
(16%)
Fat:
17
g
(26%)
Saturated Fat:
9
g
(45%)
Polyunsaturated Fat:
1
g
Monounsaturated Fat:
1
g
Sodium:
56
mg
(2%)
Potassium:
340
mg
(10%)
Fiber:
8
g
(32%)
Sugar:
15
g
(17%)
Vitamin A:
7
IU
Vitamin C:
0.2
mg
Calcium:
197
mg
(20%)
Iron:
2
mg
(11%)
Keep in mind that the nutritional values provided are approximations and suggestions, and might fluctuate depending on ingredient variations, portion sizes, and recipe adjustments. This nutrition facts table cannot account for your individual needs. Your body — including your hunger and satiety cues — change daily. It's perfectly fine to eat more or less on different days. Instead of letting food guilt take over, consider mindful eating.
* Percent Daily Values are based on a 2000 calorie diet.