Mindful Eating: 13 Eco-Friendly Recipes
We all know we should be doing our part to save the planet. But what does that mean when it comes to food? It can be easy to get overwhelmed with all the different eco-friendly choices. Here are 15 eco-friendly recipes to help you get started on your sustainable living journey.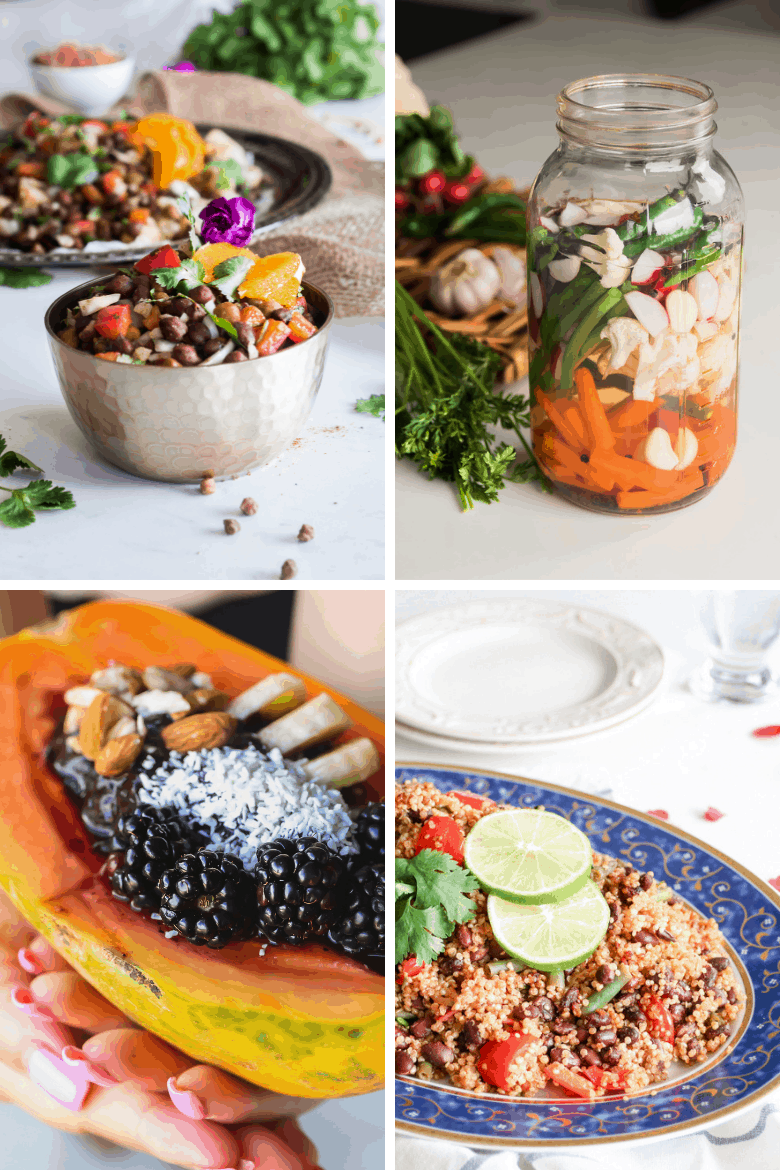 Did you know that your kitchen consumes a third of the energy used in your home? And much of it is due to cooking. As a registered dietitian and busy mom, I spend most of my time in the kitchen. Therefore, I've had to get creative in order to prepare my favourite meals in an environmentally responsible manner.
We all have a duty to look after planet Earth, so one approach is incorporating more eco-friendly recipes into our diet. Because when we eat sustainable foods, we reduce our carbon footprint and help preserve the planet for future generations.
What's more, by eating more whole food plant based dishes (WFPB), we are also doing our bodies a favour. WFPB recipes are not only eco-friendly but they are packed with nutrients and antioxidants that help support our immune system and protect us from chronic conditions like diabetes, heart disease and some types of cancers.
So if you're looking to take steps toward sustainable living, start with these eco-friendly recipes. They are delicious, good for the planet and many of them are also diabetes diet friendly and heart smart as well.
Eating more pulses, like beans, is a powerful way to care for the environment. Pulses are a low carbon footprint food, meaning that farmers need to add little or no nitrogen fertilizer. What's more, pulses use half to one-third of the water it takes to produce other protein sources.
Kale And Quinoa Salad With Lemon Dressing
This Kale and Quinoa Salad with a lemon dressing recipe calls for beautifully colourful ingredients to brighten your day. It's a stellar recipe — especially if you're on the hunt for salad ideas for lunch. Best for summer days, healthy meal prep for the week, or a nourishing side salad for cookouts and BBQs. Vegan and gluten-free.
Check out this recipe
Kale is regarded as a sustainable crop since there are no known long-term impacts on the environment, such as air, water, land, soil, forests, etc. – as long as pesticides have not been used.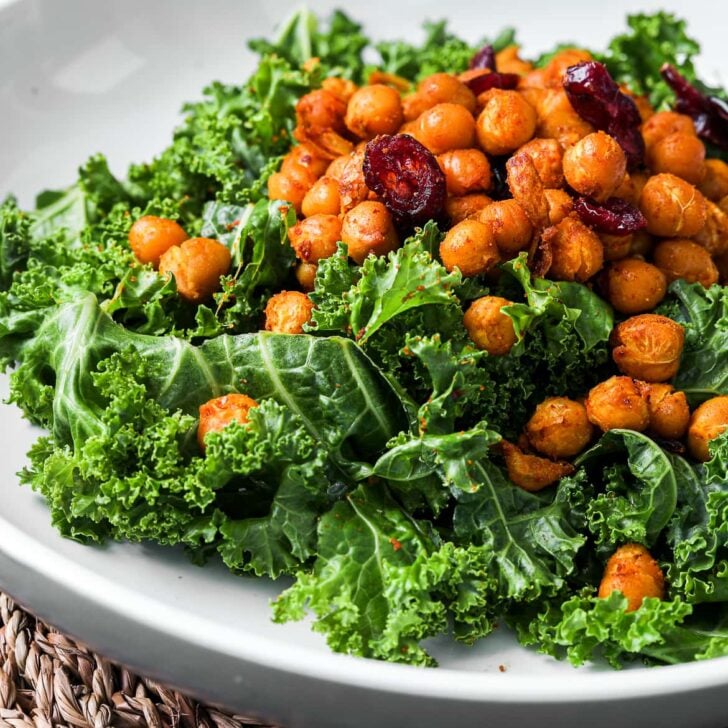 30-Minute Massaged Kale Salad With Spicy Chickpeas
Got a bunch of kale? Lunch is all sorted with this easy and healthy 30-minute vegan Kale Salad that's tossed in a creamy avocado-herb dip and topped with warm and spicy roasted chickpeas. Finished with sweet and tangy dried cranberries, it's a summer salad you won't be able to resist. Scrumptious enough to enjoy as a light lunch or even as part of a meal.
Check out this recipe
By eating less meat, you're helping to slash water usage drastically because taking care of animals for meat and dairy is incredibly water-intensive.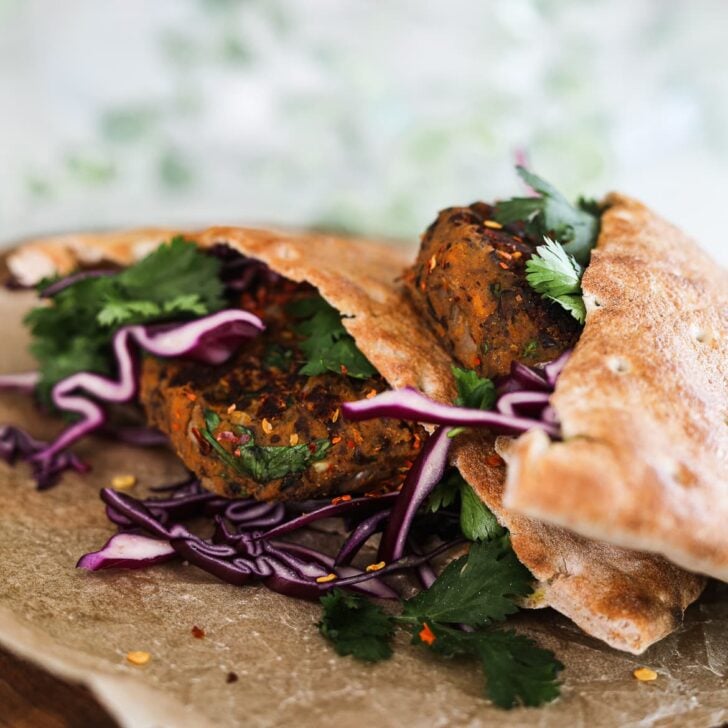 Vegan Kebab Recipe
Perfect for times when your pantry is low in ingredients, and you just need something quick and simple. This kebab recipe creates succulent and soft kebabs (Shammi kebab-style) that are packed with protein and rich in flavour!
Check out this recipe
Cut food wastage and save money by using over-ripened food, such as bananas, in baking.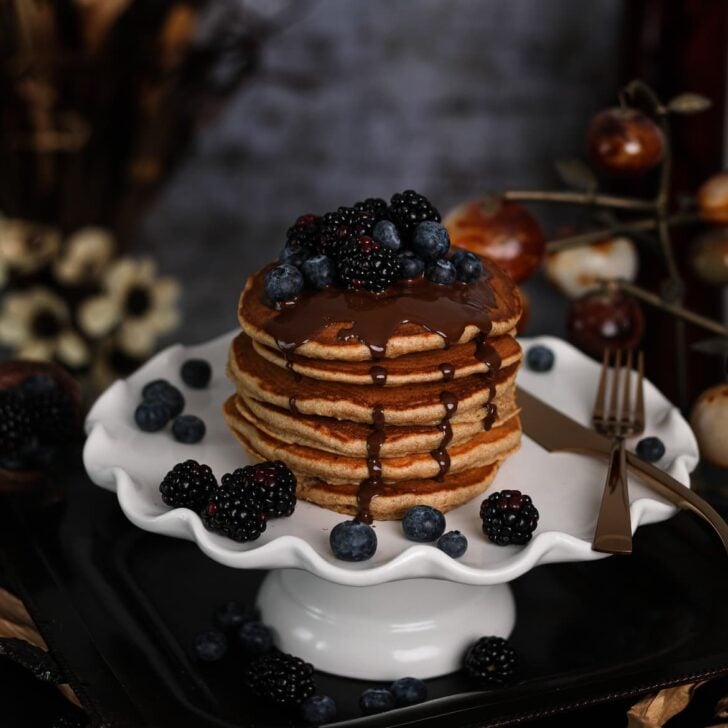 Desi-licious Fluffy Pancakes Recipe
Looking for an easy fluffy pancakes recipe? Make our family's favourite healthy pancakes from scratch. Made with wholewheat flour and less sugar – they're desilicious! A never-fail weekend breakfast that's ready for all the fruits in your fridge!
Check out this recipe
Can you believe it's made from leftovers? According to the Environmental Protection Agency, food wastage is the number one material sent to landfills and incinerators, which is more than plastic and metal combined. The EPA encourages us to use leftovers and compost because "Decomposing food in landfills emits methane, a potent greenhouse gas that causes climate change."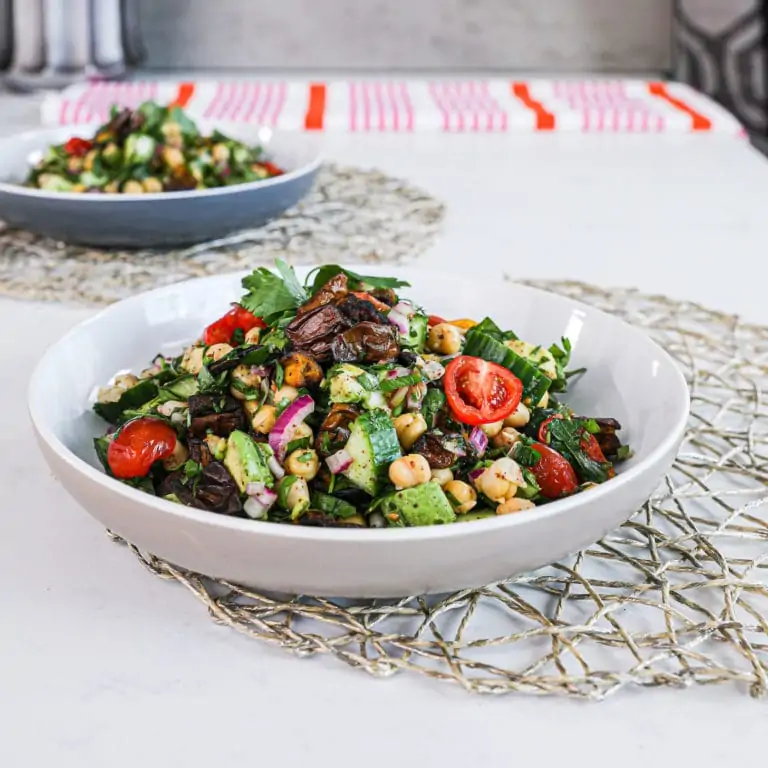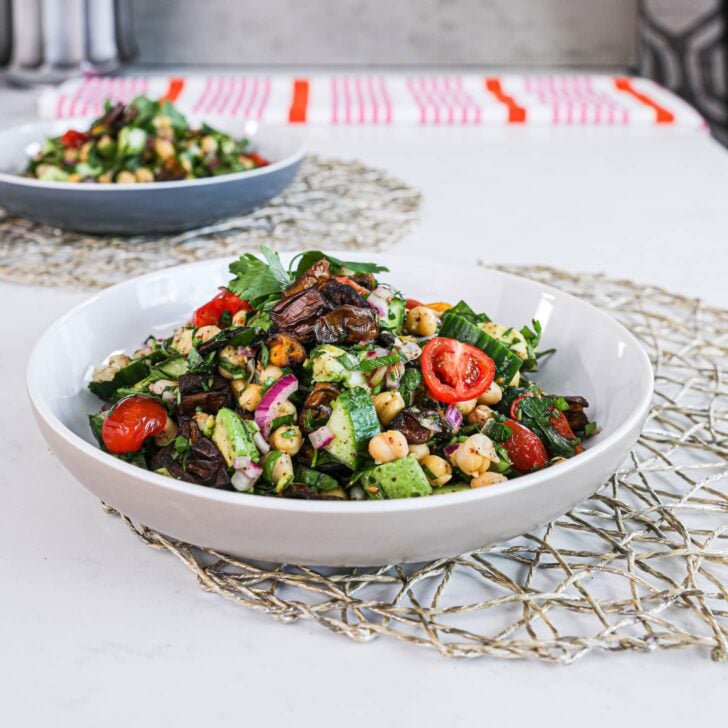 Healthy Air Fryer Eggplant And Chickpeas Salad
On the lookout for nutritious salads? You're in the right place! This air fryer eggplant and chickpeas salad is jam-packed with wholesome ingredients like parsley, onion, cucumber and tomatoes. The best part? It's high in protein and fibre, which makes it filling and ideal as a diabetes salad, too. This recipe is vegan, gluten free and part of my heart healthy and diabetes diet friendly series.
Check out this recipe
Did you know the water footprint of cow's milk is more than three times that of soy milk -1,050 litres compared to 297 litres, according to a Dutch study published in 2012? Replacing cow's milk with soy milk would be a wise choice for water preservation and a positive way to reduce greenhouse gas emissions.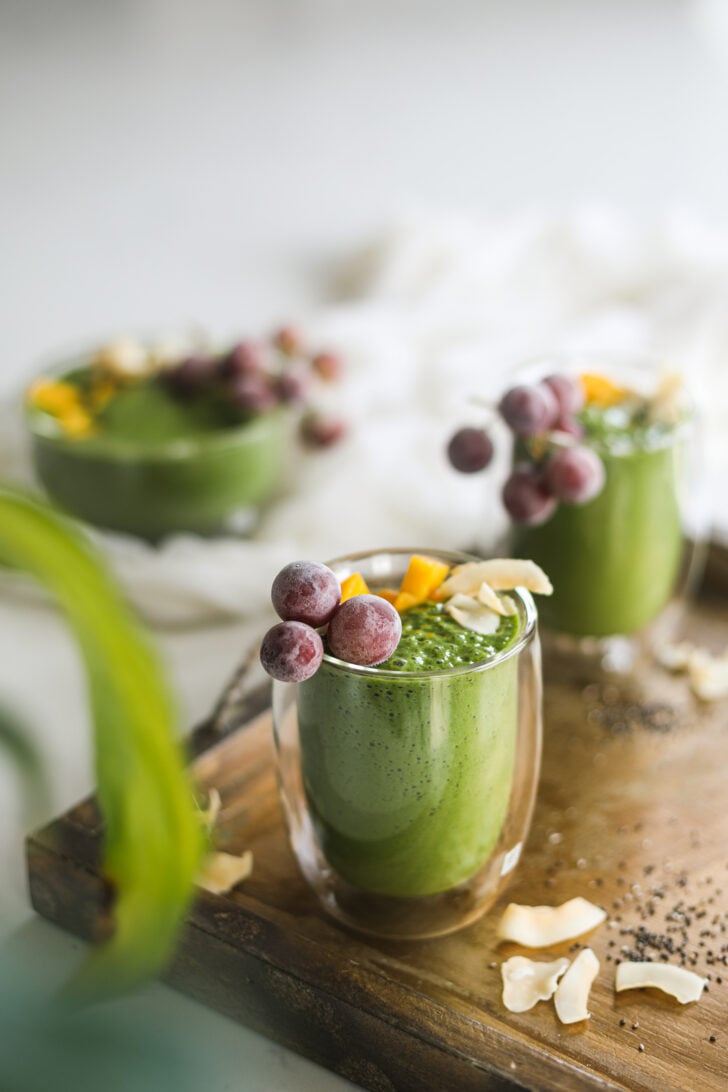 5-Minute Green Smoothie with Wheatgrass
This green smoothie with wheatgrass includes everything you need to stay energized throughout the day. With healthy ingredients like banana and pineapple, spinach, plant-based milk and wheatgrass powder, this quick smoothie recipe is a great way to get nourishing greens in for breakfast.
Check out this recipe
Cooking in bulk is a great way to be more eco-friendly. I double (even treble) this recipe and freeze it to reduce water and energy usage in my kitchen.
The Best Healthy Chili Recipe You'll Ever Eat
Learn how to make this Desi~licious healthy chili recipe that's chock full of vegetables. It's our favourite vegan chili recipe – that's also freezer-friendly.
Check out this recipe
Incorporate more gut healing foods into your diet to boost your gut health and reduce the need for stovetop or oven energy. For something a little different, try my DIY Lacto-Fermented Mixed Vegetables recipe to give your body some much-needed probiotics.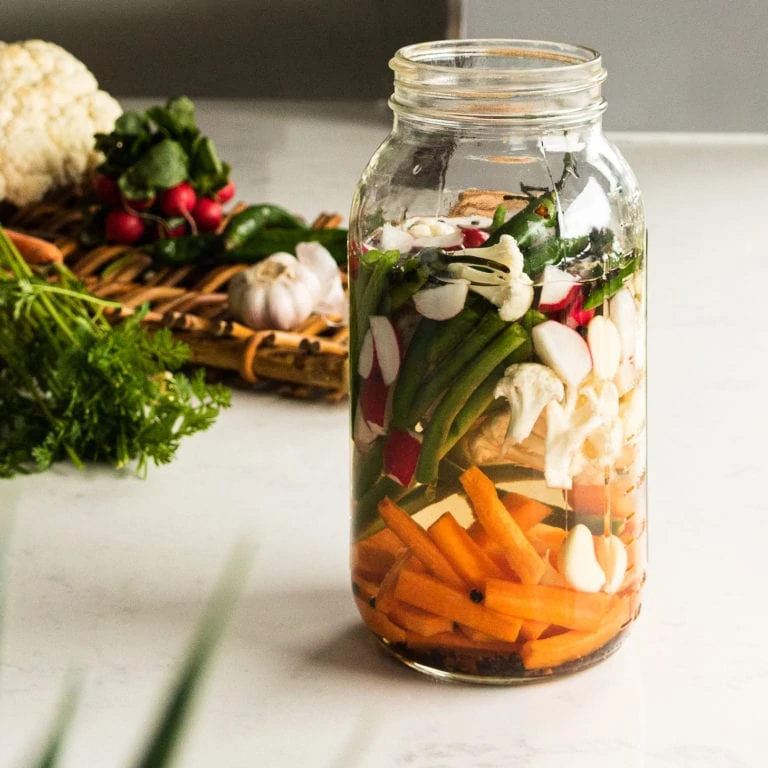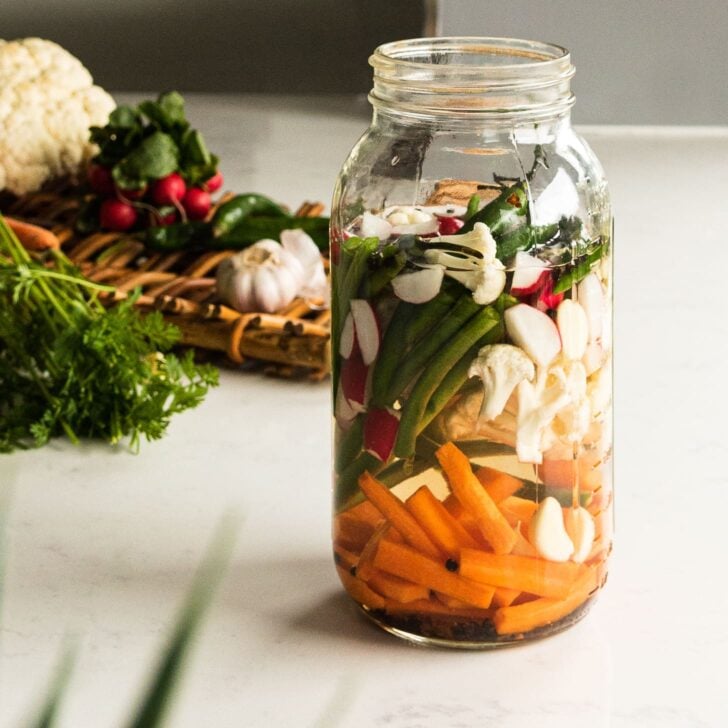 Health Promoting Easy Fermented Vegetable Recipe
This easy, step-by-step recipe will teach you how to make delicious fermented vegetables with potential health benefits. Learn more about this tasty twist on veggies! This recipe is vegan and low carb.
Check out this recipe
Traditionally pilau is made with Basmati rice, which requires a lot of fossil fuels to get to your plate. It's a type of long grain rice, the husk of which is removed, and then it goes through the second stage of processing to polish it. This Quilau is certainly an eco-friendly option.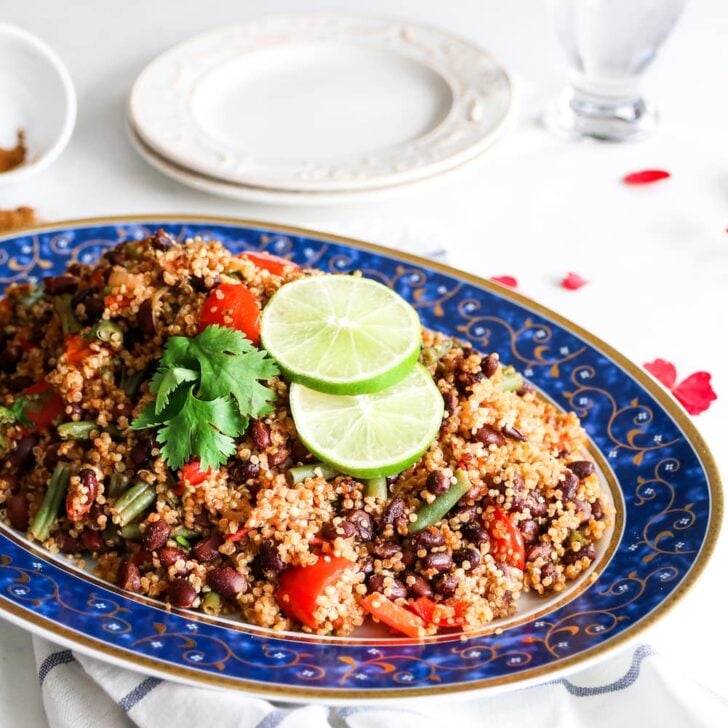 Vegetarian Quinoa Pilau Recipe
Inspired by the traditional rice pilau, this enticing and super-healthy gluten free Vegetarian Quinoa Pilau Recipe, aka "qui-lau" is bursting with flavour, and so simple to pull off. Infused with the aroma of cumin, coriander and garam masala, this recipe is one you will want to add to your repertoire. Satisfying and finger-licking good!
Check out this recipe
We make an effort to buy seasonal local produce, such as pumpkins. Food that's travelled across the world to get to your plate has a much higher impact on the environment; more energy is needed to transport, refrigerate and store, as well as more packaging to ensure freshness.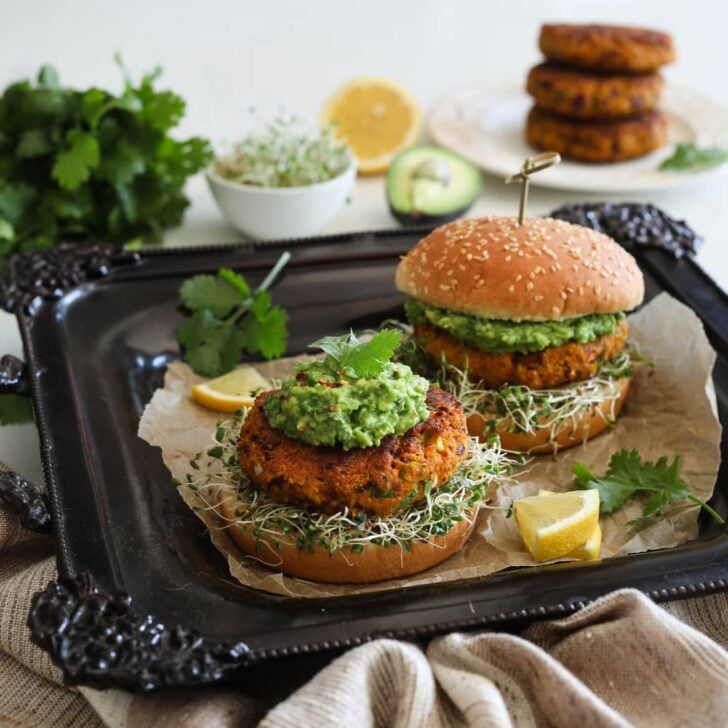 Desi Pumpkin Bean Burger
Just in time for Fall, these easy and healthy Desi Pumpkin Bean Burgers are an excellent alternative to store bought vegan burgers. Kidney beans, pumpkin and oats infused with curry powder and cumin, to create a healthy ethnic recipe – that'll knock your socks off! Served on a bed of alfalfa microgreens and topped with creamy guacamole. Just tuck in! 
Check out this recipe
Cutting your food into smaller pieces – as a strategy to reduce cooking time is a good way to minimize energy usage in your kitchen. What's more, you'll save on time and bills and manage to feed your hungry family a lot faster.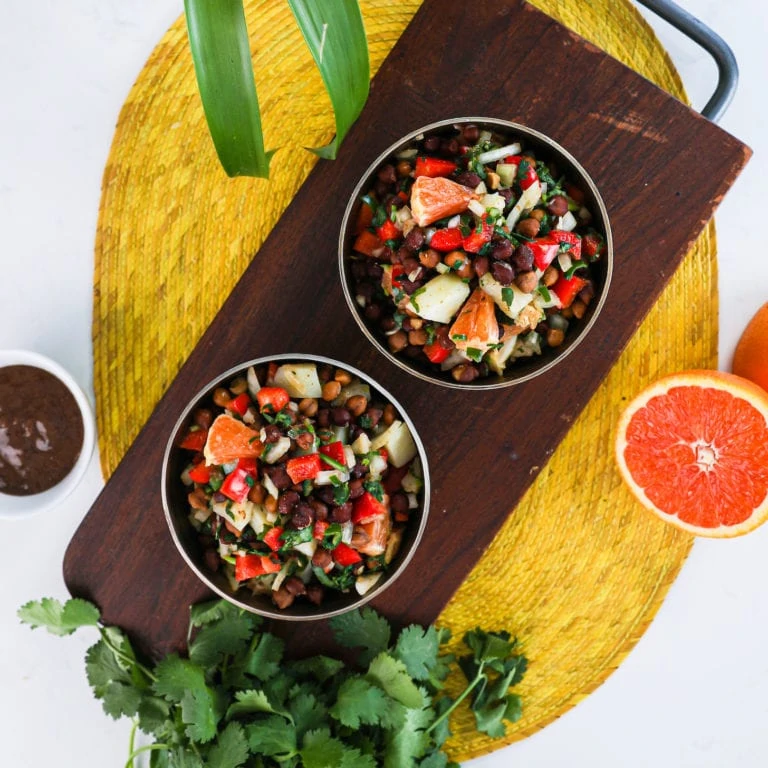 Quick Kala Chana Chaat (Black Chickpea Salad)
One loaded kala chana chaat coming at ya! A popular South Asian street food, here kala chana, aka black chickpeas, are tossed in a delicious blend of Indian spices, citrus fruit, and fresh herbs to create a simple, irresistible chickpea salad. This quick 30-minute recipe is perfect for a healthy, high-protein nutrient-packed breakfast, lunch, or anytime really! Vegan and gluten free.
Check out this recipe
Being a "rainfed" crop, chickpeas don't require significant amounts of water, and like other legumes, they enhance soil health by fixing nitrogen. This can favour crop rotation, meaning a more sustainable model of agriculture.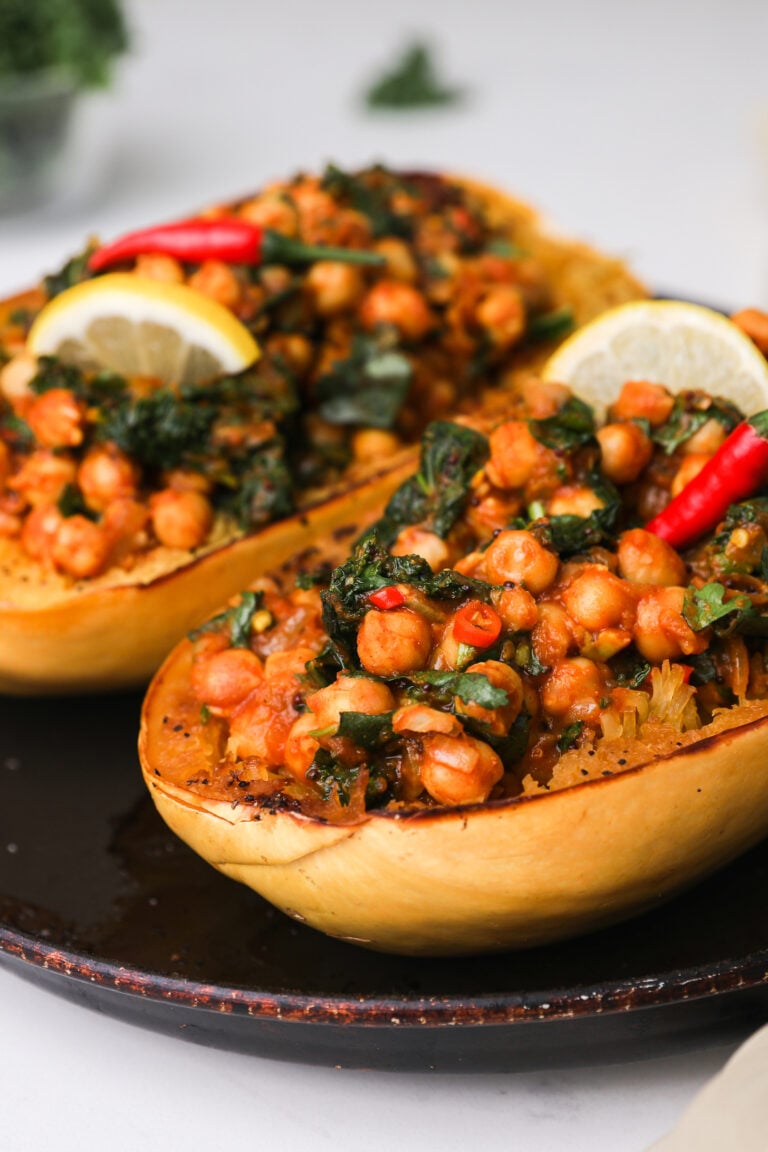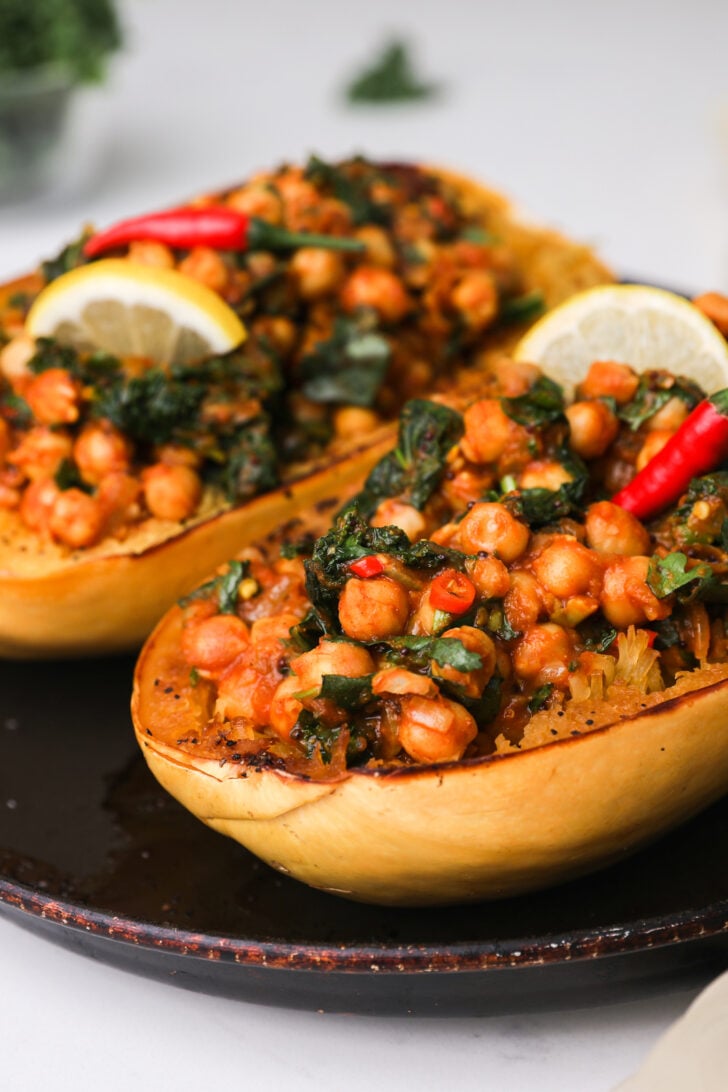 Chickpea-Curry Stuffed Spaghetti Squash (Vegan)
This recipe for oven-bakedstuffed spaghetti squashis filled to the brim with aflavourful vegan chickpea-kale curry. Recipe uses canned chickpeas for easeand convenience. A nourishing plant-based dinner, ready in 60 minutes!
Check out this recipe
Using sustainable seafood gives me peace of mind that the seafood I enjoy is certified wild and can be traced back to the fishery it came from. You can learn more about mindful eating and sustainable choices in my recent Huffpost article. This sheet pan wonder is the easiest fish recipe you'll ever make. It's flaky, juicy, and tangy, and you won't believe how incredible it tastes.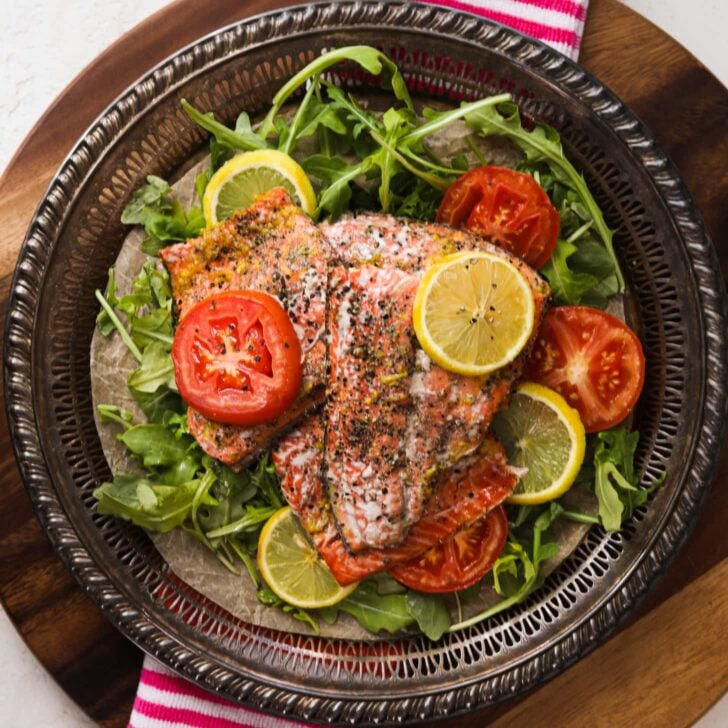 Easy Lemon Pepper Salmon
In just 20 minutes, you can have this succulent lemon pepper salmon on your dinner table. The zesty flavour of lemon pairs perfectly with the pungent bite of pepper, creating a delightful dish sure to please your taste buds. And best of all, this recipe pairs wonderfully with a variety of sides to create balanced nutritious meals. High protein, diabetes diet friendly, and heart healthy.
Check out this recipe
What are some of your best tips for eco-friendly cooking? Have you tried any of these recipes? How do you practice mindful eating? Share with me in the comments below.
If you try these recipes, I would love to hear from you! Leave a comment, rate them, or share a photo and hashtag with #desiliciousrd on Instagram, Facebook and Twitter! I can't wait to see your photos.
Desi~liciously Yours,
Shahzadi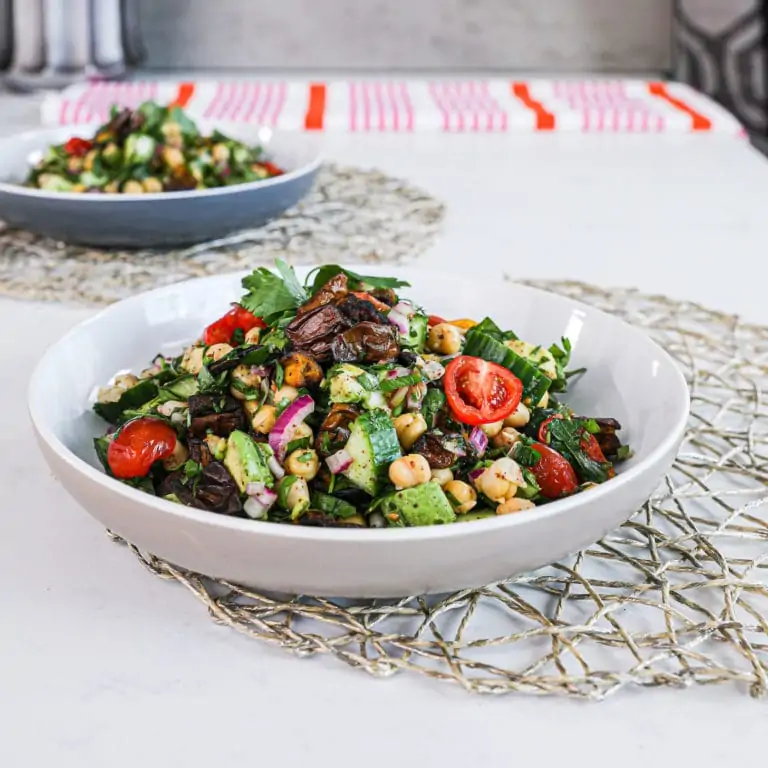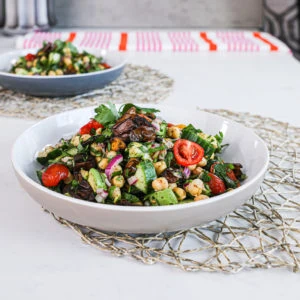 Get the Recipe:
Eco-Friendly Recipes: Eggplant And Chickpeas Salad
We all know we should be doing our part to save the planet. But what does that mean when it comes to food? It can be easy to get overwhelmed with all the different eco-friendly choices. Here are 15 eco-friendly recipes to help you get started on your sustainable living journey. 
Ingredients
3

eggplant

,

Asian, washed. To prepare the eggplant, cut off the ends and then cube the eggplant into small pieces. I find it easiest to do this by cutting the eggplant in quarters lengthwise and then slicing it into cubes.

1½

tsp

salt

,

sea salt

2

tbsp

avocado oil

1

tsp

turmeric powder

1

cucumber

,

washed, sliced into cubes

1

cup

cherry tomatoes

,

washed, cut in half lengthways

1

cup

parsley

,

packed cup, washed, finely chopped

4

cups

chickpeas

,

canned, drained and thoroughly washed

½

red onion

,

large, finely chopped

1

lemon

,

fresh juice

1

tbsp

sumac

,

powder
Instructions
To release the moisture from the eggplant, place the cubes on a large plate or bowl, sprinkle with salt, and let them sit for 30 minutes

After 30 minutes, use a clean dishcloth or paper towel to gently press and blot the eggplant cubes dry. This is a crucial step because if there's too much moisture on them, they won't air fry well – resulting in soggy eggplant

Coat the cubes with avocado oil,and turmeric. Toss to coat thoroughly

Place the eggplant in the air fryer baskets, making sure not to overcrowd the cubes. Air fry at 400F for 15-20 minutes, shaking the baskets halfway through cooking

Once the eggplant is cooked, remove the cubes from the air fryer and place them in a large bowl

To assemble the salad, add chickpeas, cucumber, tomatoes, parsley, onion, lemon and sumac to a large bowl and toss to combine

Add the air fryer eggplant along with the avocado pieces and toss gently to combine. Enjoy!
Notes
When preparing eggplant, cut it into small cubes so that they cook evenly and don't get soggy.
Season the eggplant with salt, avocado oil and turmeric (or your desired spices) for extra flavour.
You want to cook the eggplant in batches to avoid overcrowding the air fryer basket. This will help ensure that they cook evenly and get crispy.
If you're using canned chickpeas, drain and rinse them well before adding them to the salad.
Add fresh herbs like parsley, mint or cilantro (coriander) for extra flavour.
Nutrition Information:
Calories:
386
kcal
(19%)
Carbohydrates:
58
g
(19%)
Protein:
17
g
(34%)
Fat:
12
g
(18%)
Saturated Fat:
1
g
(5%)
Polyunsaturated Fat:
3
g
Monounsaturated Fat:
6
g
Sodium:
900
mg
(38%)
Potassium:
985
mg
(28%)
Fiber:
17
g
(68%)
Sugar:
11
g
(12%)
Vitamin A:
1550
IU
(31%)
Vitamin C:
50
mg
(61%)
Calcium:
127
mg
(13%)
Iron:
6
mg
(33%)
Keep in mind that the nutritional values provided are approximations and suggestions. This nutrition facts table cannot account for your individual needs. Your body — including your hunger and satiety cues — change daily. It's perfectly fine to eat more or less on different days. Instead of letting food guilt take over, consider mindful eating.
* Percent Daily Values are based on a 2000 calorie diet.