Medically reviewed by Shahzadi Devje, Registered Dietitian (RD) & Certified Diabetes Educator (CDE)
The best Shakshuka Eggs with lentils is served! Settle into back-to-routine with my fuss-free one-skillet marvel – Moroccan Shakshuka. Eggs gently poached in a thick tomato-lentil sauce infused with smoked paprika, cumin and garnished with fresh cilantro and olives. Loaded with nourishing ingredients, it's family-friendly, satisfying and finger-licking good – No oven required. Serve "as is" or enjoy with toast, baguette roti or naan. Learn how to make shakshuka eggs below.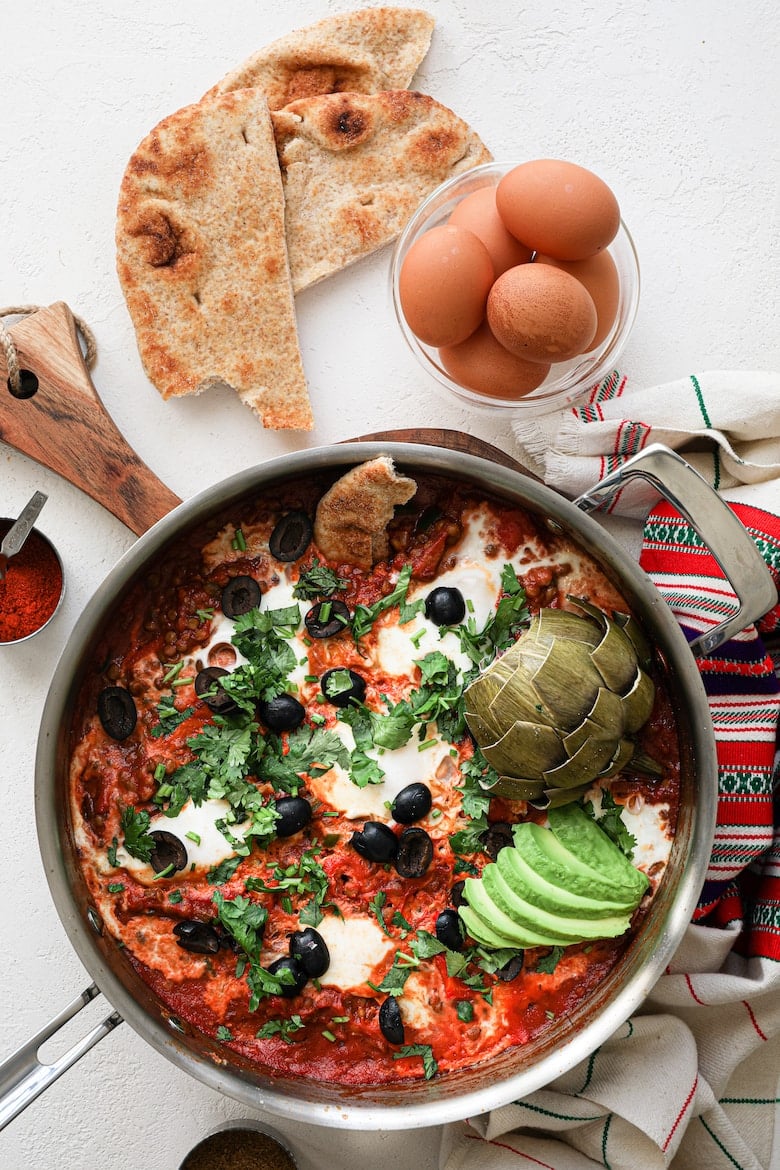 This post was sponsored by the American Egg Board's Egg Nutrition Center. As always, all opinions are my own.
A maxim for back-to-routine after COVID-19: The best way to eat healthily is to figure out how to make easy (and stress-free!) meals that are filling and leave you wanting more.
I think this is it.
Back-to-routine Nerves And Anxiety…
It's already September, and like us, some of you are hit by a wave of emotions as you settle into back-to-routine and school life. You're stressed, overwhelmed, feeling the blues and worried. The reality that lockdown is starting to come to an end has hit hard. Although school schedules and work routines are not exactly the same as they used to be – before the pandemic, we're anxiously planning timetables (and meal plans) alongside dictating a stricter bedtime (and screentime!!) schedule.
Understandably, many of us have let healthy eating habits slide, and as you work towards strengthening healthier eating habits – you can lean on eggs.
What Is Shakshuka?
It's made with eggs cooked in a rich tomato sauce with onion, garlic and spices. Typically paprika, cumin and chillies are added to create a more in-depth flavour profile. The dish has been enjoyed in Mediterranean cultures for centuries.
What makes it brilliant is the delicate balance of flavours — a little earthy, not at all overwhelming, with a bit of spice — and an underlying punch of smoked paprika. Can you imagine anything better for breakfast? And as many of you know, we love eating eggs, and like my last three egg recipes – veggie omelette, masala egg oatmeal and egg curry – this one works like a charm for lunch and dinner too. I think the lentils give traditional shakshuka – a nutritional lift.
It's a hearty and inexpensive dish. In fact, eggs are one of the least expensive sources of high quality protein.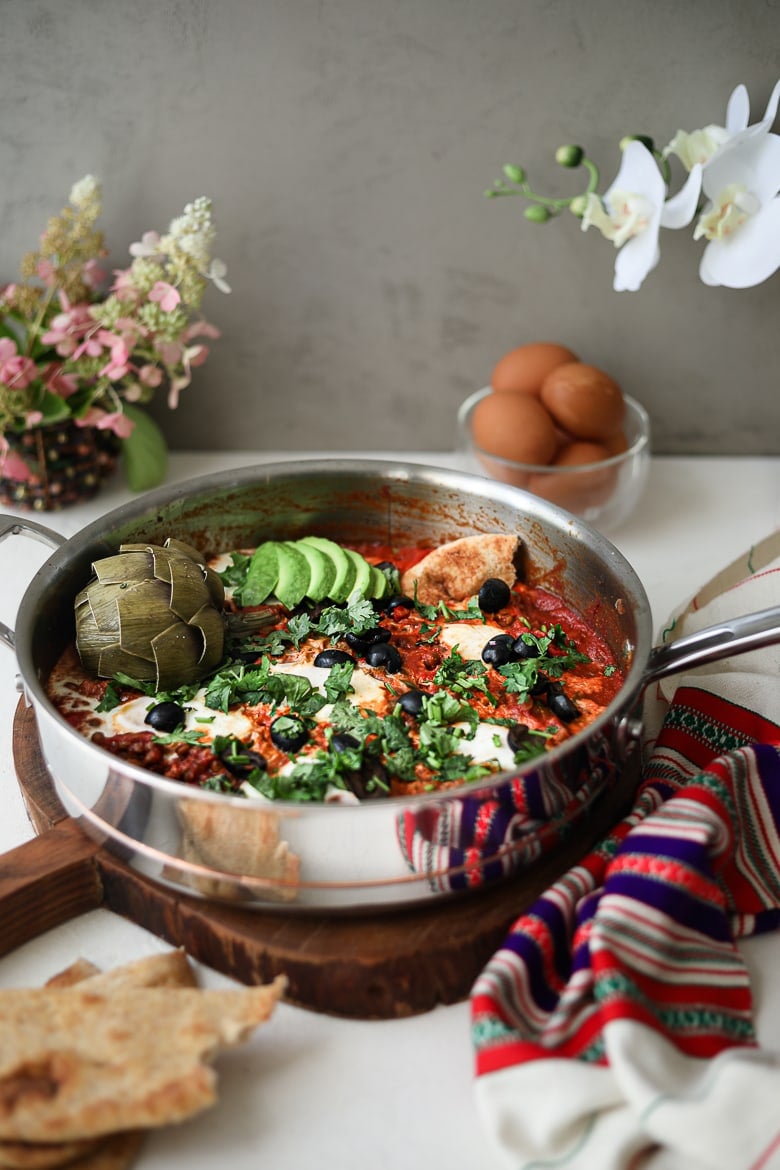 Where did it originate?
It seems the dish has North African roots, although it may have origins dating back to the Ottoman Empire's saksuka. Now, shakshuka is typically connected with the Middle East and Israel – introduced by Jewish immigrants of Tunisia, Morocco, Algeria, and Libya.
Impressive Health Benefits of Eggs You Should Know About
Aside from being an "excellent" or "good" source of eight essential nutrients, eggs are also nourishing and satisfying – as part of any healthy dietary pattern, like Mediterranean, low carb or plant-based. This is because eggs provide high-quality protein along with essential vitamins and minerals.
You may be surprised to know that:
Carotenoids found in eggs, specifically lutein and zeaxanthin, support

eye health

and could even help protect the eyes from harmful blue light from computers and phones.

The latest research indicates that lutein may also play a key role in cognition in addition to eye health.

Eggs also contain

choline

– an essential nutrient for

optimal health

throughout the

life span

. Plus, it's needed to support continued brain development for infants and young children—

every bite counts

.
Nutritional Highlights Of This Recipe
Below you'll find the nutritional highlights of one serving of my Shakshuka recipe. I have shown you the nutritional analysis using Food Data Central, from the USDA. Bear in mind, these are estimates.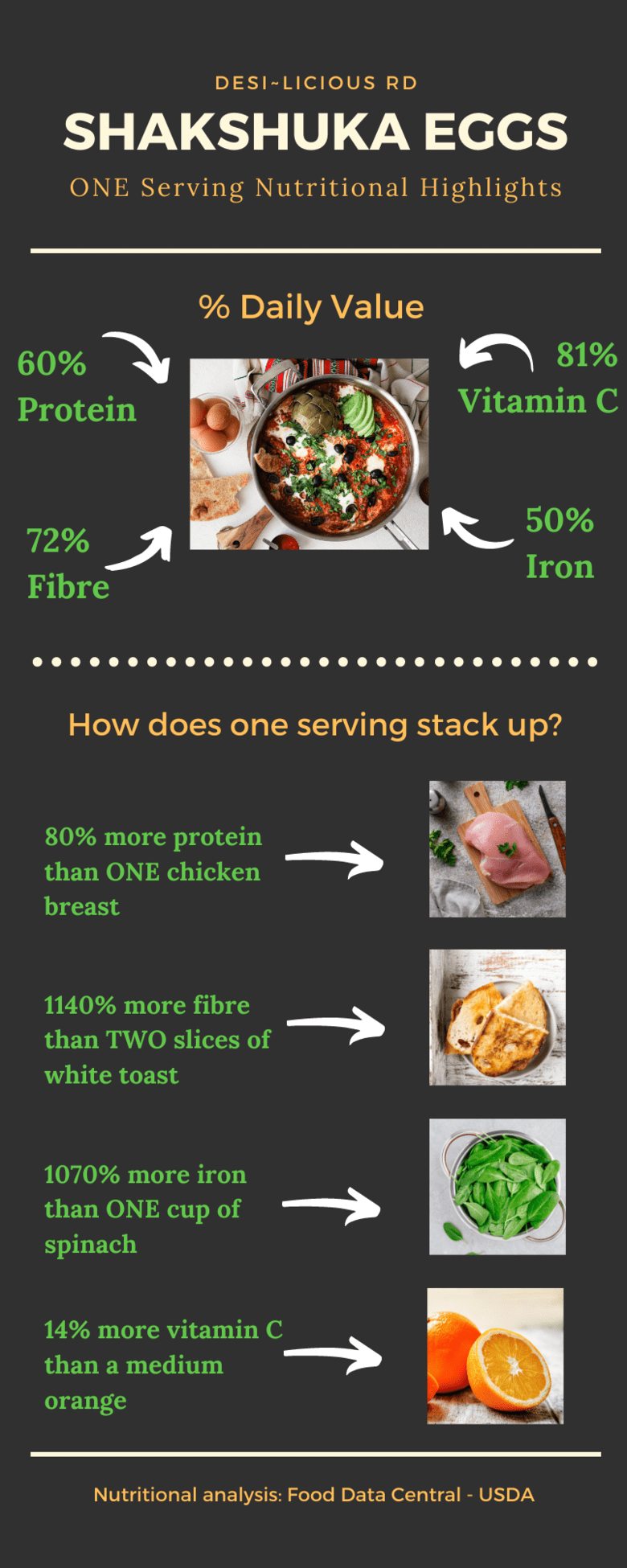 How To Make Shakshuka Eggs…In The Most Delicious Shakshuka Sauce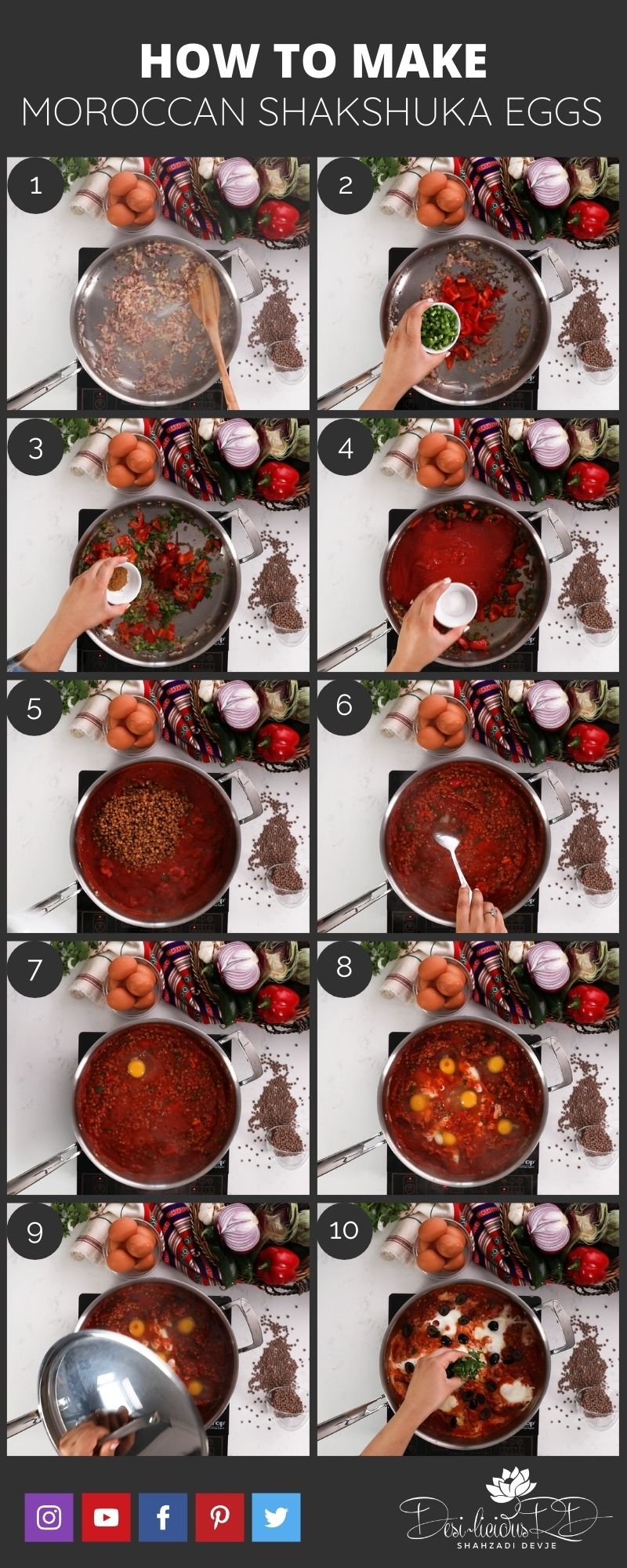 Start by preparing all the ingredients for the shakshuka sauce. Heat the oil in the skillet; fry the garlic followed by the onion (

Image 1

).

Toss in the peppers and jalapenos and cook for a few minutes (

Image 2

). You don't want these to get soft and mushy.

Throw in the dry spices and cook until they release their aroma (

Image 3

).

Stir in the passata and add ½ tsp salt, making sure everything is nicely mixed (

Image 4

).

Toss in the lentils and stir gently (

Image 5

).

Create a "well" in the shakshuka sauce and crack an egg into it (

Images 6-7

). Repeat the process with the remaining eggs. Sprinkle with ¼ tsp salt (

Image 8

).

Cover immediately and cook on low for about 5 minutes (

Image 9

). The egg whites should be opaque, and the yolks jiggly and soft. However, if you prefer your egg yolk to be hard, continue to cook for a few minutes longer.

Remove from the heat and garnish with cilantro and olives. Best served hot (

Image 10

).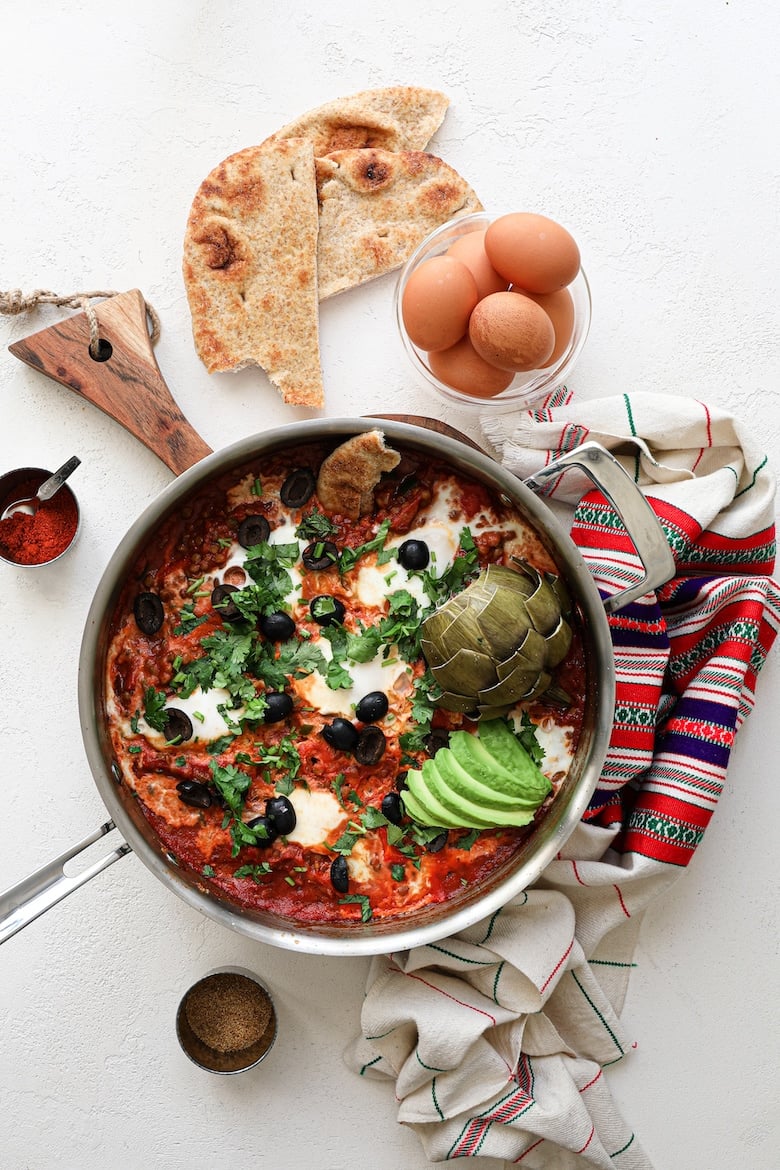 Desi~licious Tips For Making The Best Shakshuka Recipe
Make sure the eggs are out of the fridge for an hour before adding them to the sauce. Cold eggs will

lower

the temperature of the sauce and will cook unevenly.
Use smoked paprika as it brings an intense smoky flavour along with a deep red hue to the dish.
Avoid overcooking the peppers and jalapenos. Some

crunch

absolutely adds to the texture (and character) of the dish.
Fry the spices before adding the liquids to release their fragrance. Take care not to burn the spices, or else the shakshuka sauce will be bitter.
Use thick passata tomatoes; that way, the sauce will be thick and luscious – and not wet and runny.
Keep an eye on the heat; if it's

too high

, the sauce will stick to the pan and will be too thick.
Add the eggs to the sauce swiftly, so they all cook at the same rate.
When the shakshuka eggs are covered with the lid, keep track of the time and check after 3-4 minutes. You don't want to overcook the eggs. Cooking times will vary and are dependent on the heat source and the skillet.
Use fresh herbs to add heaps of flavour.
Once cooked,

remove

from the heat source immediately to prevent further cooking.
Leftover shakshuka eggs will keep in the fridge for 3-4 days.
More Easy Breakfast Ideas You May Like
What's your go-to breakfast to beat the morning rush? Have you tried Shakshuka with eggs before? Share in the comment section below!
If you try this recipe, I would love to hear from you! Leave a comment, rate it, or share a photo and hashtag with #desiliciousrd on Instagram, Facebook and Twitter! Can't wait to see your photos.
Desi~liciously Yours,
Shahzadi
Want a FREE Delicious Offer?
Moroccan Shakshuka Eggs With Lentils | Easy Ethnic Recipes
The best Shakshuka Eggs with lentils is served! Settle into back-to-routine with my fuss-free one-skillet marvel – Moroccan Shakshuka. Eggs gently poached in a thick tomato-lentil sauce infused with smoked paprika, cumin and garnished with fresh cilantro and olives.
Course:
Breakfast, Main, Main Course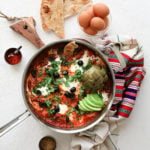 Ingredients
1

tbsp

olive oil

extra virgin

3

garlic cloves

large, crushed

½

red onion

large, finely chopped

1

red bell pepper

washed, cut into small chunks

2

jalapenos

large, washed, deseeded, cut into very small pieces

1¼

tsp

smoked paprika

1

tsp

cumin powder

3

cups

tomato passata

thick, coulis-style

¾

tsp

salt

sea salt

2

cups

cooked lentils

canned, unsalted

6

eggs

½

cup

cilantro

washed, finely chopped
Optional Toppings
¼

cup

black olives

canned

1

avocado

sliced into small chunks
Instructions
Heat oil in a large skillet on medium heat. Fry the garlic until it's lightly golden and begins to release its aroma.

Add the onion and continue to fry until it's light golden - about 3 minutes.

Stir in the pepper and jalapeno and cook for 2 minutes.

Turn the heat to low and add the paprika and cumin, stir for a few seconds. Be careful to not burn the spices.

Once the spices release their flavour, follow with the tomato passata and ½ tsp salt. Stir to mix. Increase the heat to medium-low so the mixture begins to simmer.

Use a medium-sized spoon to create a well in the tomato-lentil sauce and crack an egg into it. Gently, pour some of the sauce over the egg whites in order to "contain" the egg. Repeat this process with the remaining five eggs. Sprinkle with ¼ tsp salt and cover immediately. Cook for 5-6 minutes on low heat.

Remove the cover and check that the eggs are cooked. The egg white should be opaque and the yolk soft, gooey and jiggly.

Remove from heat and finish by garnishing with olives and cilantro. Enjoy!
Notes
The toppings are not included in the nutritional analysis.
Nutrition Facts
Moroccan Shakshuka Eggs With Lentils | Easy Ethnic Recipes
Amount Per Serving
Calories 462
Calories from Fat 126
% Daily Value*
Fat 14g22%
Cholesterol 327mg109%
Sodium 916mg38%
Potassium 2094mg60%
Carbohydrates 51g17%
Protein 30g60%
Vitamin A 2408IU48%
Vitamin C 67mg81%
Calcium 135mg14%
Iron 9mg50%
* Percent Daily Values are based on a 2000 calorie diet.
Please note the nutritional analysis values are estimates and suggestions. This nutrition facts table does not know your life - your body, including your hunger and satiety cues, change daily. It's okay to eat more or less. Say no to food guilt and instead embrace mindful eating.
7