If you're looking for a nutritious snack that will give you an energy boost in-between meals, look no further than these Protein Peanut Butter Bars. Packed with healthy fats and delivering 7 grams of protein per bar, they make the perfect on-the-go fuel or post workout snack. And best of all, they require no protein powder and utilize everyday pantry staples.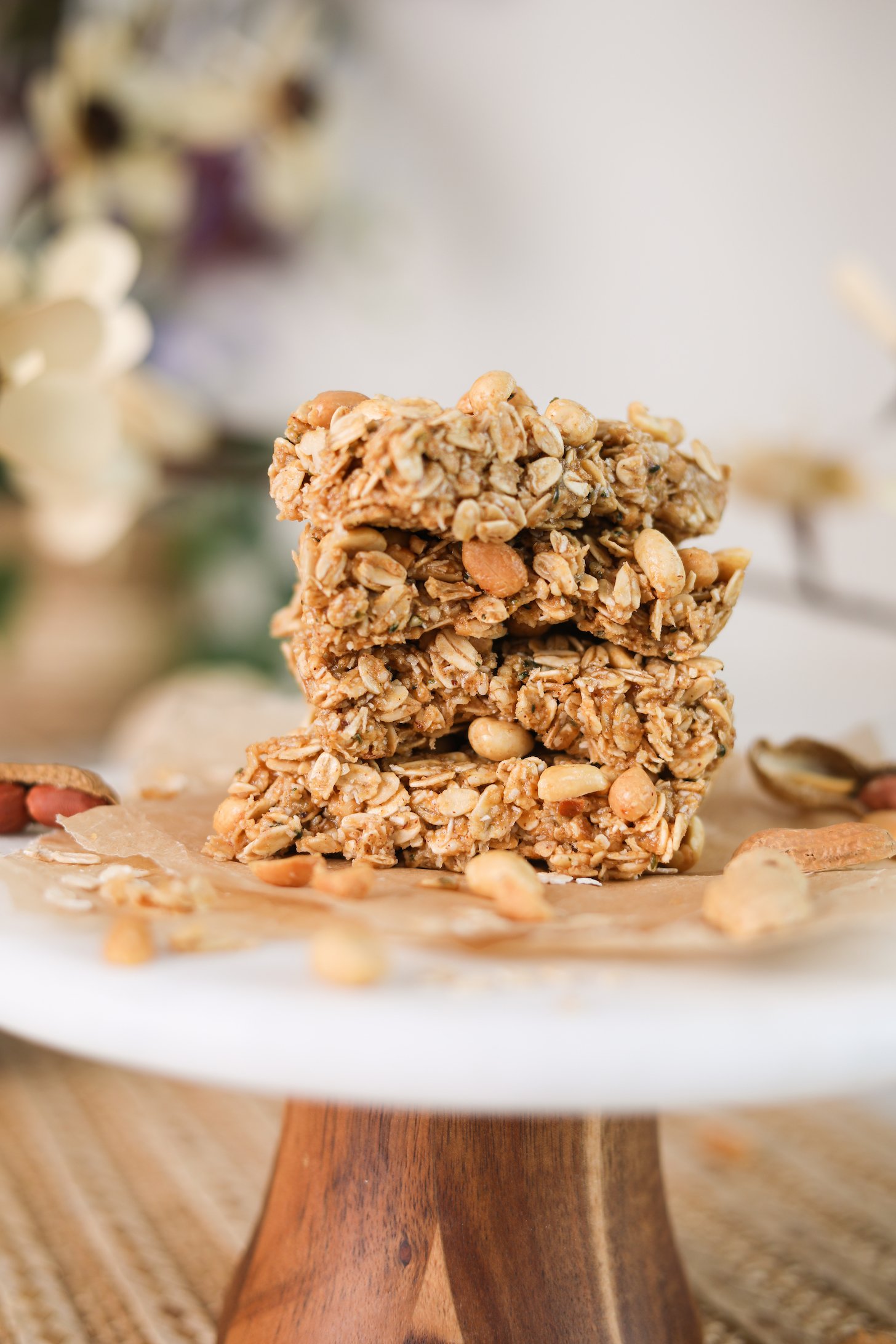 When I was studying to become a dietitian and diabetes diet educator, I learned many valuable nutrition facts, which I apply today when I develop recipes.
This week, I embarked on a mission to develop an easy rolled oats recipe that would be nutritious, low in sugar and free of artificial ingredients but still deliver on taste — no protein powder needed!
I'm ecstatic that these protein peanut butter bars check all the boxes! Low in sugar — with a combination of nutritious whole grains and healthy fats, they will fuel your body without weighing you down. And with just a few ingredients, they can be whipped up in a matter of minutes.
Plus, if you're following a diet devoid of gluten, you'll be pleased to hear that these also check off as gluten free peanut butter protein bars.
On the hunt for healthy natural snack ideas? Delight in my Dates and Yogurt Parfaits, then satisfy your peanut butter cravings with these scrumptious Oat Peanut Butter Cup Cookies!
Ingredients
You'll need the following eight ingredients to create the best peanut butter protein bars.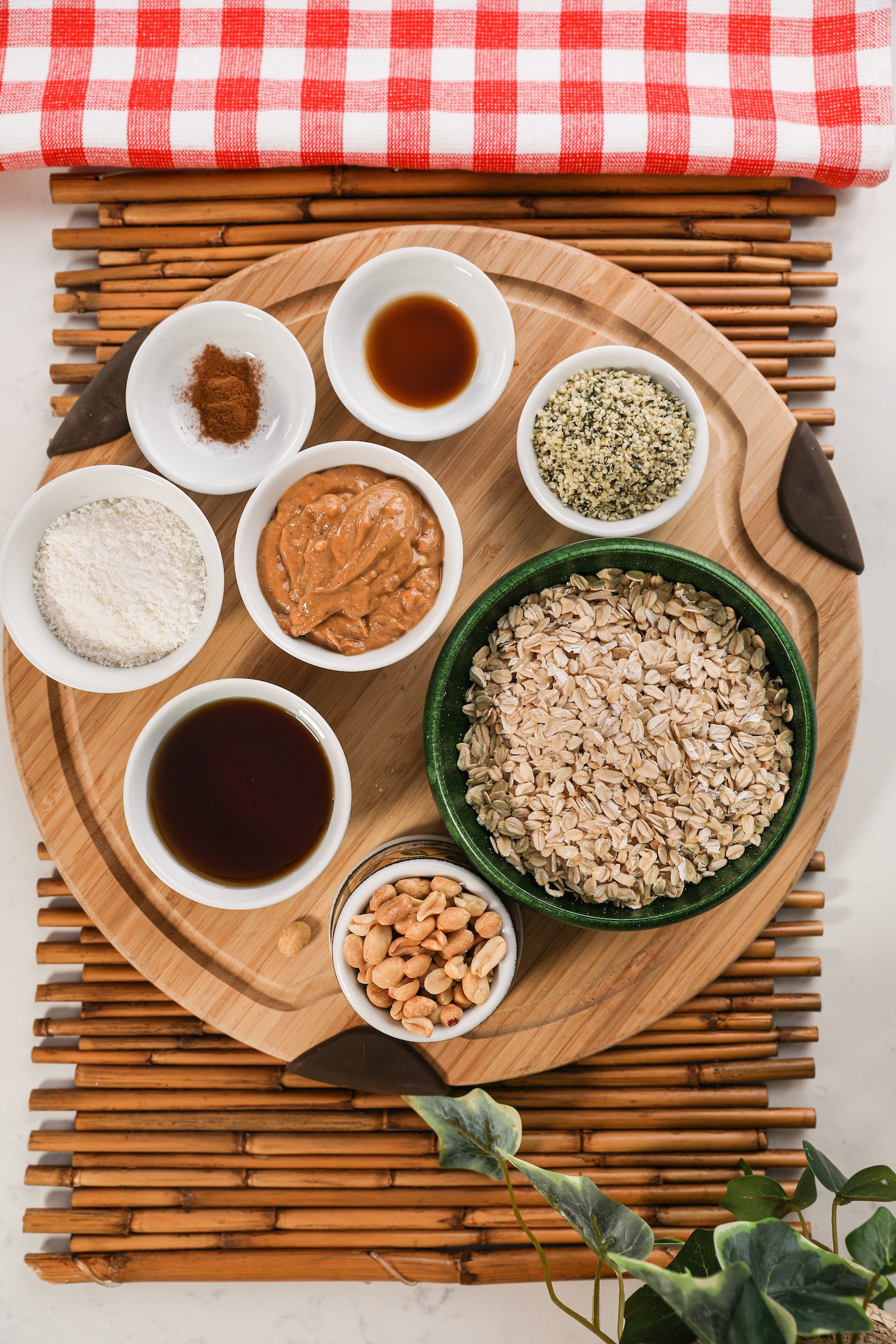 Tips for the beginner cook
When shopping for vanilla extract, it's important to ensure you purchase pure extract and not an imitation. Imitation vanillas often contain added sugar and artificial flavouring.
Be sure to use natural peanut butter. Many brands of pre-packaged peanut butter contain added sugars and oils, which can alter the taste and texture of your bars.
Use rolled oats vs quick oats as the base. Quick oats tend to absorb more liquid, resulting in a mushy texture.
Ensure your bars are firm before cutting into them. This allows for easier slicing and helps keep their shape.
DIY protein bars in 7 easy steps
Get ready to be amazed at how effortless it is to whip up this healthy protein bar recipe.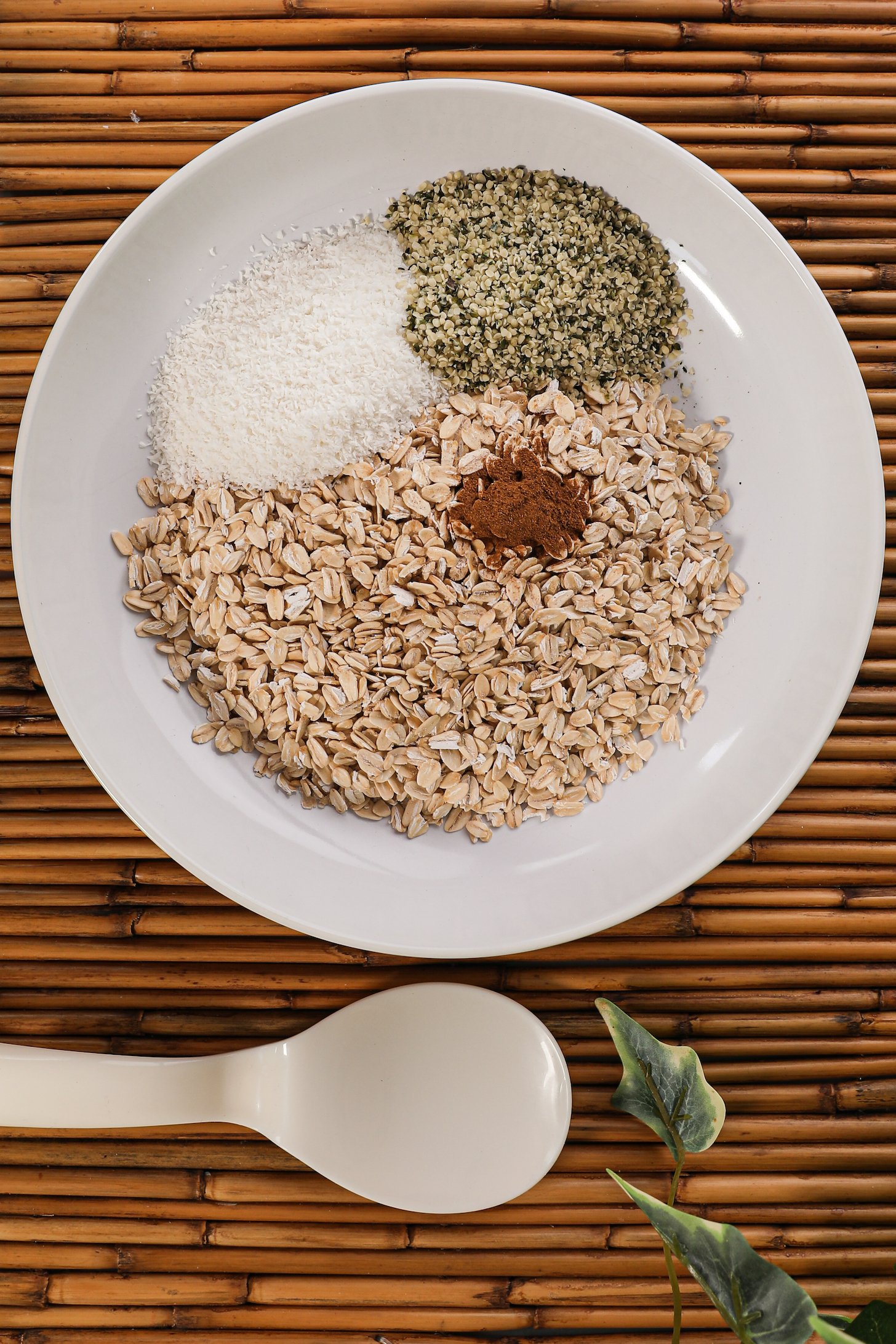 The complete recipe with ingredient amounts can be found in the recipe card at the bottom of this post.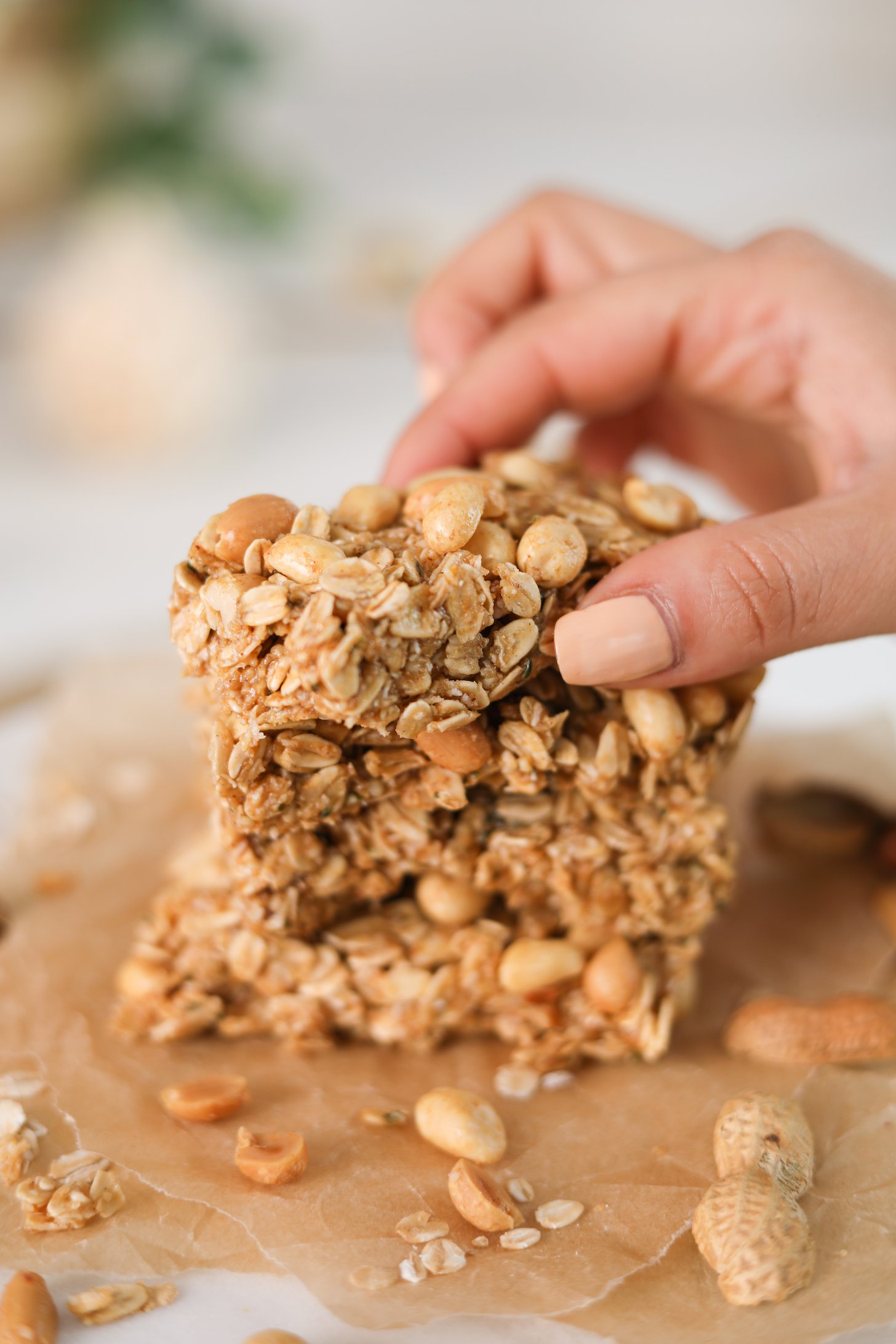 Nutrition highlights
One homemade protein bar is:
A source of dietary fibre, thanks to the oats and seeds.
A source of iron with the wholesome combination of oats and peanut butter.
Diabetes friendly and heart healthy with the nutritious blend of nuts, seeds, slow-digesting oats and a dash of maple syrup.
*Nutrient claims based on a 2000-calorie diet.
Ingredient variations and storage
While I think these gluten free peanut butter protein bars are delicious on their own, you can absolutely customize them to suit your tastes and nutritional needs. For example, you can:
Use almond or cashew butter instead of peanut butter
add some chia seeds for extra crunch and nutrients
top with dried fruit or mini chocolate chips for a sweet treat. You could even drizzle melted chocolate over the bars.
Remember to keep your no bake protein bars with oats fresher for longer by wrapping them in beeswax. Then, store them inside an airtight container in the refrigerator. For longer-term storage, you can freeze your snack bars and enjoy them for up to two months.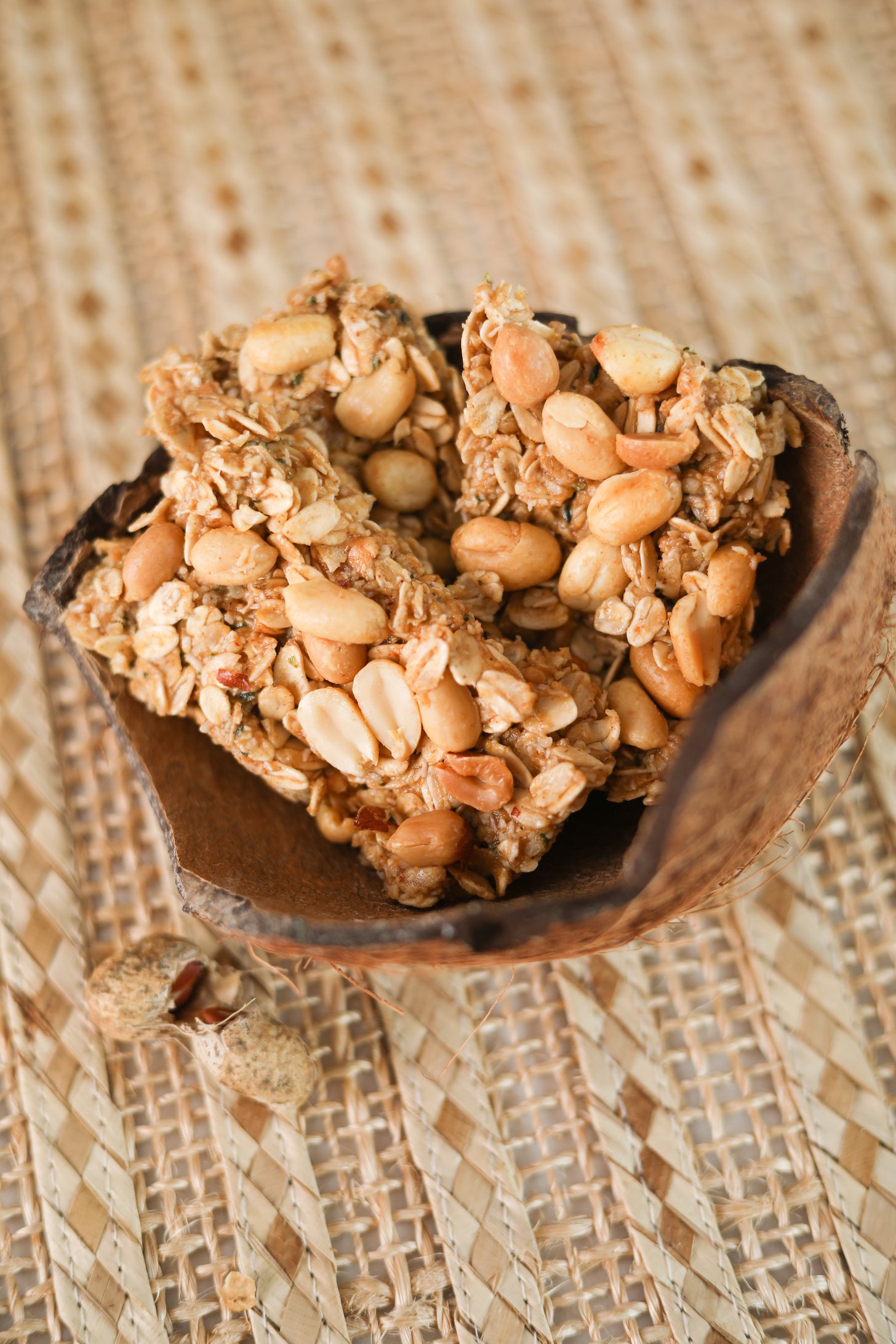 You asked: "Why do protein bars have a laxative effect?"
Protein bars are a popular snack alternative, and it can be helpful to include them in your diet as they provide added nutrients and energy. However, some folks experience a laxative effect when consuming protein bars due to their high sugar content or the type of dietary fibre found in them.
Store-bought protein bars are often filled with added sugar, and if you're not used to consuming such a large quantity of the sweet stuff at once, your body may respond by having a bout of diarrhea. Sugar alcohols, like maltitol, sorbitol, and mannitol, used as sweeteners in some protein bars, can also cause digestive issues.
Additionally, some protein bars use inulin — an insoluble dietary fibre that can cause digestive upset in sensitive individuals. If this happens to you, it's best to switch up your protein bar brand or opt for homemade recipes that use natural sources of sugar and fibre. Additionally, make sure to stay hydrated when consuming protein bars, as this can help with digestion.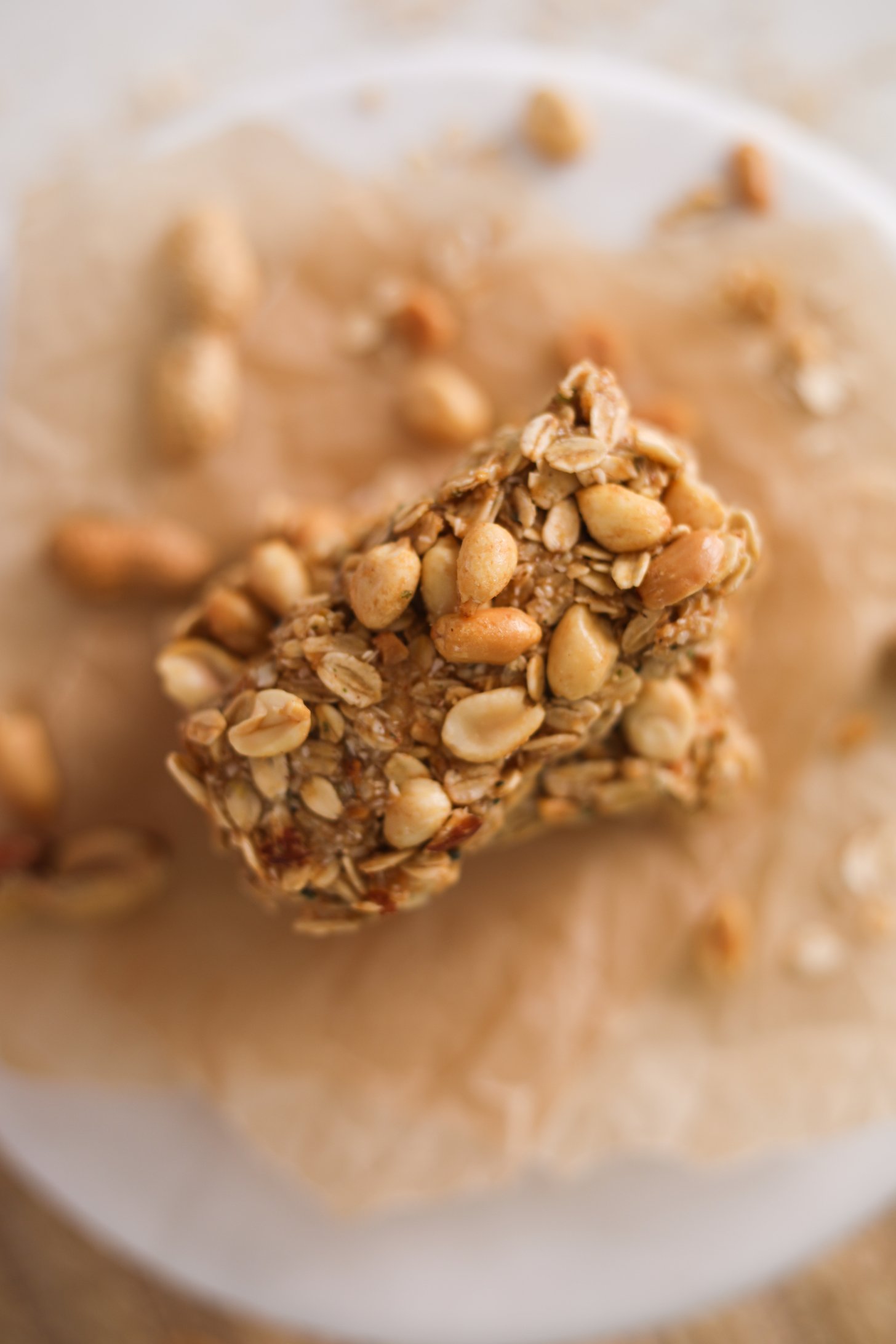 Are protein bars good for you?
I believe it's essential to foster a healthy relationship with food and refrain from labelling it as "good" or "bad." Using judgment labels like these can be unhelpful and contribute to an unhealthy mindset.
That said, protein bars can certainly be a convenient and nutritious complement to your diet — if they fit in with your overall dietary goals. I recommend opting for protein bars that use minimally processed ingredients and are made without added sugars. Remember that protein bars tend to contain high amounts of protein and dietary fibre, which can be beneficial for muscle building and regular digestion.
When it comes to type 2 diabetes management and stabilizing blood sugar levels, oats-based protein bars are an excellent selection. These bars offer complex carbohydrates, a considerable amount of dietary fibre and plant based proteins which are beneficial for heart health and diabetes friendly.
At the end of the day, while some nutritional benefits are associated with protein bars, they should not be seen as a replacement for real, wholesome meals.
What are your favourite protein bar recipes?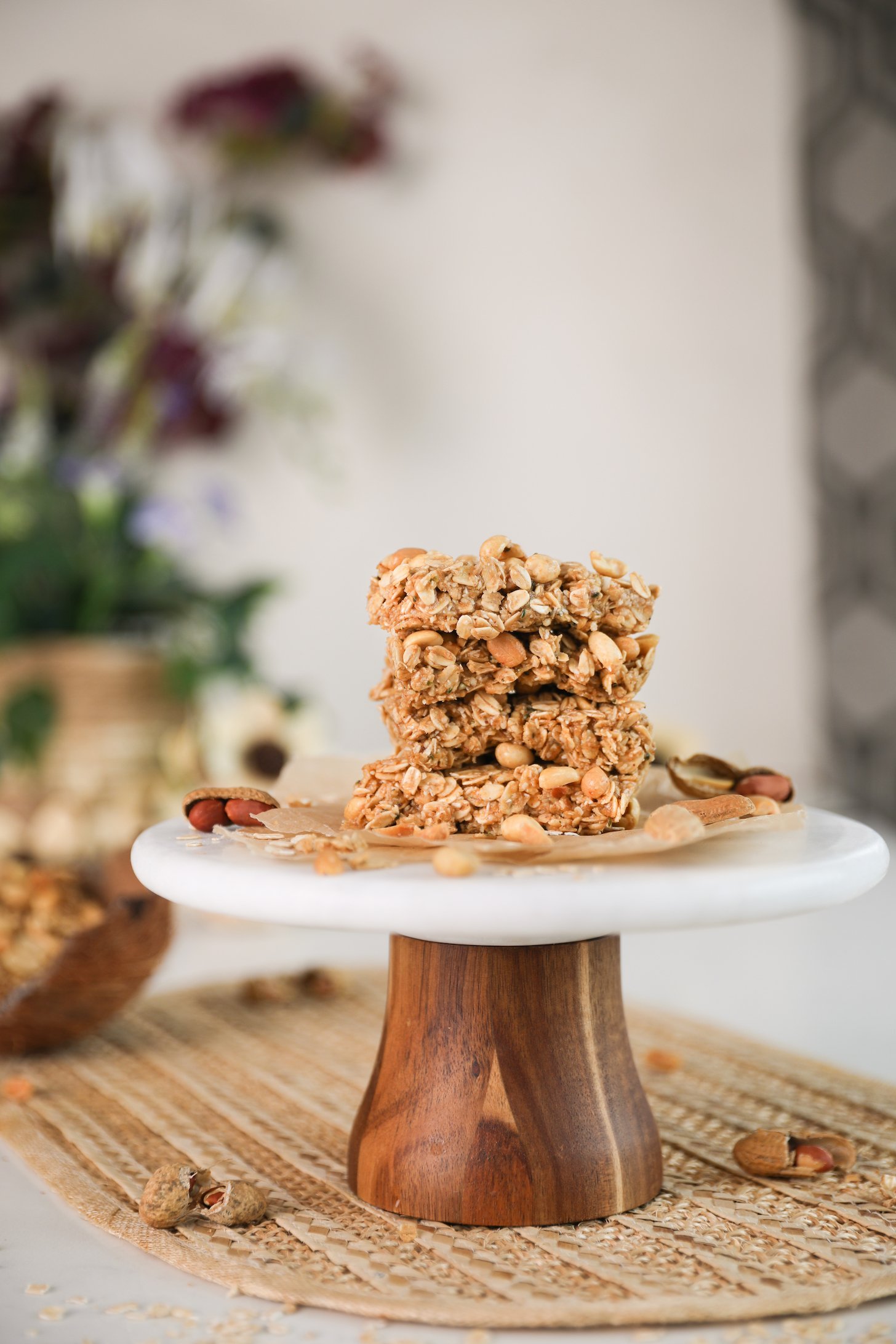 If you try these soft peanut butter protein bars, I would love to hear from you! Leave a comment, rate it, or share a photo and hashtag with #desiliciousrd on Instagram, Facebook and Twitter! I can't wait to see your photos.
Desi~liciously Yours,
Shahzadi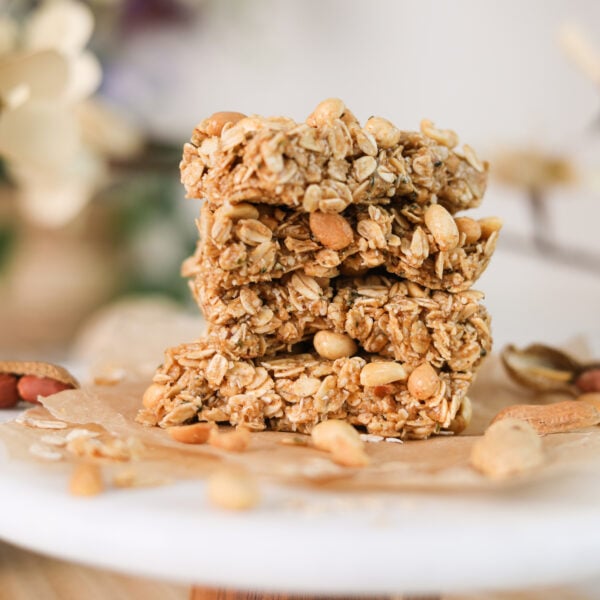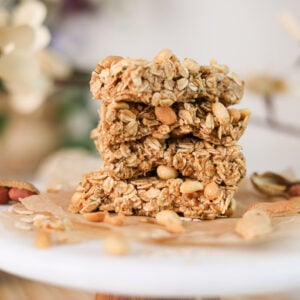 Get the Recipe:
No-Bake Protein Peanut Butter Bars Recipe
Instructions
Mix the rolled oats, desiccated coconut, hemp seeds, and cinnamon in a medium bowl.

In a smaller bowl, stir together peanut butter, maple syrup, and vanilla extract until well combined.

Pour the wet ingredients into the dry ingredients and stir well to form a thick mixture.

Line a 6X4 inch dish with parchment paper and transfer the oat mixture to the lined dish. Use the back of a spoon to press down the mixture to flatten it.

Top with whole peanuts and use a spoon to press them down firmly to ensure they stick.

Place in the freezer for at least 1 hour to allow the mixture to set. When you're ready to serve, remove and cut into bars.
Notes
Be sure to use natural peanut butter. Many brands of pre-packaged peanut butter contain added sugars and oils, which can alter the taste and texture of your bars.
Use rolled oats vs quick oats as the base. Quick oats tend to absorb more liquid, resulting in a mushy texture.
Ensure your bars are thoroughly chilled before cutting into them. This allows for easier slicing and helps keep their shape.
You could substitute half the oats with almond flour to boost their plant based protein content further.
Nutrition Information:
Calories:
219
kcal
(11%)
Carbohydrates:
23
g
(8%)
Protein:
7
g
(14%)
Fat:
12
g
(18%)
Saturated Fat:
3
g
(15%)
Polyunsaturated Fat:
1
g
Monounsaturated Fat:
1
g
Sodium:
3
mg
Potassium:
180
mg
(5%)
Fiber:
3
g
(12%)
Sugar:
8
g
(9%)
Vitamin A:
0.1
IU
Vitamin C:
0.002
mg
Calcium:
26
mg
(3%)
Iron:
1
mg
(6%)
Keep in mind that the nutritional values provided are approximations and suggestions. This nutrition facts table cannot account for your individual needs. Your body — including your hunger and satiety cues — change daily. It's perfectly fine to eat more or less on different days. Instead of letting food guilt take over, consider mindful eating.
* Percent Daily Values are based on a 2000 calorie diet.