*This post may contain affiliate links. Please see my disclosure policy to learn more.
Contents
Warm oatmeal is a classic that many families enjoy, with a range of sweet and vibrant additions that go well with its creamy texture. This cereal grain is versatile and imbues the foods it cooks with flavour, creating unique savoury dishes as well. Here is a traditional Devje breakfast staple featuring Masala Egg Oatmeal.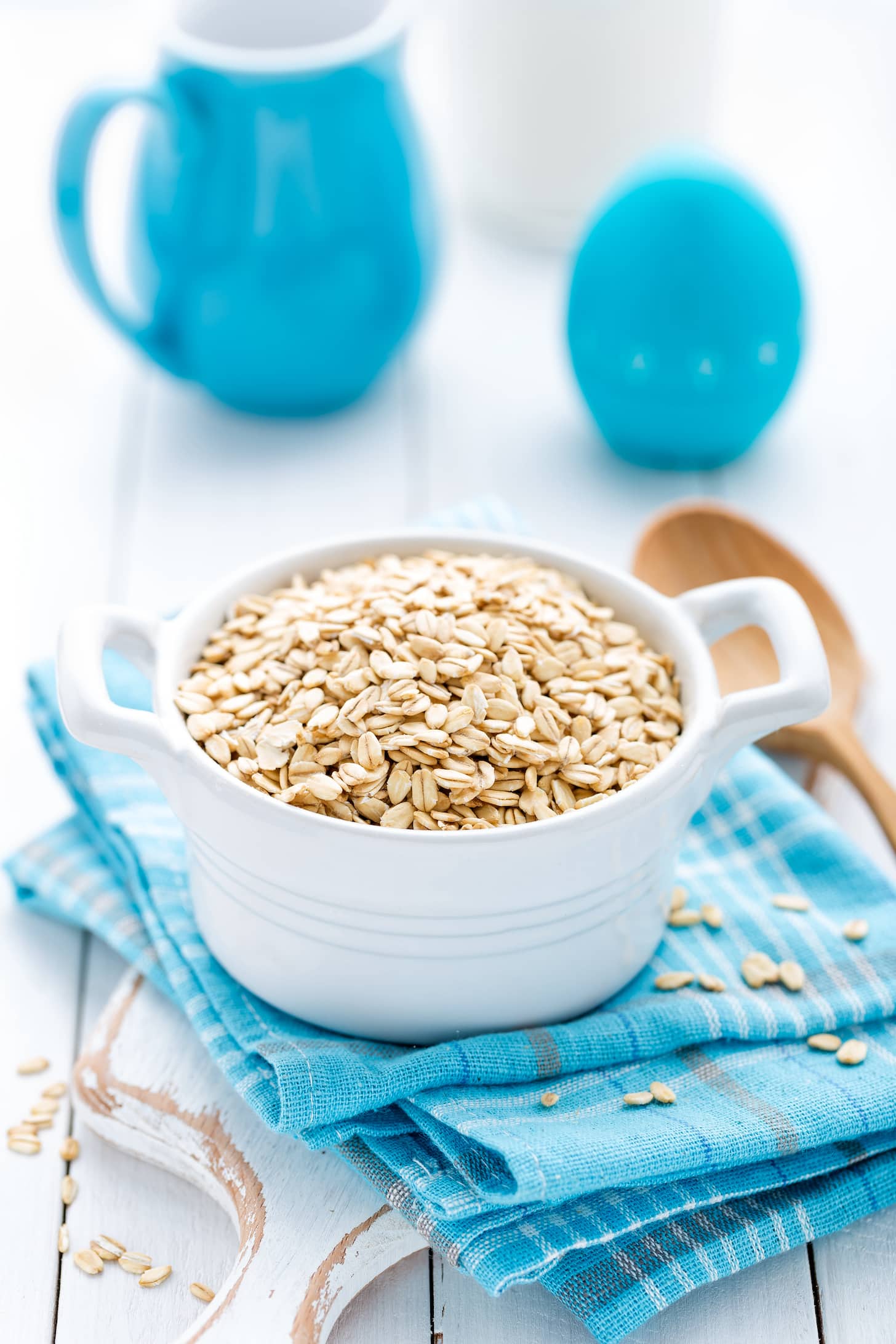 With so many different types and brands of oats, it might be hard to figure out which one is best. As a registered dietitian and certified diabetes educator, I'm a firm believer in the idea that no one type suits all; the best oats for you depend on what you're looking for.
One of the most frequently asked questions I get is which type of oats is the healthiest. This article explores the differences between rolled oats and quick oats. Plus, we break down eight types of rolled oats and quick oat brands, along with their nutritional information.
Differences in how rolled oats and quick oats are made
The two types of oats are processed somewhat differently.
The distinctions between rolled oats and quick oats are due to the differences in how the oat groat is processed. Both types start as whole grain oats that contain an outer shell, known as a husk. After being harvested, the outer husk is removed to reveal the oat groat - which is the seed of the plant.
Rolled oats, also known as old-fashioned or whole oats, are dehusked oat groats steamed to repress particular enzymes, flattened (rolled, as the name suggests) into flakes, and then toasted. By processing them in this way, the natural oils are stabilized, thus increasing their shelf life; up to 9 months in your pantry!
Quick oats go through a similar process to rolled oats; however, they are processed further. They're steamed, dried, and pressed with increased rolling on the mill. This allows for a thinner grain, thus decreasing the cooking time. Quick oats are not to be mistaken with instant oats, a finely ground powder that cooks rapidly in boiling water.

While the term processed foods has a negative connotation, labels such as "bad," "wrong," or "unhealthy" aren't helpful. This is because food processing is not always inherently harmful.
In fact, food processing extends the shelf life of oats, improves the grain's digestibility, and preserves the flavour.
Cereal grains are naturally intended to be dormant until the appropriate conditions exist for plant germination. The outer husk, which shields the seed from a harsh environment, performs this function. This evolutionary design makes oatmeal and other cereal grains ideal for long-term storage - before processing.
Differences in how they look and taste
Quick oats have a softer texture owing to their form. Rolled oats have more whole-shaped pieces, whereas quick oats have more flaky and fragmented pieces. Unlike rolled oats, quick oats go through a pre-cooking procedure that softens the texture and dulls the flavour. Rolled oats have a heartier, nuttier flavour, while quick oats are blander and have a silkier texture.
Storage
Store unopened dry oats in a cool and dry place to keep bugs, dampness, and rancidity at bay. Opened oats should be kept in an airtight glass container because the aforementioned danger rises when they are opened. Oxidation occurs when oats are not stored or handled correctly, resulting in a loss of nutritional value. Additionally, rancidity will set in, and the oats will taste unpleasant.
Oxidation of oats means that a reaction has taken place between the oat's stored oils and the oxygen in the air. This reaction creates new compounds that are not always healthy to consume. The more quickly oxidation takes place; the more rancid the oats will be.
Health benefits of oats
Oats have a unique nutrient composition, with high amounts of soluble fibre and a great fatty acid profile (1 gram of monounsaturated fatty acids and 1 gram of polyunsaturated fatty acids per ½ cup).
The oat groat is a high-fibre, nutrient-dense food that provides important minerals and vitamins. It is full of protein, fat, and β-glucan (a soluble dietary fibre). The grain itself is mostly indigestible, so rolling and milling it allows you to reap the grain's benefits.

Beta-glucan is a soluble fibre. It is dense and capable of absorbing water and forming a thick gel. This characteristic gives oatmeal the ability to lower blood cholesterol levels, slow digestion, stabilize blood sugars, and make you feel full for longer.
Half a cup of oats are a:
High source of fibre - generally providing 11-21% DV
Good source of protein 10 -15% DV
Oats contain β-glucan fibre, which has been shown to reduce the risk of heart disease and help manage blood sugar levels. This is especially useful for those with Type 2 Diabetes. While research continues, other advantages include supporting gut health and reducing inflammation.
The dietary fibres in oats promote probiotic microorganisms that support a healthy gut. Oatmeal and other whole grains are high in phytonutrients, including phenolic acids. This phytochemical is regarded as an antioxidant with anti-inflammatory properties.
Oats' cholesterol-lowering properties are well established. Smaller phenolic compounds help reduce LDL (harmful) cholesterol (important for heart health), decrease blood glucose levels and modulate gut bacteria.
Additionally, oats lack gluten; which means they can be enjoyed by those with celiac disease or gluten sensitivity.
Which is healthier: rolled oats or quick oats?
I am often asked: are quick oats or rolled oats better? Simply put, they're both quite similar, so there aren't any significant nutritional differences or health implications. However, rolled oats have a lower Glycemic index compared to quick oats.
A lower glycemic index means that the food will release its sugar into your bloodstream more slowly, providing a steadier source of energy that helps you feel full for longer. This can be especially helpful for people who have diabetes or hypoglycemia (low blood sugars), as well as those who are trying to lose weight or maintain their current weight.
Cooking with oats
Rolled oats are best used for stovetop oatmeal, and while quick oats can also be cooked on the stovetop, they can be microwaved.
Rolled oats are great for overnight oats — while both types can be used for pancakes, baked goods, energy bites, granola bars, and smoothies. Rolled oats are ideal for baking, producing a chewy texture, unlike quick oats.
On the other hand, quick oats lack the nutty richness of old-fashioned (rolled) oats. Quick oats make a crunchier baked good with a smaller crumb size than old-fashioned (rolled) oats.
What should I add to my oatmeal?
When making oatmeal porridge, some excellent topping pairings make for an incredible meal. As porridge flavour is exceptionally malleable, the ingredients you add to your oatmeal can enhance the flavour profile significantly.
Sweet options
Cinnamon, walnuts, and apple with maple
Cranberries and macadamia
Nut butter, dates, vanilla extract, and banana
Coconut milk and coconut flakes
Brown sugar and hazelnuts
Savoury options
Eggs, avocado, and feta
Tamarind, garlic, tomato
Spinach, sun-dried tomato, parmesan
Pesto, arugula, sesame seeds
Hot sauce, fried egg
Which oatmeal is the best?
There is no definitive answer to this question, as different people have different opinions on what makes the "best" oatmeal. However, we can explore the qualities both offer and draw from this information to make an informed personal decision.
Here is a short list outlining some of the key features of both oatmeal types.
Rolled oats
Lower GI
Slightly more flavour
Longer cook time: ~ 10 minutes
Larger flakes, more firm texture
Better for baking
Quick oats
Slightly higher GI
More muted flavour
Shorter cook time: ~ 1 minute
Thinner flakes, smoother and mushier texture
Better for on-the-go
*A lower GI indicates more staying power, keeping you full for longer.
What is the difference between Porridge and Oatmeal?
Porridge is traditionally classified as any hot mixture of cereal, grain, or legume boiled in a liquid. However, oatmeal itself is a term used to describe the type of porridge made from ground, rolled, or flattened oats. While all oatmeal is classified as porridge, all porridge is not oatmeal.
Oat brands
While we can establish that rolled and quick oats have some distinctions, particularly in the way they are processed, there are nutritional and price differences when comparing distinct brands of rolled and quick oats. Finding the finest oat brand for you might be difficult because there are so many different products on the market.
Here, you will find a comparison between 4 rolled oats brands and 4 quick oat brands, as well as a general comparison between all 8 brands. We will analyze nutritional differences, cooking times, price, origin, and taste.
If you're wondering what is the best brand of oats, read on!
Rolled oat brands
If a product is advertised as glyphosate free, this means that the product does not contain any of the ingredient glyphosates. Glyphosate is a weed killer (herbicide) often used in commercial agriculture. It has been linked to cancer and other health concerns, so many people are looking for alternatives.
Quick oat brands
Comparing brands: oat nutrition information, cooking times and price
The nutrition facts, cost, and cooking time for the eight oat products listed above are shown below. This detailed breakdown might help you make an informed purchasing decision.
Rolled oats
Quick oats
What is the best brand of rolled oats?
There's a unpack with this question. Each has its own set of pros and cons from the four brands listed above.
For example, if you believe the "cheapest" brand is the "best," then Large Flake Quaker Oats are for you. However, if you're seeking oats that cook quickly, Nature's Path Organic Old Fashioned Oats are ideal.
Stoked Oats Run of the Mill and Bob's Red Mill are both excellent choices if you're searching for a high fibre, high protein option (possibly more filling).
Stoked Oats Run of the Mill, on the other hand, may be your preferred choice if you're a proud Canadian wanting to buy from a climate-friendly Canadian brand. However, it is one of the more costly oat products on the market. So, if you're searching for a high-fibre option but don't want to spend too much money, Bob's Red Mill Extra Thick Rolled Oats is an excellent choice. The term "best" is relative, so the brand you pick will vary.
What is the best brand of quick oats?
The "best" brand is the one that best meets your needs and lifestyle. If you're searching for the cheapest oats, Quick Quakers Oats are a fantastic choice. If you're a fitness fanatic or want the highest protein content, Robin Hood 100% Whole Grain Quick Oats would be your best bet. Nature's Path Quick oats is the brand to go with if you want less calorie-dense oats. Bob's Red Mill Quick-cooking Rolled Oats will be the best choice if you have gluten sensitivity or celiac disease.
You may want to consider the space you have in your pantry. While Quaker oats have a package size of 2.25 kilograms, Natures Valley Quick oats come in a 510 grams package size.
You may choose a smaller package if you don't have much storage space or want to test the product before buying a large amount. However, if you adore oats and have a big family, you might wish to go for a larger bag of oatmeal.
Which oatmeal is best for diabetics?
When looking for the best oats for Diabetes, you want to pay attention to net carbs (depending on your needs, low may be better), high protein, and high fibre. Nature's Path Rolled oats have the lowest carb content from the rolled oat brands listed above, with Quaker oats a close second. They both have a good protein and fibre content as well.
Nature's Path Quick Cook Instant Oats are your lowest carb option for quick oats, but the other choices are close seconds. You might like the Robin Hood Oats or Quaker Quick Oats, which are a little more cost-effective and high in protein but have a fairly low carbohydrate content.
On the other hand, Steel-cut oats are believed to have a lower Glycemic index and don't cause blood sugar levels to rise as quickly as rolled or instant oatmeal.
Oat recipes you may like
Final thoughts
If you are looking for oats for baking, I would encourage you to opt for one of the rolled oats brands that suit you best. Their bigger flakes will maintain the baked products' consistency and enhance the flavour profile without becoming gooey.
Surprisingly, both rolled, and quick oats take about the same amount of time to cook in the microwave, with the exception of Quaker rolled oats. However, if you prefer to cook your oatmeal on the stovetop and are searching for the greatest cooking speed, quick oats are your best bet.
Desi~liciously Yours,
---
This article was written in collaboration with Roohi Devje. Roohi is a first-year Health Sciences student at McMaster University, Canada. She enjoys writing about health and nutrition and aspires to become a medical doctor and researcher.