The South Asian Food Pantry: Essential Spices, Dry Goods, and More
There's a good chance that if you're of South Asian descent, you grew up with some of the foods, spices and flavours found in this food pantry list.
Table of Contents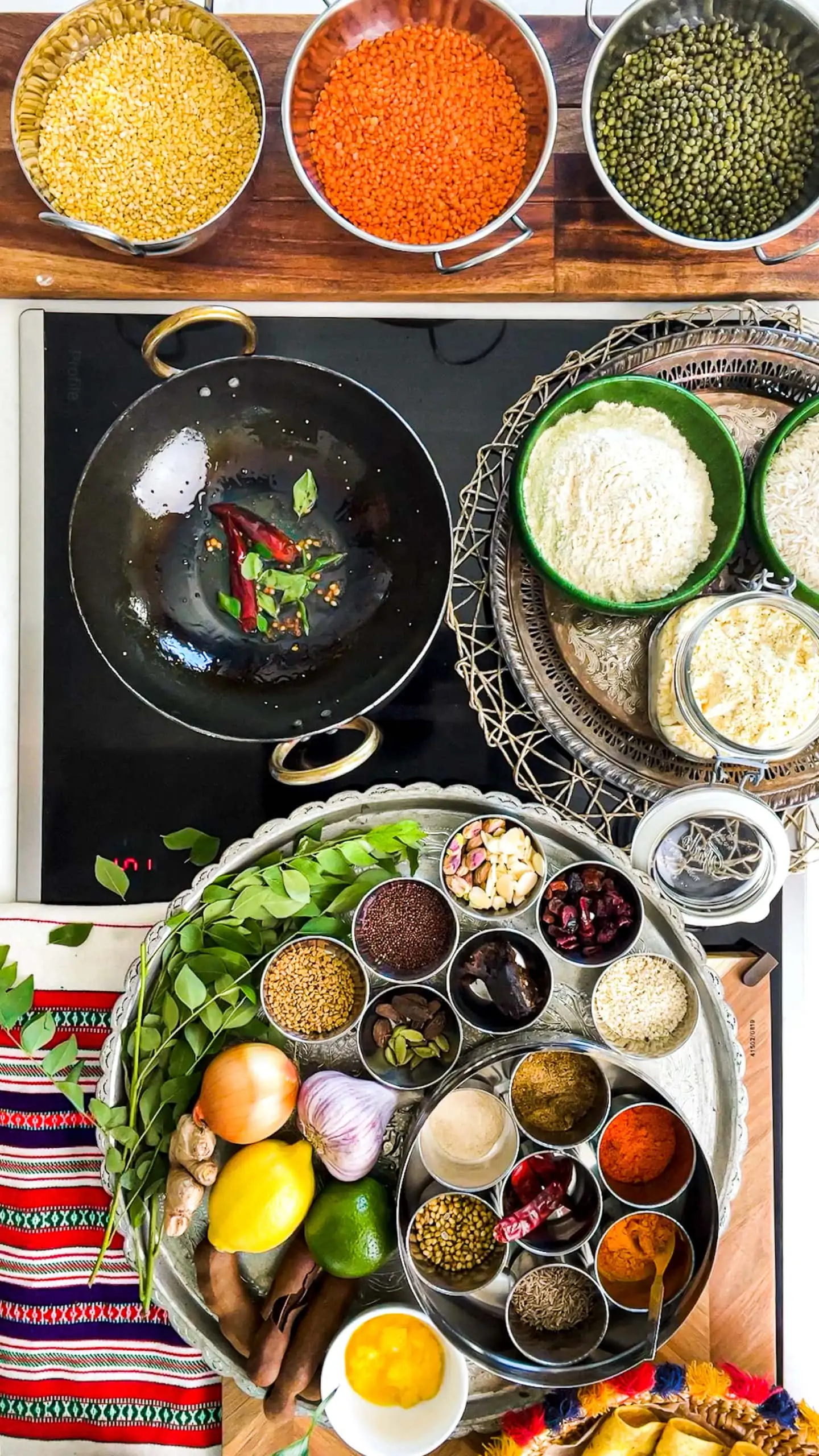 For quite some time, you've been asking me to reveal my favourite Indian spices and foods. The intrigue level skyrocketed when I used my Indian spices box as a dafli (hand-held drum) on Instagram. As a registered dietitian and certified diabetes educator, it was my attempt at busting desi food myths, redefining healthy eating and celebrating Indian cuisine.
This article is for all curious friends who want to know more about the spices, aromatics, dry goods and garnishes used in South Asian cooking. I'll also share some of my favourite recipes (linked below) using these ingredients.
The Desi food pantry list that follows isn't meant to be an exhaustive compilation, but rather a great starting point for those who want to cook – or dabble in South Asian food, but don't know where to start.
I hope this list will come in handy the next time you're at the grocery store or browsing through a recipe.
The myth that Indian, Pakistani, and other South Asian cuisine is artery-clogging and diabetes-inducing is completely false. As a matter of fact, many of the spices and ingredients used in our cultural cuisine have been shown to have health-promoting effects. Turmeric, cumin, amla, fenugreek, cinnamon, ginger, garlic, legumes, barley, oats, okra, eggplant and other popular and well-studied spices and foods in South Asia have been linked to a range of health advantages. These include blood sugar control for diabetes management, cholesterol-lowering effects as well as cancer prevention and anti-inflammatory effects (find the research linked above).
A South Asian food pantry represents the tastes of the region
With billions of people and thousands of years of history, the cuisine of South Asia is as diverse as its people. The cooking style varies from region to region and is also influenced by the many conquerors who invaded the subcontinent over the centuries.
Even though there is great diversity, there are also many commonalities. Most South Asian countries use similar ingredients and spices in their cooking. This is not surprising given that many of these countries were once part of the same empires, such as the Mughal Empire.
So whether you're from India, Pakistan, Bangladesh, Bhutan, Sri Lanka, Maldives, Nepal or even Afghanistan — you'll discover familiar ingredients here.
Aromatic herbs and spices such as curry leaves, cumin, turmeric, and coriander are just a handful (of many) staples that add depth and flavour to dishes. Other ingredients such as ghee and tamarind create robust and creamy sauces, curries and chutneys.
Indeed, South Asian cuisine is rich in flavour and culture, and the ingredients used in Indian and Pakistani kitchens are reflective of that. No matter what your favourite South Asian dish is, a food pantry list with all the South Asian essentials will help you make authentic homemade Indian recipes with ease.
There are some basic ingredients that are common in most South Asian pantries. These include staples such as rice, lentils, and aromatics. You'll also find a list of Indian spices with pictures and names (in English, Urdu or Hindi) to help you identify them.
Basic dry goods staples
Dry goods are the foundation of any good South Asian pantry. Following are some essential items to keep on hand: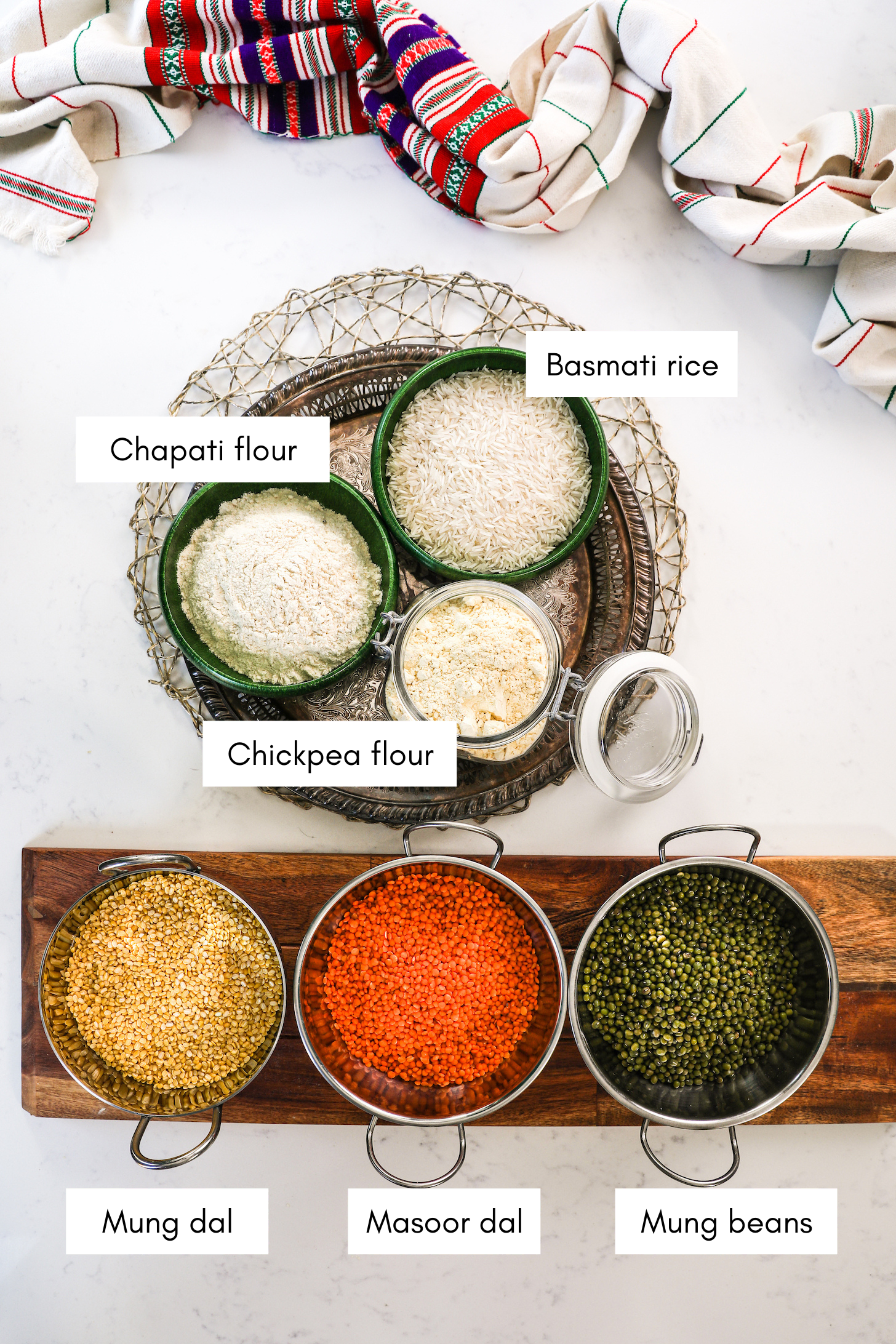 Rice (chawal)
There are many different types of rice, including Basmati rice, Kuruluthuda and Kekulu varieties (typically used in Sri-Lankan cuisine), Sona Masoori (common in South Indian cuisine), and red rice (common in Bhutanese recipes).
You can use any type of rice for cooking, but basmati rice is the most popular type used in Indian, Pakistani, and Afghani cuisine. Cooking basmati rice as biryani is one of the most treasured customs in South Asian cuisine. And it's my personal favourite too!
Chapati flour (atta)
Chapati flour (atta) is used to make roti, a kind of unleavened flatbread. Chapati flour is made from wheat and has a high gluten content, which gives roti its characteristic chewy texture. You can find chapati flour at many South Asian grocery stores.
Various flour add-ins like chickpea flour (besan), sorghum flour (jowar), pearl millet flour (bajra), corn flour (makki) and rice flour (chawal) are also used in South Asian cuisine. These add texture and nutrition to rotis and other dishes.
Though not exactly traditional, yet utterly delicious, here's my spin on an Indian flat bread recipe – paratha.
Chickpea flour (besan)
A beloved ingredient in South Asian cooking, an Indian food pantry isn't fully geared-up without chickpea flour (besan).
This gluten-free flour is made from ground chickpeas and is used in a variety of dishes, such as pakoras (deep-fried fritters), chila (Indian pancake) handvo (vegetable cake) and dhokla (steamed snack), and besan ke ladoo (sweet balls).
Chickpea flour is also a popular egg replacement in vegan and vegetarian cooking.
Want to reach your healthy eating goals faster?
Grab your 14-Day South Asian Meal Plan
Beans, lentils, chickpeas and peas
The star ingredients of my Pakistani kitchen are legumes (beans, lentils, chickpeas and peas), which are a dietary necessity in South Asia. They're commonly used to prepare a wide range of dishes including curries, soups, stews, snacks and more.
Common varieties include chickpeas (yellow and kala chana), black-eyed peas, lentils, kidney beans (rajama or surkh lobia) and green peas (mutter).
Chickpeas are used to make chana masala, a popular vegetarian curry, as well as a variety of snacks such as spicy roasted chickpeas. If you haven't already, I highly recommend that you give this vegan tikka masala recipe a shot. It's lip-smacking!
Red, green, black, and yellow are just a few of the many varieties available for lentils. They're often used to make dal, which is a hearty stew made with spices, vegetables and sometimes meat.
There are several distinct varieties of lentils (dal), including:
chana dal (split chickpeas)
toor dal (split pigeon peas)
urad dal (split black beans)
mung dal (split mung beans)
mung beans (whole)
and masoor dal (split red lentils)
Quite simply, dal is quintessential to South Asian cuisine, often served with rice or roti and eaten by vegetarians and vegans alike.
And then you have peas, aka muttar, which are commonly used in curries, rice dishes and even samosas! You can find them fresh, frozen or canned.
Spice box essentials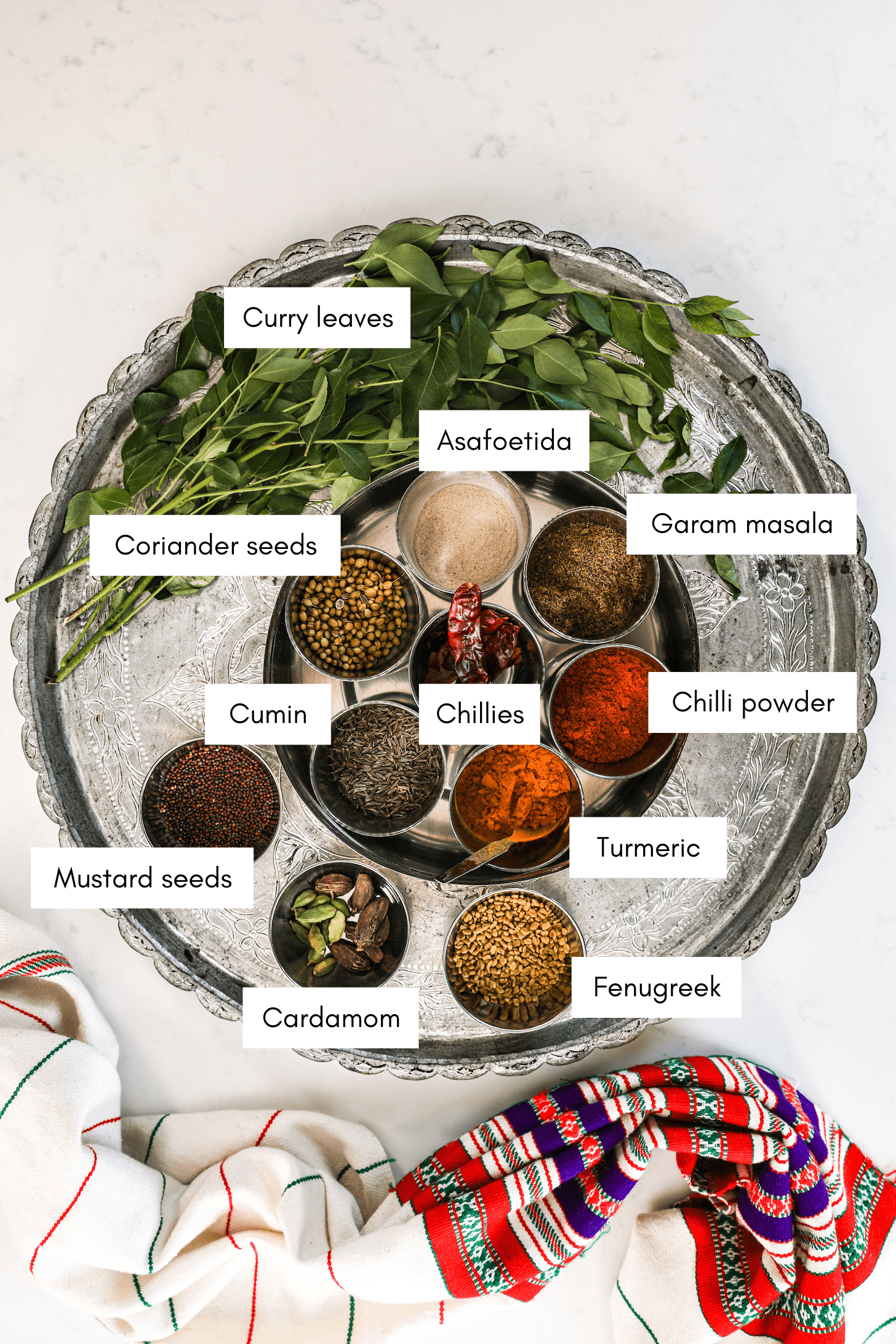 When I was a little girl, watching Amma, my grandma, cook in her modest kitchen in Hyderabad, I was fascinated by her array of spices. Each one had a distinct flavour and aroma that she thoughtfully used to create magic in her dishes.
As an adult, I now know that these spices are indispensable and play a pivotal role in creating the unique flavours of South Asia that we love.
I must add that when it comes to an Indian spices list (which I am often requested), I can't do justice to them all, but I'll highlight a few of my favourites.
Spice list
cumin seeds (jeera): You can also find jeera in ground form. It is used to flavour curries, rice dishes and dals. The seeds' charm lies in their ability to enhance the flavours of other ingredients.
coriander seeds (dhania): These are used to make masalas (spice mixes) and added to curries for a pop of flavour. The seeds exude a citrusy aroma when crushed.
cardamom (elaichi): Both the green and black varieties. Cardamom pods contain small, black seeds that are used to flavour sweets and desserts. They are used to flavour sweet dishes, as well as masalas and curries. Green cardamom pods are the most common variety used in cooking, while black cardamom is generally used to make garam masala.
mustard seeds (rai): Used as a tempering spice in many dishes. They have a pungent flavour and are used to add heat to curries, deals, vegetables and snack creations like dhokra (a savoury cake).
red chili powder or dried chillies (lal mirch): This fiery spice is used to add heat and colour to dishes. There are many varieties of chilli powders available, from mild, Kashmiri to extra hot. Choose one that suits your taste.
turmeric (haldi): This yellow-coloured powder is used to add colour and flavour to curries, soups, stews, dals and even beverages haldi doodh (turmeric milk). It has a slightly bitter taste and imparts a beautiful yellow hue to dishes. Turmeric is also known for its medicinal properties, particularly in the Ayurvedic diet.
Curry leaves (kadi patta): These aromatic leaves are not a spice, but rather a herb. They, nevertheless, are found in my spice box, where they are used to season curries, rice dishes and dals. They have a distinct flavour and should be used sparingly. Curry leaves come in two forms: fresh and dried.
Fenugreek seeds (methi): These tiny, brown seeds have a slightly sweet and nutty flavour. They are used as a tempering spice and to flavour curries, rice dishes and dals. Fenugreek leaves (fresh or dried) are also used in many dishes.
Asafoetida (hing): A pungent, slightly sweet spice used typically in Indian cooking. It's made from the dried sap of a plant in the celery family and has a strong garlic-like flavour.
Spice blend – garam masala
Some of these spices are often used to make a spice blend called garam masala, which means "hot spice" in Hindi and Urdu. This spice blend is typically added to finish off a dish, giving it a boost of flavour. It's a budget-friendly way to add depth and dimension to your cooking — without having to buy numerous different spices.
While garam masala recipes vary, they typically include some combination of:
cumin seeds (jeera)
coriander seeds (dhania)
cardamom (elachi)
cloves (laung)
cinnamon sticks (dalchini)
nutmeg (jaiphal)
black peppercorns (kali mirch)
Aromatics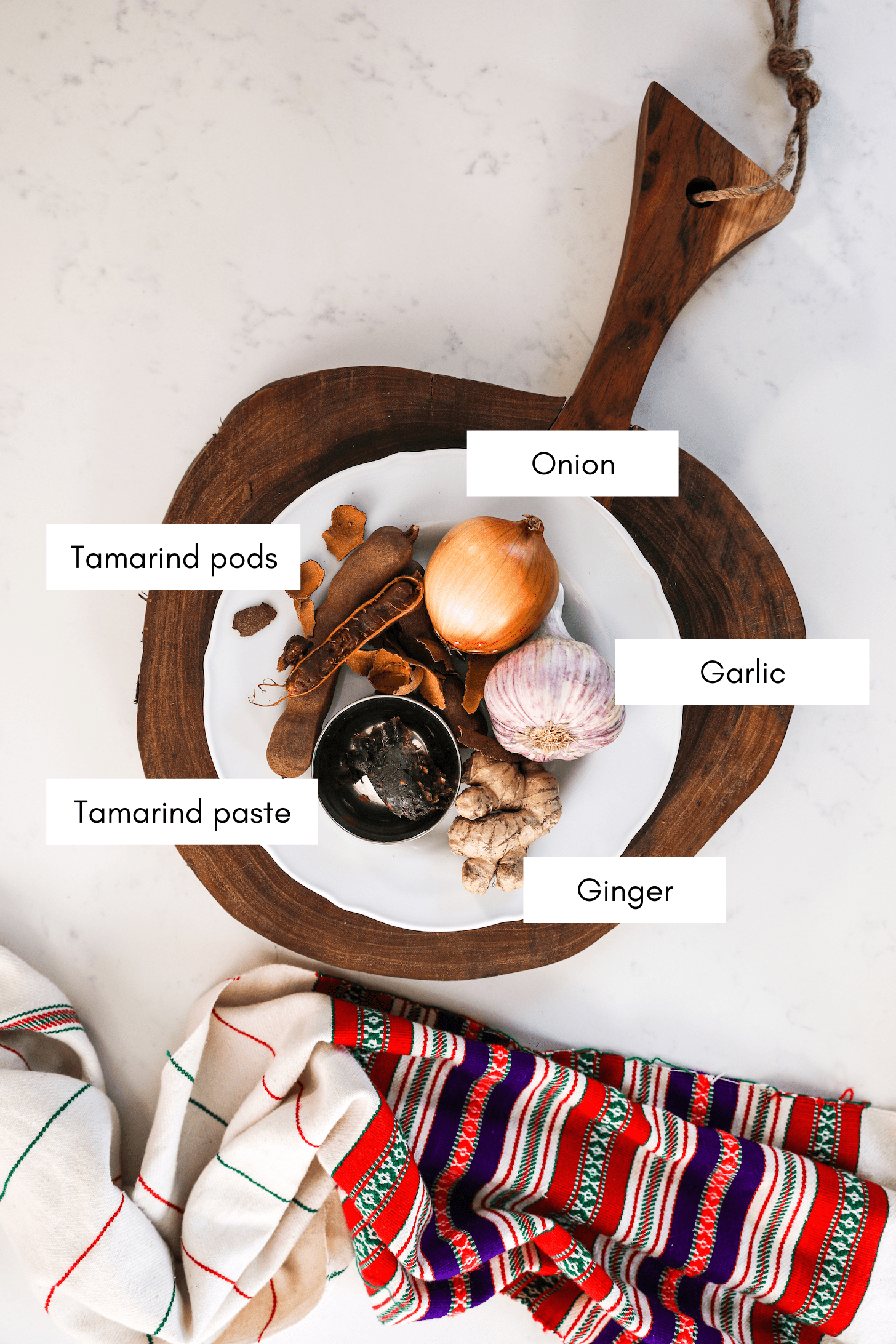 Fresh and dried aromatics such as ginger (adrak), garlic (lasan), and onion (pyaz) are used extensively in South Asian cooking. They form the base of most curries, masalas and rice dishes.
Tamarind (imli) is frequently used to enhance the flavour of dishes like curries, chaats (snacks), and even chutneys. It's often used to add a sour and tangy flavour and is sold in pods or as a paste. Tamarind is popularly used in the cuisines of India, particularly in the south – as well as in Pakistan, Sri Lanka and Bangladesh.
Ghee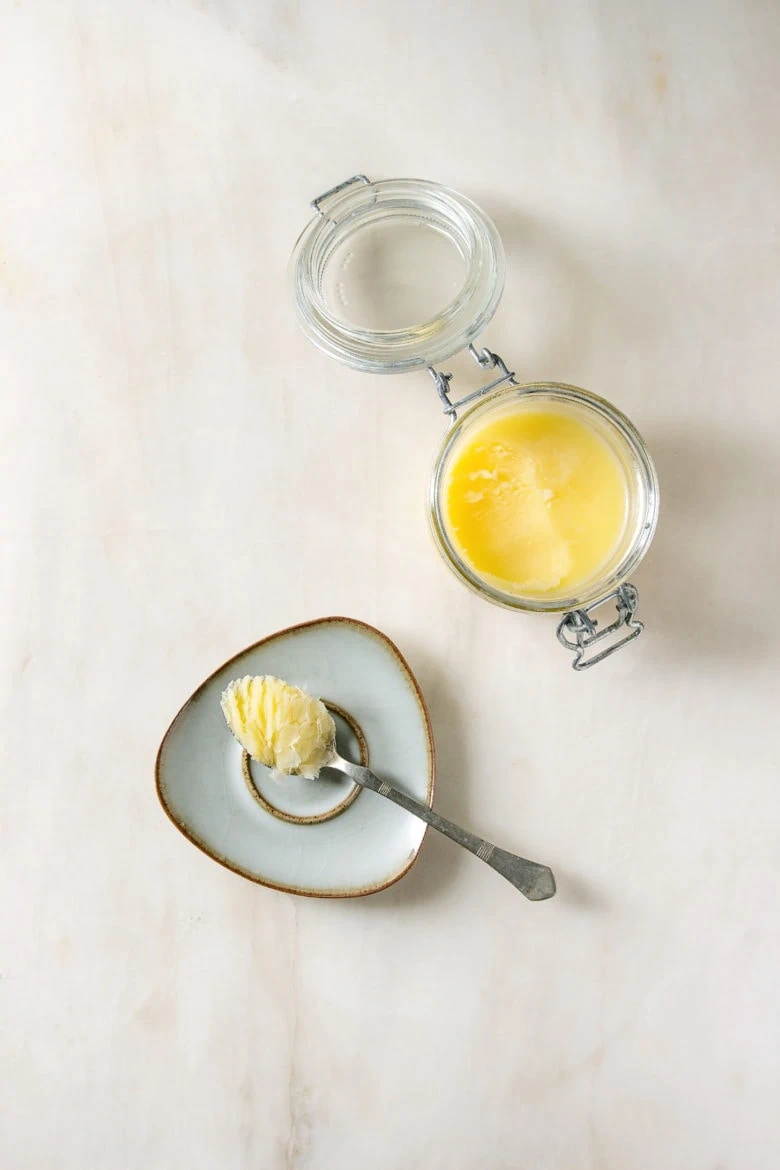 Ghee, which is clarified butter, is another frequent South Asian ingredient. It's made by simmering butter until the water evaporates and the milk solids settle to the bottom. Ghee has a high smoke point and adds a distinctive taste to dishes. It's frequently used in curries, rice dishes, and as a tempering ingredient for dals and vegetables.
Ghee may be kept at room temperature in a cool, dark spot without requiring refrigeration. The key is to make sure it's stored in an airtight container, so it doesn't pick up any moisture or odours and become rancid. Every time you use it, make sure you tighten the lid to keep it as fresh as possible.
While ghee is the most popular option, you may also use cooking oils in desi recipes. For example, olive oil, avocado oil, or other vegetable oils like sunflower oil.
Sprinkles and garnishes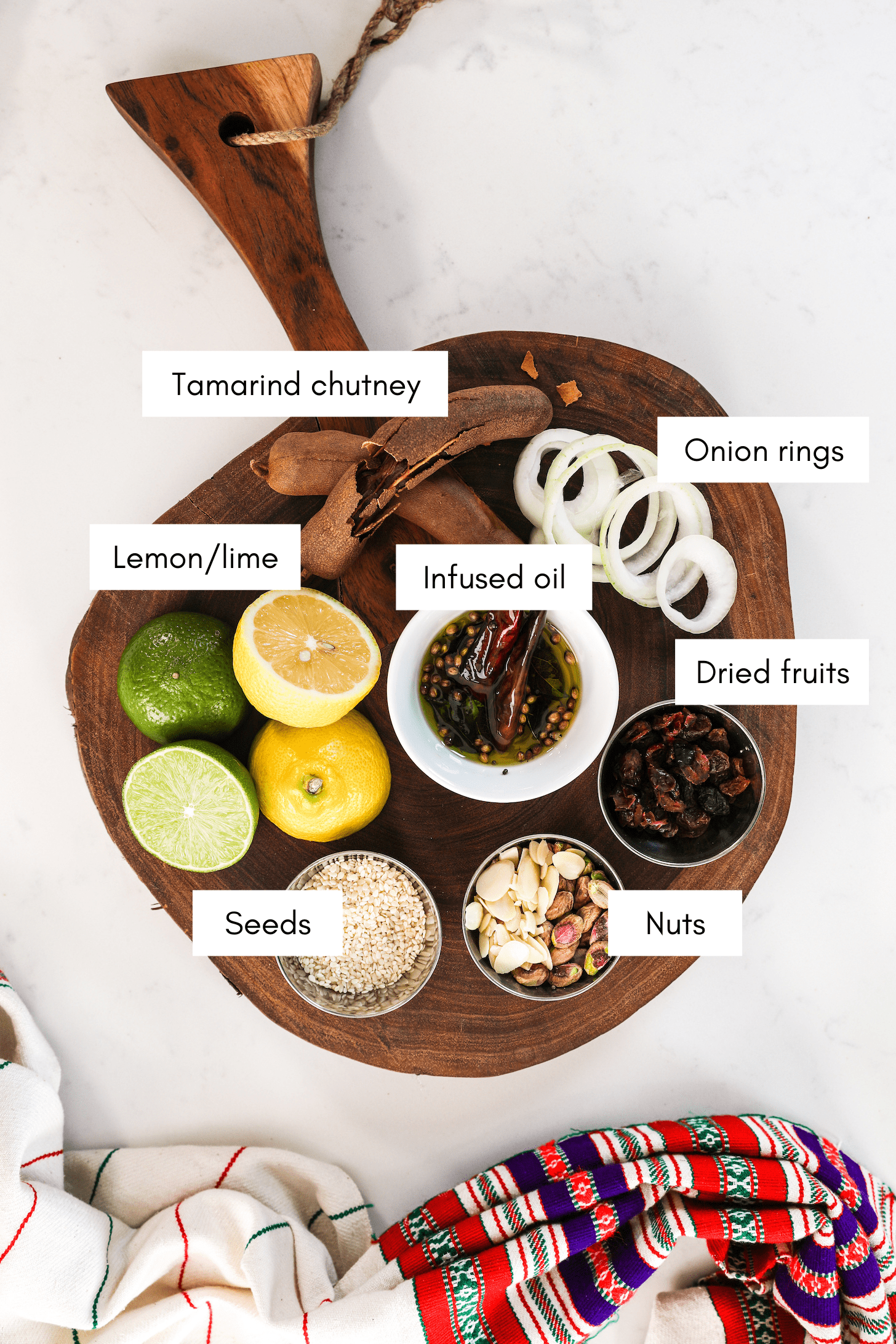 Many of my fondest memories of Pakistani dishes and Indian cuisine feature beautiful garnishes and sprinkles. All of which can be used to add colour, texture and flavour. They are often the most outstanding component of a dish!
Some of my favourites include:
nuts and seeds
dried fruits, like cranberries
tamarind chutney
slivered ginger
lemon and lime (nimbu)
onion rings
A well-stocked Indian pantry is a cook's best friend. With spices, aromatics, dry goods, and sprinkles and garnishes on hand, you can create delicious and flavourful dishes that transport your taste buds to another part of the world. So go forth and explore the endless possibilities that a South Asian pantry has to offer!
What's your favourite South Asian dish? Share in the comment section below!
Desi~liciously Yours, Shahzadi
Hungry for more?
Subscribe to my newsletter for free recipes, nutrition tips and all the latest updates.