Easy Roasted Brussels Sprouts Recipe With Sweet Potatoes | Desi-licious RD
What could be a better dish for your holiday menu, than this easy and healthy roasted Brussels sprouts recipe with sweet potatoes and dried cranberries - full of flavour and natural sweetness! If you're not a Brussels sprouts fan, this desilicious recipe will change your mind!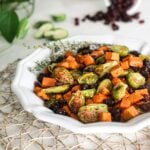 Preheat oven to 375 degrees Fahrenheit

Spread Brussels sprouts and sweet potatoes in large baking tray

Drizzle with oil and sprinkle with salt and pepper. Toss to coat and lay sprigs of thyme on top

Roast for 20-25 minutes until tender

Transfer to a large serving tray and stir in dried cranberries
Use small fresh Brussels sprouts as these are typically sweeter
After washing the Brussels sprouts, dry them thoroughly with a paper towel. This will prevent sogginess
Discard any outer leaves that may be discoloured or wilted
Use a large pan and spread out the vegetables, so they roast evenly instead of overcrowding them. This too will prevent soggy veggies
Give them a flip halfway through so you get a nice gold coating all over
Feel free to swap out the thyme for other herbs and spices
Nutrition Facts
Easy Roasted Brussels Sprouts Recipe With Sweet Potatoes | Desi-licious RD
Amount Per Serving
Calories 188
Calories from Fat 72
% Daily Value*
Fat 8g12%
Sodium 907mg38%
Potassium 371mg11%
Carbohydrates 29g10%
Protein 3g6%
Vitamin A 5100IU102%
Vitamin C 79.2mg96%
Calcium 40mg4%
Iron 1.3mg7%
* Percent Daily Values are based on a 2000 calorie diet.
Please note the nutritional analysis values are estimates and suggestions. This nutrition facts table does not know your life - your body, including your hunger and satiety cues, change daily. It's okay to eat more or less. Say no to food guilt and instead embrace mindful eating.