Spiced Pumpkin Date Cupcakes
Welcome fall with these soft, moist and reduced sugar Spiced Pumpkin Cupcakes. The rich flavour of pumpkin spice and cinnamon, with the creaminess of pumpkin puree, make these morsels a perfect snack or make-ahead breakfast. This one's a keeper!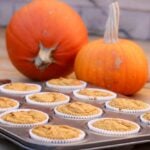 Preheat oven to 355°F. Line a standard 12-cupcake tray with paper cases

Soak the dates in water for 20 minutes and set aside

Meanwhile, whisk butter and sugar on high, until creamy - about 3 minutes

Add the spices, salt and baking powder to the butter-sugar mixture and whisk on high for 1 minute

In a separate blender, add the date-water mixture and blend until it's a paste like consistency

Add dates, eggs, flour and pumpkin puree to the butter-sugar-spice mixture and whisk until well combined. It should be a smooth consistency

Spoon mixture into paper cases. I fill them to the top. Bake for 30-40 minutes or until cooked when tested with a skewer

Cool on a rack before serving - otherwise they will be sticky (which we love)
Make sure to cool the cupcakes completely before serving
If you decide to frost them you'll also want to wait until they have cooled complete or the frosting will melt
To check they are cooked insert a skewer into the middle of a cupcake and make sure it comes out clean
Make sure the butter is at room temperature to avoid a lumpy batter
You can store the cupcakes in an airtight container for up to 1 week or freeze them
Nutrition Facts
Spiced Pumpkin Date Cupcakes
Amount Per Serving
Calories 207
Calories from Fat 126
% Daily Value*
Fat 14g22%
Cholesterol 61mg20%
Sodium 162mg7%
Potassium 85mg2%
Carbohydrates 18g6%
Protein 3g6%
Vitamin A 3000IU60%
Vitamin C 0.8mg1%
Calcium 50mg5%
Iron 1.1mg6%
* Percent Daily Values are based on a 2000 calorie diet.
Please note the nutritional analysis values are estimates and suggestions. This nutrition facts table does not know your life - your body, including your hunger and satiety cues, change daily. It's okay to eat more or less. Say no to food guilt and instead embrace mindful eating.