Easy Fermented Vegetable Recipe | Desi~licious RD
This easy, step-by-step recipe will teach you how to make delicious, and probiotic-rich fermented vegetables. Learn more about this tasty twist on veggies!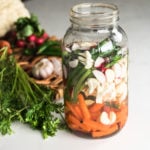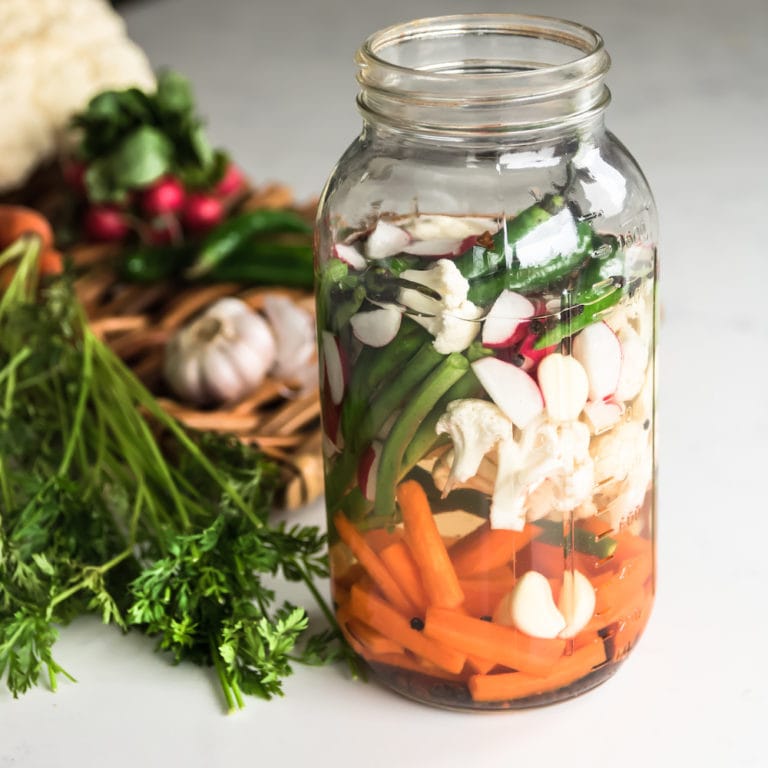 Place the remaining ingredients in a clean, dry jar.

Pour the salt water over the vegetables, leaving at least 1 inch of headspace at the top of the jar.

If necessary, add more water to cover the vegetables.

Cover the jar tightly and let it stand at room temperature for 2-3 days. If any mold or scum has formed on the top, simply remove.

Check for the 3 signs (as above) to assess if the fermentation process is successful.

After the fermentation process is complete, transfer the jar to the refrigerator.

These fermented vegetables will last for at least a month or longer in the refrigerator.
Top Tips For Making Easy Fermented Vegetables
Rinse the vegetables in un-chlorinated water rather than tap water.
Use salt that is free of iodine and/or anti-caking agents, which can inhibit fermentation. Chlorinated water can inhibit fermentation, so use spring, distilled, or filtered water if you can.
Wash your vegetables thoroughly under cold water
Use a 2 quart jar that's clean and dry
Salt type is important. Don't use salt with iodine – iodine can inhibit fermentation
Ensure that all the vegetables are fully submerged in the salt water. You can add some more on top to cover the vegetables completely (yes, I will add more!)
Label the jar with the date when you started fermentation. That way, you're not left to guess
In the Summer, the vegetables will ferment faster versus the Winter - which could take up to 7 days
Remember, the top of your vegetables (in the jar) are exposed to oxygen, which can promote growth of yeast and mold – but everything below the brine should be fine because of an oxygen-free environment. If you notice any mould, discard the layer.
Always use a clean spoon when serving, versus eating out of the jar. You want to avoid contaminating the entire batch with germs from your mouth
Once in the fridge, these will keep for several month. Enjoy
Nutrition Facts
Easy Fermented Vegetable Recipe | Desi~licious RD
Amount Per Serving
Calories 44
Calories from Fat 9
% Daily Value*
Fat 1g2%
Sodium 42mg2%
Potassium 285mg8%
Carbohydrates 8g3%
Protein 2g4%
Vitamin A 1800IU36%
Vitamin C 46.2mg56%
Calcium 20mg2%
Iron 0.5mg3%
* Percent Daily Values are based on a 2000 calorie diet.
Please note the nutritional analysis values are estimates and suggestions. This nutrition facts table does not know your life - your body, including your hunger and satiety cues, change daily. It's okay to eat more or less. Say no to food guilt and instead embrace mindful eating.