9 Make-Ahead Breakfast Ideas To Fuel Your Busy Days
Are you tired of the same old breakfast recipes? Perhaps you're looking for some new ideas to add some variety to your morning routine. If so, you're in luck. Because in this article, I'll be sharing nine make-ahead breakfast ideas to help fuel your busy workweek. So whether you're short on time or just looking for something new to try, these amazing breakfasts are sure to please.
Breakfast is an opportunity to fuel and nourish
As a registered dietitian, I understand that some folks struggle with meal planning and finding the time to prepare a nutritious breakfast each morning. The good news is that make-ahead breakfast options allow for meal prepping, without the stress of waking up earlier to make breakfast.
Eating breakfast is sensible for a number of reasons. First, it gives you the energy you need to stay focused and alert and provides essential nutrients like vitamins and minerals. Also, breakfast is a terrific opportunity to get your daily servings of fruit and vegetables, which are rich in dietary fibre. We know dietary is good for us. For example, it can help:
Breakfast provides an opportunity to include an array of fruits and vegetables for optimal health benefits.
Ahead I'm sharing a collection of balanced breakfasts, that include protein, whole grains, fruits and vegetables. This nutrient-rich combination helps to stave off hunger until your next meal.
When prepping these wholesome breakfasts, feel free to adjust the ingredient amounts based on your personal preferences and dietary needs.
First up, a savoury twist on oatmeal: masala egg oatmeal. This unique make-ahead breakfast option allows you to whip up a delicious and nutritious dish the night before and simply grab it on your way out the door in the morning. For an added protein boost and staying power, you want to consider including chickpeas, tofu or edamame. Even a couple tablespoons of hemp hearts will add extra nourishment in the form of protein, healthy fats and dietary fibre.
Healthy Make-Ahead Breakfasts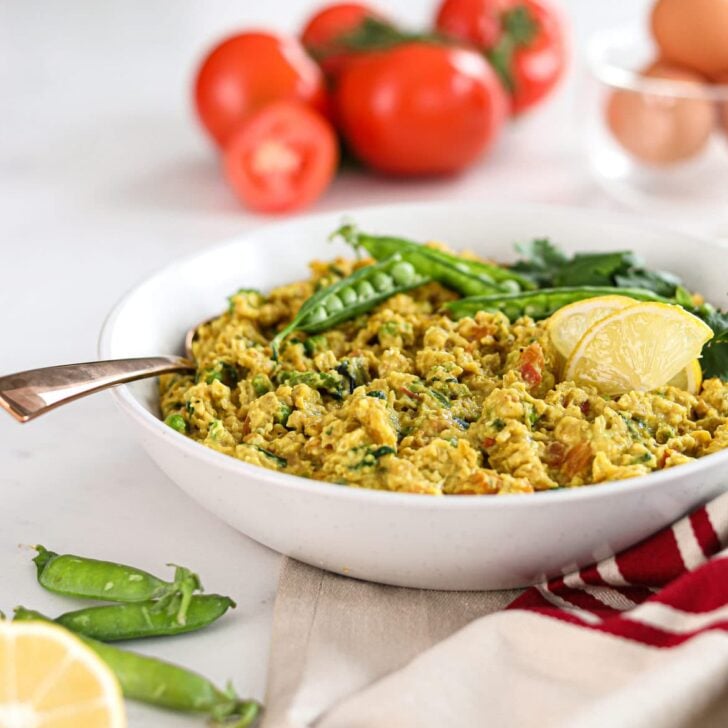 20-Minute Masala Egg Oatmeal Breakfast
Looking for easy and healthy breakfast ideas? Take your oatmeal to the next level with my savoury Masala Oatmeal Breakfast recipe – featuring eggs. It's the ultimate busy-bee brekkie, bursting with nourishing heart-healthy ingredients. A creamy, rich amalgamation of rolled oats, onion, peas and tomatoes. All mixed with eggs, chillies and cilantro, and infused with traditional South Asian spices to create a spicy and Desi~licious breakfast. 
Check out this recipe
Next, a breakfast wrap. This is a great option for those mornings when you need something portable and filling. This veggie-packed omelette can be rolled in a tortilla, roti or paratha. Warm or cold, it always tastes amazing! I'd suggest making a few at once and storing them in the fridge for easy grab-and-go breakfasts throughout the week. Consider including heaps of colourful vegetables like bell peppers, spinach, and mushrooms. Lean protein options like chicken or turkey work like a charm!
Wholesome Veggie Omelette (Desi-Style!)
How to make an omelette at last! While egg omelette recipes are not in short supply – inspiration might be. Try this easy Desi (South Asian) omelette, sizzling with irresistible spiciness and chock-full of veggies to create a wholesome and satisfying family-friendly meal. Indeed, it's perfect for any time of the day. Pair this omelette with roti (flatbread), potatoes, bread, or even roll in lettuce leaves to create a tasty omelette dish. Here's how to make it!
Check out this recipe
Another option – that's always a hit – is overnight chocolate chia pudding. It couldn't be easier to pull off; simply mix chia seeds with your favourite plant-based milk and cacao and let it sit in the fridge overnight to thicken up and create a delicious, pudding-like texture. Top with fresh fruit and a sprinkle of nuts or seeds for added protein, healthy fats, and flavour. The best part? This recipe has zero added sugar!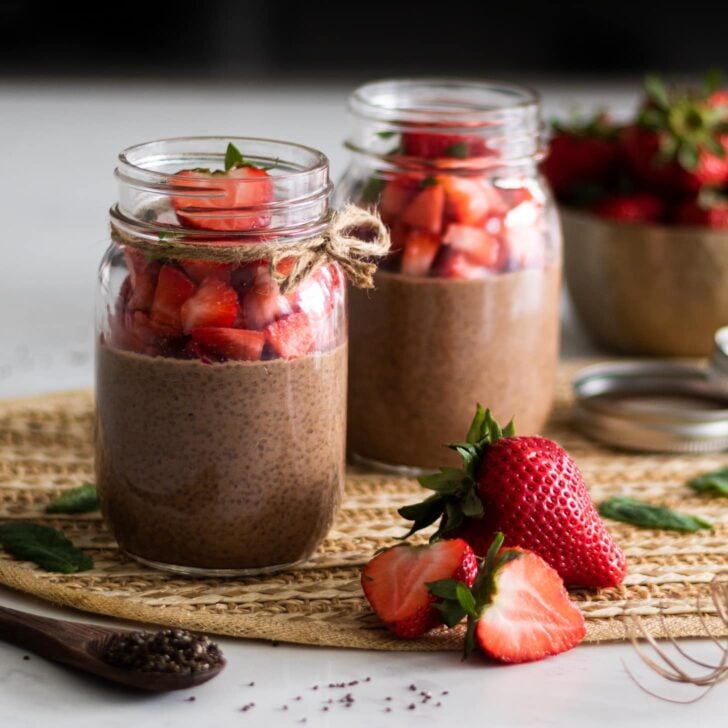 Zero Added Sugar Chocolate Chia Pudding
On the lookout for healthy chocolate desserts? Check out this chocolate chia pudding recipe that's sweetened with Medjool dates. It's perfect for breakfast, snack or dessert. Just top it with some fresh berries, and you're good to go! Vegan, diabetes diet friendly and gluten free.
Check out this recipe
How about baked oatmeal squares for a satisfying breakfast on the go? You can make them ahead of time in a loaf pan, cut them into individual squares, and wrap them individually for an easy option. Why not complement them with a side of fibre-rich fruits like berries or an apple?
Soft Baked Oatmeal Squares
Soft baked oatmeal squares are a great breakfast on the go. They're easy to make and baked in 30 minutes. This recipe is packed full of nourishing ingredients like old fashioned oats and blueberries, and it's sweetened with banana, maple syrup and apple sauce. These cereal oatmeal squares are vegetarian, gluten free and high in fibre.
Check out this recipe
If you can spare 2 minutes in the morning, smoothies are a quick and easy option. This chocolate pumpkin smoothie bowl is oh-so-delicious! Preparation couldn't be easier; consider storing the banana chunks in the freezer, along with pumpkin puree for easy blending in the morning. Then, top with some fresh fruit, nuts and seeds for added nutrients and crunch. Honestly, who can resist healthy sweet recipes with chocolate in the morning?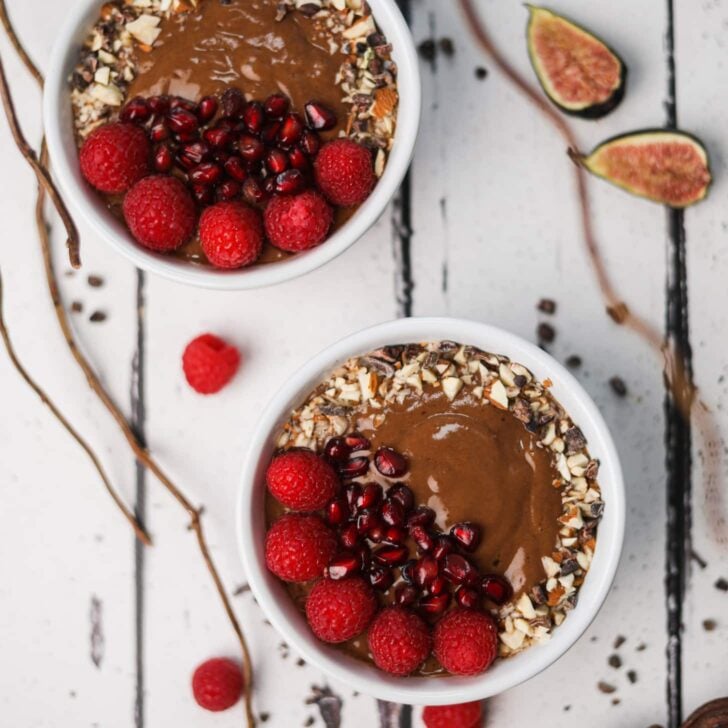 5-Minute Pumpkin Chocolate Smoothie Bowl (Dairy Free)
If you're looking for a quick and easy breakfast that's also nutritious, look no further than this pumpkin chocolate smoothie bowl. This recipe is dairy-free and packed with nourishing ingredients rich in antioxidants and dietary fibre, making it the perfect way to start your day. And it takes literally 5 minutes to make!
Check out this recipe
For a hearty and savoury breakfast, try shakshuka eggs with lentils. This dish combines protein from the lentils, along with eggs and vegetables for added dietary fibre and nourishment. On Sunday evening, make a big batch and store it in the fridge for breakfast throughout the week. It's a family favourite!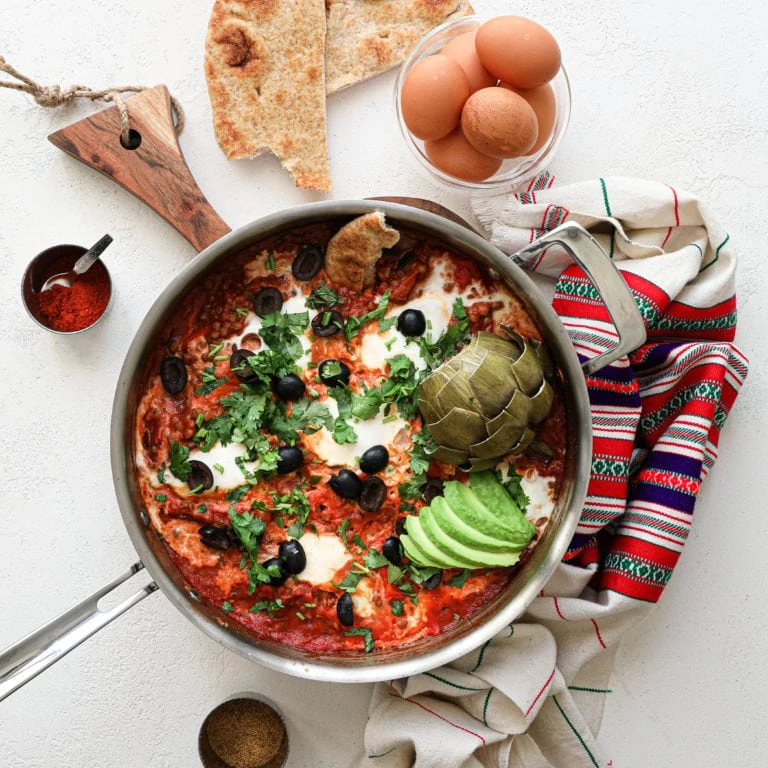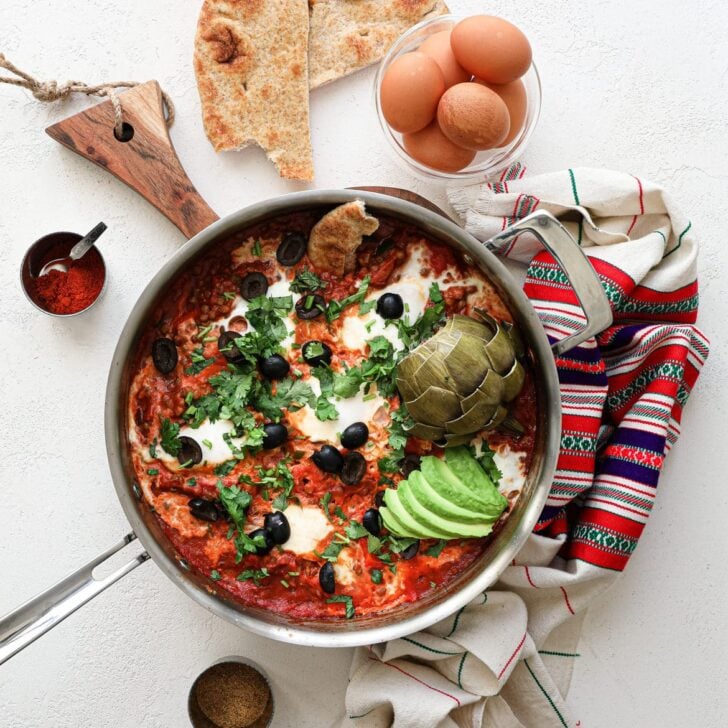 High Protein Shakshuka Eggs With Lentils
The best Shakshuka Eggs with lentils is served! Settle into back-to-routine with my fuss-free one-skillet marvel – Moroccan Shakshuka. Eggs gently poached in a thick tomato-lentil sauce infused with smoked paprika, cumin and garnished with fresh cilantro and olives. Loaded with nourishing ingredients, it's high in protein, family-friendly, and finger-licking good – No oven required. Serve "as is" or enjoy with toast, baguette roti or naan. Learn how to make shakshuka eggs below.
Check out this recipe
If you love a protein kick in the morning, this beet berry smoothie bowl is as stunning in taste as it is in appearance. Simply, mix beet with protein-rich Greek yogurt, raspberries, cauliflower (you can't even taste it!), and seeds for a balanced and filling breakfast.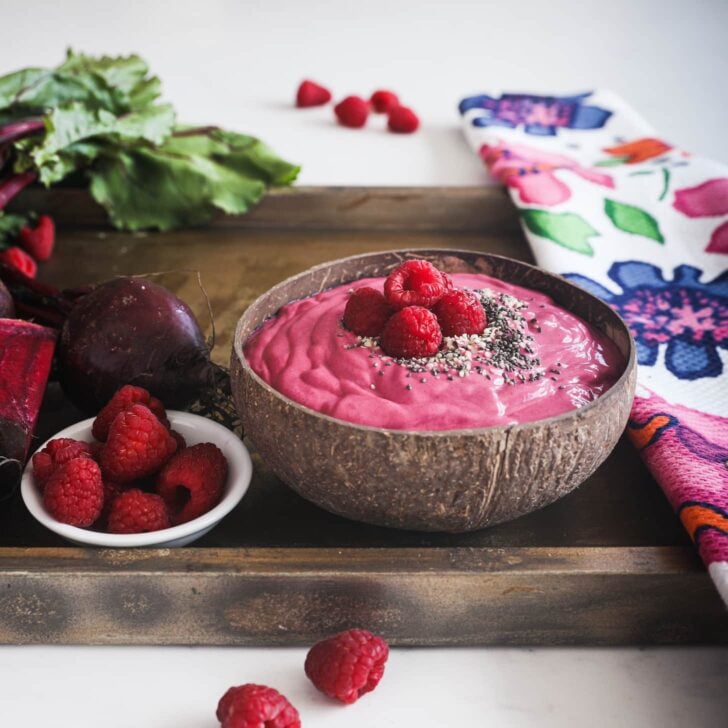 High Protein Beet Berry Smoothie Bowl
Smoothie bowls are all the rage lately. And for good reason! They are delicious, nutritious, and perfect for a quick breakfast or snack. This Beet Berry Smoothie Bowl is one of our favourites. It's made with raspberries, beet, and cauliflower – all wholesome ingredients that will give you sustained energy throughout the day. The creaminess is achieved with coconut-flavoured Greek yogurt — with an additional boost of protein from hemp seeds and chia seeds. This recipe is vegetarian and part of my heart healthy and diabetes friendly series.
Check out this recipe
For my vegan friends, curry tofu scramble is a must-try. This flavourful recipe is a family friendly dish that we typically make on Sundays and enjoy for workweek breakfasts. I love adding avocado dip and hot sauce to mine for an extra bit of deliciousness!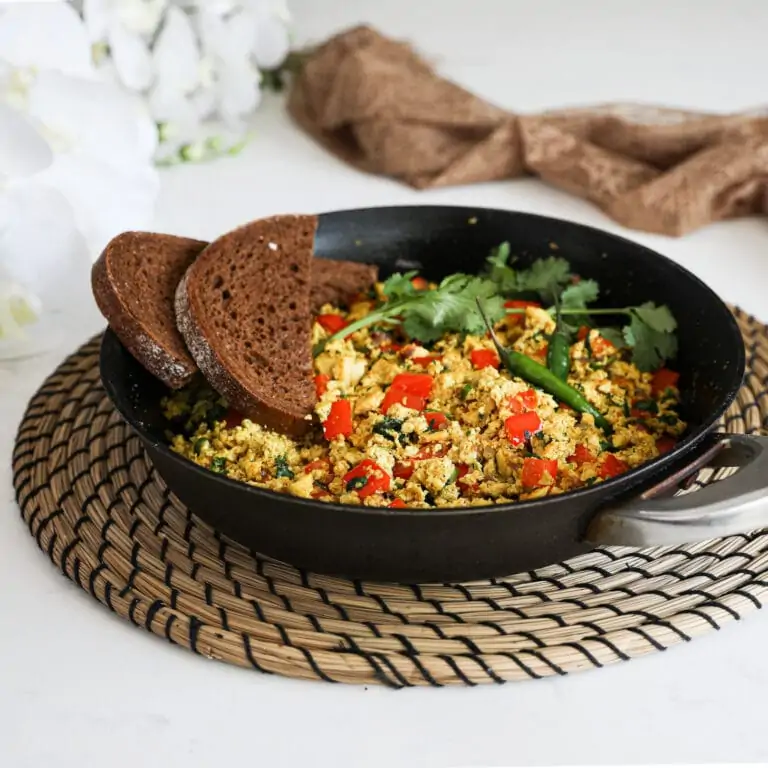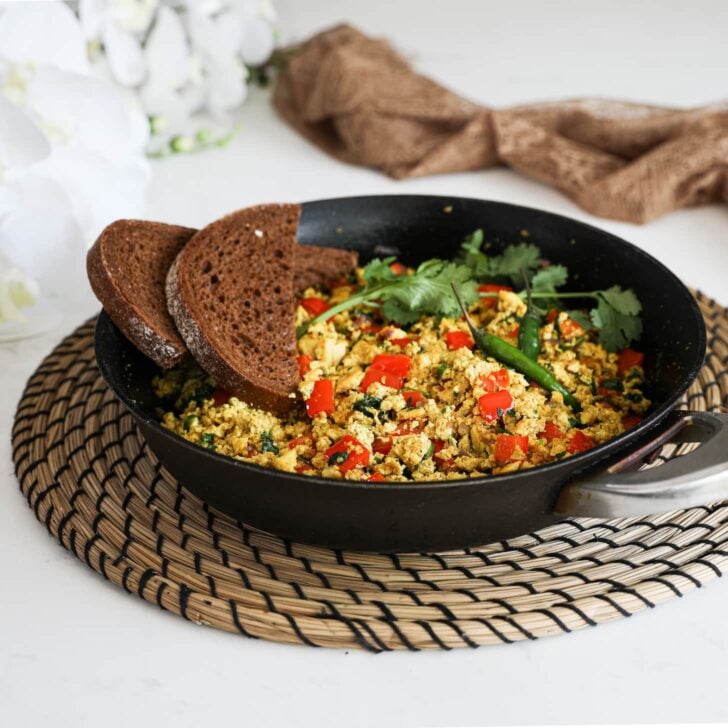 30-Minute Curry Tofu Scramble
Bursting with south asian spices, this healthy breakfast tofu scramble is madein just 30 minutes, and packed full of plant-based protein. For best results, usedry extra-firm tofu — the combination of curry powder, garam masala, and cuminseason thevegan tofu scramble wonderfully.
Check out this recipe
Some Desi (South Asian) breakfasts can be leftovers from dinner the previous night, such as daal or vegetable curry. It's how I grew up. For example, we particularly enjoy this egg turnip curry with flax and hemp paratha. It's the perfect breakfast to make the night before. Store your batch of curry in an airtight container in the fridge, and if you're making paratha, wrap them individually for an easy grab-and-go breakfast.
Egg Curry Recipe With Turnips
A mouthwatering egg curry recipe with some major Fall vibes. Turnips cooked in a thick tomato-yogurt base, infused with fresh herbs and curry powder. Thanks to the eggs and vegetables, this Indian curry is rich in protein and a source of important vitamins and minerals.
Check out this recipe
What are some of you favourite make-ahead breakfast recipes? Let me know in the comments below!
Desi~liciously Yours,
Shahzadi
Make-ahead breakfasts that will keep you fuelled all day long. These recipes are healthy, delicious, and easy to prepare.
Ingredients
350

g

tofu

,

extra firm

2

tbsp

olive oil

,

extra virgin

3

cloves

garlic

,

large, finely chopped

1/2

red onion

,

large, finely chopped

1

red bell pepper

,

washed, deseeded, cut in small cubes

2

green chili

,

washed, finely chopped

1½

tsp

curry powder

1

tsp

salt

,

sea salt or adjust to taste

1

tsp

cumin powder

½

tsp

garam masala

⅓

cup

cilantro

,

fresh, washed, finely chopped

1

tbsp

lemon

,

fresh, juice
Instructions
Remove the excess water from the tofu. If you have 15 minutes, press the tofu using a heavy pot. This will dry it out and get rid of any remaining moisture. Make sure your pot is clean before you start, as the bottom will come in direct contact with the block of tofu. Use a fork to break the tofu into small pieces, then set it aside.

Start by heating a large skillet over medium heat.

Then, add 1 tablespoon of olive oil to the pan.

Add the garlic, and onion, and let them brown.

Add and sauté the red pepper for a few minutes, or longer if you prefer them softer.

Sprinkle the spices and salt over the red pepper mixture along with the chillies and stir gently.

Add the crumbled tofu to the pan and stir until it is fully mixed in.

Cook for a further 5 minutes, allowing all the flavours to come together.

Add lemon juice and cilantro for garnish. Enjoy while hot with wholegrain toast, roti, quinoa, salad or potatoes.
Notes
Tofu is packed in water, so make sure you drain the liquid before cooking.
The liquid can be used as vegan broth for vegan soups and sauces.
Extra firm tofu will hold its shape more than soft tofu, which breaks down easily when cooked, giving you a chunkier texture and crumblier vegan scrambled eggs.
If you're strapped for time, press the tofu the night before so it's drained and ready to use. You can also chop and prep the ingredients the night before, which makes meal prep super-fast and super-easy.
Tofu absorbs flavour very well – spices, sauce or marinades. I love the fact that you can eat it raw, making it a great addition to salads or smoothies.
The peppers have a little crunch, so if you want them softer, cook them for a few minutes longer.
You may adjust the heat by adding more or less green chilli.
Lemon juice adds a zest of freshness at the end, but you may also use lime juice.
You may also add other veggies to this, such as zucchini, corn, or eggplant.
This vegan tofu scramble is best served hot.
Leftover scramble may be kept in the fridge for three days.
Nutrition Information:
Calories:
188
kcal
(9%)
Carbohydrates:
11
g
(4%)
Protein:
10
g
(20%)
Fat:
12
g
(18%)
Saturated Fat:
2
g
(10%)
Polyunsaturated Fat:
2
g
Monounsaturated Fat:
7
g
Sodium:
954
mg
(40%)
Potassium:
346
mg
(10%)
Fiber:
3
g
(12%)
Sugar:
5
g
(6%)
Vitamin A:
1382
IU
(28%)
Vitamin C:
60
mg
(73%)
Calcium:
63
mg
(6%)
Iron:
3
mg
(17%)
Keep in mind that the nutritional values provided are approximations and suggestions. This nutrition facts table cannot account for your individual needs. Your body — including your hunger and satiety cues — change daily. It's perfectly fine to eat more or less on different days. Instead of letting food guilt take over, consider mindful eating.
* Percent Daily Values are based on a 2000 calorie diet.