Dietitians Share Best Ways To Store Fruits And Vegetables To Keep Them Fresh
If your fruits and vegetables rot in a few days, learn how to store them the right way to maximize their freshness. Registered dietitians share their best tips in this ridiculously simple guide.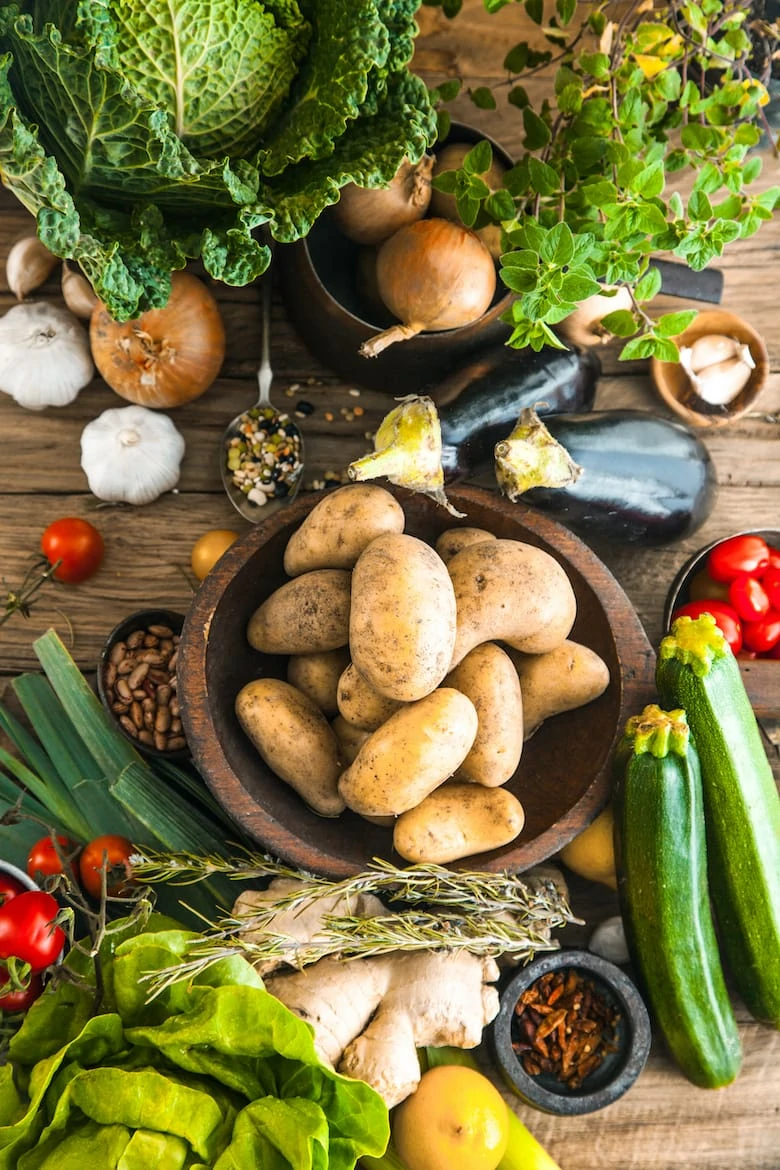 Given the current circumstances, learning to keep fruits and vegetables fresh for longer is a great way to help minimize visits to the grocery store. What's more, cutting down on food wastage can help lessen our carbon footprint. According to the National Zero Waste Council, in Canada as a whole, almost 2.2 million tonnes of edible food is wasted each year, costing Canadians over $17 billion!
So what food is wasted the most? You'd be right if you guessed vegetables and fruits!
Indeed, this colossal food waste has a significant environmental impact.
Wasted resources used to:
Grow, produce and distribute food

Transport food from farm to table

Manage or dispose of food as waste
Try to picture this: 2.2 million tonnes of food we waste in Canada is equivalent to 9.8 million tonnes of CO2 and 2.1 million cars on the road!
These stats are staggering.
And it goes without saying; we can all play our part in helping to reduce the amount of food that's wasted.
So in an effort to support those of you striving to live more sustainably, we've created this guide to offer helpful tips and strategies on the best ways to store fruits and vegetables – to keep them fresh for longer. After all, as registered dietitians, there's nothing we love more than talking about fruits and vegetables. Some things may seem obvious, but others may surprise you.
But before we get into the nitty-gritty of things, let's try to understand why fruits and vegetables rot and decay.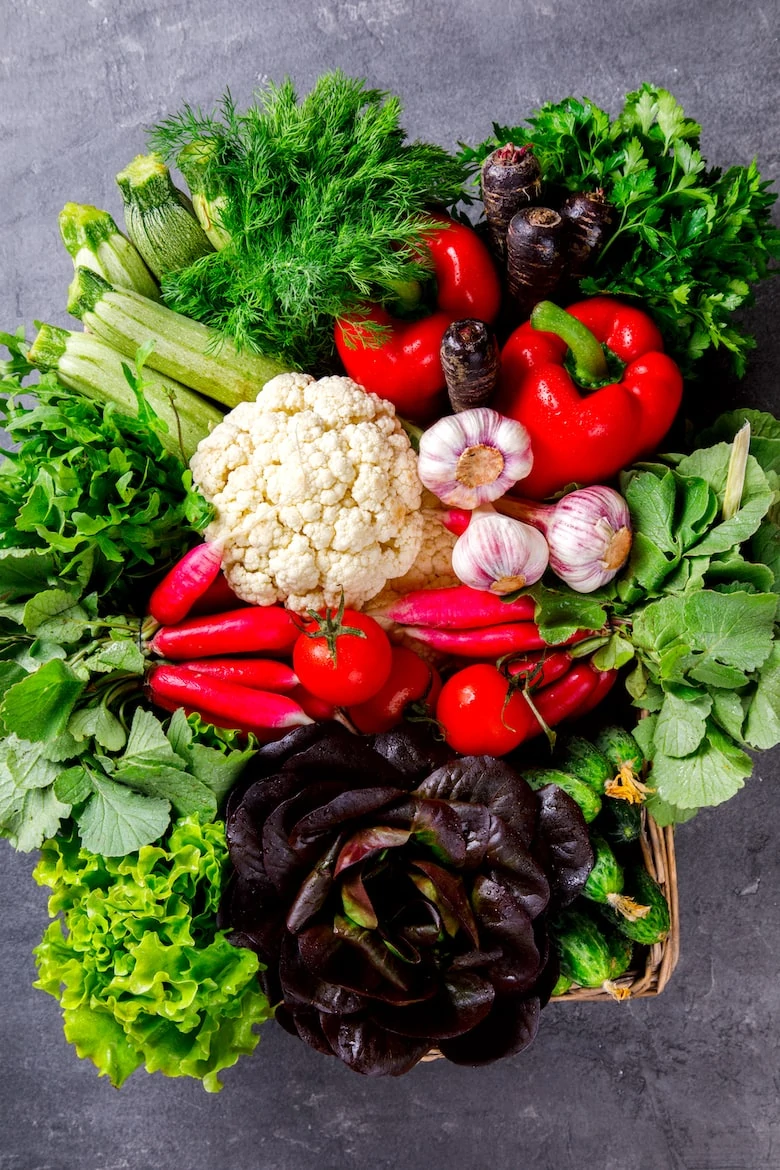 Why do fruits and vegetables go bad?
Most fruits and few vegetables produce a natural gas called "ethylene." This helps them ripen. You can thank ethylene for turning your green bananas into sweet and ripe delights. However, there are times when ethylene is quite the villain. You may have noticed your greens going yellow when kept in the fridge for too long. This is also attributed to ethylene production, which leads to the loss of chlorophyll. Chlorophyll is the pigment that gives salad greens their beautiful green hue.
What's interesting is that the amount of ethylene and the rate of ripening is variety-dependent. For example, the McIntosh apple can produce vast amounts of ethylene, making it difficult to store once this occurs. According to one study, where five varieties of apples were investigated (Astrachan, Red June, Gravenstein, Delicious and Newtown), those stored at zero degrees Celcius produce approximately eight to eleven times less ethylene than those stored at twenty degrees Celcius. In other words, cooler temperatures kept those varieties of apples fresh for longer.
Other than ethylene, it's important to also consider the role of microorganisms (mould, bacteria), in food spoilage. When fruits and vegetables are bruised, enzymatic reactions are triggered that shorten their lifespan.
The good news is, that storing fruits and vegetables the right way can help keep them fresh. This includes the way produce is washed, how it is stored, and the temperature at which it is kept.
Which fruits and vegetables should not be stored together?
Did you know that certain fruits and vegetables need to be kept separate? Particular varieties of fruits and vegetables that give off very high levels of ethylene gas can speed up the ripening process of other produce. Especially those that are "gas-sensitive." 
The so-called "gas releasers" include:
Apples

Apricots

Honeydew

Cantaloupe

Figs

Kiwi

Plums

Avocados

Unripe bananas

Peaches

Nectarines

Tomatoes
The "gas-sensitive" list of fruits and vegetables includes:
Ripe bananas

Broccoli

Brussel sprouts

Cabbage

Carrots

Cauliflower

Cucumbers

Eggplant

Leafy greens

Peas

Peppers

Squash

Sweet potatoes

Watermelon
It goes without saying – gas-releasers and gas-sensitive fruits and vegetables should be stored separately.
The following foods are not sensitive to ethylene and as a general rule of thumb can be stored anywhere:
Blueberries

Cherries

Beans (Snap)

Garlic

Grapefruit

Oranges

Pineapple

Potatoes

Raspberries

Strawberries

Tomatoes

Yucca
What fruits and vegetables need to be refrigerated?
In short, most fruits and vegetables should be stored in the refrigerator, though some need specific care.
Storing asparagus and celery
Asparagus should be placed in a glass of water or wrapped in a moist tea-towel. Similarly, celery sticks can be stored in a paper or cloth bag in the crisper drawer of the fridge for up to 2 weeks.
Storing citrus fruits
Citrus fruits, including lemons, limes, grapefruit, oranges, and clementines, should be stored in the crisper drawer or a mesh bag. If you've noticed that your citrus fruits perish in the fridge after a few days, take note: Never store citrus fruits in a plastic bag or an air-tight container. This would cause moulding.
How to store berries, cherries and grapes?
Fruits that spoil fast, such as blueberries, strawberries, cherries, and grapes, are best kept in the refrigerator – in their containers, to allow ventilation. Remember to wash these delicate fruits right before enjoying them, to prevent premature rotting.
How to store leafy greens?
When it comes to leafy greens (e.g. lettuce heads, bok choy, kale, spinach, Swiss chard), your best bet is to wash and thoroughly dry before refrigeration. You can store the leaves in a clean tea towel – away from any moisture.
Storing zucchini and eggplant
If you expect to use zucchini, and eggplants within a couple of days after purchase, they could be stored on a cool counter. For more extended storage, place these vegetables in a bag, inside the crisper (here and here).
What fruits and vegetables should NOT be refrigerated?
You probably know that bananas and avocados should not be kept in the fridge. Once they're ripe, though, you could move them into the refrigerator.
The following fruits and vegetables should not be refrigerated:
Tomatoes

Potatoes

Garlic

Onions
It goes without saying that these should be kept in a cool, dry environment, such as a countertop that is not in direct sunlight.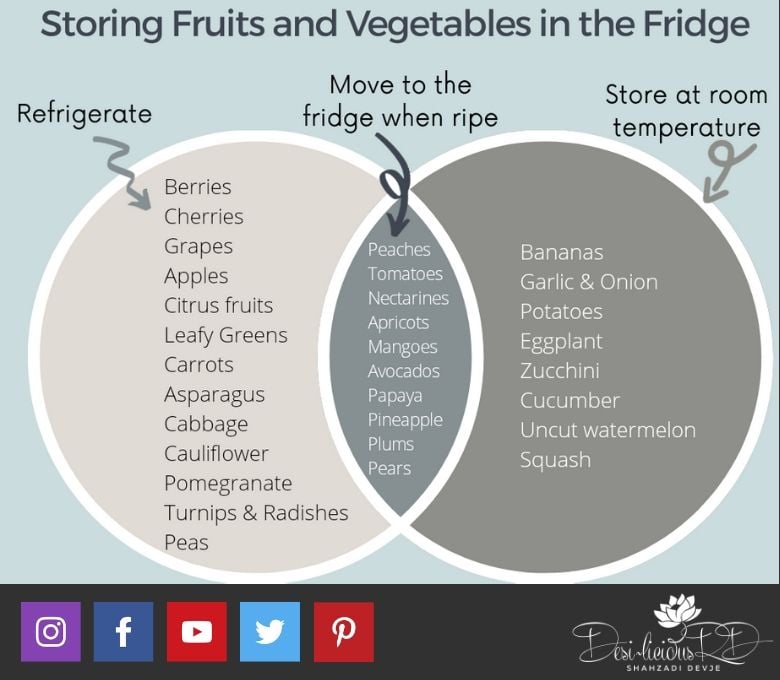 How to store stone fruits?
With the basics checked off, let's get into some specifics about certain fruits and vegetables that require more specific care. Fruits such as nectarines, peaches, and plums should be stored in a paper bag, on the counter until they are ripe and ready to eat. When they do ripen, however, it's best to move them in the refrigerator, where they would keep fresh for a few days.
How to store potatoes, carrots and other root vegetables?
One of the most popular produce storage questions we get asked is: How to store potatoes? Did you know, few root vegetables, including carrots, beets, turnips, and radishes, should be kept in the crisper, within the refrigerator. Carrots should not be peeled until they are ready for consumption. Turnips and radishes should have their leaves separated from the roots before being stored. These stay fresh for about one week when refrigerated. Other root vegetables, including potatoes, sweet potatoes, and squash should be kept in a cool and dry place, such as a pantry. While most root vegetables stay fresh for a few weeks, winter squash has a longer life and could be stored in the pantry for as long as three months.
How to store ginger?
And this is another popular question you've asked us! Remember, ginger should be refrigerated and can maintain its freshness for up to 3 weeks. It is also possible to freeze ginger, which would lengthen its life to 6 months.
How to store onions and other allium vegetables?
Onions, garlic, and shallot belong to the Allium genus and should be stored in a cool, dark, and dry cabinet. To prevent their strong smell from migrating to other products, store them separately from other foods. Generally speaking, allium vegetables can last in the pantry for up to 2 months.
How to store mushrooms?
Mushrooms are best kept in a paper bag or their original packaging inside the fridge. Remember, they should not be washed until they are ready to use, as moisture could cause them to turn slimy. Usually, mushrooms can stay fresh for up to a week.
How to store herbs?
Herbs, such as cilantro, parsley, and mint should be wrapped in a damp tea towel bagged and stored in the fridge. They could also be stored in a glass of water with a paper or cloth bag placed loosely over the leaves. Leafy herbs usually maintain their freshness for 3-5 days. Woody herbs, such as rosemary and thyme, can stay fresh for longer – up to 2 weeks. Basil should be stored unwashed, uncovered, and unrefrigerated to prevent their leaves from changing colour.
What fruits and vegetable storage questions do you have? Are you surprised by any of our tips? Share your thoughts in the comments below!
Desi~liciously Yours, Shahzadi
If you enjoyed this blog post, would love to hear from you! Leave a comment, or share a photo and hashtag #desiliciousrd on Instagram, Facebook and Twitter!
---
This blog post was written in collaboration with Sanaz Baradaran MSc, RD, OCT, BEd
Sanaz is a Registered Dietitian and nutritionist. She holds Bachelor's degrees in Human Biology, Secondary Education, and Food and Nutrition, as well as a Master's degree in Kinesiology and Health Sciences. As a Registered Dietitian in private practice, Sanaz is trained to provide advice and counselling about diet, food and nutrition using the best available evidence coupled with good judgment about the client's unique values and circumstances.
Hungry for more?
Subscribe to my newsletter for free recipes, nutrition and wellness tips and all the latest updates.
An easy, nutritious & satisfying meal plan made with non-perishable foods from your pantry.
100% vegan dietitian-approved & taste-tested
Grocery list to save you time, money and fewer trips to the grocery store
Step-by-step prep guide to make the most of your time in the kitchen
Full nutritional information