This easy eggplant curry recipe is healthy, flavour packed and a terrific Indian curry dish — with all of the cooking taking place in one pan. Also known as brinjal curry, cubes of eggplant (aubergine, for some!) and potatoes simmer in a thick and spicy tomato sauce to create this nourishing vegan curry. The recipe is gluten free, and it isn't drenched in oil either.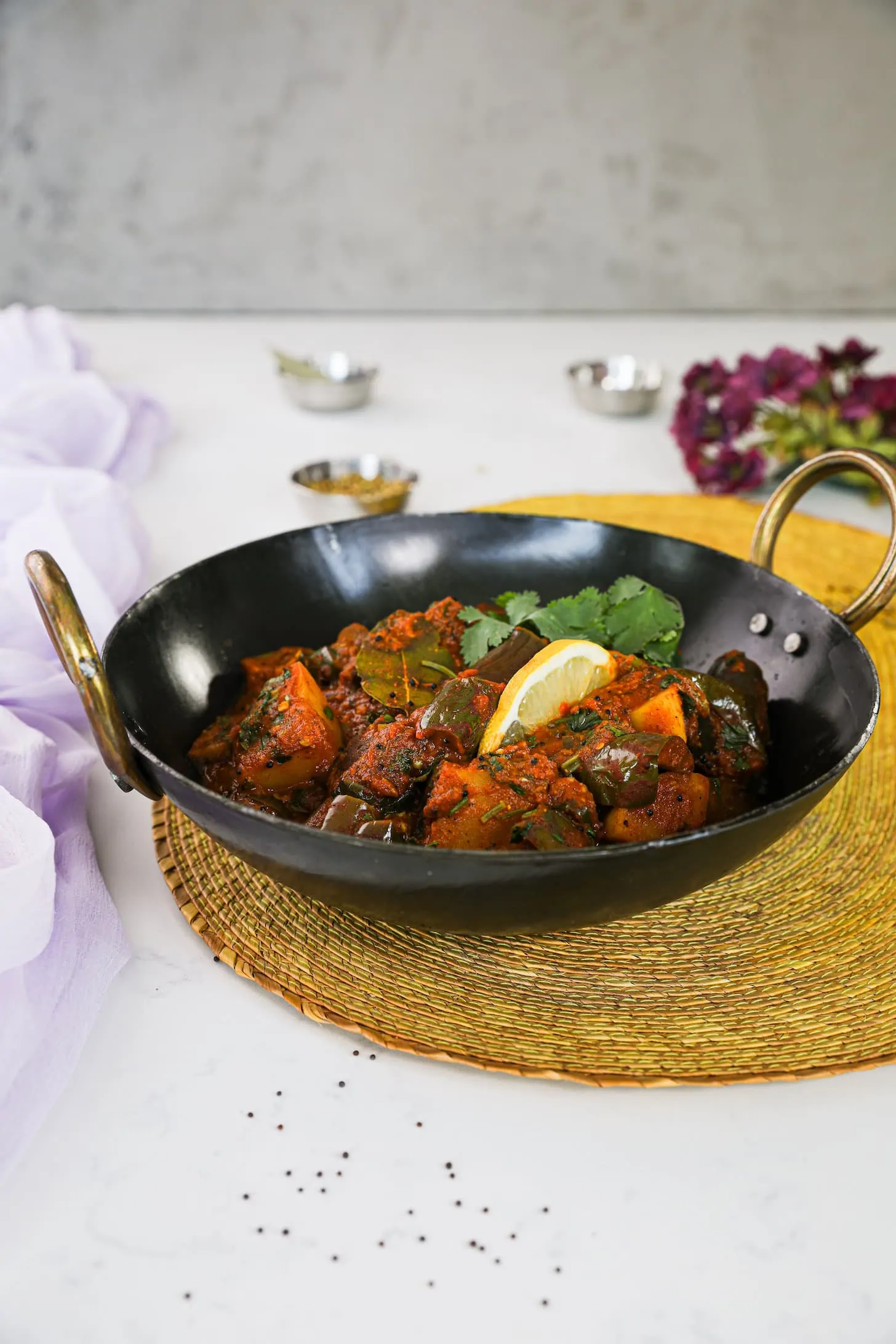 As a registered dietitian and certified diabetes educator, I always get excited about healthy Indian recipes that are flavorful and satisfying. Indian eggplant curry is one of those recipes! It's a great option for folks looking for a hearty nutritious vegan meal. I've taken a deeper dive into eggplant nutrition and the health benefits below.
If you're an eggplant enthusiast, like me, baingan bharta and eggplant and chickpeas wraps are definitely recipes you'll want to add to your dinner rotation.
Desi curry recipe nutrition highlights
This Indian curry recipe is a treasure trove of nutrition. It's:
Rich in vitamin C, thanks to the eggplant.
An excellent source of fibre, because of the eggplant-potato combo.
Reduced in fat using a heart-healthy cooking oil
Diabetes diet friendly – with 44 grams of net carbs
An excellent source of potassium because of the tomatoes
What is eggplant curry?
Eggplant curry (also known as brinjal curry) is an Indian dish. Desi (South Asian) food, like other international cuisines, is quite distinctive to the region and country. As a result, eggplant curry varies depending on the spice combination, herbs, and cooking methods native to the region.
The word "curry" is derived from the Tamil word Kari, which means sauce. In Northern Indian cuisine (which includes Gujarat, Maharashtra, Punjab, and Rajasthan), curries are frequently water-based and sometimes include dairy and coconut milk. Some of the finest examples of Indian recipes include tandoori chicken, samosas, matar paneer, butter chicken and more.
Regional curry variations
Most northern Indian curries (for example Delhi, Haryana, Uttar Pradesh, and Punjab) are thick, richly spiced, fiery and spicy.
However, South Indian cuisine (for example, Andhra Pradesh, Karnataka, and Kerala) is largely vegetarian — with some non-vegetarian dishes as well. Dosa, appam, idli, sambar, and legume-based stews like Daal are all distinctive to these areas.
Coupled with this, the consumption of dairy products is widespread; spiced buttermilk, for example, is consumed with rice dishes. Indian pantry staples, like essential spices, are also a key feature; curry leaves, mustard seeds, cinnamon and tamarind are just a few of the many flavour enhancers utilized in South Indian cuisine.
What are the main ingredients in a Brinjal Curry?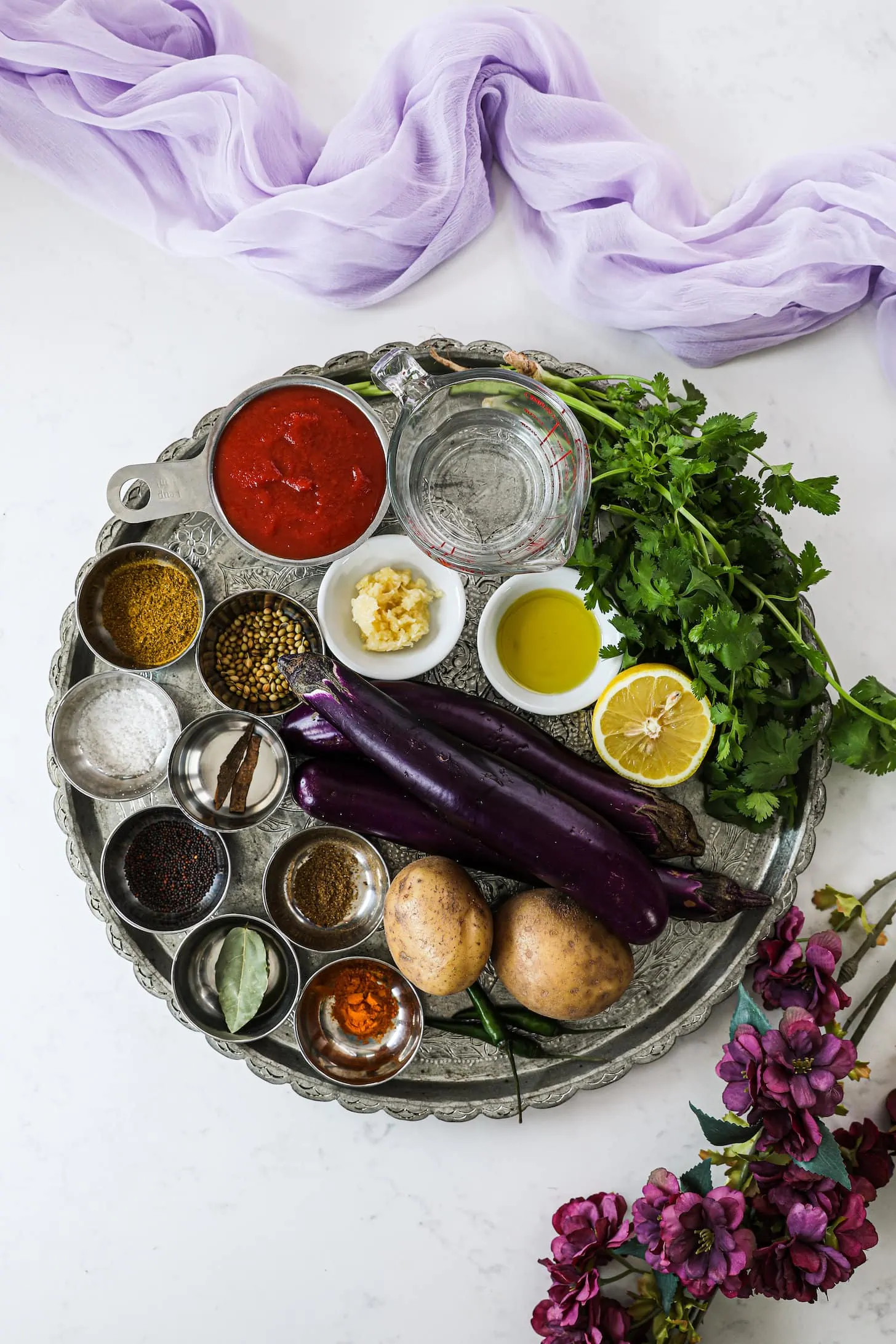 Eggplant: Think slender and long Asian eggplants—perfect for this dish! Slicing them medium-thick keeps everything together while they cook, so no falling apart here.
Mustard Seeds: These little guys are like culinary fireworks! Pop them in hot oil, and they crackle and release an aromatic bang. A small amount is all it takes to spice up your curries. I swear, my mustard seeds have been on a six-month tour through my Desi dishes—Chickpea Kale Curry and Handvo totally rock with these.
Coriander Seeds: Whole seeds over powder any day! They're like aromatic powerhouses. Trust me, it's a game-changer!
Curry Powder: It's always the hero in my curries—especially the homemade kind!
Turmeric: It's not just for colour; it brings oodles of health benefits and a vibrant hue to the curry. Win-win!
Chillies: Fresh and green—they're the fiery superheroes here.
Tomato Puree: Picture-perfect thick curry? Homemade tomato sauce is your secret weapon. Remember, if it's too runny, that'll turn your curry mushy.
Garlic: Freshly grated from the cloves—they work their magic like culinary wizards!
Cinnamon Sticks: They sneak in an earthy sweetness, like a secret flavour handshake.
Bay Leaf: Adding that extra oomph of flavour!
Garam Masala: The finishing touch, the superstar garnish spice.
Lemon: Squeeze it generously; it's the ingredient that slashes the need for heaps of salt, making this dish a heart healthy and diabetes diet friendly recipe.
Cilantro: Freshness and flavour galore! Get the freshest bunch you can find, stems included—they're fragrant treasures waiting to be savoured.
How to make it
Below, you'll find a step-by-step photo tutorial on how to make Indian eggplant curry. Honestly, it's not difficult at all, especially if you have all of your ingredients chopped and ready to go.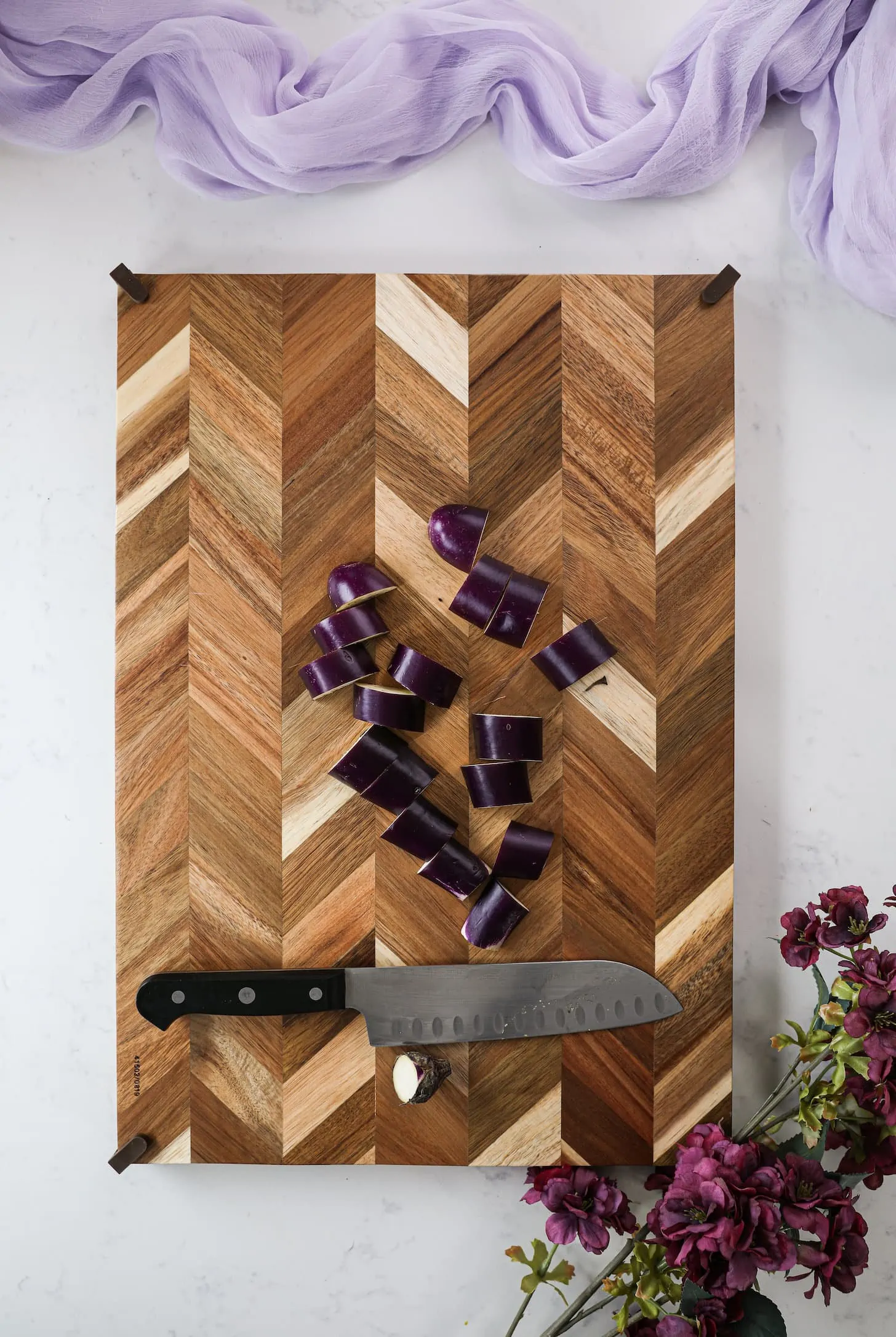 You can find the complete ingredient list and detailed instructions in the recipe card below.
Sure, pairing this soft Indian roti, naan, or paratha (Indian flatbread) is an epic combination! But you know what else? It's delightful with quinoa too – alongside my 15-minute easy salad recipe.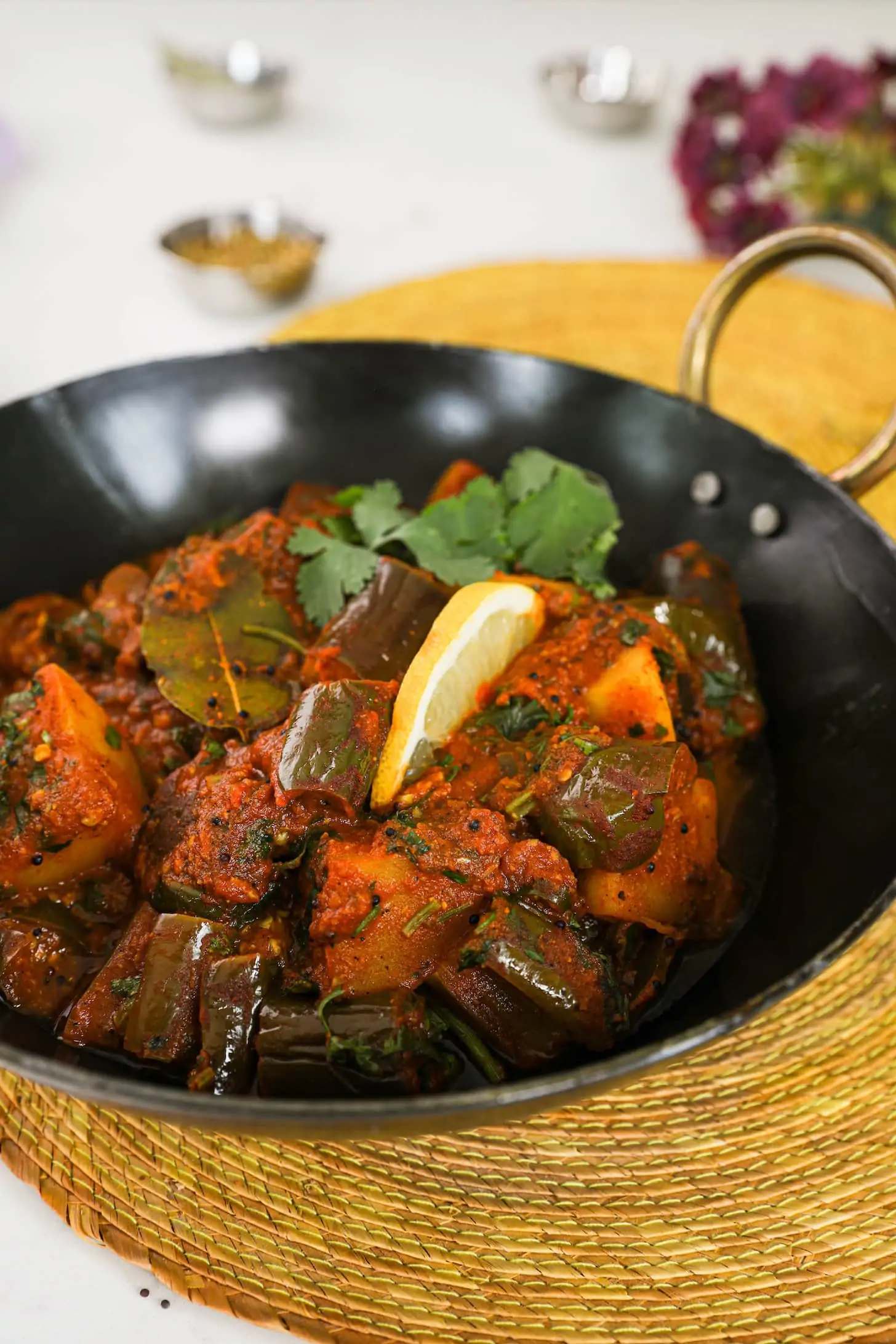 Tips for the beginner cook
For even cooking, keep your eggplant and potatoes in similar-sized cuts.
Opt for golden heart, yellow flesh, or baby potatoes—they make a difference in taste and texture.
Adjust the potato quantity to fit your preference—more or fewer, your call.
Tailor the curry's heat by adding or reducing the number of green chillies.
Storage and variations
Eggplant curry leftovers can be stored in an airtight container in the fridge for up to 4 days. I wouldn't recommend freezing this dish because the potatoes become mushy.
To change up the flavour, try adding different vegetables like cauliflower, zucchini or peas. You could also add paneer cheese for a delicious Indian vegetarian curry that everyone will love!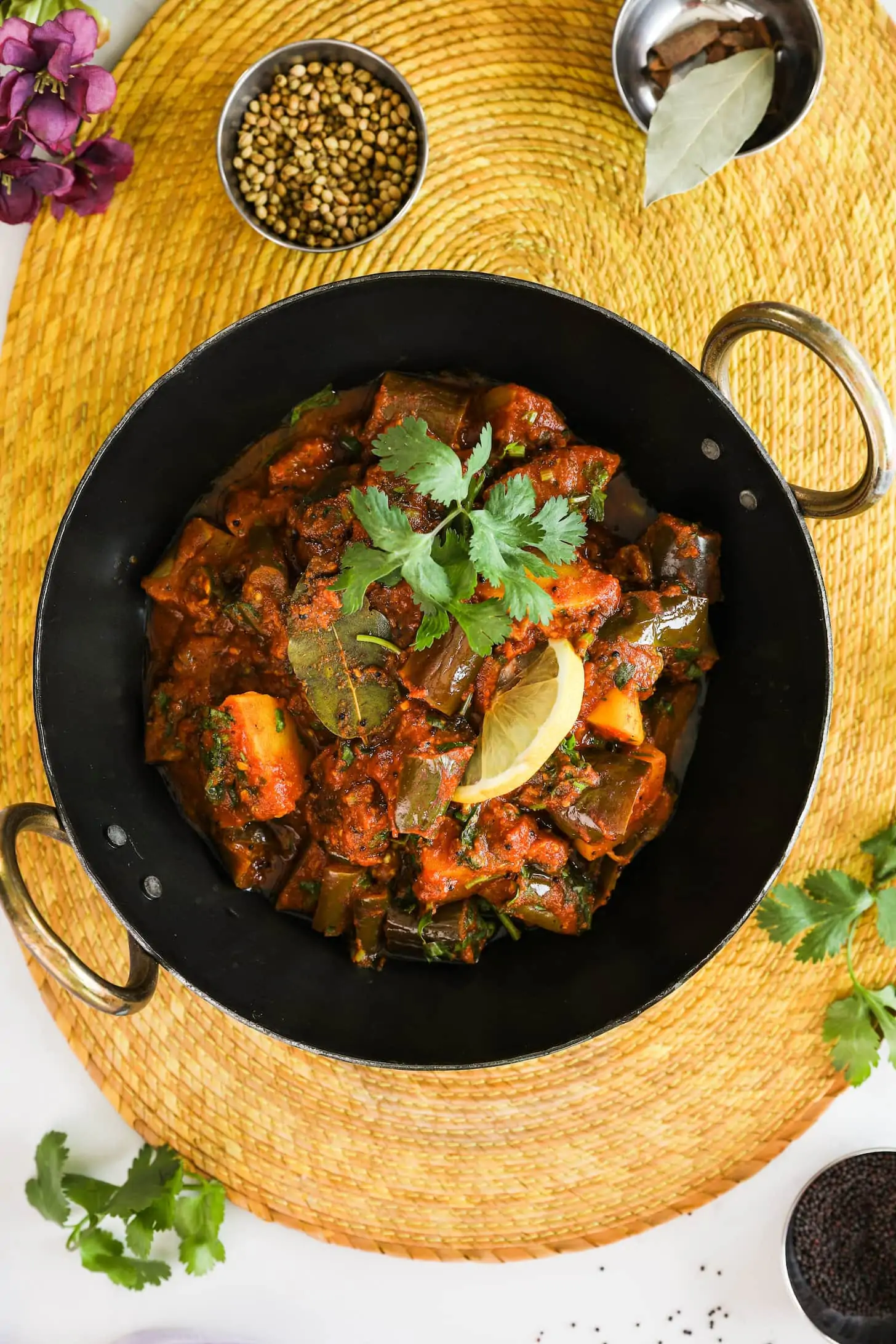 Diabetes diet advice
Eggplant, with its low-calorie and low-glycemic index (GI: 30-39), offers a delicious diabetes-friendly option—25 calories and under 6 grams of carbs per 100-gram serving, with half as dietary fibre.
Research touts eggplant's role in blood sugar control for type 2 diabetes management, also helping in lowering cholesterol and blood pressure levels.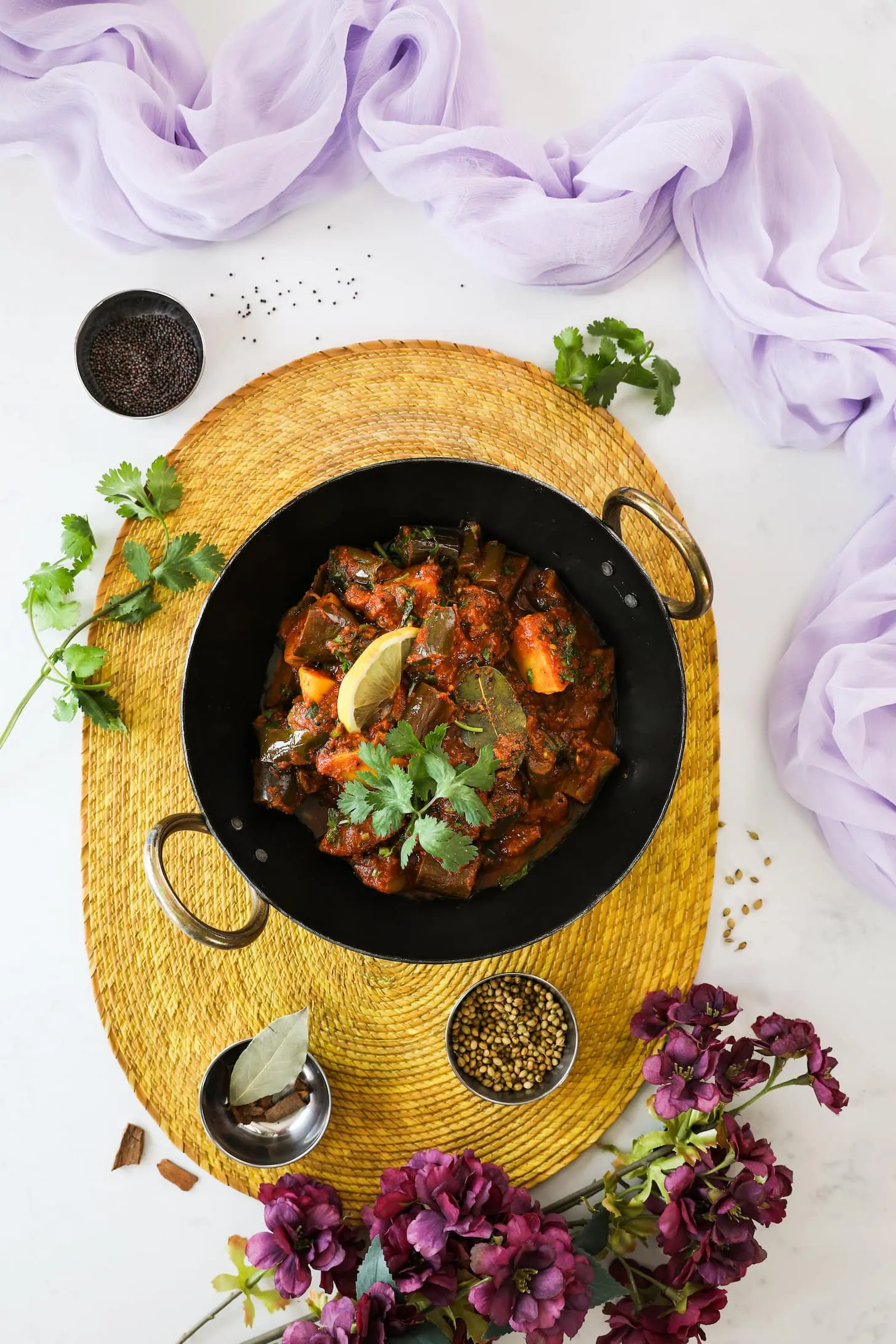 If you try this easy vegan curry recipe, I would love to hear from you! Leave a comment, rate it, or share a photo and hashtag with #desiliciousrd on Instagram! Can't wait to see your photos. 
Desi~liciously Yours,
Shahzadi
Want a FREE delicious offer?
This easy eggplant curry recipe is healthy, flavour packed and a terrific Indian curry dish — with all of the cooking taking place in one pot. Also known as brinjal curry, cubes of eggplant (aubergine, for some!) and potatoes simmer in a thick and spicy tomato sauce to create this nourishing vegan curry. Recipe is gluten free, and it isn't drenched in oil either
Ingredients
1

tbsp

olive oil

, extra virgin, Benefits of olive oil

1

tsp

mustard seeds

1

tbsp

garlic

,

fresh cloves, grated

2

cinnamon sticks

,

small, Indian variety

1

bay leaf

1

cup

tomato puree,

thick sauce style, not store-bought tube

2

tsp

curry powder

2

tsp

coriander seeds

,

processed into powder

½

tsp

turmeric powder

3

green chillies

,

washed, finely chopped

¾

tsp

salt

,

sea salt

3

eggplant

,

Asian long and thin variety, washed, cut into medium pieces

2

potatoes

,

medium, golden heart or yellow flesh, washed, cut into medium pieces

½

cup

water

½

tsp

garam masala

½

cup

coriander

,

fresh, packed cup, washed, finely chopped for garnish

2

tbsp

lemon juice

,

freshly squeezed
Instructions
Heat a large pan and add oil, mustard seeds, garlic, cinnamon sticks and bay leaf. Temper the whole spices along with the garlic on low heat until the spices and garlic release their aroma.

Next, add the tomato puree, curry powder, turmeric coriander powder, salt and green chillies to the pan. To prevent spluttering, keep the heat low at this stage. Simmer on low heat for 1-2 minutes.

When the oil begins to separate and appear on the surface of the sauce, add eggplant, potatoes and water. Stir well to coat all the pieces, and simmer on low-medium heat for 15 minutes (covered) or until the eggplant and potatoes are cooked through. Don't forget to check in halfway to be sure the curry isn't sticking to the bottom of your pan. Stir gently so as not to break up the eggplant potato pieces.

Garnish with lemon juice, garam masala and fresh cilantro. Enjoy with soft roti.
Notes
To ensure uniform cooking, cut the eggplant and potatoes similar sizes.
Use golden heart, yellow flesh or baby potatoes because the type of potato does make a difference.
The fresher the coriander the better to intensify the flavour of your eggplant curry.
Try and opt for coriander seeds and crush them into powder. This is a game-changer when it comes to flavour.
Add more or fewer potatoes to suit your individual needs.
Adjust the heat of this curry by increasing or decreasing the number of green chillies.
Nutrition Information:
Calories:
332
kcal
(17%)
Carbohydrates:
64
g
(21%)
Protein:
14
g
(28%)
Fat:
6
g
(9%)
Saturated Fat:
1
g
(5%)
Polyunsaturated Fat:
1
g
Monounsaturated Fat:
4
g
Sodium:
677
mg
(28%)
Potassium:
2919
mg
(83%)
Fiber:
20
g
(80%)
Sugar:
20
g
(22%)
Vitamin A:
1829
IU
(37%)
Vitamin C:
204
mg
(247%)
Calcium:
460
mg
(46%)
Iron:
15
mg
(83%)
Keep in mind that the nutritional values provided are approximations and suggestions, and might fluctuate depending on ingredient variations, portion sizes, and recipe adjustments. This nutrition facts table cannot account for your individual needs. Your body — including your hunger and satiety cues — change daily. It's perfectly fine to eat more or less on different days. Instead of letting food guilt take over, consider mindful eating.
* Percent Daily Values are based on a 2000 calorie diet.