Millennial Menu: 15 Easy And Healthy Meal Plan Ideas
This post was sponsored by The Regional Municipality of York (York Region). As always, all opinions are my own.
If you're a millennial always on-the-go, healthy eating may feel like a challenge. With busy schedules and cravings for convenient options, takeout and overeating less-nutritious snacks can be easy defaults.
If you're searching for inspiration in the kitchen or just looking for new easy, healthy meal ideas, this article is for you! I'm sharing 15 of my all-time favourite recipes for meal prep. These recipes are simple to make, delicious and packed with nutrition — plus, the entire family will love them!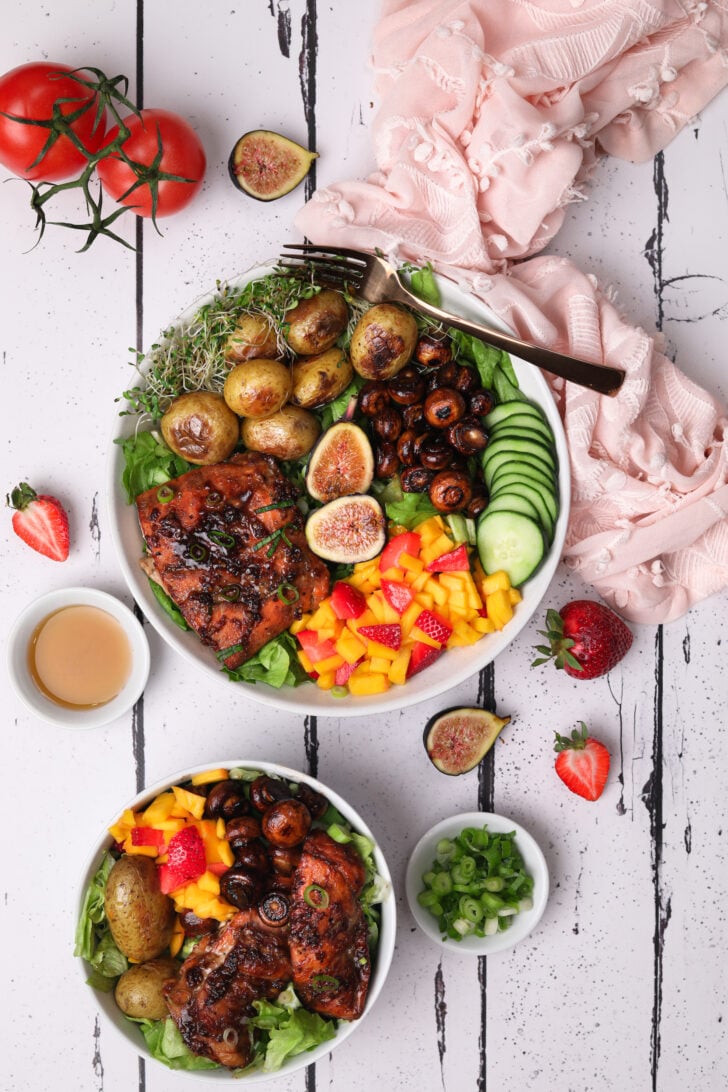 There's no denying millennials are shaking up the food scene – some would say they're even leading the charge in the food revolution. Buddha bowls, matcha pancakes, green smoothies and avocado (well, everything) – if you haven't tried it, you've seen a photo of it on Instagram. It should be no surprise that millennials are massive foodies; they make up a big chunk of Canada's food service sector.
Data from Restaurants Canada shows that millennials are one of the key groups driving food service sales. In 2017, these sales reached a record high of $84 billion. It's estimated that by 2022, they will surpass $100 billion.
As a registered dietitian, I feel it is important to know where our food comes from at every stage of the food production process, from farming to packaging. I also support a sustainable food system that benefits my family's health and the planet.
A healthy meal plan incorporates a balance of fruits, vegetables, whole grains, healthy fats and lean protein. I'm especially excited about these meal prep ideas because they utilize wholesome and locally sourced ingredients.
What cooking means to my family and me
I find joy in cooking, and it's one of the best ways to show my family how much I love them. Whether it's selecting fresh, wholesome ingredients or preparing them – there's something special about setting the final dish down in front of your loved ones.
Though life can be hectic, coming together and connecting makes it pretty great. In fact, evidence suggests that eating together has benefits that surpass nutrition – including positive impacts on mental well-being.
Mr. D and I believe that cooking is a critical life skill, one on par with driving a car, reading or swimming. As our children grow, the job of feeding will become theirs. And so, we've made a conscious effort to get them in the kitchen. We allow them to explore food, help with meal prep, and learn to cook so that their transition into adult life is both healthier and smoother.
Easy nutritious meals at home don't just benefit our health but also help the environment by reducing food waste. When we cook at home, we often start by shopping in our kitchen first; looking through the fridge and pantry to use what ingredients we have on hand. This not only saves money but also helps to prevent food waste. Striving towards an eco-friendly kitchen has become a priority for us — from recycling to reducing plastic use and using reusable containers.
I understand that not everyone likes to cook as much as I do, and weeknights can be enough of a whirlwind without having to try complicated recipes. Home cooking is actually healthier and easier to control portion-wise than restaurant food. Plus, with these recipes, you'll have delicious leftovers as a healthy lunch the next day.
15 Quick and healthy family meals
Whether you're a newbie still finding your way in the kitchen, a seasoned home chef or a passionate foodie – there's a recipe for everyone! From vegetarian meals to nourishing twists on comfort food, here are 15 healthy meal prep ideas for your weekly menu:
Better Butter Chickpeas
Luckily this recipe feeds a crowd because the aromas bring everyone into the kitchen. It also freezes beautifully for quick and easy meals later.

Oven-Roasted Baingan Bharta (Indian Eggplant Recipe)

This oven-roasted recipe for Baingan Bharta (Indian eggplant) is a nourishing dish of mashed eggplant, simmered stovetop in a thick tomato-pepper sauce. If you're on the hunt for a healthy Indian recipe — with less oil, spices, and salt — this is it! Enjoy with roti, quinoa, or lettuce cups. 

Check out this recipe

Butternut Squash Tacos
Be sure to try this twist on traditional tacos that use local and seasonal squash.

Chickpea-Curry Stuffed Spaghetti Squash (Vegan)

This recipe for oven-bakedstuffed spaghetti squashis filled to the brim with aflavourful vegan chickpea-kale curry. Recipe uses canned chickpeas for easeand convenience. A nourishing plant-based dinner, ready in 60 minutes!

Check out this recipe

How To Make Chia Pudding With Strawberry Nice Cream

A cold and creamy dessert, this Vegan Chia Pudding with Strawberry Banana Nice Cream will make your taste buds dance. Frozen strawberries and bananas are blitzed into a delicious soft serve ice cream, that's dolloped over a thick and creamy chia pudding - all without any added sugar. You're welcome!

Check out this recipe

Maple Soy Glazed Salmon
This sweet and savoury glaze is delicious and flavourful! Baking this recipe in the oven is quick and easy!
Fantastic Fried Rice
This is the perfect recipe to make when you have leftovers to use up. Cold rice is ideal, and you can use up leftover vegetables or protein foods. To make this dish even easier, you can use frozen mixed vegetables.

Beetroot Poriyal (Beetroot Salad Recipe)

This beetroot poriyal is a delicious Indian warm salad that is vegan and gluten-free. It's ideal for folks looking for nutritious salads for lunch or dinner. If you're beet-curious, this beetroot salad recipe is the perfect place to start! The beetroot adds a beautiful textural element to the dish, and the almonds add a lovely crunch. The poriyal is also spicy, so if you're looking for a bit of heat, this dish will definitely deliver.

Check out this recipe

Local Harvest Muffins
These tasty muffins fill your kitchen (and your heart) with harvest season excitement! They are perfect for whipping up on the weekend to have on hand for busy mornings and grab-and-go snacks throughout the week.

Tandoori Cauliflower Tacos

These Tandoori Cauliflower Tacos are delicious, quick to prepare, and the cashew marinade is out of this world! What's even better? You can customize them with your favourite taco extras for an easy weekday dinner. Learn how to make the best vegan cauliflower tacos.

Check out this recipe

Lentil Sheppard's Pie
This vegetarian take on a classic is quick, filling and cozy on those cool days.

Vegetarian Quinoa Pilau Recipe

Inspired by the traditional rice pilau, this enticing and super-healthy gluten free Vegetarian Quinoa Pilau Recipe, aka "qui-lau" is bursting with flavour, and so simple to pull off. Infused with the aroma of cumin, coriander and garam masala, this recipe is one you will want to add to your repertoire. Satisfying and finger-licking good!

Check out this recipe

Lunch in a Jar: Mediterranean Quinoa Chickpea Salad

On a hunt for a simple and easy way to enjoy lunch at the office? Try this gluten free, low GI and portable Mediterranean Quinoa Chickpea Salad in a jar. It's delicious, nourishing and oh so satisfying - minus the sogginess!

Check out this recipe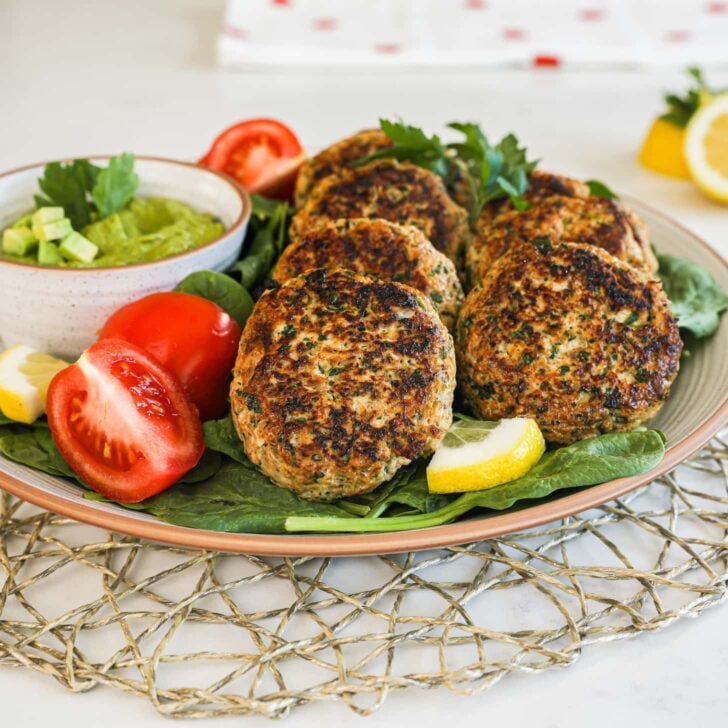 30-Minute Chicken Patties (Juicy & Moist!)
Looking for a delicious, healthy and easy-to-make chicken recipe? Look no further! Today, I share my favourite recipe for juicy and moist chicken patties, which only takes 30 minutes to pull off. It's ideal for hectic weeknights, has a simple ingredients list and is ideal as a healthy dinner option. This high protein recipe is also diabetes friendly and heart healthy.
Check out this recipe
Desi~liciously Yours,
Shahzadi
;
Looking for healthy meal plan ideas? Check out these 15 easy and delicious recipes that will make your weeknights a breeze and will help make cooking at home easier and reduce food waste.
Ingredients
Spaghetti squash
1

spaghetti squash

,

large, sliced in half (lengthwise), seeds removed

1/2

tsp

salt

,

sea salt

2

tsp

olive oil

,

for spaghetti squash

1

tsp

black pepper
Chickpea Kale Curry
1

tbsp

olive oil

,

for curry

1

tsp

mustard seeds

2

cloves

garlic

,

large, crushed

1

onion

,

medium, finely chopped

1.5

tsp

curry powder

1

tsp

garam masala

2

red chillies

,

washed, finely chopped

1

cup

tomato sauce

,

thick passata, coulis-style

5

cups

kale

,

washed, stems removed, chopped into medium-sized leaves

2

cups

chickpeas

,

cooked, drained and rinsed

1

cup

cilantro

,

fresh, washed, finely chopped

1/2

lemon

,

fresh, juice

1/2

tsp

salt

,

sea salt
Instructions
Spaghetti squash
Preheat oven to 375 degrees F

Place the squash (face up) on a baking tray

Drizzle with 2 tsp olive oil and sprinkle with 1 tsp salt and pepper

Turn face down and send to bake for 50 mins to 1 hour or until the flesh is soft and tender

Drizzle with 2 tsp olive oil and sprinkle with 1 tsp salt and pepper

Turn face down and send to bake for 50 mins to 1 hour or until the flesh is soft and tender

Once cooled, use a fork and gently scrape into strands. Leave the strands in the squash skin; they will be used as "bowls" to serve the curry
Chickpea kale curry
In a large pan, heat 1 tbsp olive oil and fry the mustard seeds until they start to crackle

Add the garlic, onion, and cook until golden brown

Stir in the curry powder, garam masala, and chillies until well combined

Add the tomato sauce and kale, stir to combine, then cook for 3 minutes or until the kale has wilted

Add the cooked chickpeas and ½ tsp salt and cook for a few minutes

Stuff the squash with the chickpea kale curry and squeeze juice of ½ lemon
Notes
Scrub the spaghetti squash clean before slicing, and use a large sharp knife to help you cut through successfully
Wait for the squash to cool before using a fork to separate the strands. Be gentle and try to keep them intact.
If you don't want to use kale, most other leafy greens will work: spinach and collard greens are my favourites. You can also use broccoli florets or mushrooms.
A vegan parmesan cheese is a great addition, but it's definitely not required.
If you don't have fresh lemon juice, substitute with amchur powder (dried mango powder) or vinegar.
I prefer to leave it up to you to judge how much salt should be used. The amount listed in the ingredients list is what's preferred by my family.
Nutrition Information:
Calories:
258
kcal
(13%)
Carbohydrates:
42
g
(14%)
Protein:
10
g
(20%)
Fat:
8
g
(12%)
Saturated Fat:
1
g
(5%)
Sodium:
772
mg
(32%)
Potassium:
791
mg
(23%)
Fiber:
10
g
(40%)
Sugar:
13
g
(14%)
Vitamin A:
2845
IU
(57%)
Vitamin C:
66.8
mg
(81%)
Calcium:
131
mg
(13%)
Iron:
3.9
mg
(22%)
Keep in mind that the nutritional values provided are approximations and suggestions. This nutrition facts table cannot account for your individual needs. Your body — including your hunger and satiety cues — change daily. It's perfectly fine to eat more or less on different days. Instead of letting food guilt take over, consider mindful eating.
* Percent Daily Values are based on a 2000 calorie diet.