Medically reviewed by Shahzadi Devje, Registered Dietitian (RD) & Certified Diabetes Educator (CDE)
*This post may contain affiliate links. Please see my disclosure policy to learn more.
Contents
Lacto fermentation is more than a food preservation technique. Consuming fermented foods - rich in probiotics - might help boost the population of good bacteria in your gut, which helps create a protective barrier against germs and viruses. This guide discusses the fermentation method and the best tips to help you ferment vegetables at home.
Today's post is inspired by my easy lacto fermented vegetables recipe. Some research recognizes that fermented veggies should be on the list of foods that help heal your gut.
Lacto fermented foods benefits
As a registered dietitian and certified diabetes educator, I'm often asked, "Are fermented foods good for you?"
According to some studies, they may boost gut health, improve mineral and vitamin absorption, support immune system function, and reduce the incidence of certain chronic diseases due to their antioxidant properties.
Source of probiotics
There's no denying that the field of fermented foods is a fast-growing one. Research links the beneficial health effects of fermented foods to the fact they're a source of good bacteria or probiotics.
For one thing, probiotics may improve immunity, and certain strains could even help prevent specific allergy symptoms. Given that many of us don't get enough vegetables in our diet, I'd say enjoying fermented vegetables is a simple way to integrate them into meals - with potential benefits of healthy bacteria.
Fermented foods aren't a new phenomenon. They aren't restricted to the shelves of health food stores either. In fact, fermented dairy products such as dahi, bhale, papad, idli, and dosas are all prominent in traditional South Asian (Indian) cuisine. As a result, these communities have a long history of enjoying fermented foods.
Eating fermented foods - rich in probiotics - may help populate the gut with more significant numbers of good bacteria. It's worth noting that each person's response to probiotics is unique — dependent on the strain and quantity of probiotics.
Plus, the number of probiotics present in fermented foods might not be enough to impact your gut. Even if you take probiotic supplements, it's important to remember that the results aren't guaranteed.
It's not simply about the appeal of probiotics, though.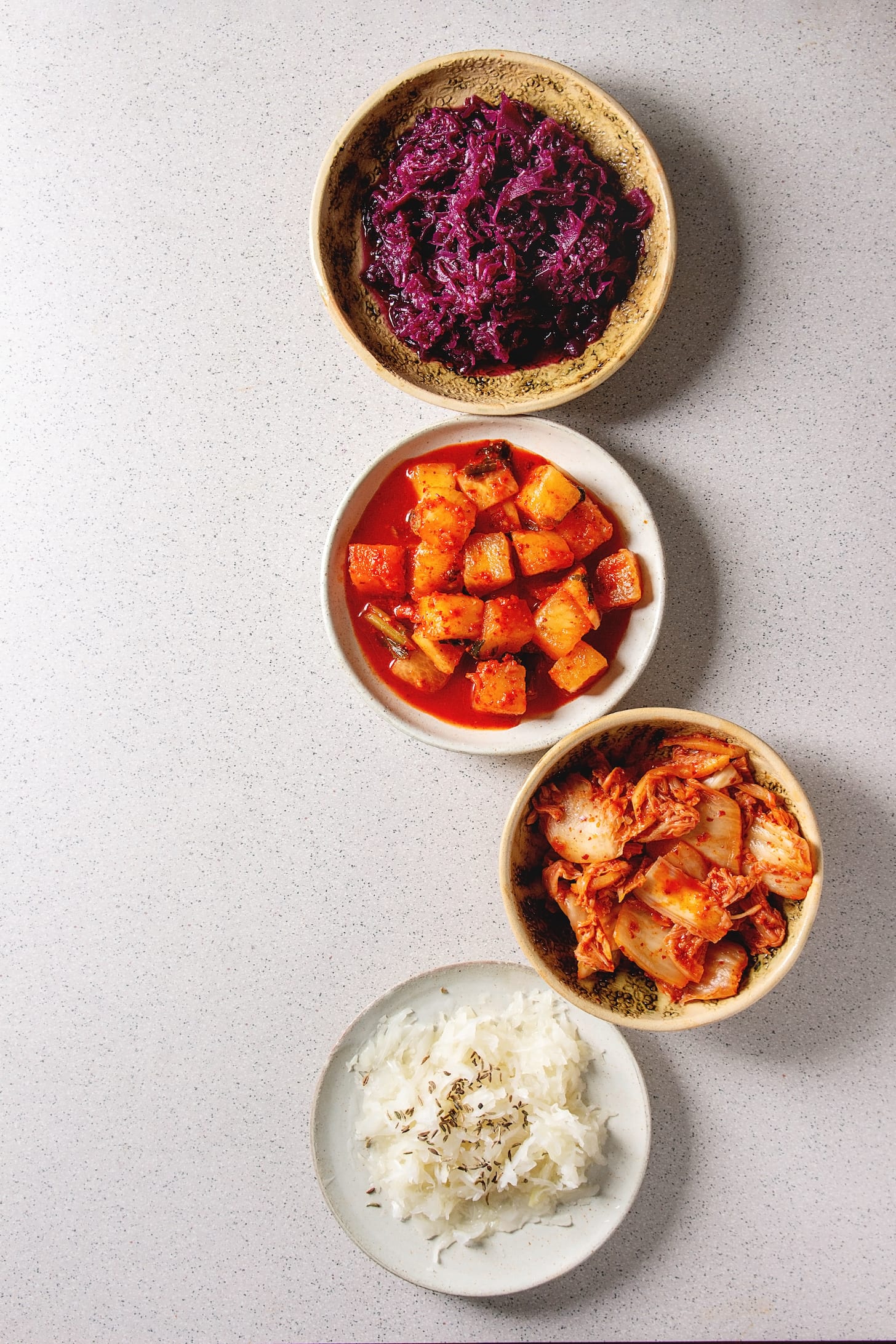 They might improve digestion and absorption of nutrients
Fermented foods may be more easily digested. When milk is fermented to make kefir, some of the lactose (milk sugar) is broken down. This might be beneficial to people with lactose intolerance because it could reduce their symptoms. However, further research is needed in this area.
Additionally, fermentation might help break down many vitamins and other nutrients into easily digestible forms. Lacto fermentation, specifically, has been shown to improve iron absorption.
It's thought that perhaps this method also reduces some antinutrient components of certain raw foods, such as oxalates and phytic acids. This is significant because antinutrients have been shown to reduce the body's ability to absorb important nutrients.
Antioxidant potential
Some studies suggest that the fermentation process increases the antioxidant content of certain foods.
According to one systematic analysis, fermented milks, cereals, fruit and vegetables, meat and fish showed more bioactive molecules and enhanced antioxidant activity.
Antioxidants are important because they can reduce the damage our cells experience from unstable molecules called free radicals. Free radicals are believed to play a role in numerous chronic diseases, including cancer and heart disease.
Although much more research is needed, some studies have found that lactic acid bacteria may have anti-inflammatory properties, too.
Health-promoting biologically active compounds
According to one recent review, lactic acid bacteria synthesize vitamins and minerals during fermentation. It appears that these bacteria also produce biologically active peptides with enzymes such as proteinase and peptidase.
Peptides are short chains of amino acids (building blocks of protein) that can have a range of functions in the body, some of which may be linked to health benefits. For example, studies suggest that peptides may have antioxidant, anti-inflammatory, antimicrobial and immunomodulatory effects. This could mean that they could help protect the body from damage and illness.
Fermentation-derived biologically active peptides are also recognized for their health advantages. Some peptides have different effects on the body. Like conjugated linoleic acids (CLA), some can lower blood pressure. Others, like exopolysaccharides and bacteriocins, have anti-microbial effects. Sphingolipids have anti-carcinogenic and anti-microbial properties.
Types of fermentation
There are three main types of fermentation:
Lacto fermentation involves yeast strains and bacteria that convert the carbohydrates in food (starches or sugars) into lactic acid
Ethanol fermentation, aka alcohol fermentation, is the process that produces wine and beer
Acetic acid fermentation is the process where carbohydrates and sugars from grains and fruit ferment into sour tasting vinegar and condiments (apple cider vinegar and kombucha)
How does lacto fermentation work?
Lacto fermentation is an ancient form of food preservation. When a food undergoes fermentation, natural bacteria and yeasts break down carbohydrates in the food to produce lactic acid.
It's not the same as pickling.
A pickle is a food that has been immersed in an acidic liquid, giving it a sour taste. The food becomes sour due to the chemical reaction between the ingredients and naturally present bacteria. There is no need for acid for lacto fermentation.
Traditionally, in lacto fermentation, vegetables are fermented in a salt-water solution. This salt-brine method is made up of two stages:
In stage 1 of lacto fermentation, vegetables are submerged in salt water to destroy harmful bacteria — while preserving the Lactobacillus good bacteria.
The Lactobacillus bacteria begin to convert the carbohydrates in food (starch and sugars) into lactic acid in stage 2 of lacto fermentation. This creates an acidic environment that aids in the preservation of the vegetables, as well as giving lacto-fermented veggies their characteristic tangy taste.
What are the top 10 fermented foods?
There are many fermented foods to choose from. Here are 10 of the most popular:
1. Sauerkraut
2. Kimchi
3. Tofu
4. Kombucha
5. Yogurt
6. Cheese
7. Sourdough bread
8. Miso
9. Tempeh
10. Beer
Best veggies to ferment
You can easily make your own lacto fermented foods at home with just a few simple ingredients.
Here is a list of vegetables that work well for lacto fermentation:
Baby corn
Beans (green)
Cabbage
Chillies (green)
Garlic
Onions
What equipment do you need?
All you need to get started is a clean, food-grade container (glass or ceramic is best). An airtight lid is also recommended. Other tools that may help with the process include:
Beaker or measuring cup
A wooden spoon or other non-metal utensils
Cheesecloth to cover the jar during fermentation - if you prefer to do this.
A fermentation weight to keep the vegetables submerged in the brine. These are especially helpful for dense vegetables like carrots or beets, which are more likely than other veggies to float up out of the brine and spoil.
You can find all the equipment you need for lacto fermentation at most kitchen stores.
How long will lacto fermented vegetables last?
Properly fermented and stored lacto-fermented vegetables can last for several months. The high level of lactic acid acts as a preservative, inhibiting the growth of harmful bacteria.
However, many things influence the shelf life of lacto-fermented vegetables, including food type, temperature, environment and container. Fermented vegetables have a four- to six-month shelf life on average.
How to ferment vegetables - top tips
If you're a newbie fermenter, nervous about the whole lacto fermentation process or wondering how to solve your fermentation problems, read on to discover my top tips to help you ferment veggies at home.
Remember that the vast majority of lacto-fermented foods consist of raw veggies.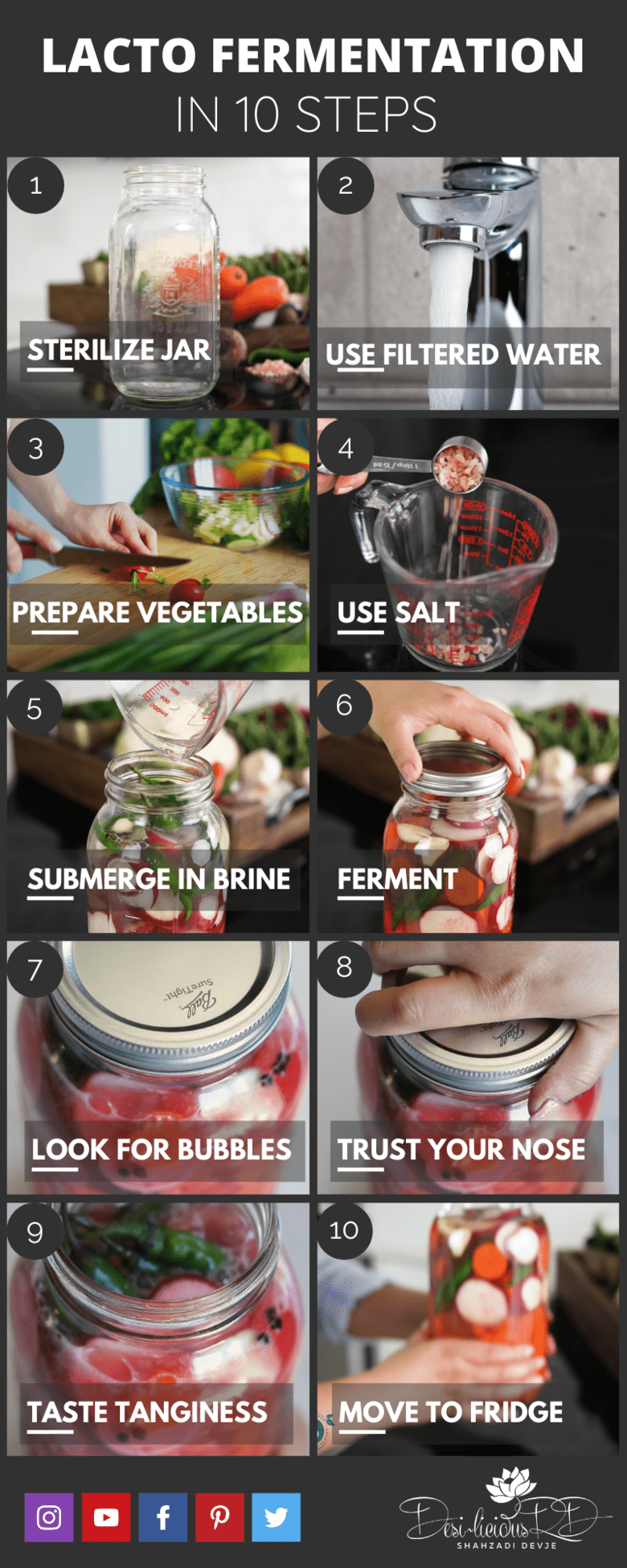 Tip 1: Opt for clean sterilized jars
I prefer using 2-quart jars. Make sure the jars are sparkling clean and dry before beginning. To clean your jars, wash them thoroughly in warm soapy water. Don't forget to clean the lids as well. To sterilize, send the jars (not the lids) for 15 minutes at 150 degrees Fahrenheit.
Tip 2: Rinse vegetables and jars in un-chlorinated water
Tap water should not be used. Everyone's tap water comes from a variety of sources; what matters is that it is free of contaminants. If the water is too mineral-rich or lacks the required minerals, it will have an impact on its fermentation. If you can, use spring, distilled, or filtered water because chlorinated water might hinder fermentation.
Tip 3: Prepare vegetables
Make sure all of your vegetables are clean. You can grate, shred, chop, slice, or leave the vegetables whole. It's entirely up to you. In my recipes, I frequently chop some veggies and leave others whole. Carrots, radishes, and beets are all rather dense, so chopping them helps lactic acid to seep into the vegetable.
Tip 4: Use the right type of salt to ferment vegetables
Use salt that is free of iodine and/or anti-caking agents, which might stifle fermentation. Salt promotes fermentation by inhibiting the growth of undesirable microorganisms and favours the growth of desirable Lactobacilli bacteria. Salt also offers a slower rate of fermentation by suppressing mould. For this reason, cultured vegetables can be stored for extended periods. Plus, salt results in delicious and crunchy vegetables because it hardens the pectins in the vegetables. Not only that, but salt might help you save money since Not to mention, it is less expensive than using a starter culture kit.
Tip 5: Submerge vegetables completely
Cover the veggies with salt water and make sure they're completely immersed. To cover the vegetables entirely, you can add a little extra water on top.
Tip 6: Label the jar
Make sure you write the date on the jar. This will come in handy later when you have several jars of lacto-fermented vegetables and can't remember which one is the oldest. Plus, you're not left guessing.
Tip 7: Don't guess amounts and wing it!
For optimum results, use measuring jugs, weighing scales and measuring spoons.
Tip 8: Seasons matter
In the summer, the vegetables ferment faster than they do in the winter when fermentation might take up to seven days.
Tip 9: Remove any mould
If you notice mould at the top, discard it! Remember, the top of your vegetables (in the jar) is exposed to oxygen, promoting yeast and mould growth, but everything below the brine should be fine because of an oxygen-free environment.
Tip 10: Ferment for 2-3 days (in the summer months)
I leave the jars on the counter for 2-3 days (temperature around 72 degrees Fahrenheit) before moving them in the fridge.
How do I know when fermentation is done?
Here's how to tell whether your veggies have been fermented correctly:
Look for bubbles. The lactic acid fermentation process produces bacteria that release gases when they feast on the vegetables. These gases are often visible as bubbles after a few days at room temperature.
Trust your nose! When the jar is opened after a few days, it will emit a sour and vinegary aroma.
Taste the tanginess! Tasting your veggies will tell you if they're ready to go into the fridge. They should have a tangy, delicious taste!
Avoid cross-contamination. Always use a clean spoon when serving, and never eat out of the jar. You don't want to spread germs from your mouth throughout the entire batch.
Move to the fridge. Once in the fridge, these will keep for several months. They're wonderful as a snack or appetizer.
Ways to add fermented foods to your diet
Fermented foods, in general, provide a wide range of options and compliment just about any meal. Here are some ideas for fermented foods that you might want to try:
Breakfast
Add yogurt, kefir or buttermilk to your smoothies or oatmeal
Top eggs or avocado toast with fermented salsa vegetables
Lunch and dinner
Add fermented vegetables, like kimchi, to sandwiches, burgers and wraps
Make a soup with miso paste
Add sauerkraut to top coleslaws and salads
Add kimchi to stir-fry dishes
Use miso for sauces, marinades and dressings
Make tempeh burgers as a plant-based alternative to animal-based protein
Want to create fermented vegetables on your own? Try my recipe
Dessert or snack
Add a dollop of yogurt or kefir to your smoothie bowl
Add some kombucha to your smoothies for an extra burst of probiotics and a tangy flavour.
What's your favourite way to enjoy vegetables? Have you tried lacto fermentation before? Share in the comment section below!
If you try this recipe, would love to hear from you! Leave a comment, rate it, or share a photo and hashtag with #desiliciousrd on Instagram, Facebook and Twitter! Can't wait to see your photos.
Desi~liciously Yours,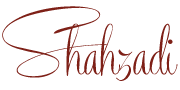 Hungry for more?
Subscribe to my newsletter for free recipes, nutrition tips and all the latest updates.