Medically reviewed by Shahzadi Devje, Registered Dietitian (RD) & Certified Diabetes Educator (CDE)
Ramadan is a time to honour our bodies, our health and feel our best during our spiritual quests. Discover how to eat healthy with top tips from registered dietitians. We answer your questions on what to eat to stay full, what should you eat for Suhoor and Iftar, how to prevent dehydration and what foods to minimize and avoid - to help prevent unpleasant symptoms during Ramadan 2020. Plus, there's a special surprise for you at the end!
Starting in a few days, millions of Muslims around the world will observe the month of Ramadan. Ramadan is a time for self-reflection, religious observance and communities and families to come together. For a full month, many Muslims will dedicate themselves to fasting from sunrise to sunset, during which they refrain from having any food or drink.
Fasting symbolizes the cleansing of the soul, inspires self-discipline and empathy for those in need. Not to mention, this sacred time encourages Muslims to carry out acts of generosity.
I'd like to think that Ramadan is also a time to honour our bodies and our health and learn how to eat healthy to feel our best. This year, Ramadan falls in the spring, and with longer days, the fast in Canada can last for up to 16 hours. For the most part, Muslims will continue with their routine, go to work, attend school and show up for their responsibilities - despite not being able to eat or drink. Understandably, this can trigger fatigue, may affect physical performance, and impact mood. So that means following a healthy and balanced eating pattern during Ramadan is vital; to help keep you nourished and energized throughout the month.
We'll explore some of the common questions about healthy eating during Ramadan and share practical health and nutrition tips to observe Ramadan and engage in spiritual exploration.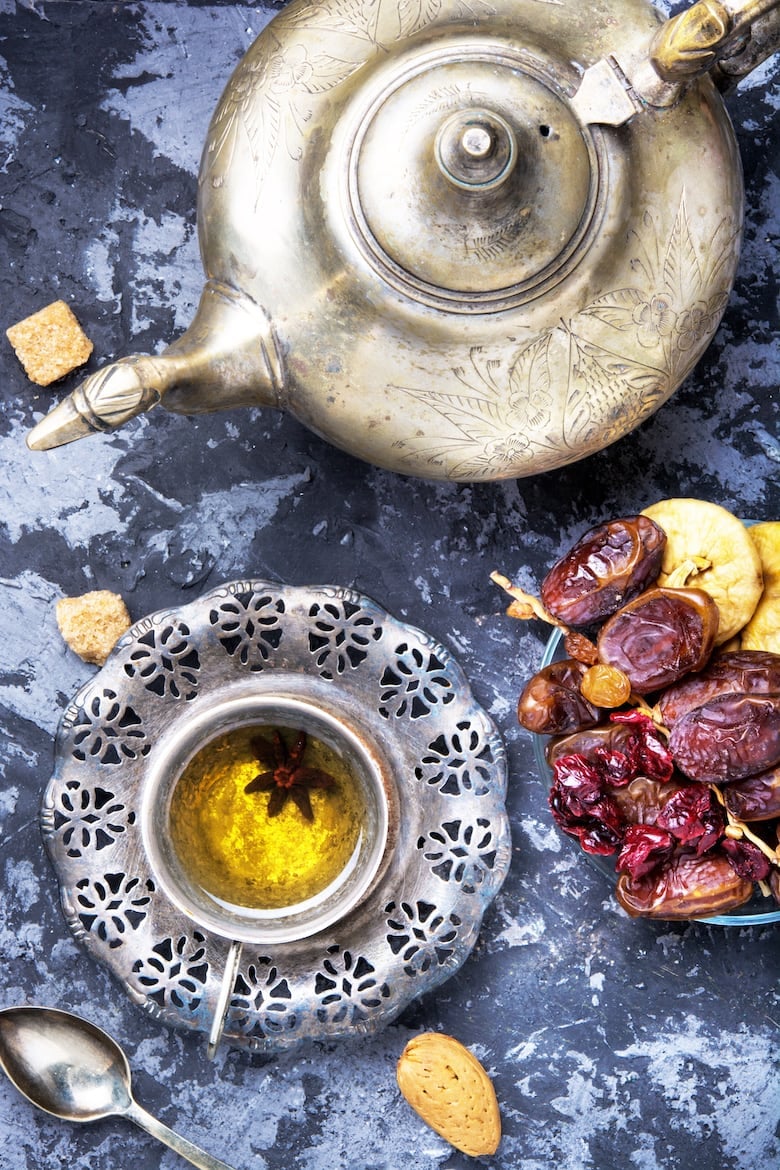 How Does Fasting Affect My Body?
Whether you fast or not, your body typically uses glucose for energy (fuel). Glucose comes from foods containing carbohydrates (grains, fruits and vegetables, dairy and sweets), and it is our primary source of energy. It fuels our brain, muscles and tissues, and any extra glucose that's not used by the body is stored in the liver and muscles, or converted to fat - until the body needs it.
During fasting hours, because you don't have carbohydrates coming in from food - to provide fuel, your body starts to "use up" stored glucose. And as time passes, your body begins to create its glucose using your fat stores. Eventually, your body's stores are exhausted - resulting in starvation mode. This is when your metabolic rate begins to slow down, and your body leans on muscle tissue for fuel (muscle breakdown). When this happens varies, from several consecutive days - to weeks.
It becomes critical then, to choose suitable foods - during non-fasting hours, to help replenish your body's energy stores - to prevent hunger and fatigue.
#Ramadan is a time to honour our bodies, our health and feel our best during our spiritual quests. Discover how to eat healthy with top tips from registered #dietitians. #Ramadan2020 #healthyeating
Click To Tweet
What Are The Health Benefits Of Fasting?
People have become increasingly interested in the potential health benefits of both religious and non-religious fasting. The assumption is that fasting can promote weight loss and can offer other metabolic benefits, including improvements in blood sugar control and cholesterol levels. Some studies show that fasting during Ramadan can lead to weight loss (relatively small), and others show a reduction in fasting blood sugar, cholesterol and triglyceride levels. However, these effects appear to be temporary, and people tend to return their pre-Ramadan levels shortly after the month is over.
Indeed, for some, Ramadan may provide an opportunity to lose a few pounds, but I'd argue, consistent and sustainable lifestyle modification is vital for lasting health and quality of life. Ramadan is an excellent starting point to reflect on our choices and to start working on small but sustainable changes - that can last for the long haul.
If you're keen on learning more about the science around intermittent fasting, it's benefits and purported claims; you can access my free guide.
Can Fasting Cause Dehydration?
Our bodies need water to regulate our temperature and maintain bodily functions. Water is lost through the breath, digestion, urine and sweat. Unlike nutrients, we're unable to store much water. To compensate for this, while we fast, our kidneys hold on to water and produce less urine. However, we cannot do much to control the amount of water lost through the skin or breath.
Because of this, many people who fast for long hours might experience signs of dehydration: headaches, dizziness, sleepiness and fatigue. Having plenty of water and fluid- rich foods, during non-fasting hours can help rehydrate you, and minimize the effects of dehydration during fasting hours.
Pack in the fluids by including a range of beverages and food rich in fluids during non-fasting hours. Some examples include:
Water

Tea or coffee

Soups

Stews

Yogurt

Milk or milk alternatives like soy or almond milk

Fruits and vegetables like cucumber slices, tomatoes and melons
How To Eat Healthy During Ramadan 2020?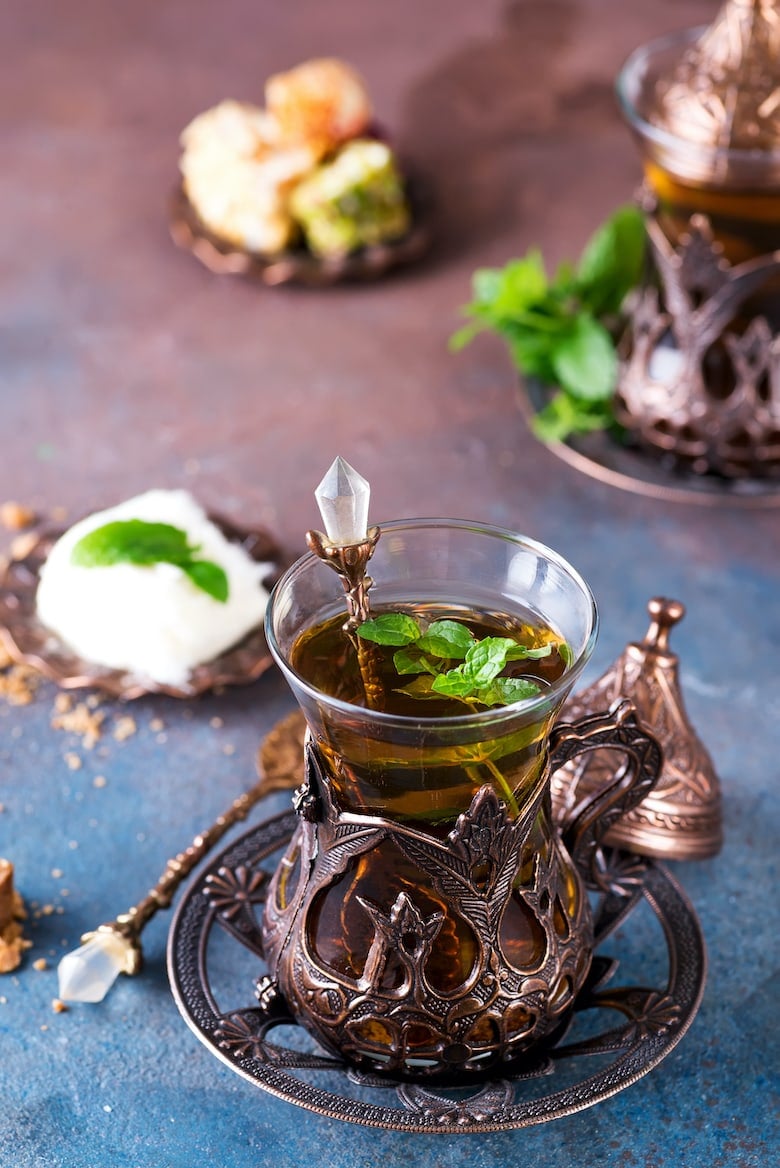 What Food Is Eaten During Ramadan?
There are countless Muslim communities around the world, all with their own traditional healthy Ramadan recipes. The two main meals during Ramadan, are Suhoor at sunrise, and Iftar at sunset. You will find a variety of savoury and sweet dishes at the table at mealtimes.
In India, Pakistan and Bangladesh, Ramadan recipes may include scrumptious and crispy samosas. In Turkish, Syrian, Lebanese and other Middle Eastern homes, families relish in beautifully crafted stuffed vine leaves. A popular North African dish is the flavourful tomato-based egg dish, Shakshuka, eaten with a side of bread. Haleem, a hearty wheat or barley-based stew, is popular in many Middle Eastern countries. Many Iranians will no doubt have a bowl of fereni, a rosewater infused rice pudding, at their iftar table. These are just a few examples of the many delicious Ramadan recipes from around the world.
Watch Shahzadi Devje, a.k.a Desi~licious RD, in the media: CTV Your Morning
What can I eat during Ramadan to stay full?
What should I eat for breakfast?
There are three key nutrients in food to help keep you full for longer: protein, fibre and healthy fats. Enjoying Ramadan recipes that offer a combination of these nutrients can help to keep you nourished and fuelled for longer. Enjoying a variety of plant foods, as part of your meals, can maximize your intake of crucial nutrients.
Some foods, including oats, legumes (beans, lentils, chickpeas and peas), okra and eggplant, contain soluble fibre. When this fibre dissolves in water, it forms a gel. This causes food to leave your stomach at a slower rate (remember feeling full for longer?!). I would recommend including foods rich in soluble fibre at every meal, especially at Suhoor.
And let's not forget about hydration either. You want to include plenty of fluids at Suhoor, to help you cope with the fast.
To get the most benefit from your Suhoor meal, include foods rich in complex carbohydrates. Aside from being an excellent source of fibre, they help to support stable blood sugar levels, prevent excessive hunger and preoccupation with food early in the day.
Complex carbohydrates can be found in plant-based foods like:
Whole grains: brown rice, whole grain bread, whole grain pasta, quinoa, barley, whole grain oats, sweet potatoes

Whole fruits and vegetables

Legumes: beans, chickpeas, lentils, split peas
Including foods rich in protein not only keep you full for longer but also prevent muscle loss. Examples of plant and animal sources of protein include:
Fish

Chicken

Lean meat

Legumes like chickpeas, lentils, beans and split peas

Nuts and seeds

Eggs

Soy protein such as edamame, tofu and tempeh

Nuts and seeds
Including some healthy fats as part of your meals can help to absorb certain key nutrients and keep you feeling satisfied. The healthiest fats come from plant sources. Some healthy sources of fat include:
Olive oil

Avocado

Nuts and seeds, including unprocessed nut and seed butters
What Should I Eat For Iftar?
Iftar is the first meal that's eaten after many hours of fasting. The mind and body are challenged to go without food and drink for an extended period of time. Chances are, you will be feeling ravenous and craving a heavy meal - full of foods heavy in fat and sugar. But it is essential to remain mindful of how you eat and what you eat. Taking your time to start and finish your meal can help you to avoid overeating and overwhelming your digestive system.
Traditionally, Muslims break their fast by having a few dates and a cup of tea before moving on to the main meal. There is a lot of merit to this age-old tradition that has been passed down by Prophet Muhammad (PBUH). Dates are rich in vitamins, minerals and carbohydrates, which help prepare your body for the meal that you are about to receive. The carbohydrates in dates can stabilize blood sugars and help manage your appetite, so you don't feel the urge to overeat. A cup of tea, milk or water can help you to rehydrate.
At Iftar, the goal is to replenish the nutrients you have used up during the day and start to rehydrate your body. Make sure to have plenty of water and other fluids from Iftar to Suhoor to keep you well hydrated. Soups and stews are a great addition to any meal in Ramadan as they provide both nourishment and hydration.
Just like with Suhoor, you want to aim for meals that are rich in protein, complex carbohydrates, fruits and vegetables and healthy fats.
What Should I Avoid Or Minimize during Ramadan?
Try to minimize foods that are deep-fried or high in sugar. While these may give you instant satisfaction, they do little to provide you with the nutrition you need. Not to mention, they're harder to digest. Of course, that's not to say that we can't include these delicious foods in moderation. The idea is to be mindful and to have foods that offer more nutritional value more often, so you can feel your best and focus on your spiritual health.
Is It Possible To Stay Healthy During Ramadan?
It is possible to stay healthy during Ramadan. While meal timing may be a little different than usual, the same principles of healthy eating apply. Aim for a healthy, balanced and varied diet rich in fruits and vegetables, whole grains, healthy fats and proteins.
Some people wonder if it is safe to exercise during Ramadan. In fact, staying active can help you stay healthy. However, it is recommended that you avoid gruelling exercising routines (extensive cardio)during the hours you are fasting. This will only exacerbate fatigue and cause dehydration. Instead, try to exercise an hour before you break your fast. That way, you can replenish your body soon after.
Fasting in Ramadan is not intended to cause any harm. If you are living with any health conditions, are pregnant, or taking medications, make sure to consult your healthcare team to make sure that fasting is safe for you.
Is Fasting In Ramadan Safe For People Living With Diabetes?
If you are living with diabetes, make sure to consult with your healthcare team before deciding to fast during Ramadan. Remember, certain medications can increase your risk of getting low blood sugars. Your healthcare team will advise you and help create a plan to minimize your risk.
How To Eat Healthy During Ramadan - Takeaway Message
The key to remaining healthy in Ramadan is to have well-timed, balanced meals and make sure to have plenty of fluids from Iftar to Suhoor. My Desi~licious 30-day Ramadan Meal Plan shows you exactly how to eat healthy during Ramadan 2020. You will receive a collection of healthy Ramadan recipes and a complete menu with lots of healthy eating inspiration.
Here are 40 Healthy Ramadan Recipes to help you stay nourished. 🙂
What healthy eating questions do you have for Ramadan? Share in the comments below!
Desi~liciously Yours,
If you enjoyed this blog post, would love to hear from you! Leave a comment, or share a photo and hashtag #desiliciousrd on Instagram, Facebook and Twitter!
---
Niloufar is a Toronto-based Registered Dietitian, who works with people living with heart disease and diabetes. She is passionate about using the power of food to prevent and manage chronic disease. Niloufar's philosophy is that there are many ways to eat well and encourages people to explore new foods, eat mindfully and to bring back fun and enjoyment to mealtimes!
Hungry for more?
Subscribe to my newsletter for free recipes, nutrition and wellness tips and all the latest updates.
11